The 2022 round-up: Film and Furniture's most read features
Our cinema-going habits have changed dramatically in the last few years, with films coming to our TVs after theatrical release faster than you can say Sebastian J Cricket. Still, the film and TV industry bounced back surprising well after the impact of the pandemic and we've been able to enjoy all that this wonderful industry delivers to us on our big or small screens.
We've been afforded many opportunities to pore lovingly over the details of 2022's film sets and furniture, and we welcomed many thousands of new readers and followers from all over the world who flock to Film and Furniture to learn about the details of décor in film.
Another year of scrutinising film sets
This year we swooned over the Midcentury interiors and architecture of Don't Worry Darling, were delighted to attend a cast and crew screening for a first look at the film sets and locations of My Policeman, delved deep into Bardo, False Chronicle of a Handful of Truths (aided by our exclusive video interview with the film's Production Designer), and investigated the alluring design details of the apartment in Nanny (where all was not as it seems.).
We took a jaw-dropping virtual tour of the home of a family of The Shining fans who have painstakingly recreated the Overlook Hotel in their basement, and were mesmerised by the accuracy of the Kubrick scenes honoured in the Exquisite Gucci campaign. We went pink in anticipation of the forthcoming Barbie movie and analysed what is possibly the most famous chair in TV history.
We reaped behind-the-scenes information on the new Star Trek – Strange New Worlds – so much so, we had to split it into two epic features! Film set decorator Gene Serdena shared with us the thrills and challenges in bringing the Overlook Hotel to life again for Doctor Sleep and The 60 Years of Bond celebration in 2022 was honoured a review of some of favourite Bond filmsets. 
We shared our passion for furniture in film in a talk at the inaurgal London Modern festival, were honoured to join the stellar line up of previous guests in Kubrick's Universe: The Stanley Kubrick Podcast to discuss the The Art and Design of A Clockwork Orange as part of the 50th anniversary of Kubrick's film adaptation, and shone a light on The Shining's Room 237 carpet whilst launching our luxury Room 237 carpet in an attempt to balance out our obsession with the other Shining carpet classic – the Hicks Hexagon.
As the year draws to a close, we take a look back at our Top 10 most read features, and although several of these articles were published before 2022, they continue to draw interest from far and wide!
What did you catch and what did you miss?
Film and Furniture's Top 10 most read features of 2022
No 10. Shining a light on the Overlook Hotel's Room 237 carpet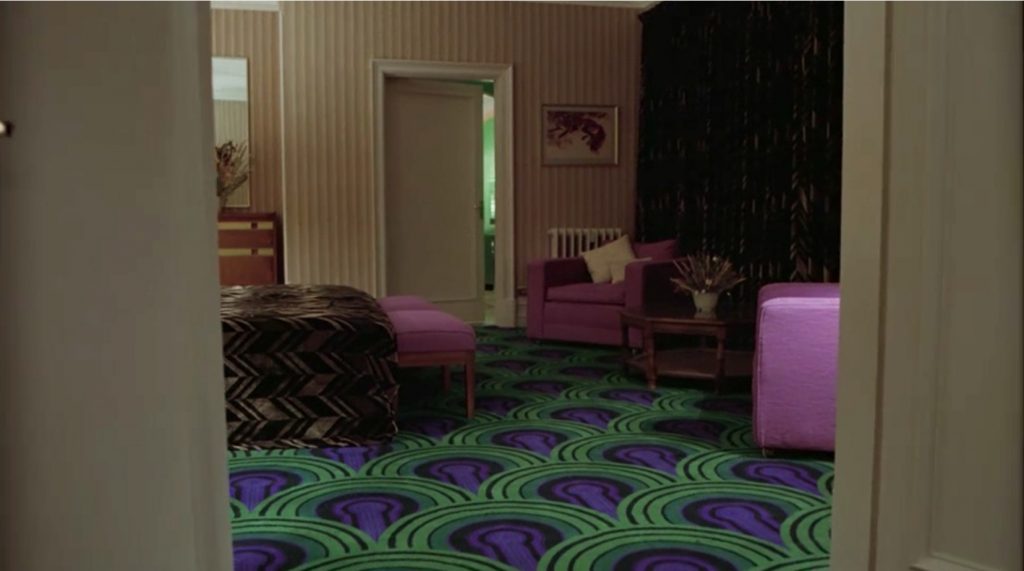 Few rooms in movies have been equal measures repellent and captivating at the same time as the hotel room known as Room 237 in Kubrick's The Shining. Overlook's head chef Dick Hallorann warns young Danny Torrance "There ain't nothing in Room 237, but you ain't got no business going in there anyway, so stay out … you understand, stay out!" but little Danny just can't help himself. And neither could we!
No 9. The real story behind Alex's turntable in A Clockwork Orange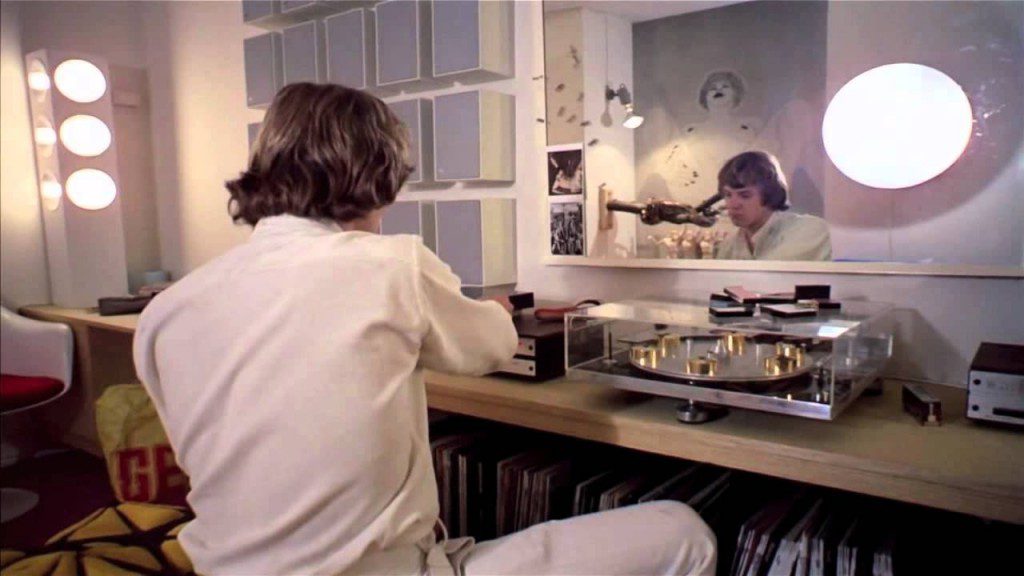 Music aficionados and eagle-eyed film fans alike will have found their gaze drawn to the futuristic turntable in Alex DeLarge's bedroom in A Clockwork Orange.
We brought you the low down on the Transcriptors Hydraulic Reference Turntable in Alex's bedroom and how this piece of hi-fi-cum-art made it's way onto the film set of Kubrick's 1971 dystopian masterpiece.
We also formed a collaboration with the original maker of this very turntable.
No 8. The deliberately disorientating décor of The Father
The Father uses subtly changing interior design to disorientate us as we descend into Anthony's world of dementia. It's a perfect example of how choice of interior décor and furniture in film can convey a hidden narrative and ground us (or not) in the story. We talked with production designer Peter Francis about this clever film set design.
No 7. The mid-century architecture and furniture of Don't Worry Darling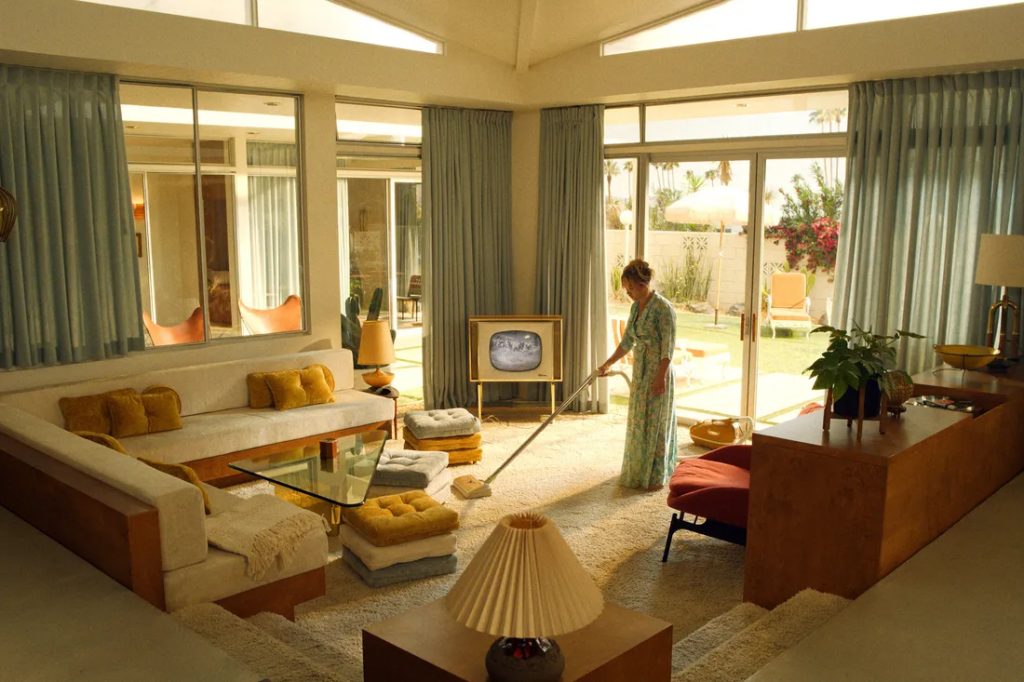 No. 6 Enchanté! The french villa in Downton Abbey: A New Era
For Downton's second movie Downton Abbey: A New Era set in 1928, the Crawley family up roots from the English countryside to a gorgeous getaway pad in the south of France – the result of a mysterious inheritance.
Production Designer Donal Woods searched for a house in the French Riviera which reflected the right period for Violet Crawley (Dame Maggie Smith) to have visited as a young girl, so that needed to be around the mid 1800's.
The house he and his team found and which became the shooting location for the french villa in Downton Abbey: A New Era is a real home that is available to rent for anyone with the budget!
No 5. Batman's taste in modernist furniture
Batman v Superman: Dawn of Justice  spurred not only a battle between two DC Comics superheroes but also between critics and fans. One indisputable winner was Bruce Wayne's new house.
His stunningly designed modernist lake-side house, which was influenced by Mies Van der Rohe's Farnsworth house, continued to draw interest throughout 2022 despite being published as far back in 2016! Just call us trendsetters why don't you.
No 4. The film sets and furniture of Kubrick's A Clockwork Orange: "A real horrorshow"
Articles on Kubrick films always prove popular at Film and Furniture and it's no surprise that many of you came visiting to read about the film sets of A Clockwork Orange during its 50th Anniversary.
The disturbing film, based on the 1962 Anthony Burgess book of the same name was adapted, produced, and directed by the great Stanley Kubrick. We took and indepth look into the memorable and influential production design, film sets and furniture by John Barry. "It's funny how the colours of the real world only seem really real when you viddy them on the screen" says Alex.
No 3. Exclusive! The 'Star Trek: Strange New Worlds' Enterprise fuses midcentury design with SciFi futurism
How do you augment the Star Trek Enterprise? It's a seemingly impossible task given that the original exalted starship has often been cited as one of the best-designed and most influential science fiction spacecraft. However, Production Designer Jonathan Lee and his 60-strong team achieved this mission for Star Trek: Strange New Worlds with aplomb, and with some notable nods to midcentury modern design details.
Lee talked to us exclusively about his approach to reimagining an icon. Strap in, and prepare to energise – this is an in-depth feature in two parts.
One of our top read features of 2022 (and such is it's pull, has been in our top ten, five years in a row) is…
No 2. Checkmate! The story behind Kubrick's carpet in The Shining revealed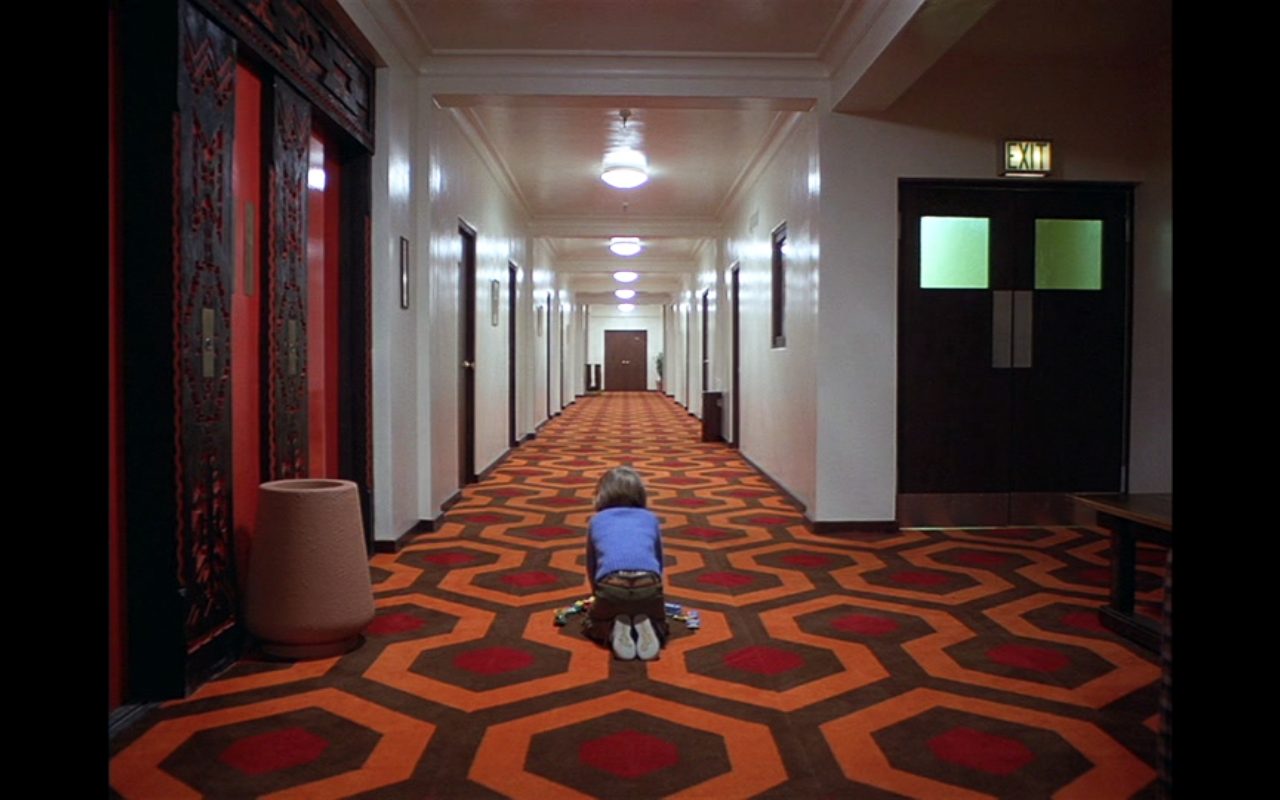 Film and Furniture regulars will know the original inspiration for this very website was the hexagonal patterned carpet in The Shining's Overlook Hotel. The carpet's dynamic orange, brown and red colour way and mesmerising graphic pattern leap out at us from the screen, so it's no surprise that it has become the most iconic carpet to ever feature in film.
We revealed who designed this carpet and why we believe it was chosen for this classic horror .
No 1. The Gentlemen outdoor grill table is now available for your own garden
We love the outdoor smokeless BBQ table in Guy Ritchie's The Gentlemen and it seems many of you do too, as we received many requests to track it down. And we found it!
We hope you enjoyed our look back on 2022's film sets and we look forward to bringing you so much more in 2023. With Denis Villeneuve's Dune: Part Two, Greta Gerwig's Barbie, and Christopher Nolan's Oppenheimer coming our way, we'll never be short of design inspiration.
See you on the other side!