The real story behind Alex's turntable in A Clockwork Orange
Music aficionados and eagle-eyed film fans alike will have found their gaze drawn to the futuristic turntable in Alex DeLarge's bedroom in the 1971 dystopian film A Clockwork Orange.
Alex (played brilliantly by Malcolm McDowell) tells us in his narration: "Where I lived was with my Dada and Mum in municipal flat block 18-A Linear North". His parents flat is gaudy and brash but Alex uses the decor of his own bedroom to stamp out his individuality and taste. He is not however, the fourteen-year-old teen portrayed in the Anthony Burgess book on which the film is based. In Stanley Kubrick's film he is a young adult with sophisticated material tastes including a memorable high-end stereo system. But how did this piece of hi-fi-cum-art makes it's way into A Clockwork Orange?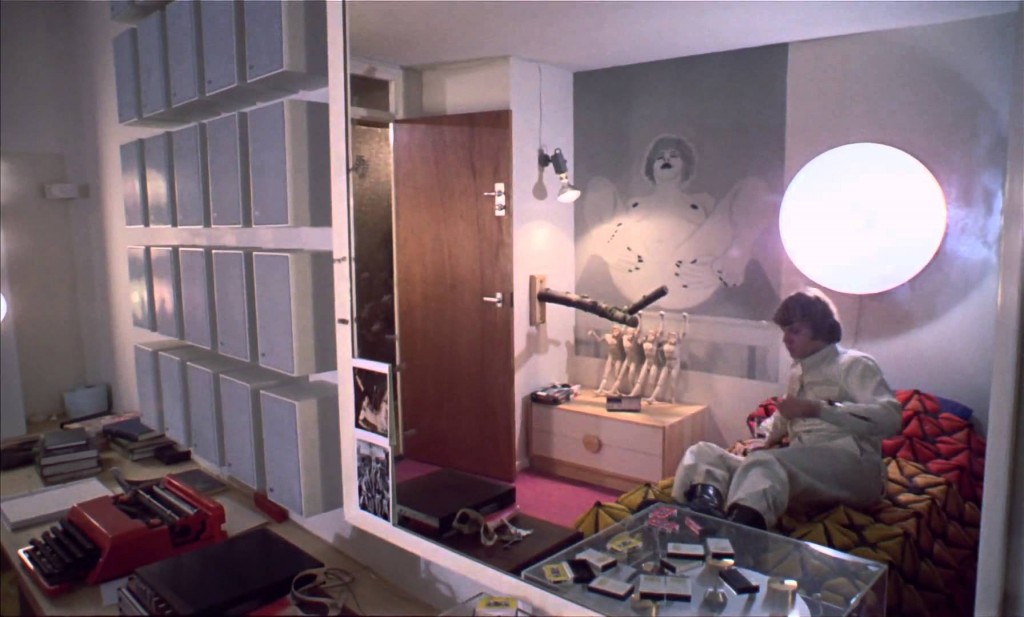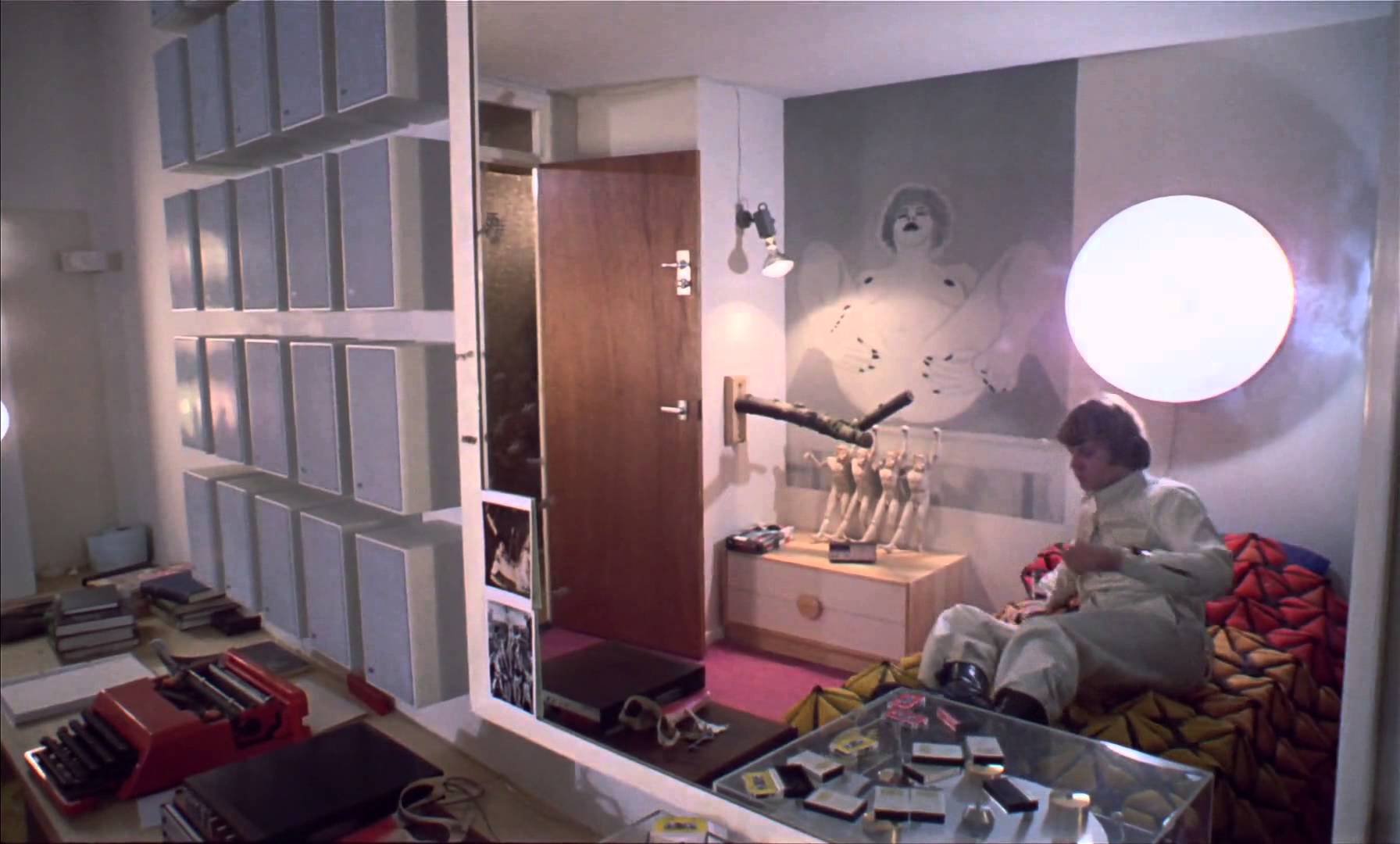 This memorable piece of kit on which Alex plays his beloved Beethoven is the Transcriptors Hydraulic Reference Turntable, a stunning award-winning design first produced in the 1960s. Kubrick chose this turntable himself to appear in the film. 
This iconic turntable in A Clockwork Orange (which also appears in the hospital scene) was designed in 1964 by the late David Gammon and manufactured by Transcriptors, the company he founded with his brother Anthony in 1960. The company went on to become one of the world's leading manufacturers of manual turntables, tone arms and accessories, and one of the most modern Hi-Fi manufacturing plants in Europe during the 60's, 70's and the early 80's.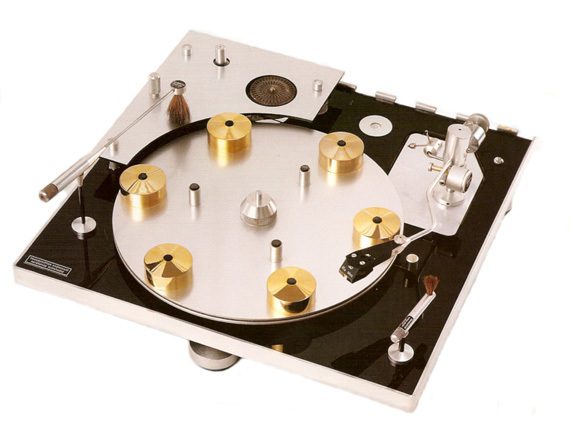 Gammon's son Michael occasionally still makes Hydraulic Reference turntables and we've persuaded him to make them once again for Film and Furniture fans! They are meticulously hand built and it takes four months to create each collectible masterpiece. This completely original piece of mechanical engineering is also considered a work of art and we are thrilled to now offer these through Film and Furniture (more details here>).
Michael told us how the turntable came to appear in A Clockwork Orange: "In 1969 Stanley Kubrick visited my father at his Borehamwood factory and asked him if he could purchase a Hydraulic Reference to use in his latest film project. He let Stanley have the turntable."
A star in it's own right
Transcriptors turntables have featured in numerous television commercials and in many films over the years: The Skeleton turntable was used in the X-Men: First Class (2011) and Creepshow (1982) and the Hydraulic Reference Turntable can be spotted in The Look Of Love (2013) as well as A Clockwork Orange (1972). Various turntable parts were also used in another Stanley Kubrick production, 2001: A Space Odyssey. 
You may also remember the Transcriptors turntables for their appearance in a Kellogg's cereal advert and the Heartbeat TV series.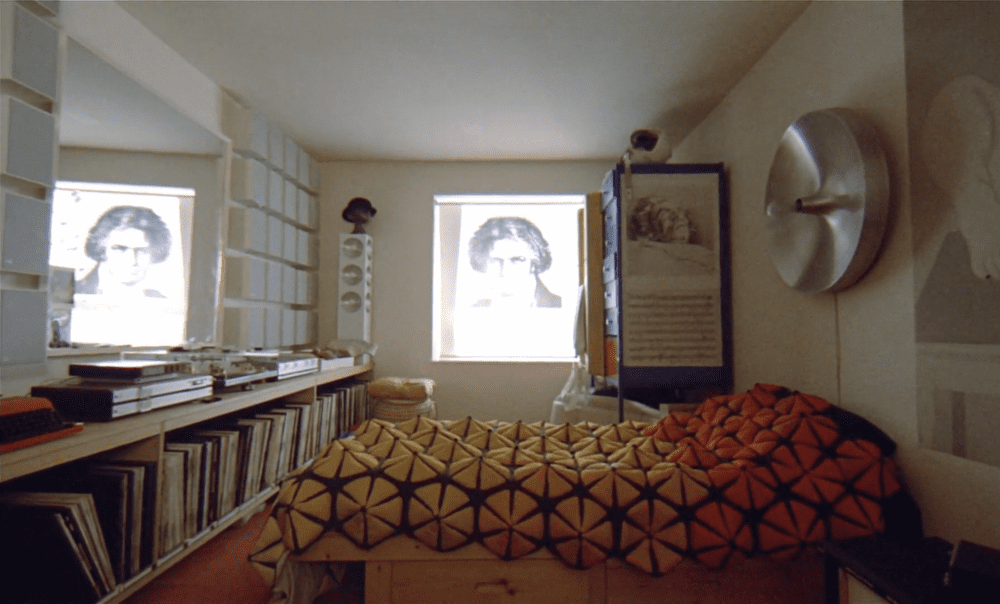 Many famous people and 'sophistos' (as Alex would call them) have owned or still own such a turntable including members of Pink Floyd, Paul Raymond, Elton John, Peter Noon of Herman's Hermit's as well as Royalty and the legendary record producer Mickey Most.
The turntables have also been gifted to numerous museums such as the Museum Of Modern Art New York, the Design Museum, London and Pinakother Der Modern Munchen, Germany.
The irony was not lost on us that the turnable made famous by A Clockwork Orange should be influenced by… clocks! David Gammon's original design concept was inspired by clocks and watches from the 17th and 18th century. Gammon had often asked the question: "Why put something of engineering elegance into a black case or even worse, into a wooden case, that looked as if it had been made down in somebody's garden shed?".
Transcriptors started the trend to expose all the components so that they could be viewed from all angles. Designed and built with the skill of an 18th century clock maker and manufactured from aluminium and acrylic to very high tolerances the end result was always a highly polished, highly accurate turntable. 
The Hydraulic Reference Turntable has some notable features including a built-in "British" stylus brush and a drop down leg to support the opened dust cover. The 'Hydraulic' part of the name refers to a hidden paddle under the platter, riding in a silicon oil bath that is used to regulate the speed.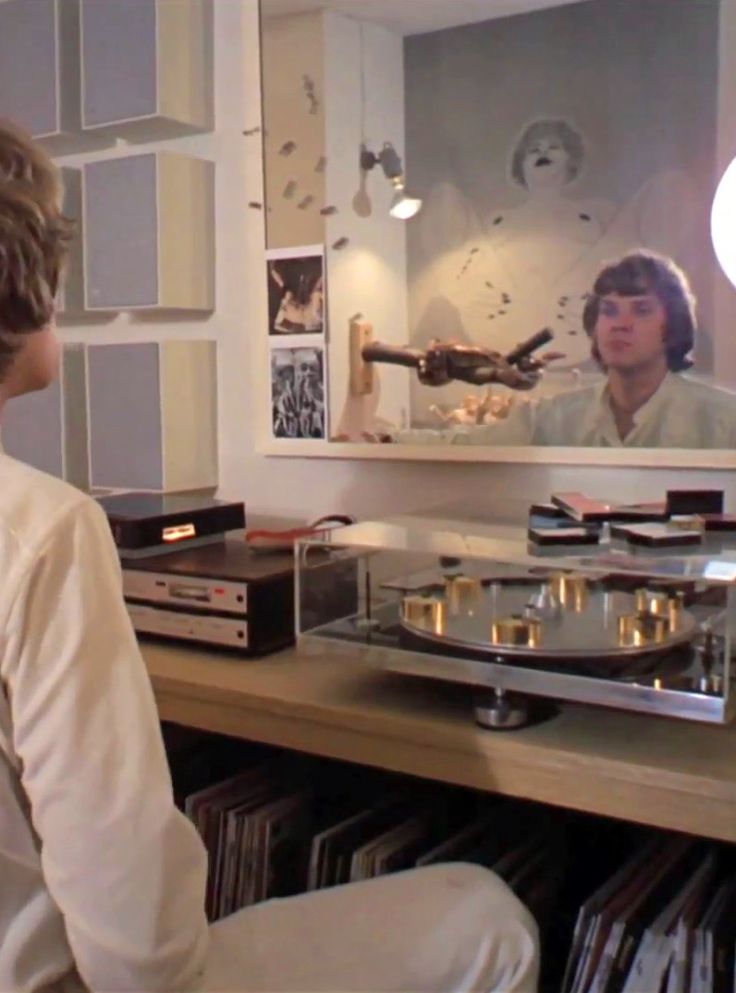 In 1971, Gammon received an invitation from the London Design Centre, to collect a design award for the Hydraulic Reference Turntable. He received his award from HRH Princess Margaret at a lavish presentation evening. Some original Hydraulic Reference turntables carry the design award logo which is located bottom left on the acrylic lid. 
Gammon enjoyed his new found fame and was invited to many social events of the time including parties hosted by the Queen, as well as to hi-fi shows all over the world. He also received many other awards from all over the world, Japan and the former state of Yugoslavia.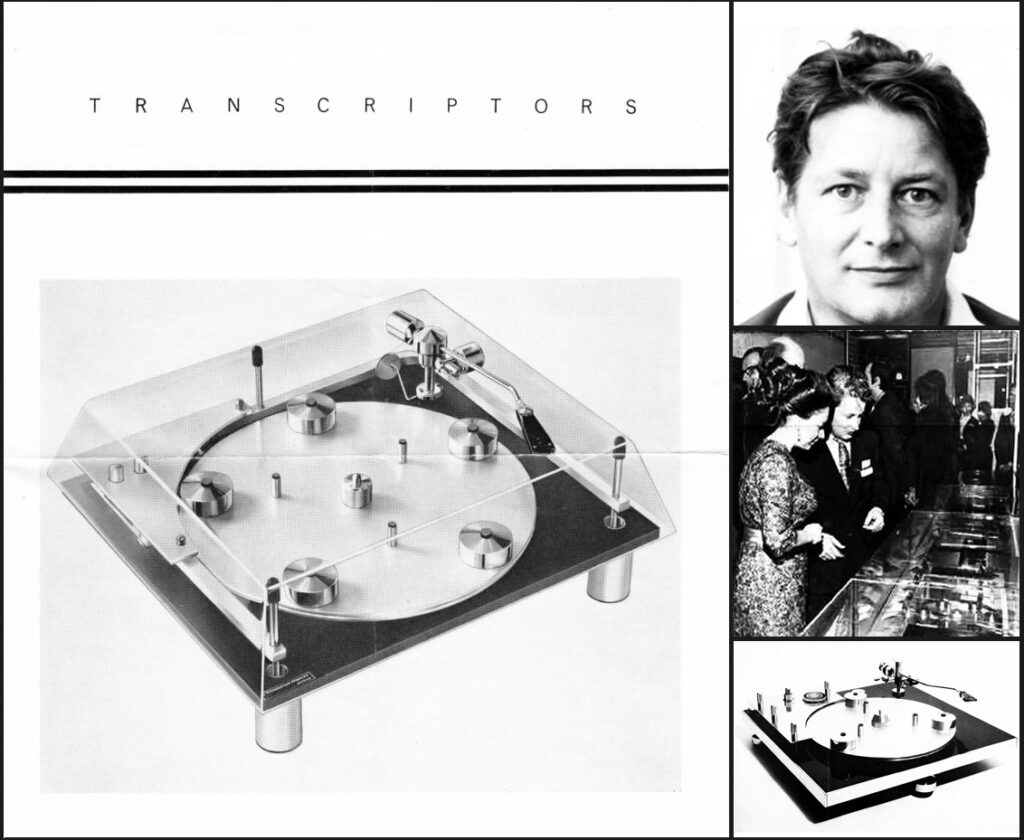 How the Transcriptors Hydraulic Reference Turntable was born
It was at Almer Components where Gammon was employed as chief engineer that Gammon first designed the Transcriptor Arm, along with the sweep arm and stylus brush. These designs were born due to the lack of professional devices that were manufactured by various audio companies. His friend, the architect Brian Allan suggested to David that they should take some photographs and send them to Hi-fi News as a joke, thinking they would never get published.
He was amazed to find in their next issue that the pictures had been published. David started producing the Transcriptor Arm and the accessories part-time in his flat. It was not until he was approached by an audio research laboratory in the early months of 1963 , that he started production of the Reference turntable. The laboratory required a turntable that could meet the strict criteria required for highly accurate audio testing, and so the Reference turntable was designed. It was designed around the Transcriptor arm and was the most advanced turntable unit that had been produced at that time. He also designed a turntable unit for the then British audio company, Goodman's.
After leaving Almer Components in 1964, Gammon was offered two rooms for £30 a week on Holloway Road above the Almer Components premises, and with a small workforce of seven he started production on a full-time basis. After a year however, he out-grew the premises, and moved to Theobald Street, Borehamwood (Kubrick fans will know that in 1965 Kubrick moved to live in Barnet lane, Borehamwood in order to be close to the Film Studios).
After moving to the new factory Gammon was now in the position to increase turntable production. A year later this resulted in his next design, the Saturn which was produced alongside the Hydraulic turntable.
The evolution of the Hydraulic Reference: The Saturn, the Skeleton and the Round Table.
Towards the end of 1973 the Irish government offered a purpose built factory which was ten times the size of the Borehamwood factory, and could manufacture all components in-house without the need to sub-contact work to other companies. This combination would also allow him to take turntable design even further.
Relocating to Carlow Ireland, David sent his chief engineer Keith Weightmen to set up the factory in Ireland ready to carry on production of the Saturn until the middle of 1973.
Due mainly to the oil shortage and the large cost of using acrylic as a material to manufacture turntables, he turned to glass. He drew a glass case and took it to the windscreen manufacture Triplex who agreed to manufacture it. That first glass encased turntable design was the Skeleton and featured the famous, but controversial Vestigal Tone Arm, with its unique head shell design. Nobody could quite understand how the arm worked, but somehow, it did.
In 1974, Gammon moved his family to New York. Here he opened an office to satisfy the American market. No sooner than he arrived, that he was inundated with orders for the Skeleton and also the Vestigal Tone Arm which was also sold as a separate.
Later variations of this design became the more economical Round Table which featured a tone arm fitted to the lid allowing the record to more easily changed. This turntable sold for £25. However, this turntable never really caught on with the public: Only 300 were produced over the course of one year and so the Round Table has become particularly rare and collectible.
The Michell connection
Many have referred to the Hydraulic Reference Turntable as a Michell Hydraulic Reference Turntable.
In the 60s and early 70s, J A Michell Engineering ran a small engineering business next to Transcriptors carrying out various contracts including work for the film industry. In the early days of Transcriptors, Gammon contracted work to various engineering companies including J A Michell as the Borehamwood factory didn't have a machine shop on site.
In 1973 when Transcriptors relocated to Carlow in Ireland, David Gammon and John Michell signed a contract which was known as the 'Technical Agreement' which allowed J A Michell a license to reproduce the Hydraulic Reference turntable. This was the first branded Michell turntable and was manufactured until November 1977 when Gammon revoked the license.
The J A Michell Hydraulic Reference Turntable therefore was only made between 1973 and 1977. The actual version in A Clockwork Orange is pre-Michell.
Now available: Transcriptors Hydraulic Reference Turntable newly made to the original design
We like to get the facts right and it was a discussion about the difference between a Michell and a Transcriptors Hydraulic Reference Turntable (and learning that the turntable in A Clockwork Orange was most definitely a Transcriptors) that led us to form a relationship with David Gammon's son Michael.
Now gather 'round Droogs… The iconic Transcriptors Hydraulic Reference Turntable as seen in A Clockwork Orange is now available to order through Film and Furniture, made by Michael Gammon himself. Please email [email protected] for more information.