Batman's taste in modernist furniture revealed in Google maps tour of Bruce Wayne's house from Batman v Superman: Part 1
Published 30.3.16. Updated: 22.7.16.
Batman v Superman: Dawn of Justice directed by Zack Snyder spurred not only a battle between two DC Comics superheroes but also between critics and fans. Critics reviews of the film (which stars Ben Affleck, Henry Cavill, Amy Adams, Jesse Eisenberg, Diane Lane, Laurence Fishburne, Jeremy Irons, Holly Hunter and Gal Gadot) have been predominantly poor but fans and movie goers have not been put off, as reflected in box office takings to date. One indisputable winner however is Bruce Wayne's house.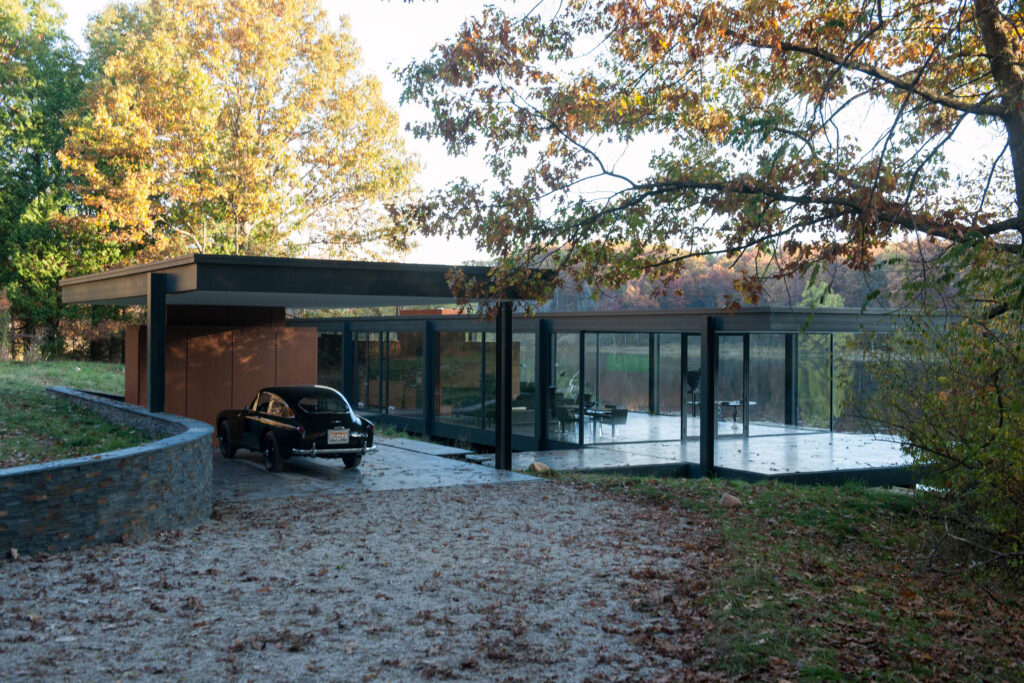 In this 2016 Warner Bros creation, Wayne Manor has been burned to the ground, forcing Bruce to live in a nearby lake house. Google maps have collaborated with Warner Bros to bring us an exact location and 360 interactive tour of the house (tour no longer live) in Orion Township, Michigan. And what a lake house it is to behold! Perfectly befitting of an older, sophisticated Batman.
The Google maps 360 tour took us from street view of the residence entrance located 40 miles north of Detroit to inside a modernist architectural masterpiece (Update: the 360 tour is no longer live but stills and screengrabs of the tour are below for your viewing pleasure).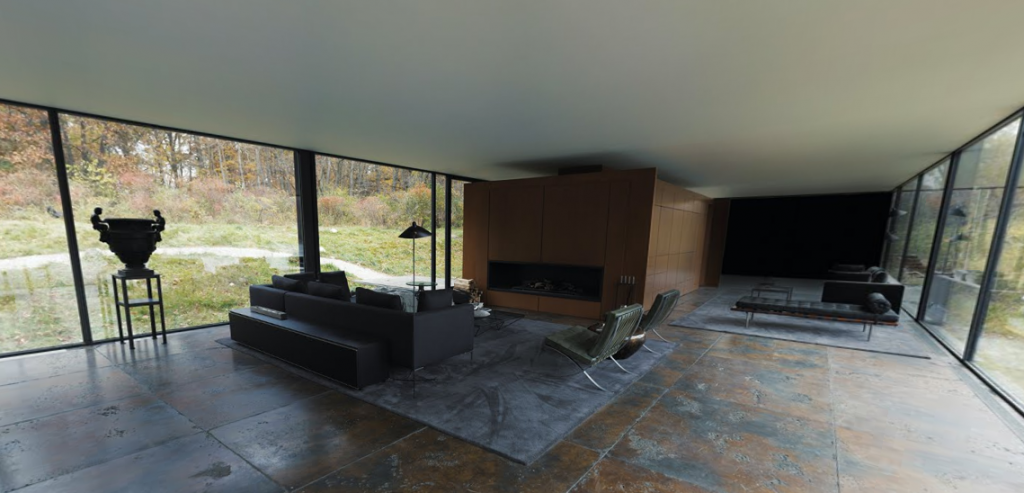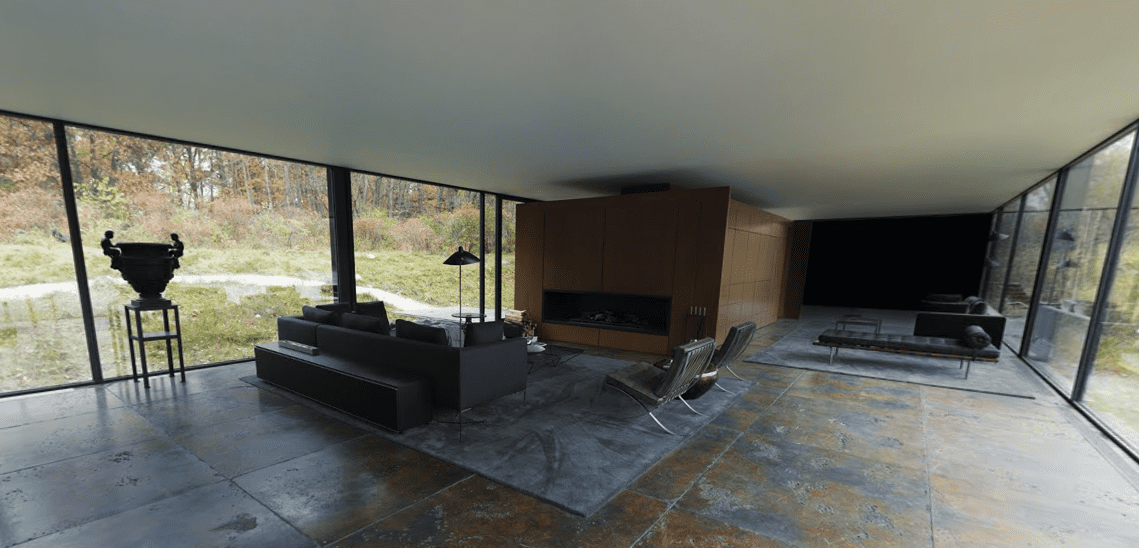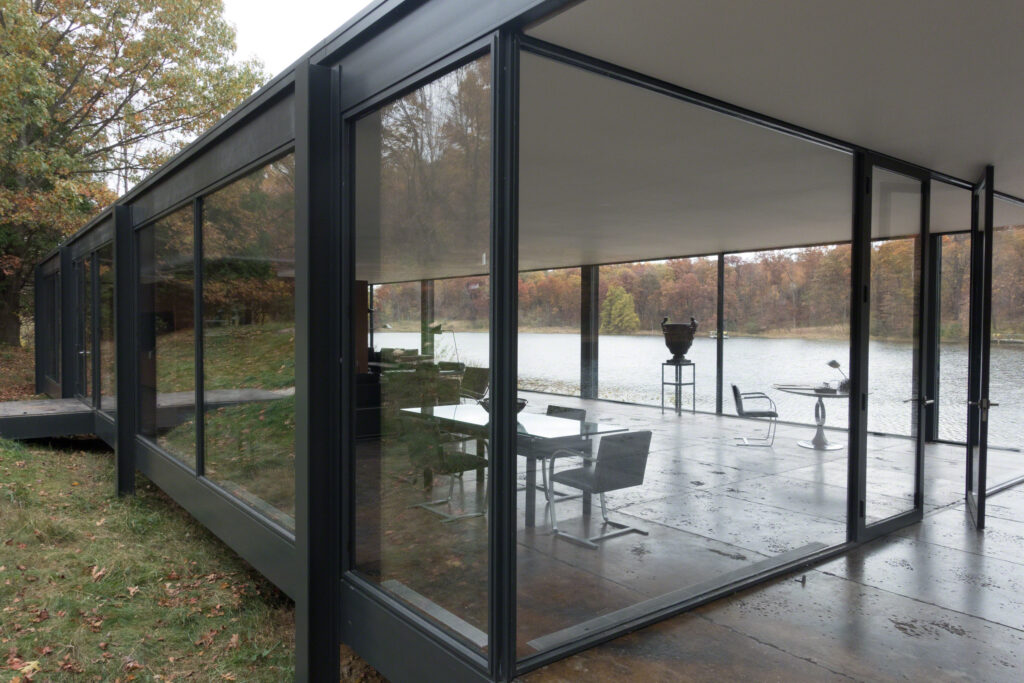 The house looks like a classic design by the German architect Ludwig Mies van der Rohe whose famous Villa Tugendhat in Brno, Czech Republic was one of the pioneering prototypes of modern architecture in Europe designed in 1928-1930. Wayne's house however is perhaps closer in size to the highly regarded Farnsworth House, also designed and built by Mies between 1945 and 1951. A weekend retreat in a once-rural setting, The Farnsworth house is located 55 miles (89 km) southwest of Chicago's downtown on an estate adjoining the Fox River, south of the city of Plano, Illinois.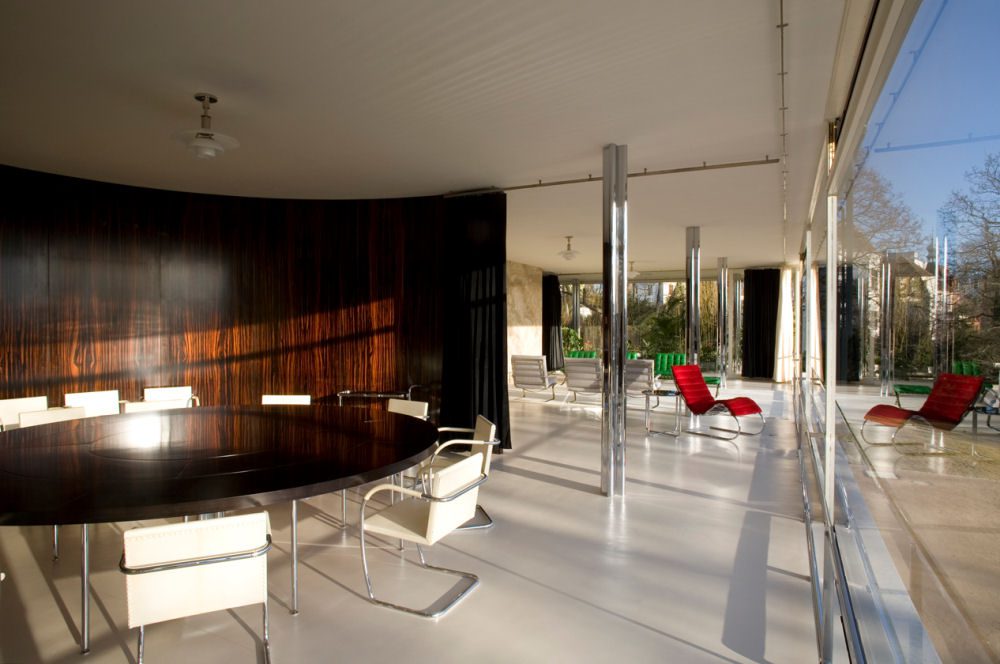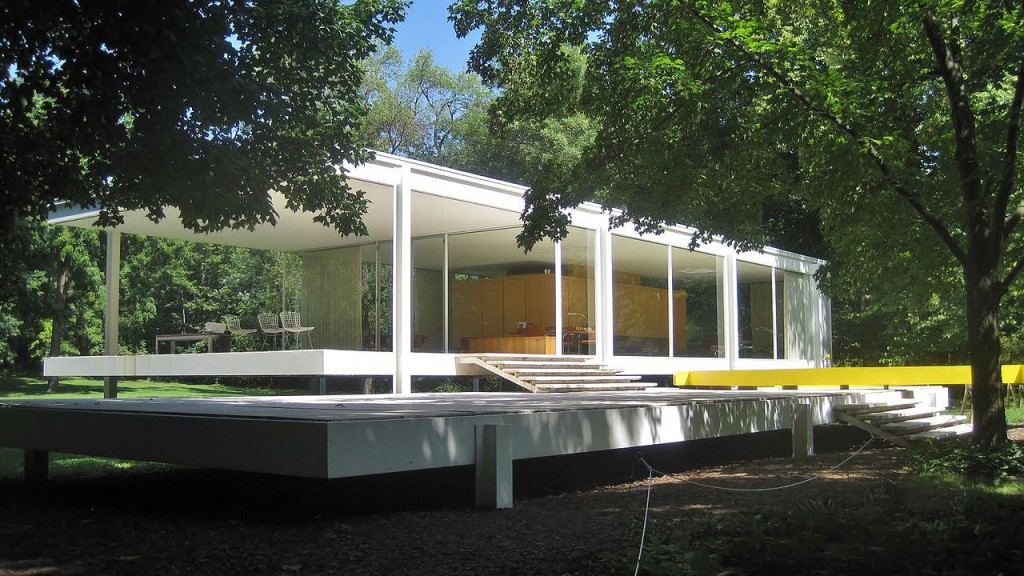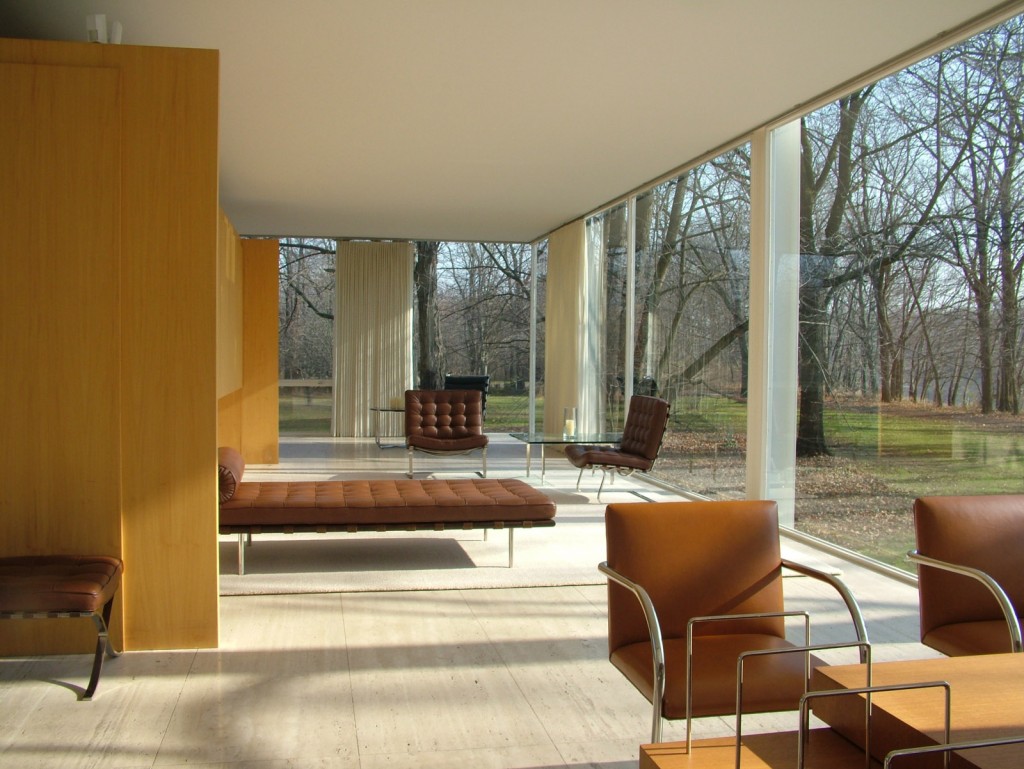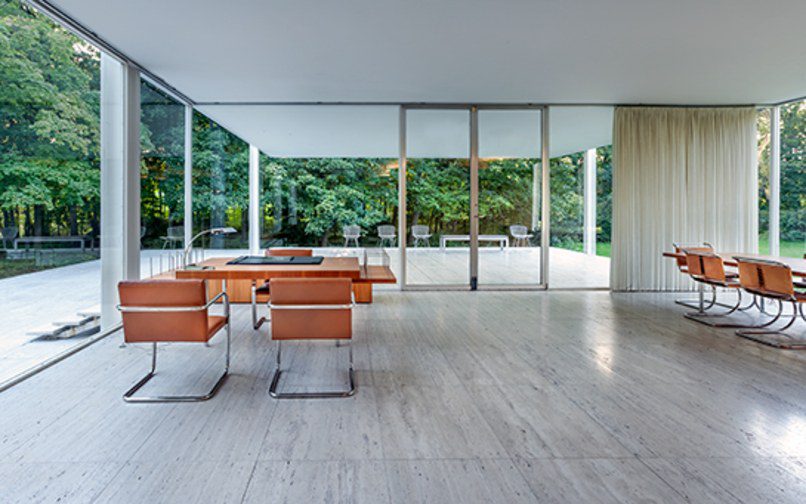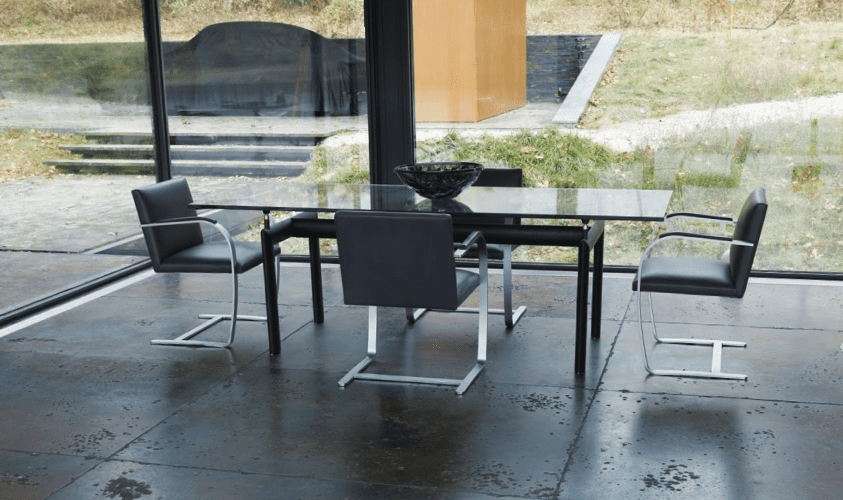 The Brno chairs which sit around Bruce Wayne's dining table are covered in black Italian leather. The frames are made from high quality solid stainless steel. Designed by Mies van der Rohe in 1930 for his renowned Tugendhat House in Brno, Czech Republic, the Brno chair reflects the simplicity of its original environment. The chair has become an icon of 20th century design with its lean profile, clean lines, and attention to detail.
Vintage original Mies van der Rohe Brno chairs as seen around Bruce Wayne's dining table are available from Etsy.
The Moon Bowl as seen on Bruce Wayne's dining table is available from Amara >
Wayne's residence is also remarkably reminiscent of another important modernist building – the Philip Johnson Glass House.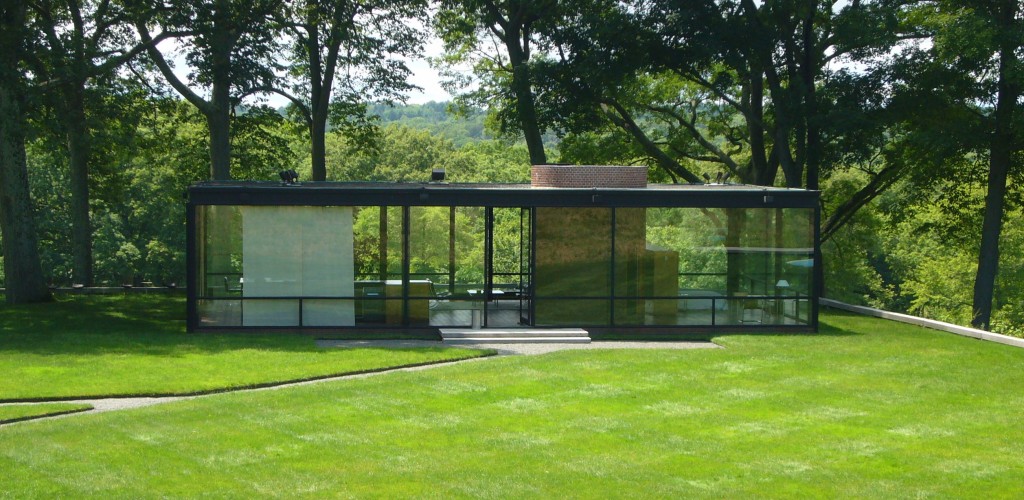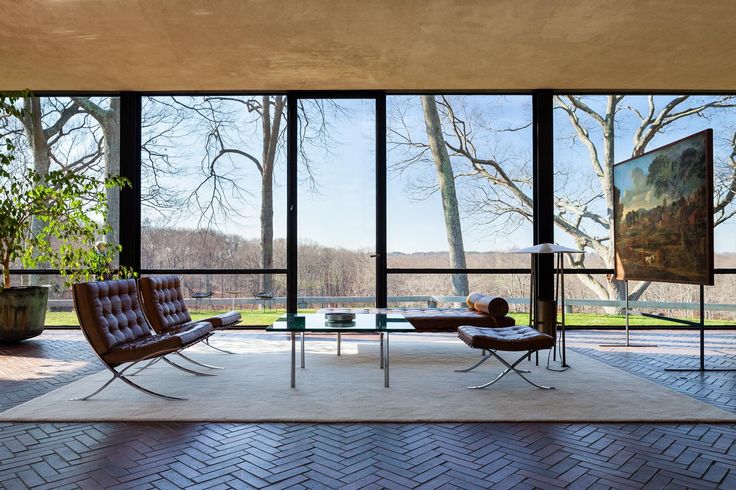 After taking the Google map tour around Wayne's open plan single story residential abode (complete with car port visible outside) we enter a dark corridor to discover the Batcave which contains the Batmobile, an armoury, a glass-cased Robin outfit (bearing a message from the hand of The Joker) and the high tech HQ.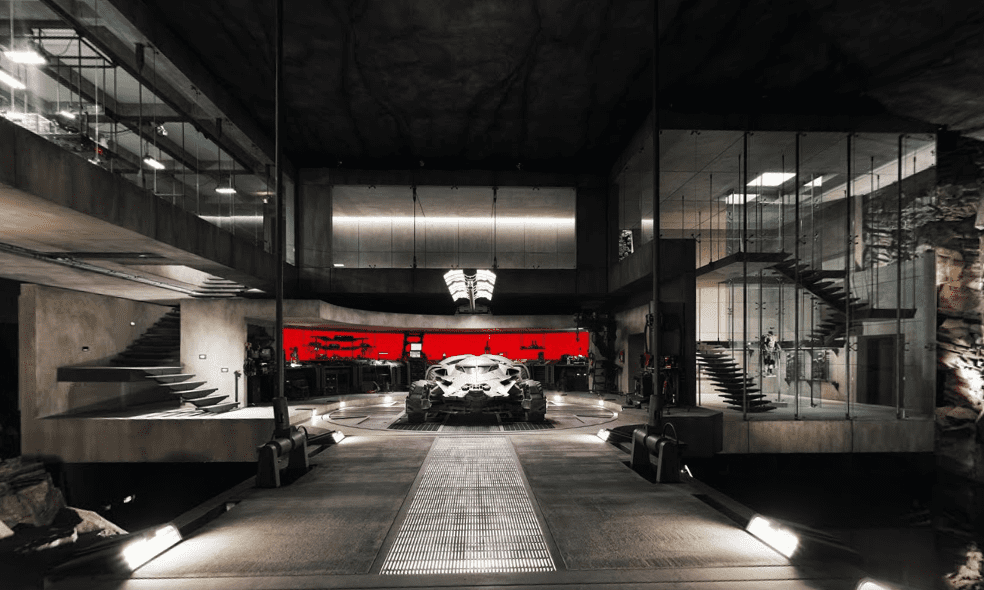 (Please see below for info on the black 'spine' chair featured in the Batcave above)
What's particularly interesting about the choice of a modernist house leading to a Batcave is that one of the most revered and influential modernist houses – Philip Johnson's Glass house  – was designed with an adjacent underground bunker for Johnson's own art collection. Someone did their twentieth century architectural homework when considering the frontage for the Batcave it would appear!
Wayne's abode reveals a dark, muted and sophisticated palette of black, grey, wood and stone together with several furniture classics. Bravo to Batman v Superman production designer Patrick Tatopoulos and set decorator Cal Louks.
Now let us show you exactly what these furniture pieces are and where to buy them,
in Part 2 of this feature >
You may also be interested in:
Justice for furniture! Bruce Wayne's inspiring house in Batman v Superman set to reappear in Justice League
The Batman chair exclusive: The black 'spine' chair in Batman v Superman's Batcave