Bardo – designing a world that spans dreams and reality (with exclusive interview and previously unseen images)
Spending just shy of 3 hours in a cinema on a Saturday afternoon watching Bardo, False Chronicle of a Handful of Truths was one of the most pleasurable afternoons I've spent in a long time. The film is an epic, visually stunning, surreal trip, and if you're prepared to surrender yourself, a magical treat for the senses. I was compelled to take a deep dive into the design of Bardo and was delighted to talk exclusively with the Oscar winning production designer Eugenio Caballero about creating a world that spans countries, time periods, dreams and reality.
Bardo, the story of Mexican-born, Los Angeles-based journalist/documentary filmmaker Silverio Gama (Daniel Giménez Cacho) sees the return of filmmaker Alejandro G. Iñárritu (21 Grams, Babel, Birdman, The Revenant) to Mexico to make a film for the first time since his feature debut Amores Perros. It's also a film set on the home turf of Mexican-born (and currently Mexican-based) Eugenio Caballero (Pan's Labyrinth, Roma, Romeo + Juliet) too. "This film spoke to me in the first person" Caballero told me.
Presented in a non-linear way, the film depicts Silverio in the face of an existential crisis, caught between the life that he left behind in his native country and the existence he has built with his family in the US. It explores ideas of displacement, heritage and divided loyalties, and Silverio's dilemma speaks to anyone who has immigrated from one place to another (as has Iñárritu). This sense of "limbo" is referred to directly in the title Bardo, which in Buddhism is a state between life and rebirth. 
Alongside Eugenio Caballero, behind-the-camera talent includes director of photography Darius Khondji (Evita, Seven), costume designer Anna Terrazas (Roma) and composer Bryce Dessner (who also worked with Iñárritu on The Revenant).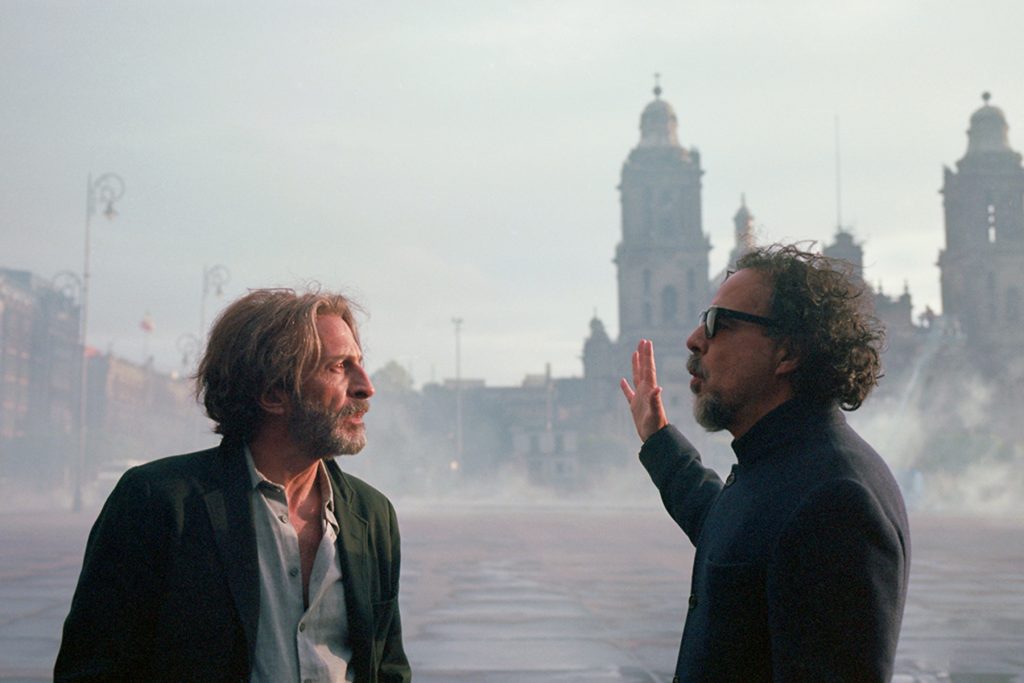 Bardo's filming locations
Shooting the film presented some ambitious filmmaking challenges as it continuously moves from intimate and fragile scenes to sequences on a massive scale.
Filmed on location in Mexico City, Iñárritu employed thousands of extras and crew members on enormous sets in some of the region's most striking locations to bring the visionary journey of Silverio to life. "Every shot was pre-designed months before it was filmed so everything was preconceived and everything is exactly as it was written," says Iñárritu.
"Silvero's trip is built from a series of bursts of consciousness of a character, this memory that dissolves and escapes. From this elusive memory, the dream-like universe that I intended to convey from the character's subjective experience, was not possible to be carried out on the spur of the moment" adds the Director.
"We talked a lot about the tone of the film in the initial stages, and not just the tone in an aesthetic sense" recalls Caballero, "It touches on dark subjects and obscure things, yet Alejandro wanted to portray this with a light touch: He likened the film to a calm swim on the surface of the water, but you can sense the depth of the water".
Iñárritu is known for his use of long shots and blocking (Birdman was presented as one continuous, almost two hour long, shot) and Bardo echoes this in order to immerse audiences into an intricate dreamspace. The predominant use of a fish eye lens helps convey this too, "an almost a VR experience" Caballero feels.
The film is as much about the physicality and scale of Mexico City as it is about the inner journey of one man. "Mexico City is a huge city, everything is massive, full of sounds, full of smells, full of history, which helped us set up the scale of the film" says Caballero, who found working in his hometown both a delight and a challenge.
"The downtown streets were all transformed. We worked on every facade so that every piece of graffiti, every bit of urban art had a particular meaning. We went facade by facade, curtain by curtain, tone by tone. We left some stores the same, but others we transformed so that they could have a mixture of epochs" he adds.
Mexico City's Zocalo square
The locations and film sets of Bardo are loaded with symbolism, such as in the Dada-esque confrontation between Silverio and the former governor of Spain, Hernán Cortés.
This grand scene takes place on a pyramid of conquered bodies in the middle of Mexico City's Zocalo square. Formally known as Plaza de la Constitución, this grand square once constituted the ceremonial hub of the Aztec city, Tenochtitlan. Pyramids were built here, and then torn down for the cathedral to be built on top of the ruins, hence the pyramid of bodies shown in the film.
This sequence required the immense skill of everyone involved to execute it effectively: "The pyramid was definitely a great challenge," recalls Caballero. The scene when Silverio walks towards the empty Zocalo square was shot very early in the morning on location but the pyramid of bodies was built and filmed on a separate soundstage.
"We wanted to mix several things," recalls Caballero in getting this set right. "There was the idea of dry lava or volcanic rock, the idea of coal and of course the bodies. Both Anna [Terrazas] and I had been working on a project about the conquest of Mexico so we had a lot of information at hand about what objects should be used."
The party at the California Dancing Club
Another pivotal and particularly colourful scene (with a memorable use of the Bowie track Let's Dance) takes place in a huge dance hall – the California Dancing Club – normally a salsa dancing venue which astonishingly, can hold up to 15,000 people. The Mexican people know how to party!
This became the setting for the party thrown for Silverio, in celebration of his nomination for a prestigious American award for journalism.
It was in a poor state before filming took place due to its closure during the Covid pandemic. Caballero and his team had to re-create much of it to accommodate one of Khondji's long tracking shots, full of zigs and zags and unusual angles. Everything was seen in camera and the film set had to be created accordingly: "There were thousands and thousands of different lights we added, as well as many mirrors and chandeliers" recalls Caballero.
There is symbolism here too. The real club's name, California Dancing Club hints at Iñárritu's complicated relationship with Mexico and the United States.
Silverio and Lucia's Mexico City apartment
Silverio, his wife Lucia and teenage son Lorenzo have an apartment in Mexico City. Amongst all the epic sets and dream-like sequences, the design of this apartment helps ground us in a sense of reality. Caballero concurs: "I felt very comfortable doing that set, it feels like it could be my house, or Alejandro's house – certain books, certain references, artworks, certain furniture – a combination of very nice furniture with flea market finds – which define a generation of creative Mexican people, all helped provide an anchor. Yet there are certain things that don't fully belong where they are, time periods are mixed". 
It is a creative, eclectic space with art deco, Midcentury, antiques and other styles of decor, and despite the surreal going's on within it, is a space which provides design inspiration for our own homes, and therefore worthy of going into some Film-and-Furniture-style design detail.
It's far from a pristine, over-styled apartment; it's a lived-in space filled with furniture and objects that tell the story of the family and their life. The set decoration subtly tells us this is a flat that's been owned for many years, it contains furniture and decor collected over time as well as those brought back from travels.
"This is a family that went to live in LA 12 years ago, so their Mexican apartment is not their main residence, and things are stuck in time in a certain way. A lot has changed during that time… You wouldn't have had smart phones, CD's or DVD's [12 years ago] and plants were dry" Caballero points out, so including all those details in his apartment helps build a subtle back story.
The rooms all surround a typical Mexican central courtyard and follows a classic floor plan of a 1920's or 30's apartment in Mexico. It replicates the kind of apartment you find in La Condesa, one of Mexico City's most fashionable neighbourhoods. 
The large entrance hallway features parquet flooring, a wooden sideboard from the 60's/70s (possibly Ercol) which houses a collection of vinyl records and hifi system, a Midcentury wooden drinks trolley on wheels – and a lot of books, befitting the home of a writer.
The hall leads through double doors to the living room, where we find a well-used teal velvet sofa dressed with blue and burnt orange square cushions, a large white floor-to-ceiling bookcase with yet more books, a pistachio green ceramic vase decorated with fish, and a vintage art deco glass pendant light. On the coffee table in front of the sofa is what appears to be a wooden spiky pufferfish.
The choice of set decoration and colour palette in the apartment was important to convey a world through the eyes of Silverio. Caballero tells me he used vivid colours (but avoided primary colours) incorporating purples, greens, greys, blues, burgundy and mustard yellow, all set against white walls, to create a believable and elegant palette that echoes the sophistication of the characters.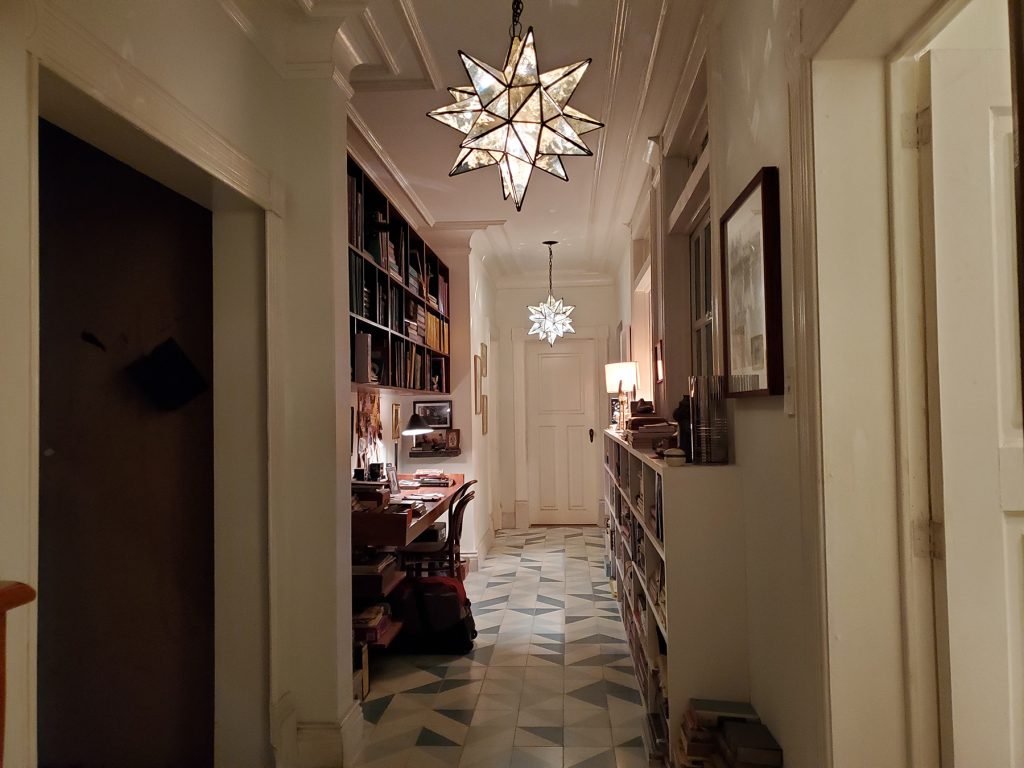 The corridor makes a great space for a desk and mini home office area with a plethora of books, papers and ornaments. The floor has geometric floor tiles and two stunning star pendant lights hang from the ceiling. Find similar via our store.
The 1930s wooden floor continues into the dining room, where we also find a set of Midcentury table and chairs (find similar on Etsy) with two glass pendant lights above. An unusual touch which adds individuality and personality is the turquoise cabinet with artistic distressing on the front.
The main bedroom houses a double bed with teal fabric upholstered bedhead, in front of which sits a square-edged Arts and Crafts style wooden bench (upholstered in a matching teal fabric). A thonet-style bentwood chair with wickerwork backrest and seat sits behind a dressing table. A black and white framed photograph above the bed pictures a tree with a murmaration of birds.
An interesting oversized cream and blue wool artwork hangs on the wall and we love the ceiling pendant light! This ceiling lampshade, a domed structure made of a sequence of veneer strips resting on each other was designed by Mexican designer Rafael Weber. Very similar lampshades are available via our store. 
In one of Silverio's dreamlike states, the apartment becomes filled with sand and in another scene, it's flooded with water. This apartment film set was certainly put through its paces.
The Television station
Silverio is invited to an interview at a television station – this film set has an eye-popping stage of red and white neon curves, and bold san serif typographic logos.
The famous movie studio Estudios Churubesco, in the heart of Mexico City, is where Caballero built the television studio film set. Here, Silverio takes a walk through a warren of dressing rooms, stages, studios and corridors where dancers and performers come and go as he wanders through. This film set had to accommodate another long tracking shot. 
Castillo Chapultepec
Silverio experiences much of his day-to-day life in surreal fashion, with memories and fantasies playing out alongside his everyday activities. When he meets America's ambassador to Mexico at famous Mexico City landmark Chapultepec Castle, for instance, he envisions the events of the 1847 Battle of Chapultepec and the suicides of the Niños Héroes around him.
Iñárritu recreated a Dada-esque version of the famous Boy Soldiers, the six Mexican teenagers who died defended the castle against US forces during the Mexican–American War. Bardo presents them wearing blonde comic wigs.
References and homages
In the writing and design of Bardo, Caballero, Iñárritu and Khondji were influenced by Mexican and American literature. "The Latin American tradition naturally plays with time and space in a metaphysical way," says  Iñárritu. Octavio Paz, Juan Rulfo, Jorge Luis Borges and Julio Cortazar were also sources of inspiration and Bardo pays homage to the work of Mexican muralist Jose Clemente Orozco and to David Alfaro Siquerios.
The paintings of De Chirico, Delvaux and Magritte informed imagery within in the film, as well as the work of photographer Vivian Maier. The filmmakers were also inspired by the classic films of Roy Anderson, Luis Buñuel, Federico Fellini, Alejandro Jodorwsky and Jean-Luc Godard.
After Silvero's son Lorenzo reminds him of a time when his pet axolotls died, Silverio buys some as a surprise gift. On the Metro ride from the pet store (in a repeat of an earlier scene), he has a violent stroke. It is then revealed that all the events of the film we have witnessed, have in fact all been going on his mind whilst in a coma in bed at home.
You can watch the full interview about the design of Bardo with Eugenio Caballero below, in which he reveals an Easter egg Mexican landmark included inside a fish tank which appears in the film.
Bardo is showing in select cinemas now and streaming on on Netlflix from December 16, 2022.