Checkmate! The story behind Kubrick's carpet in The Shining revealed
Film and Furniture regulars will know one of the original inspirations for this very website was the hexagonal patterned carpet in The Shining's Overlook Hotel. The carpet in The Hotel's corridor features prominently in several key scenes of Kubrick's 1980 film, including young Danny's first unnerving encounter with room 237 as he investigates on his tricycle. The carpet's dynamic orange, brown and red colour way and mesmerizing graphic pattern leap out at us from the screen, so it's no surprise that it has become the most iconic carpet to ever feature in film. We reveal who designed this carpet, why we believe it was chosen for this classic horror and where you can buy it for your own home.
Jack Torrance (Jack Nicholson), his wife Wendy (Shelley Duvall) and son Danny (Danny Lloyd) arrive at the Overlook Hotel at the end of the season to begin their job as winter caretakers, just as the guests are all leaving. In their tour of the hotel by Mr. Ullman, Danny is told that the hotel has a bad history. The exterior of the Hotel was filmed at The Timberline Lodge at Mt. Hood in Oregon, USA and the interior (influenced by the interiors of  the Ahwahnee Hoteel at Yosemite) were film sets created in Elstree Studios.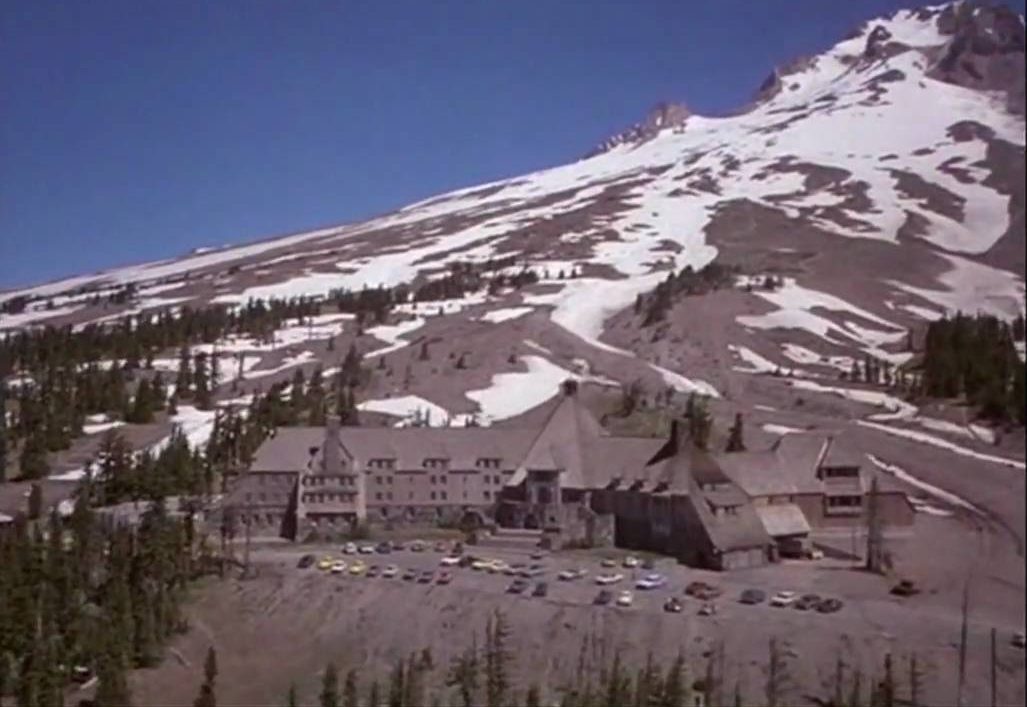 Our quest to find out more about the corridor carpet took us on a few diversions and down several rabbit holes when this site first launched. As discussed in our feature The Power of Pattern: The carpet in The Shining / A Chat With Patternity the film has given rise to a series of conspiracy theories (as is often the case where the fastidious and symbol-laden director Kubrick is concerned), some of which are documented in the film Room 237 (the hotel room number where much of the grisly action takes place).
Prompted by a Film and Furniture reader recently sending us the below picture of their parents bedroom in Germany, where this carpet has lain since 1970, we thought it time to go back to our roots and find out more about one of the most iconic and homaged (eg. Toy Story 3 and Minions) carpet's in film.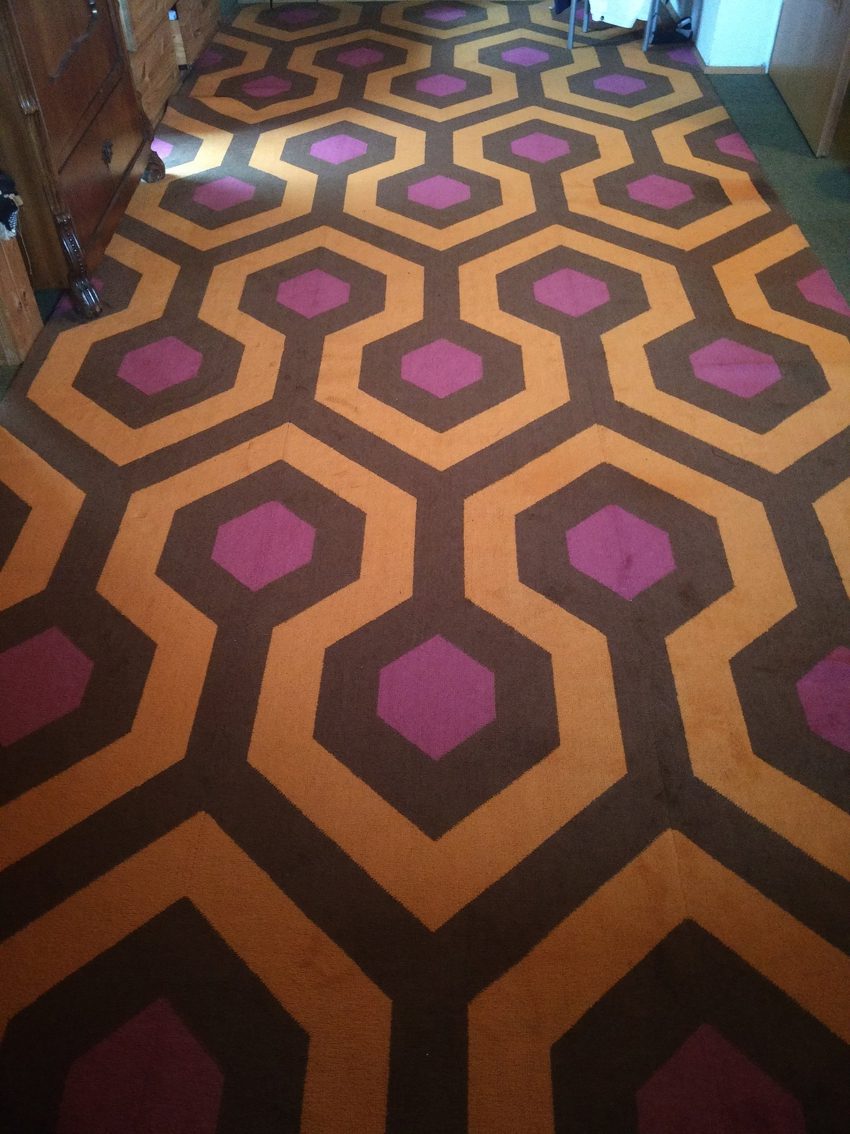 The carpet designer: A prince of pattern.
We had a good idea who was behind the design of the carpet in The Overlook Hotel in The Shining but verifying it has taken a lot more effort than one might imagine, especially considering how much has been written and regurgitated about Kubrick over the years. The official Kubrick archivists have even been checking the production notes of the film for us but they could find no record of an actual order, delivery or any visual reference of the carpet. However, we can now confirm the carpet is a David Hicks design called Hicks' Hexagon.
David Hicks (1929-1998) is in our opinion one of the most outstanding interior designers of all time. His fusion of pattern, colour, antique and contemporary has influenced many designers of both home and fashion. His early clients mixed aristocracy, media and fashion (Vidal Sassoon, Helena Rubinstein, the Duchess of Rutland and Mrs. Conde Nast). He married Lady Pamela Mountbatten in 1960 and was soon making carpets for Windsor Castle and decorating the Prince of Wales' first apartment at Buckingham Palace.
Hicks first started to design patterned carpets and fabrics in 1963 when he couldn't find anything on the market to his taste. His style was underpinned by a dynamic sense of colour and a penchant for bold pattern. His personality was equally as vivid and the obituary in The New York Times remembered him for "his love of graphic color combinations as well as for a temperament that veered between disarming charm and apoplectic rage".
Hicks did not however collaborate on the filming of The Shining. The 'Hicks' Hexagon' carpet was in production in the 1960s prior to The Shining's release in 1980, and the carpet which appeared in The Overlook Hotel was either an off-the shelf purchase for the film or a copy made for filming. Ashley Hicks, David's son – also a very successful interior, textile and carpet designer – left an interesting comment on Graphic Journey, the blog of graphic design legend and film aficionado Mike Dempsey. In a post about the work of David Hicks, Ashley Hicks commented "…my father never worked for Kubrick. I wish he had! Though I fear it would have been one ego too many. Kubrick copied a Hicks carpet for The Shining, but the only movie Hicks worked on was Petulia for his friend Dick Lester".
The blog The Hawaiian Sybarite says "Hicks' most famous pattern, Hicks' Hexagon, and his connection with the dark, satanic energy that consumes Jack Torrance in [The Shining] is no coincidence" going on to explain that Hicks famously idolised Wagner, specifically the six-hour apocalyptic opera Götterdämmerung. "A person who likes Wagner is already suspected of being a dangerous sociopath" they continue.
Film and Furniture's theories on why David Hicks' hexagonal carpet was chosen for The Shining
To explain why Hicks' Hexagon carpet was chosen for this now famous film set, we can offer up five of our own theories.
Firstly, because of its unnerving, mesmerizing and vivid presence which adds a sense of foreboding.
Secondly, because the graphic pattern lends itself to working particularly well in Kubrick's symmetrical, 'one point perspective' framing and adds a more dramatic sense of perspective and a lengthening effect of the corridor.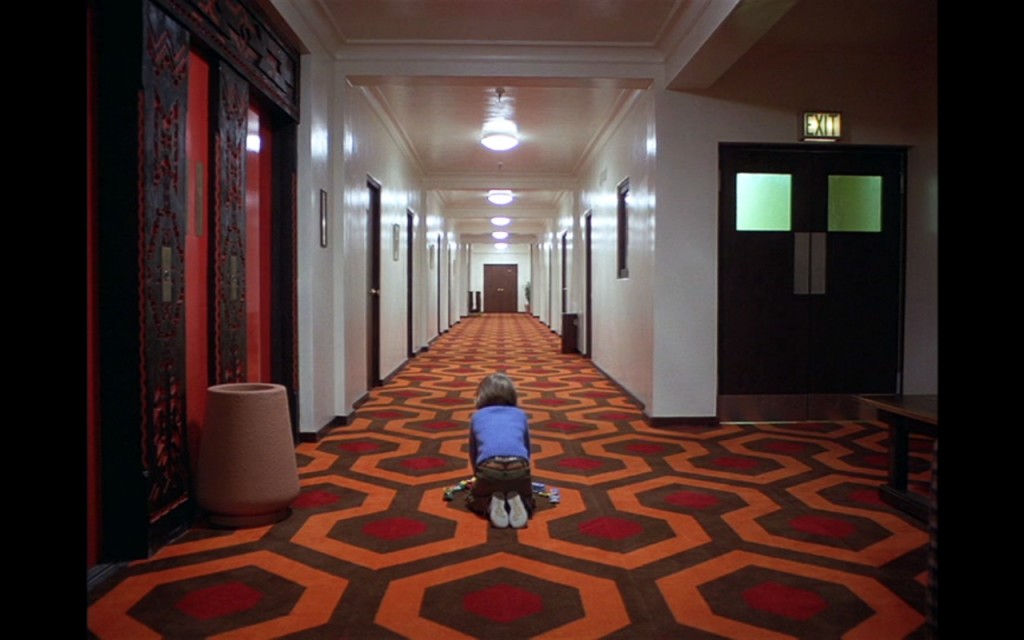 Thirdly, because the definition of Hex is 'a curse or malicious wish' and thus perfectly symbolising the evil contained within the hotel.
Fourthly, we can link the hexagonal carpet to Kubrick's fascination of both chess and war strategy. Hex maps, hex boards and hex grids are often used in strategy game board designs and commonly used in war games of all scales. The map is subdivided into a hexagonal tiling, small regular hexagons of identical size. The hex board below could almost be a initial sketch for the carpet.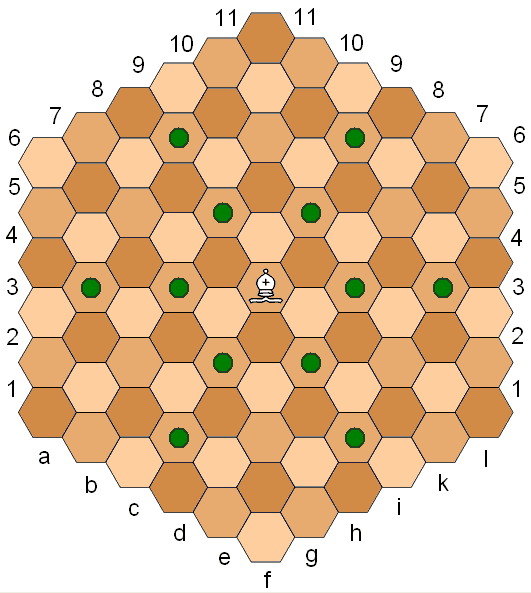 Kubrick's interest in war and strategy were played out in Paths of Glory, 1957 (set during World War I and based on Humphrey Cobb's 1935 antiwar novel) Spartacus, 1960 (based on the true life story of the historical figure Spartacus and the events of the Third Servile War). During the making of Dr. Strangelove or: How I Learned to Stop Worrying and Love the Bomb (1964) Kubrick became preoccupied with the issue of nuclear war as the Cold War unfolded in the 1950s and studied over 40 military and political research books on the subject. Full Metal Jacket (1987) is set in the Vietnam war and Kubrick also spend two years preparing for a film on Napoleon which never came to fruition.
One of our favourite Kubrick analysts, Juli Kearns discusses on Idyllpus Press in 'How the Kubrick Carpet Trick Works' how Danny's position on the carpet changes from shot to shot which she believes was a deliberate decision by Kubrick, comparing it to a chess move which also has a connection to the chess game between HAL and Frank Poole in 2001: A Space Odyssey.
Lastly, a hexagon has six sides. As Hallorann explains to Danny, 'the Shine' is a psychic or clairvoyant ability – one might say a sixth sense.
So where can I buy The Shining famous carpet for my own home?
The carpet
The original Hicks' Hexagon carpet is no longer in general production, but the good news is we are now able to source it for you through Starck who hold the official David Hicks license to make this carpet to the exact original design and colour ways (including The Shining's red, orange and brown). They even produced one for Everyman Cinemas recently. Although they do not accept orders from the general public, we can do so on your behalf through our Film and Furniture Interior Design service  – contact hello@filmandfurniture.co.uk
Hexagon House (below) is a more contemporary take of Hicks' Hexagon from Ashley Hicks (David Hicks son), available in three colour ways – all far more subtle than The Shining's retro boldness but if you're looking to create a homage which is perhaps (depending on your temperament) more easy to live with – this carpet available from Stark is made in 100% wool.  To order please contact us at the Film and Furniture Interior Design service at hello@filmandfurniture.co.uk
Hexagram, also by Ashley Hicks is a nylon version of this carpet available in 4 colourways: Cassis, Cornflower, Fawn and Rossette.
Wallpaper
You don't need to limit this dynamic design to your floors – it is also available as wallpaper. The original David Hicks hexagonal design is produced in print in a Cole & Son wallpaper, in two different scales of hexagon and several different colour ways.
The geometric hexagon pattern large-scale print comes in six new colour ways including reds, sapphire blues, turquoise, ebony and copper. Hicks Grand is closer in scale to The Shining carpet and is available at £76 per roll from Wallpaper Direct or John Lewis
The smaller scale hexagonal design shown below, Hicks Hexagon comes in Gilver White & Blue, Gold/Taupe, Teal/Gold, Black/Gold and is available from John Lewis, £76 per roll.
The Hicks carpets and wallpapers makes a beautiful bold statement, and present a real story to tell visitors to your home!
You might also like:
You can find other The Shining related furniture and homeware here >