The deliberately disorientating décor of The Father
The Father uses subtly changing interior design to disorientate us as we descend into Anthony's world of dementia. It's a perfect example of how choice of interior décor and furniture in film can convey a hidden narrative and ground us (or not) in the story. We talked with production designer Peter Francis about this clever film set design.
[Contains spoilers]
Based on the stage play of the same name, The Father is the directorial debut of award winning French playwright Florian Zeller. It's a heart-rending account of the relationship between an old man (Anthony Hopkins) and his middle-aged daughter (Olivia Colman), as their roles switch from one of parent and child to dependent and carer, and the difficulties in adapting to those emotional circumstances. Alongside Oscar-winners Hopkins and Colman, the small but perfectly formed cast also includes Mark Gatiss, Imogen Poots, Rufus Sewell and Olivia Williams. 
The filmset itself is also a key character. "The set was such an integral part of the story. We weren't just creating a backdrop per se but another character to help tell the story. It was great fun working it all out as you can imagine!" production designer Peter Francis told us.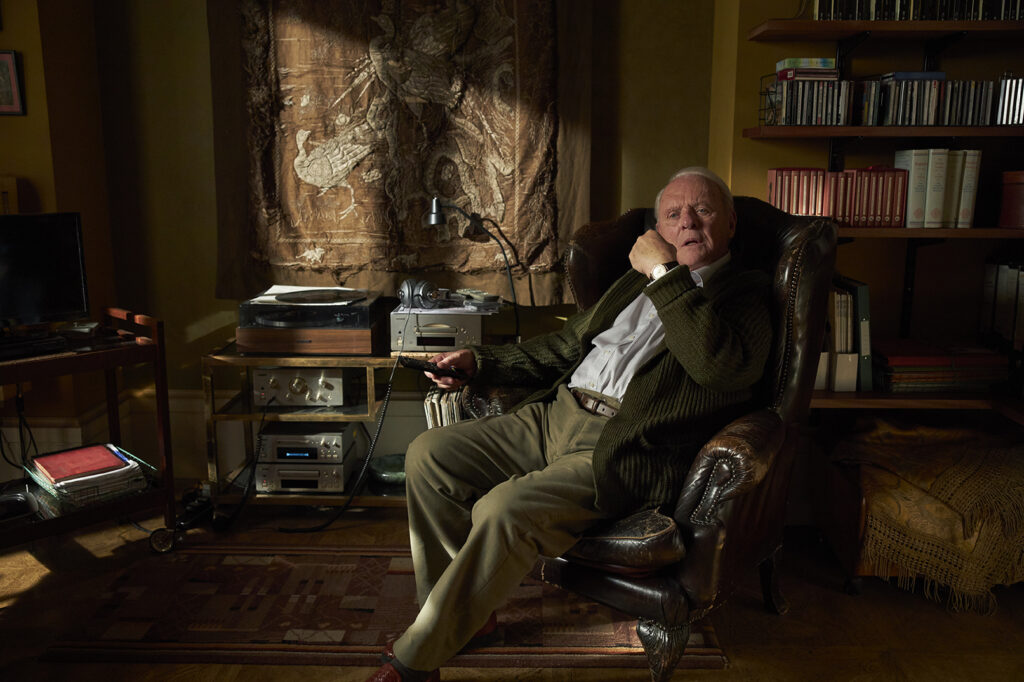 As the mischievous and highly independent 81 year old Anthony wanders around his substantial London mansion block apartment, we start to feel a little confused and wonder after a while – "is it his flat, or is it actually his daughter Anne's apartment?" You find yourself suddenly thinking (if you're sensitive to interior design like we are): "That ceiling light and that wall colour looks too contemporary for an older man, maybe I've mis-read the setting", then "I'm sure that kitchen design has changed", and "wait a minute, who really his is his daughter?" At times the setting is cosy and comforting, at times unfamiliar and unsettling.
The apartment's furniture and décor subtly changes from scene to scene, whether a table lamp or a painting on the wall, leading us to question our own interpretation. Gradually we realise we are seeing the world though Anthony's increasingly disorientated point of view. We are caught up in the confusion and placed very much in the centre of this journey with him as we try to piece together the fabric of the reality we are being presented.
Zeller plays with the audience in this film in the way he enjoys manipulating a theatre audience: "The audience should feel as if they are groping their way through a labyrinth" he says.
This 'labyrinth' is created by the exact same architectural space gradually changing from Anthony's own flat, to his daughter's (and variations thereof), to a doctors surgery and finally a care home. Every day of filming the crew changed a few things – sometimes the colour, sometimes the proportion, sometimes the furniture. "You have enough to feel that you are still in the same place, but something has changed. It was a way to play with the set to create the disorientation of the audience" says Zeller.
The challenge of creating Anthony's physical world landed at the feet of Francis, who learned his craft from working with some of the world's most highly respected production designers (Stuart Craig on the Harry Potter series, Peter Lamont on James Cameron's Titanic and three James Bond films). Together with Ben Smithard as Cinematographer, Anna Mary Scott Robbins as Costume Designer, and Nadia Stacey as Hair and Make-up Designer, the whole experience of working on The Father has left a distinct impression on them all.
"The whole story takes place in the changing apartment, and I knew this would be a technical challenge. I had to remember from the outset that one place had to serve as many places. The architecture stays the same but the set dressing and the feel constantly changes." says Francis who goes to great lengths to emphasis how much he enjoyed working on this film with Zeller: "It was a great script, a great director and a great cast – and all that rarely all comes together. Florian is an incredible man, very engaging, looks you right in the eye and listens to everything you say. His warm personality and confidence helps so much on a project because we all had faith even though he hadn't even made a film before. It was such an easy, flowing process for all of the cast and crew."
"When I first met him I had drawn a proposed plan and sheepishly said 'I've drawn a layout of how it might be.' Florian replied 'I'll show you mine if you show me yours' and as soon as he placed his on the table we realised they were exactly the same! So we were literally on the same page from day one." he adds.
The exterior of Anthony's flat is a mansion block in London's Maida Vale. Francis imagined this ex-engineer had lived there for a long time and from there he worked on developing the interior. "We knew a mansion block such as this would have high ceilings and I wanted to bring in an Arts and Crafts flavour because of the period of the block being around 1900-1910 (and also because I'm a particular fan of Arts and Crafts architecture myself)."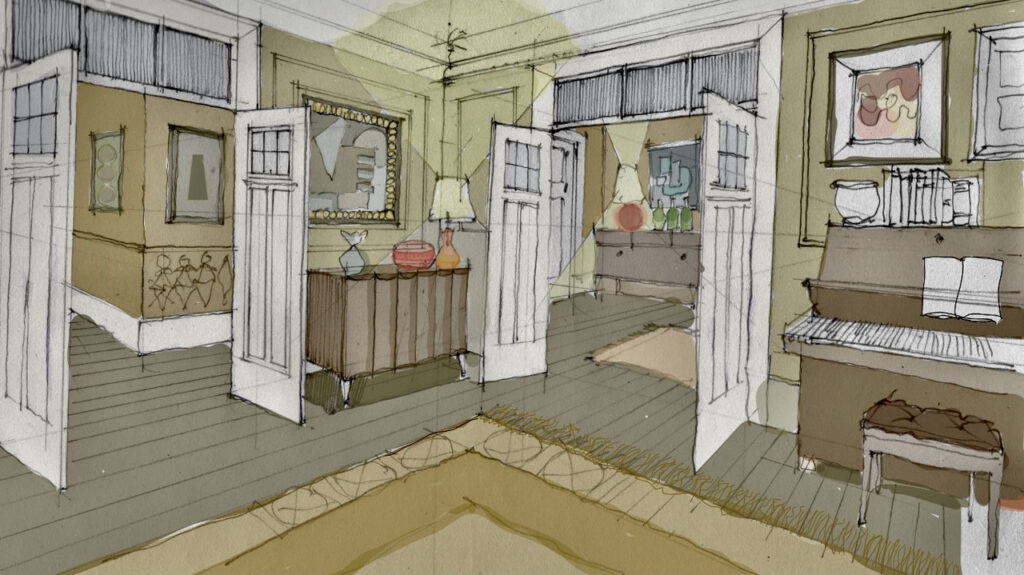 When designing the space Francis kept in mind how people consciously or subconsciously take note of the rooms they're in. "We perceive a space depending on the colour, the furnishings, the paintings and the accessories" he explains. "We placed different furniture in similar places in each room and even though, for example, the paintings changed from one apartment to the next, we hung them in the same arrangements so that it wasn't immediately noticeable."
"Once we had established the architecture, colour then played a big part in the gradual shifting spaces" says Francis. "We imagined Anthony had been in this same apartment for 40 or so years so this led to a yellow palette of mainly golds, creams and ochres with a hint of green. I read a quote which said that ochre is a 'mature yellow' which I thought sat well with Anthony, but I didn't want it to look too retro so it's an eclectic mix of décor which we felt had evolved over time.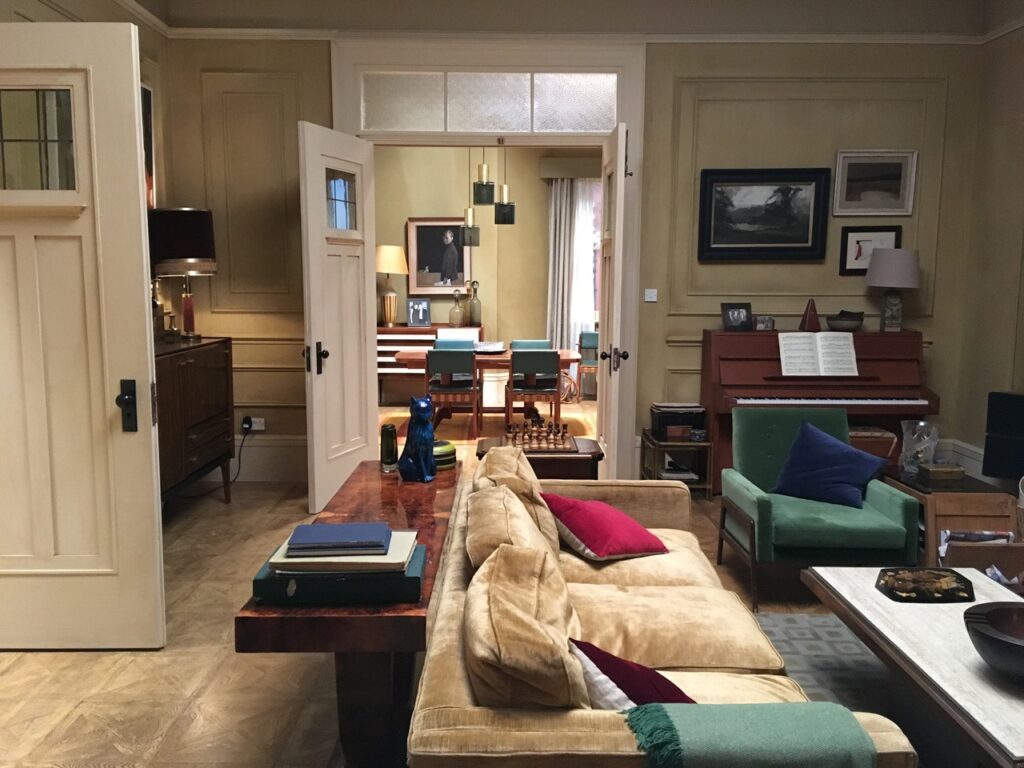 Anne's apartment leans towards dusty blues with a slightly more contemporary approach. Her decor reflects her age and style, and someone who might have gathered pieces along the way such as heirlooms or mid century furniture pieces, to form a comfortable space.
When comparing the above image with the one below you will notice the wall colours change from cream to greeny blue, the gold sofa changes to two rosewood mid century chairs upholstered in teal and the piano is replaced by a drinks cabinet. You may also have noticed that the pictures on the wall have changed but are hung in a similar configurations. 
The blue of Anne's apartment also links well with the transition to the doctors surgery which is in fact the same blue but lit differently. The care home is contrasted with cold colours and austere lighting.
Doors and corridors were an important part of the design of the film set. There are many inter-connected rooms which help create the feeling of a labyrinth and a sense of depth. In each room you can see through doors to other rooms, as well as windows beyond. The living room has three sets of doors off to the study, the kitchen and the dining room which allowed for movement of the characters in and out of spaces.
The design of the doors are deliberately graphic and make a bold statement in each room. This makes them noticeable in all the different variations of the same space. 
Towards the end of the film, the same space has transitioned into Anthony's care home. You're left wondering if we have in fact been in this care home the whole time. Are the other rooms just glimmers of Anthony's memories which have merged together through his dementia?
"Theatre and the movies remind you that you are part of something bigger than yourself. Despite its labyrinthine qualities, there is also a distinct sense of joy about the play which I wanted to keep." says Zeller.
The Father has been nominated for an OSCAR for Production Design as well as a BAFTA for Production Design, Best Film, Outstanding British Film, Adapted Screenplay, Leading Actor: Anthony Hopkins, and Editing. It has also won three BIFAs for Best Editing, Best Actor (Anthony Hopkins) and Best Screenplay. We are sure there are more award nominations to come.
The Father is out now in USA and will be released in UK cinemas on 11th June.