The outdoor BBQ grill table in The Gentlemen
We love the outdoor smokeless BBQ table in Guy Ritchie's The Gentlemen and it seems many of you do too, as we've received many requests to track it down.
To recap: In the scene in The Gentlemen where the sleazy tabloid journalist Fletcher (Hugh Grant) joins Ray (Charlie Hunnam) in his garden, Fletcher gestures towards Ray's eye-catching outdoor table with built-in grill, and says:
"What is that, is that a BBQ as well?"
"Yes it is Fletcher" says Ray.
"I love a barbie" says Fletcher, adding: "That's a useful bit of part(?) then isn't it – it heats up your knees and cooks at the same time. Ha, you got to show me how to get one of them."
"Well you can take it with you if you fuck off now" says Ray.
Pushing his luck, Fletcher hesitates, takes a drag of his cigarette, then asks "Ray, is there any chance of a steak?"
They stare at each other while Ray considers the request.
"Yeah alright, I've got a bit of Wagyu in the freezer as it happens" Ray replies.
"I've never had Wagyu" says Fletcher, a little excited.
"Ah well, it'll be wasted on you but it's all I've got" quips Ray before he goes inside to his freezer to fetch the steak.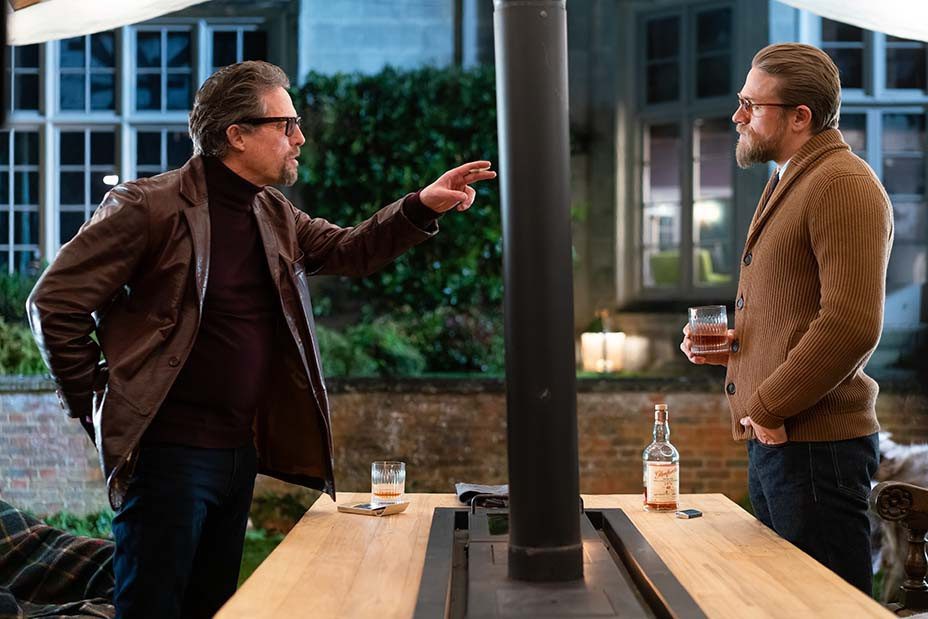 The Gentleman's Production Designer Gemma Jackson (who also worked with Ritchie on Aladdin, as well as being production designer for Game of Thrones, John Adam and Bridget Jones Diary) tells us she first encountered the barbecue in Guy Ritchie's garden.
"It's his personal invention which he has gradually refined to the fabulous object you saw in the film" Jackson says. "It's very clever. You sit around it and keep warm as your legs are tucked under the table where there is the warmth from the burning embers. Guy throws furs etc over the chairs so that he can entertain outside all the year around."
It was chosen for this scene because it was felt to be sufficiently innovative for a bit of a dark horse like the character Ray: "It wasn't originally in the script but as we all thought about it, the idea stuck and we put it in Ray's garden" Jackson continues.
This is a gorgeous bit of kit and we can certainly see how Ray's barbeque grill would make a great addition to any garden as it brings people together in an interactive way to cook and enjoy food. In our current socially distanced age where outdoor gatherings are preferable it also offers a particularly timely solution to social dining.
Where can I find the outdoor table BBQ grill for my own home?
If you're looking to buy the said same BBQ grill as seen in The Gentlemen, the good news is it will be commercially available before too long.
Soon to be launched by the Gritchie Kitchen Company, it was designed by Guy Ritchie in collaboration with Gritchie Kitchens' technical Director Nigel True. It will be available in four sizes, from a large BBQ table to a smaller portable picnic size. Sign up to our newsletter if you want to be one of the first to know when it's ready.
In the meantime, there are a selection of large outdoor table BBQ alternatives available.
The nearest thing we've found so far in the way of a large outdoor table grill is the Angara from iBBQ (in Sanskrit, Angara means "the fire within"). Originally designed by Cole Henley in the UK, it was spotted by Karim Pirani of iBBQ while on a trip to London, and they have collaborated to take it to the US market. 
The Angara table, which comes as a 4, 6 or 8 seater, looks at first just like any other outdoor table but has covers that can be removed to reveal hidden grill plates underneath. Made from figured-grain, Concalo Alves aka 'Tiger Wood' with modern, powder-coated steel, the table provides what iBBQ refer to as a 'Social Grilling Experience' for your home. Prices start from $4,950.
A second option we have found is the large outdoor grill table known as the JAG Eight priced at $2,750 which features a pop up, stainless steel grilling rack to adjust your charcoal, a side-door for air-flow (or to clean out the pit), adjustable legs to accommodate uneven surfaces and a removable grill dome for conversion to an open fire pit.
If you're looking for the ultimate BBQ tool set you'll surely be after the Berghoff 33 Piece BBQ set. Price £158.
See the BBQ scene in The Gentlemen trailer below.