Exclusive! The 'Star Trek: Strange New Worlds' Enterprise blends midcentury design with SciFi futurism – Part 2
How do you augment the Star Trek Enterprise? It's a seemingly impossible task given that the original exalted starship has often been sited as one of the best-designed and most influential science fiction spacecraft. Here in Part 2 of our in-depth investigation into the reimagining of the USS Enterprise design for Star Trek: Strange New Worlds, we take an exclusive look around the Transporter, Spock's Quarters and the Enterprise Sick Bay – with Production Designer Jonathan Lee as our guide.
Part 1, which we highly recommend you delve into first here, investigates the Bridge of Star Trek: The Original Series ('TOS') from the late 1960s and how it's evolved for Strange New Worlds ('SNW'), together with Captain Pikes Ready Room and Pike's Enterprise Quarters.
Part 2
Prepare to Energise: The Transporter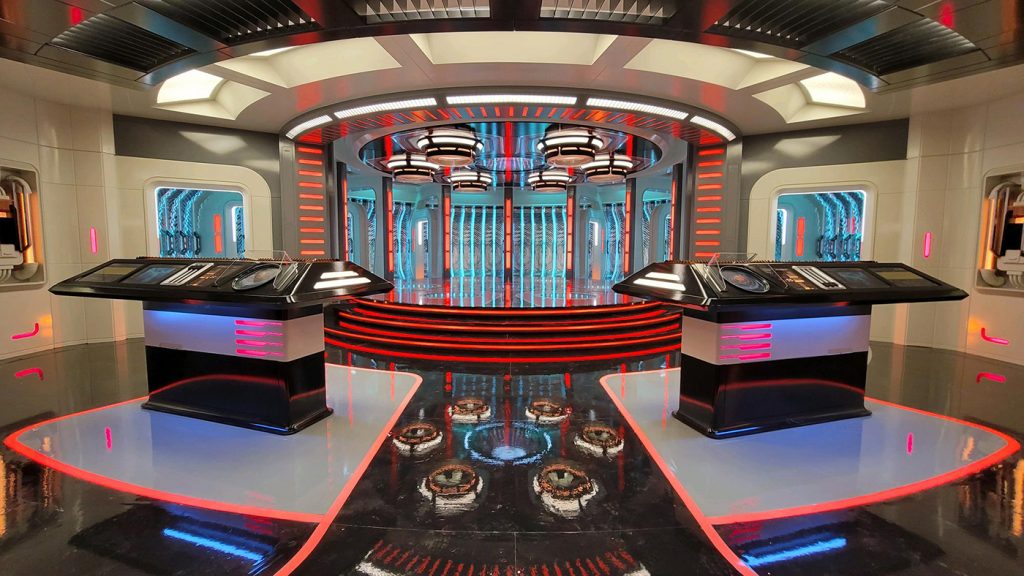 If like me, you've spent the last few decades hoping that a Star Trek-style teleportation machine would become a real, live experience, you'll be disappointed. Although not a totally ridiculous idea, as quantum teleportation has already been achieved, for now you'll have to make do with the shiny new Transporter Room onboard the new-look Enterprise of Star Trek: Strange New Worlds.
First introduced in TOS, the Transporter allows for teleportation by converting a person or object into an energy pattern (a process called 'dematerialisation'), then sending ('beaming') it to a target location or returning it to the transporter, where it is reconverted into matter ('rematerialisation'). Since this amazing concept first hit our screens in 1966, the name and similar concepts have made their way to other science fiction films, TV and literature.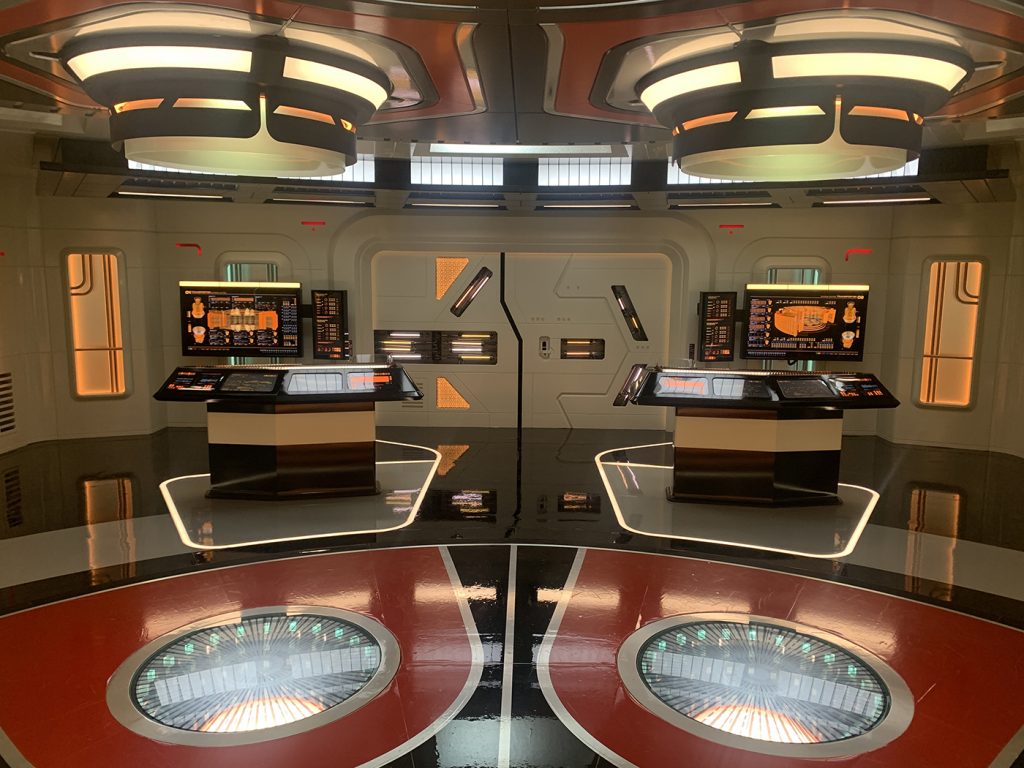 SNW Production Designer Jonathan Lee acknowledges that the Transporter was already an iconic set but he wanted to update it, have some fun with it and ensure the cameras could move around it more easily for filming. Lee added a corridor around the back of this part of the ship "so we could look through the consoles to the operators, but still very recognisable".
Spock's Quarters
Spock (played by Ethan Peck) has impressive Quarters on board the starship Enterprise.
This is a fine example, as is Pike's Quarters, of how midcentury decor details ground us in the TOS aesthetic and contemporary pieces bring us into the now and beyond.
We spotted some of our old and trusted friends; the STOFF Nagel candle holders which appear in both chrome and brass – a design classic from the 1960s and we are very pleased to own some vintage originals at F&F HQ. You can build your own grouped combination used several of these wondrous objects, as Spock did in his quarters in Star Trek: Strange New Worlds.
These candle holders and the tall STOFF Nagel stand are still made today and are available from our store. Vintage original versions can often be found on Etsy
The shape of Spock's console table in brass and black (seen above lower right) seems to naturally echo the Starfleet insignia as well as the Vulcan salute.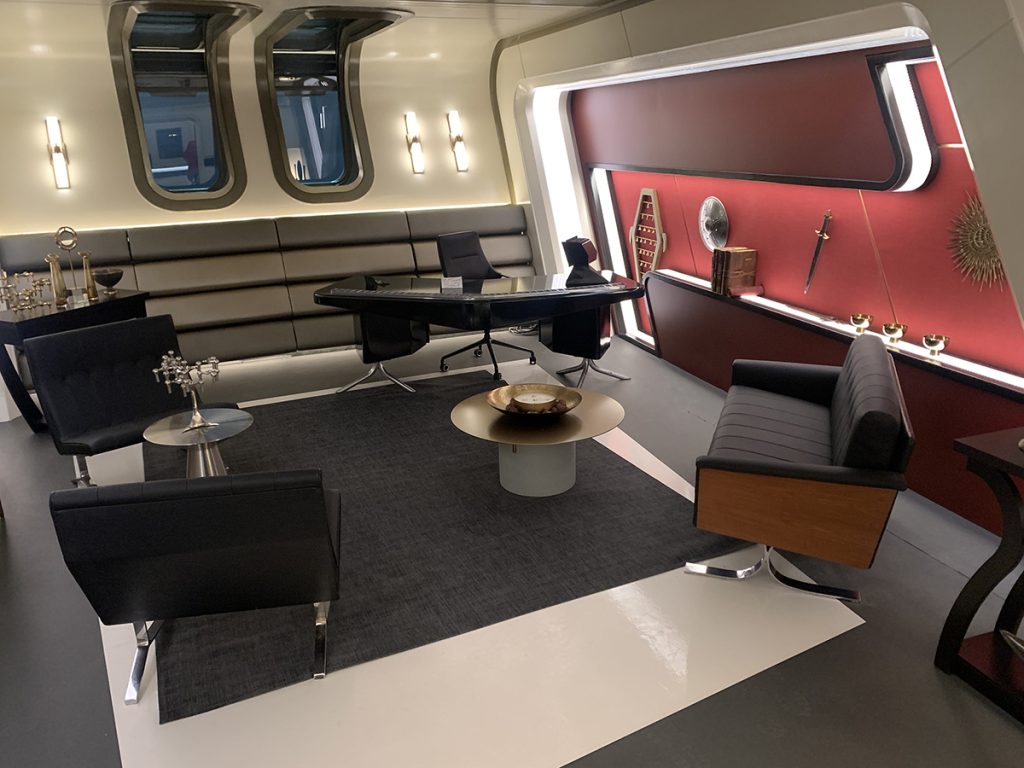 Behind Spock's custom designed desk, we see a Graph Conference Chair in black leather. These chairs are seen throughout the ship such as in Pike's Ready Room in red and in the Sick Bay.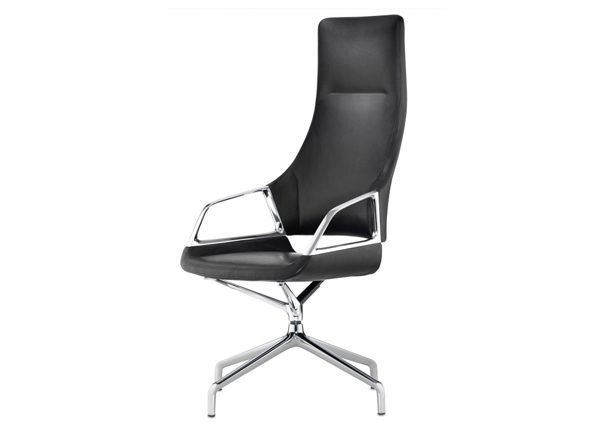 The Graph Conference chair by Wilkhahn is designed by Markus Jehs and Jürgen Laub, and the name refers to its graphical aesthetic.
The Enterprise Sick Bay
The Sick Bay is the jurisdiction of Dr. M'Benga (played by Babs Olusanmokun) and Nurse Christine Chapel (Jess Bush)
The shiny white space features a custom desk designed by Set Decorator Justin Craig and a high backrest version of the Graph Conference chair, this time in a duck egg blue leather.
On this desk we find an AJ Table Lamp, designed by Danish architect and industrial designer Arne Jacobsen. You may recognise these from Pike's Ready Room as they also appear on his desk, but here in the Sick Bay a white version has been opted for.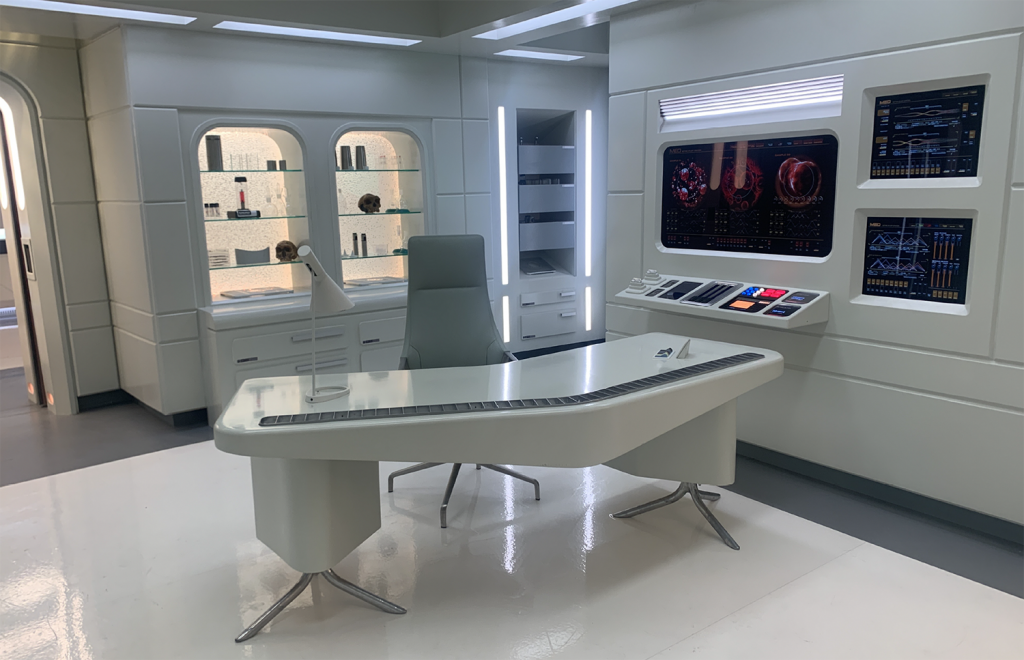 The Sick Bay also features another piece of furniture which caught our eye: The Miura bar stools in white by Plank.
High white is the order of the day for such a clinical space, and white too is a theme we also find in the corridors. These spaces ooze all the very best of science fiction film sets (which Kubrick set the bar for with 2001: A Space Odyssey).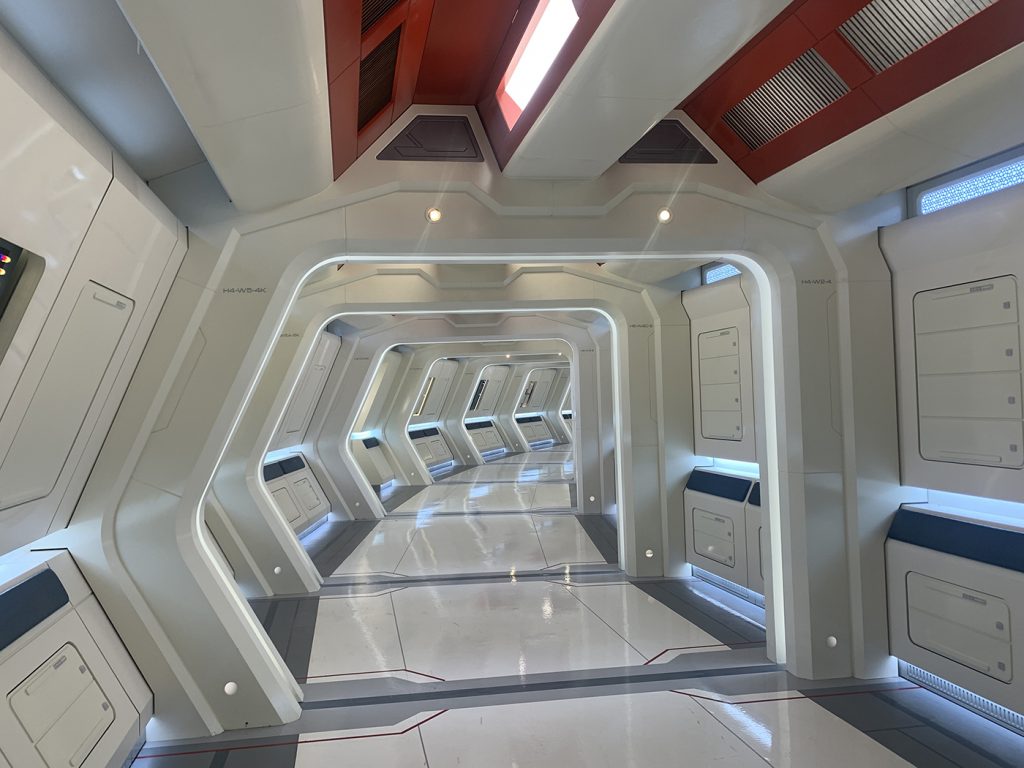 The Mess Hall film set and the Port Galley (which we will see in Season 2) also continues this white theme with the classic Saarinen Tulip Chairs and Saarinen Tulip tables which feature in abundance.
Where can I watch Star Trek: Strange New Worlds?
Star Trek Strange New Worlds is available to watch on Paramount +. It began its 10-episode debut season on 5 May 2022 in USA, Latin America, Australia and the Nordics and is now available in the UK also on Paramount + – which is also available through Amazon Prime here >
What do you think of the new Enterprise design for Star Trek?