Exclusive! The 'Star Trek: Strange New Worlds' Enterprise fuses midcentury design with SciFi futurism – Part 1
How do you augment the Star Trek Enterprise? It's a seemingly impossible task given that the original exalted starship has often been cited as one of the best-designed and most influential science fiction spacecraft. However, Production Designer Jonathan Lee and his 60-strong team have achieved this mission for Star Trek: Strange New Worlds with aplomb, and with some notable nods to midcentury modern design details.
Lee talked to us exclusively about his approach to reimagining an icon. Strap in, and prepare to energise – this is an in-depth feature in two parts.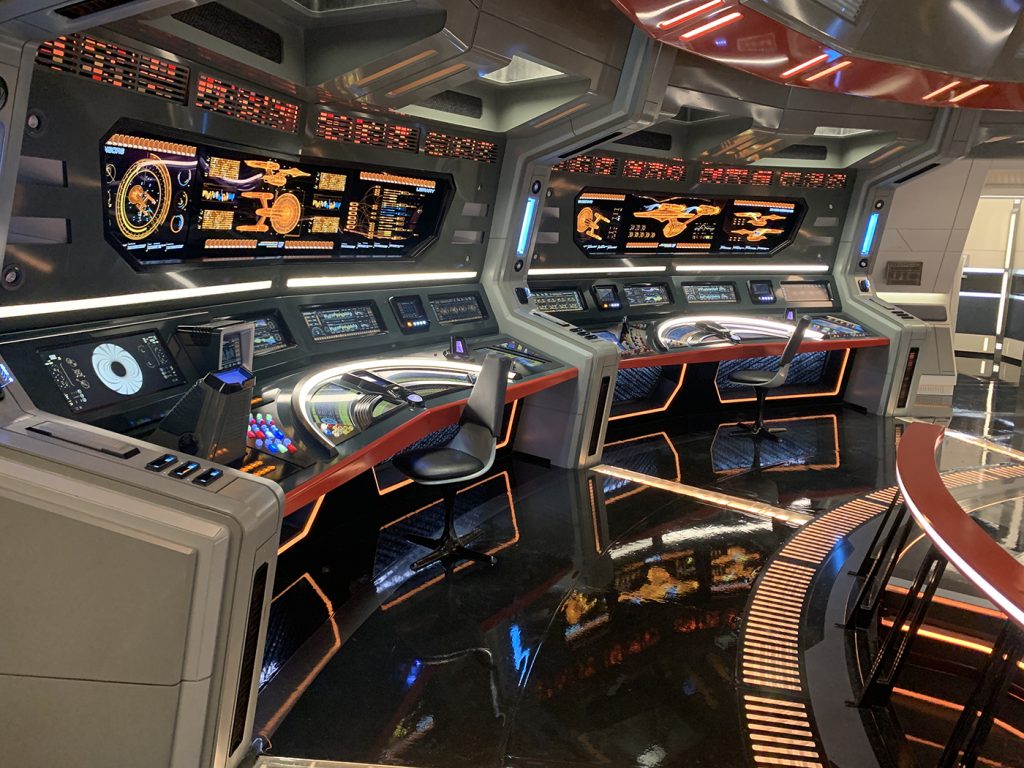 Part 1
The Strange New World story
A prequel to Star Trek: The Original Series ('TOS') which graced our TV screens from 1966-1969, and a sequel to Star Trek: Discovery (2017), Strange New Worlds ('SNW') follows the crew of the USS Enterprise with Captain Christopher Pike at the helm, a decade before the events of the original series when Captain James T. Kirk became Captain.
SNW returns to the roots of the Star Trek franchise and co-creator/producer Akiva Goldsman had teased early on that the series would harken back to some "classical Trek values, to be optimistic, and to be more episodic". No pressure there then!
The USS Enterprise, now and then.
The starship USS Enterprise is the heart and soul of the Star Trek franchise, which stems from the original series created by Gene Roddenberry. Each of its crew are on a mission to famously "explore strange, new worlds; to seek out new life and new civilisations; to boldly go where no man has gone before." 
The Enterprise is also the main setting for SNW and Anson Mount who plays Pike has said the Enterprise is "the star of the show". Rebecca Romjin, who plays first officer Una Chin-Riley, called the Enterprise "sexy, and groovy, and fun".
As Michael and Denise Okuda (graphic designers and video supervisors on numerous Star Trek spinoff series) told us in a previous Film and Furniture feature that "in designing the Starship Enterprise bridge for the original Star Trek, art director Walter M. "Matt" Jefferies had not only to envision a futuristic command center, but he had to construct it on a tiny budget and very tight schedule. Jefferies merged his aesthetic sense with something he called 'aircraft logic', meaning that he used his background as an aviator to imbue his creation with a sense of functionality, even though he had no real idea how 'warp drive' would work."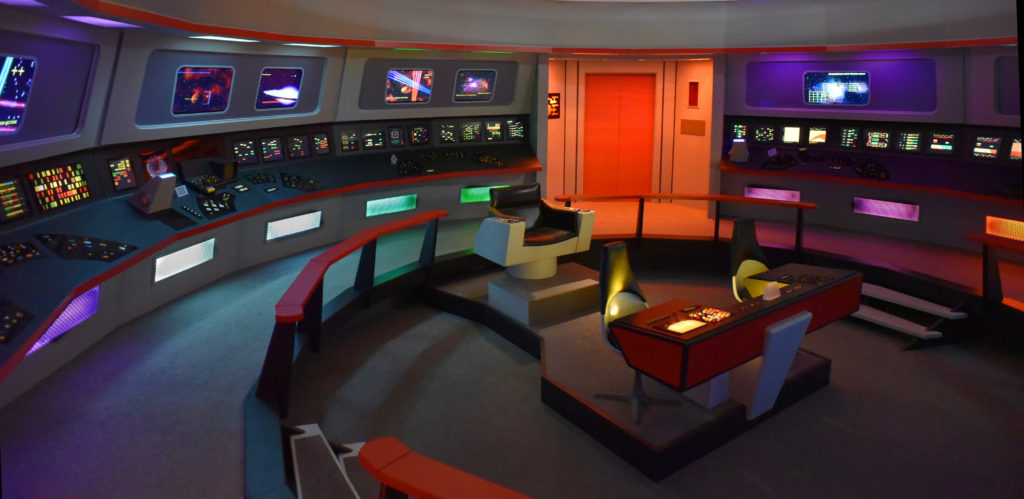 The then budget didn't allow for realistic 1960s-style switches and instruments so, despite – or because of – these constraints, Jefferies devised a clean, sleek, minimalistic style. His Enterprise bridge drew from the best of 1960s interior design and not only served as a stylish backdrop to Captain Kirk's adventures, but it remains an icon of futuristic design.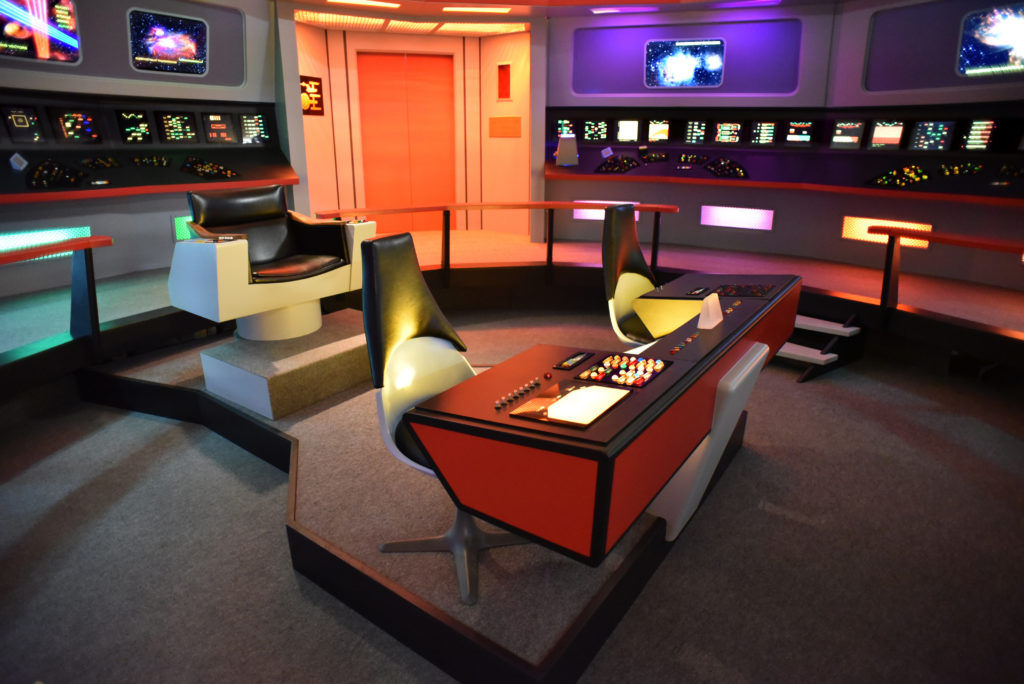 So how do you reimagine an icon?
It's hard to escape the aesthetic that the 1960s vision of the future and space travel brought us. It's engrained in our collective imaginations, largely because of the films and TV series' that came out of the age of the space race – Kubrick's 2001: A Space Odyssey (1968) and the original Star Trek TV series, and later with Space: 1999 (1975-1977) are notable examples. Science fiction of the period and cutting edge midcentury modern design helped define a brave new world vision that remains to this day.
SNW Production Designer Jonathan Lee concurs with this view in our recent chat: "Smaller budget science fiction films of the 40s and 50s had already begun this journey, but they were slightly more on the fringe of public awareness. By the 60s and 70s however, some big budget sci-fi movies came along that punched that aesthetic into the public domain and into the cultural ether. It's been very difficult for design and culture to shake it, but for SNW I could 'lean' on this in all sorts of positive ways, with shapes, colours and choice of decor for example."
The midcentury brought us so many timeless interior design greats after all; from Arne Jacobsen to Eero Saarinen and Hans Wegner for example. Their work resonated in an 'other worldly way' with people, and some of their designs became icons for the science fiction genre. "You just have to look at a little known furniture range of the time – the Djinn chairs and sofas for example. Designer Olivier Mourgue had no idea they would become such a major sci-fi icon by their selection for 2001: A Space Odyssey's Space Station, and they've subsequently been elevated to another cultural level." says Lee.
In his Strange New Worlds Enterprise design we see many nods to exemplary midcentury design as a way to ground is in the TOS aesthetic. Yet he mixes this decor seemingly effortlessly with sci-fi futurism in a way that fit likes a glove. 
"I am old enough to remember when TOS came out, when it was all new and 'wow'" Lee told us, "and I still love the original series. It was such a fantastic concept, all the characters were great, the Enterprise was great, and indeed all the movies were great, so redesigning the Enterprise was both daunting and exciting. The producers were very encouraging and incredibly supportive so it was a nice environment to work within, but they also wanted me to follow my own instincts".
So did Lee feel like he was walking in the footsteps of the Walter Jefferies original design? "Yes, and especially so when it came to the design of the exterior of the ship" he admits. "In Discovery Season 2 a new Enterprise had appeared, and a new exterior and a great deal of the interiors had been re-created for that: They had built the new Bridge for Discovery, but the front of the saucer had been blown off completely, so that was my starting point for SNW – to rebuild the front of the ship. This gave me chance to give it a refit and upgrade it, exactly as any ship would in reality, so I augmented it, and then augmented it further throughout the SNW season".
The Strange New Worlds Bridge and those famous Tulip chairs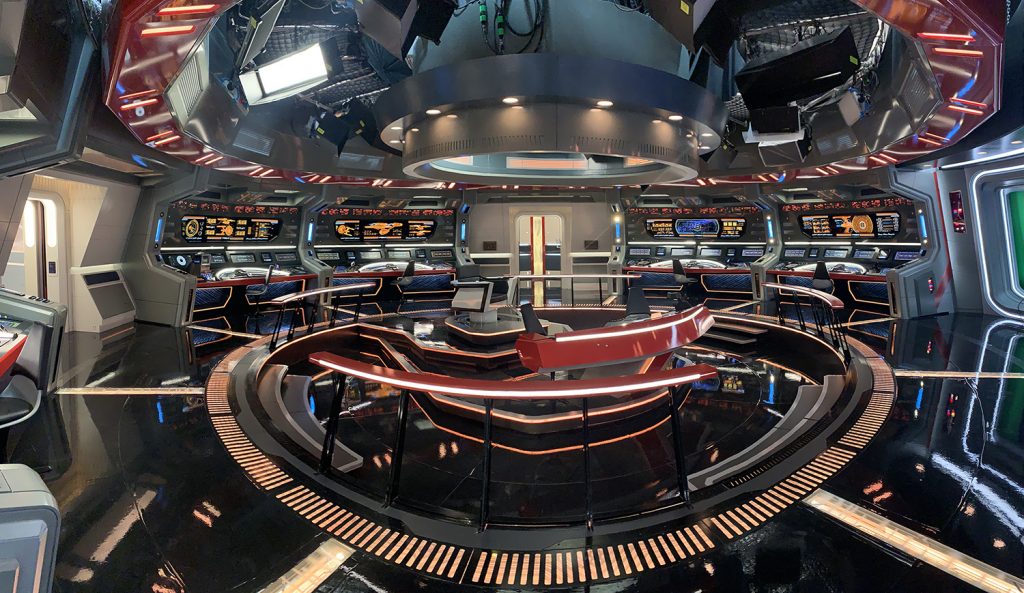 The Enterprise Bridge is a great example of a balance between the simplicity and midcentury look of the TOS bridge with the futurism and sophistication brought to us in Discovery.
"When it came to the interiors, the Bridge for Discovery was quite different from TOS: such as the large corridor around the back, so we decided to bring the Bridge back more to its original TOS form and created the new Ready Room off the Bridge to the right hand side through a new opening" Lee informs us. "We also added new sets such as the mess hall, Pikes Quarters, and updated the Transporter which now has a corridor added around the back". 
TOS incorporated adapted blue/grey Burke Tulip Chairs designed by Maurice Burke of Dallas Texas for Arkana which became the bedrock of Star Trek (as seen in the film set photo above). Their futuristic good looks, adapted with high black back rests made it very at home on the Enterprise during the late 1960s and it went on to be used in many of the Star Trek later films.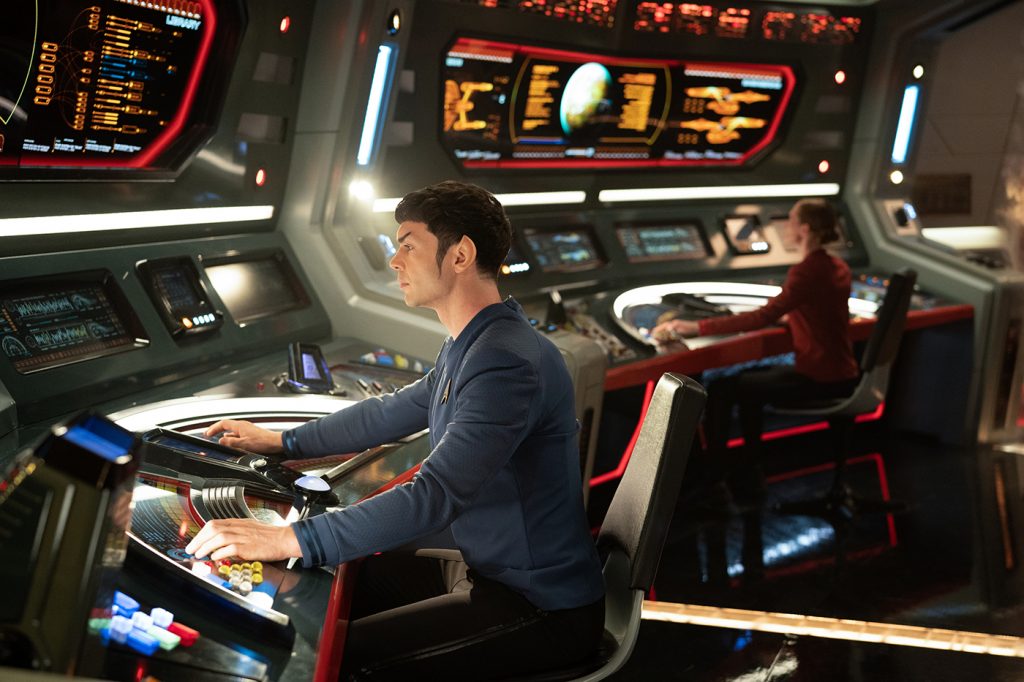 The Burke Tulip chairs are the first cousins to the Eero Saarinen Tulip chairs which have flute like bases. Saarinen's Tulips were designed in the mid-1950s and are part of the Pedestal collection which includes the Tulip Armchair, Stool, Dining Table, Coffee Table and Side Table. Some might say the Burkes were rip-offs as Saarinen Tulips are generally considered the original and the best, but Burke got away with it on a mass scale and in fact the Burke Tulips are now collectable and have value in their own right. Burke versions often have the starburst base as seen in Star Trek.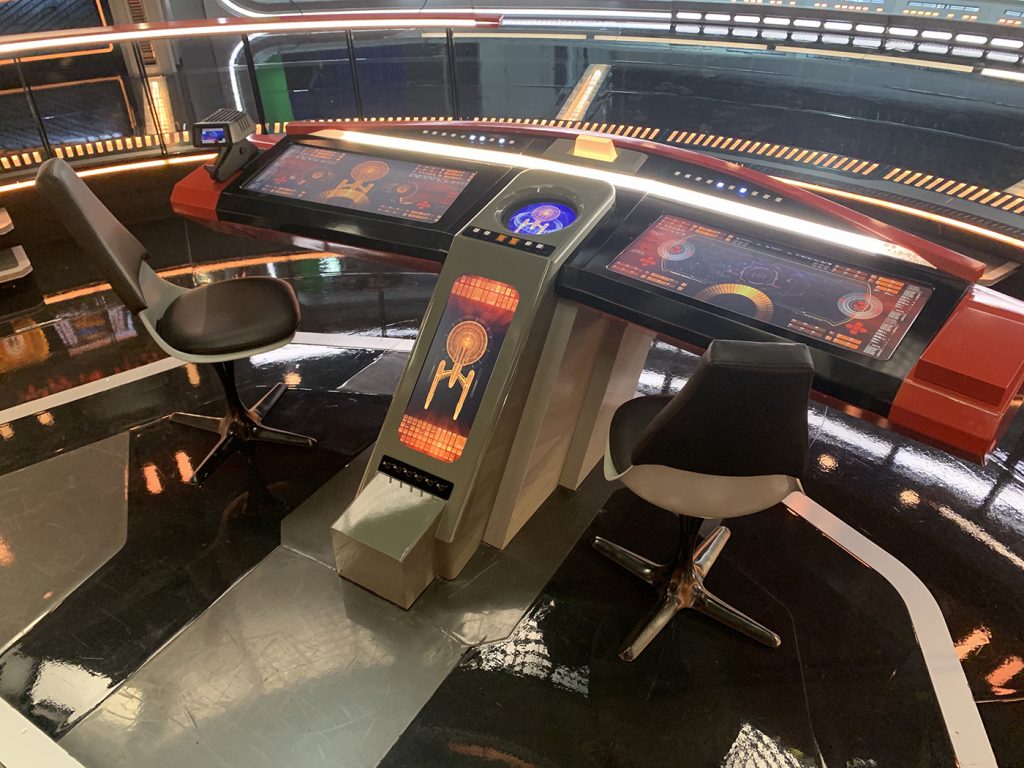 The Tulip chairs provided the finishing touch and created a truly enduring look, but for SNW Lee and his Set Decorator Justin Craig went one step further and incorporated the original Saarinen Tulip Chairs together with Saarinen Tulip tables. We see both in high white in the mess hall for example.
Authentic Saarinen Tulip Chairs are manufactured by Knoll International and handmade in Italy. They are stamped with the Knoll logo and have Eero Saarinen's signature engraved on their underside.
The hero of the Bridge, the captains chair itself, is the same chair as seen in Discovery with just a few tweaks.
Colour Palette
Red is a recurring theme in SNW. Why red? We asked Lee:-
"Red already featured in the Bridge and is an iconic, carefully chosen red. We made all the Enterprise doors red too. When we were working on the overall colour palette, we were working with two off-whites across the interiors of the whole ship: a warm white and a cold white.
The more technical sets (the Transporter Room and engineering for example) are all RAL9002 – the cool off-white and the corridors and the quarters (the more public and personal spaces) are RAL9001 – a warmer white. When the red was set against these whites, everything just sang, so we adopted red as the secondary colour for the entire ship and is seen in several furnishings too".
Strange New World: Pikes Ready Room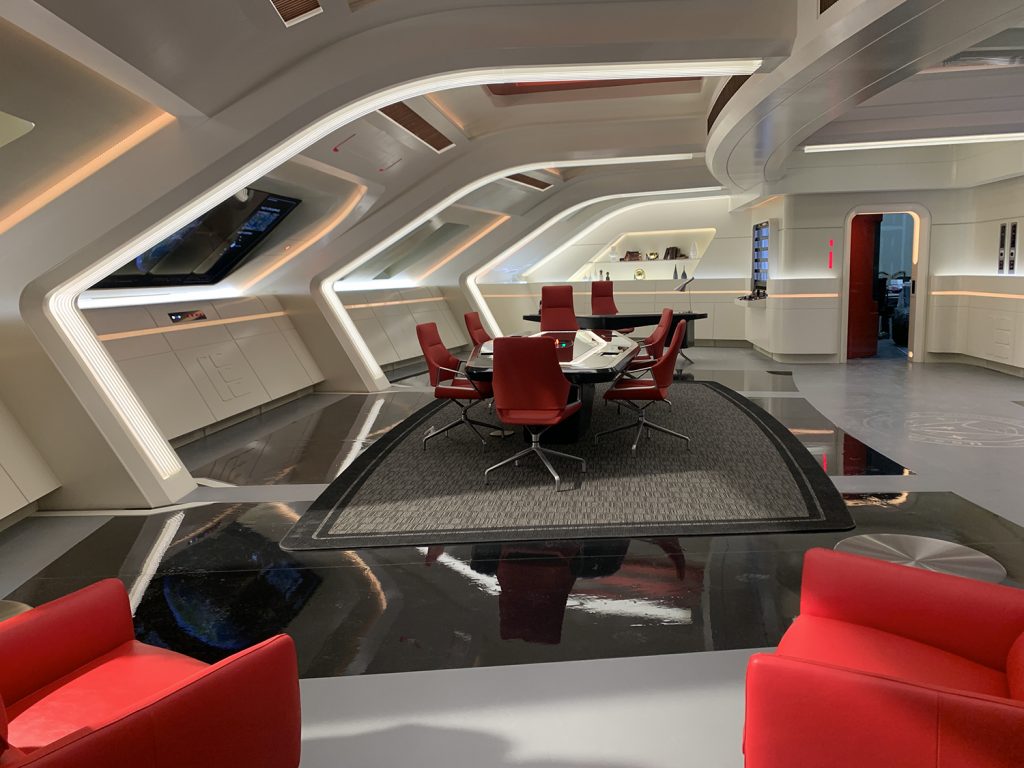 This same 'Enterprise red' is used throughout the decor in Pike's Ready Room, a brand new film set created by Lee and his team for SNW.
'Ready Room' is the Navy's term for a room on a ship or an aircraft carrier, or in this case spaceship – where air crews conduct much of their pre-flight and post-flight briefs. Lee spent a long time considering the scale of this room and the design details within it. It is certainly vast, and this helps place emphasis on the important decisions being made within the space.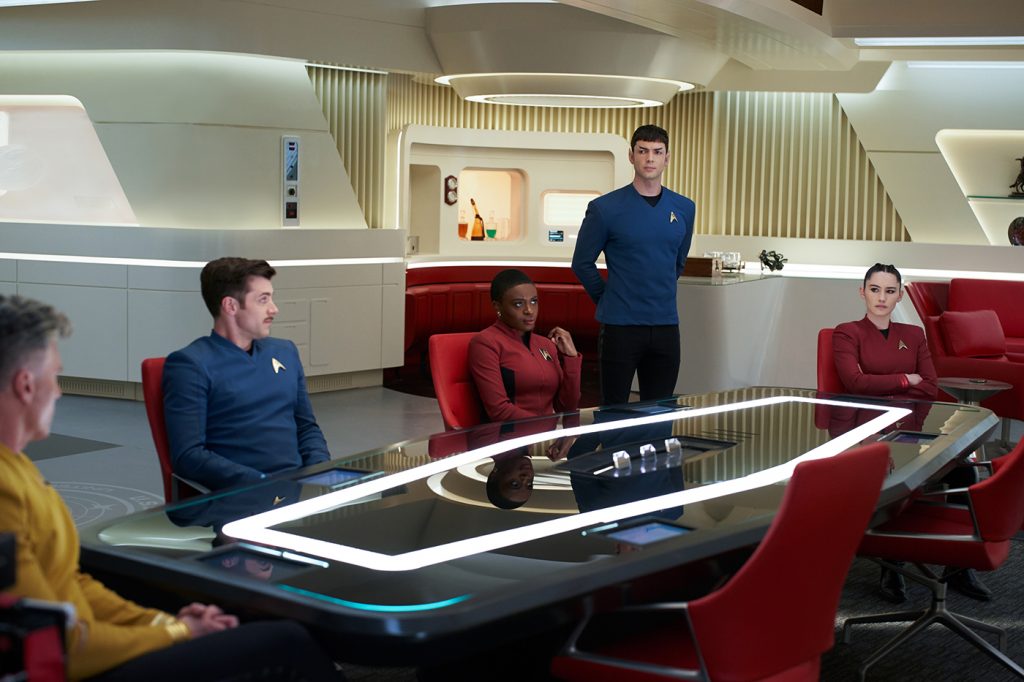 The room features a grand conference table with inbuilt lights, and it sits in a room full of dynamic angles and diagonals which was both a practical, architectural decision (as the sides of the room would need to reflect the side of the hull and the exterior of the ship) as well as an aesthetic one: "I was looking back at midcentury architects like Pier Luigi Nervi and Oscar Niemeyer who embraced dramatic shapes in their buildings and interiors, and was influenced by this 60s approach to architecture" says Lee.
The Graph Conference chair is the star of the Ready Room in our eyes. Made by the German company Wilkhahn (who had connections with the Bauhaus) and designed by Markus Jehs and Jürgen Laub, its name refers to its graphic aesthetic. These too were specially reupholstered in Enterprise red leather.
The Graph chair is available via our store.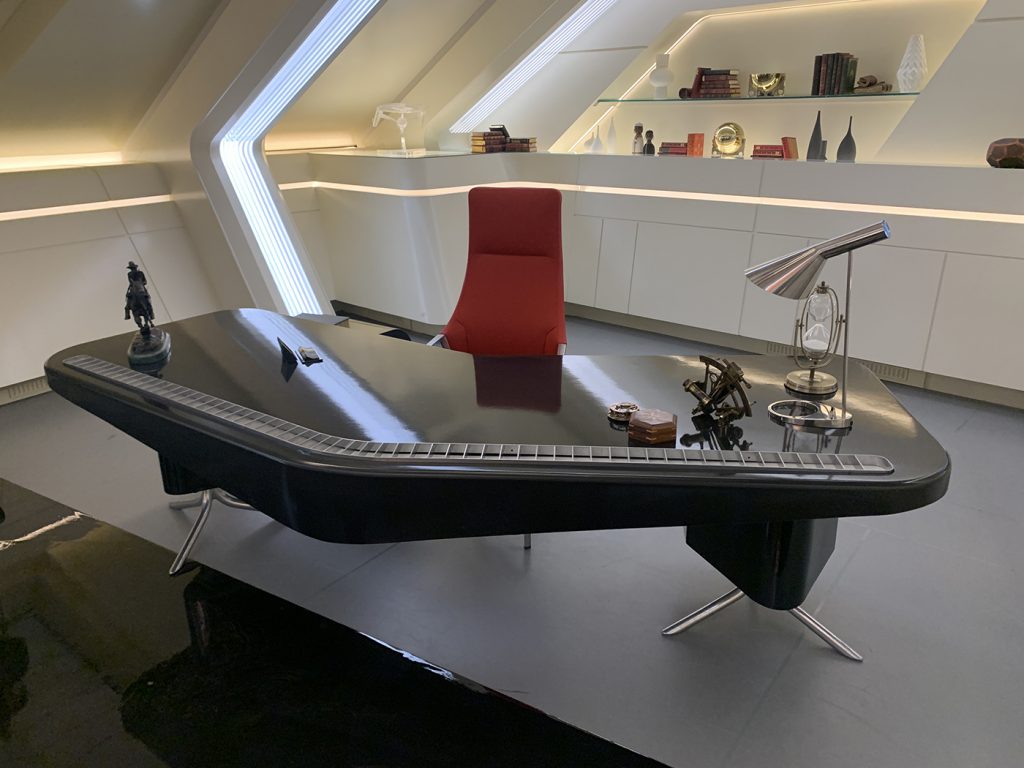 The Ready Room also features Pike's desk (a custom design by set Decorator Justin Craig, as seen above), the AJ Table Lamp in chrome designed by Arne Jacobsen who is most famous for his space age chairs and lighting, and the Andres Swivel Dining Armchair from Sunspan.
The AJ Table lamp was originally designed in 1960 for the SAS Royal Hotel in Copenhagen and is another icon of Scandinavian design.
Last but not least we should point out the Bezrat whisky glasses in Pike's Ready Room. The Bezrat whisky glass tumbler also know as the 'Twist Whiskey Glasses' are elegant high-end swivel shaped whiskey glasses.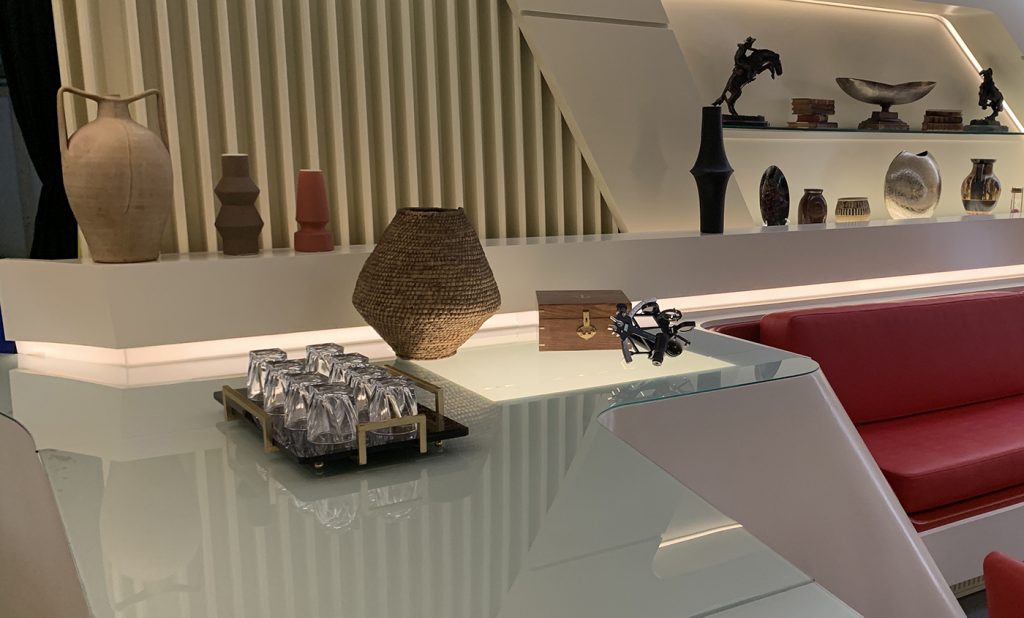 Pike's Enterprise Quarters
Pike's Quarters onboard the Enterprise is where Lee felt he could spread his production design wings a little more. And boy did he fly!
This suite is a large sophisticated living area with entertaining spaces, a lounge, kitchen and bedroom and even an area dedicated to playing chess.
Pike's fireplace design (seen left above) exhibits a decidedly midcentury funnel shape and echos the shape of the Arne Jacobsen AJ lamps which as well as making an appearance in the Ready Room, also appear here in Pike's Quarters.
"All these sorts of references have always been in my head – I grew up in Scotland in the 1960s amongst many architects and artists, and spent a lot of time in my parents friends houses, many of which were midcentury, complete with cutting edge Scandinavian furniture and design, so these shapes and references have been with me all my life, as well of course as watching TOS as a kid which also combined these cutting edge 60s design references" shares Lee.
Pike has a kitchen area where he prepares dinner for the crew. The worktop features a built in open grill.
Lee explained to us how the kitchen are in his quarters came about: "Akiva liked the idea that Pike might cook for others in his quarters, as it helped underline his character and his collegiate approach to being Captain for the Enterprise".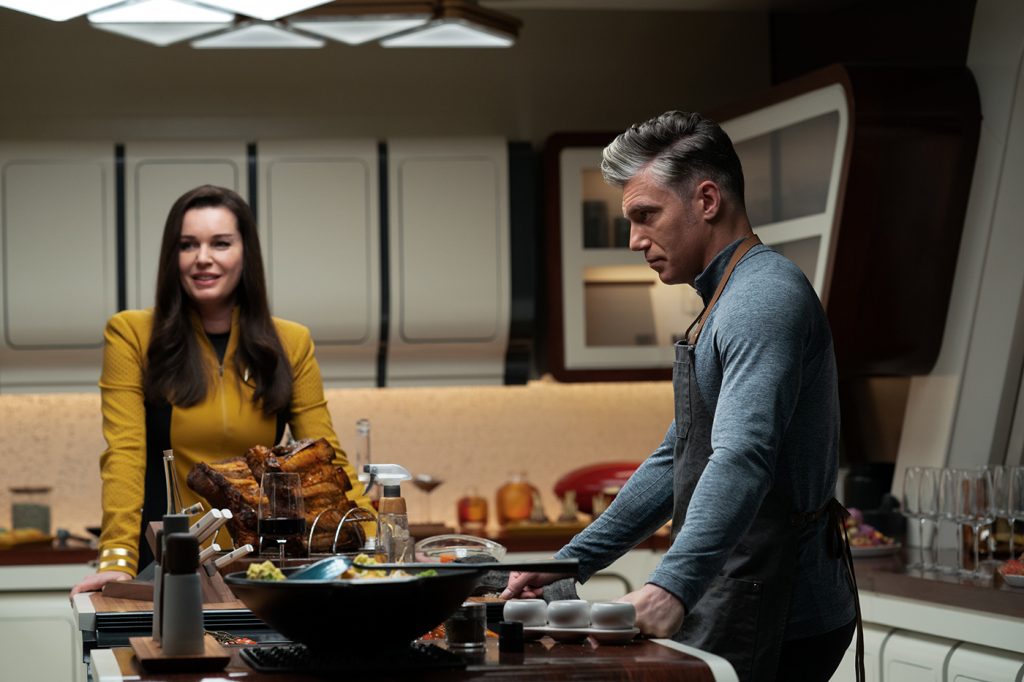 Here we spotted the Stockholm Mills salt and pepper mills in white with walnut tops (above, left), designed by Carl & Carl for CrushGrind.
We also find a familiar set of space age cutlery: The futuristic, elegant stainless steel flatware by Danish designer Arne Jacobsen. Film and Furniture aficionados may recognise the same flatware from another famous filmic space mission – the Jupiter Mission crew eat dinner in Kubrick's 2001: A Space Odyssey (1968) with the very same. It was also featured in several episodes of Voyager, Enterprise, and, most recently Strange New Worlds. Given their modernist aesthetic and minimalistic shapes, they still look so utterly contemporary today.
His bedroom area features a custom designed bed, with a pair of PH table lamps by Poul Henningsen used as bedside table lamps (with brass base).
The dynamic looking PH table lamp was originally designed in 1925 and has since been crafted by Denmark's prestigious lighting manufacturer Louis Poulsen. Showcasing an intricate tiered shade for a glare-free emanation, the diffuser is crafted from mouth-blown opal glass and helps to reflect and direct light downwards. The stem is available in metallised brass, in polished and black finishes, as well as a chrome.
Here we also see an unusual art piece on the wall made from nails, and on the opposite wall a relief of Montana, both created by Lee's talented team.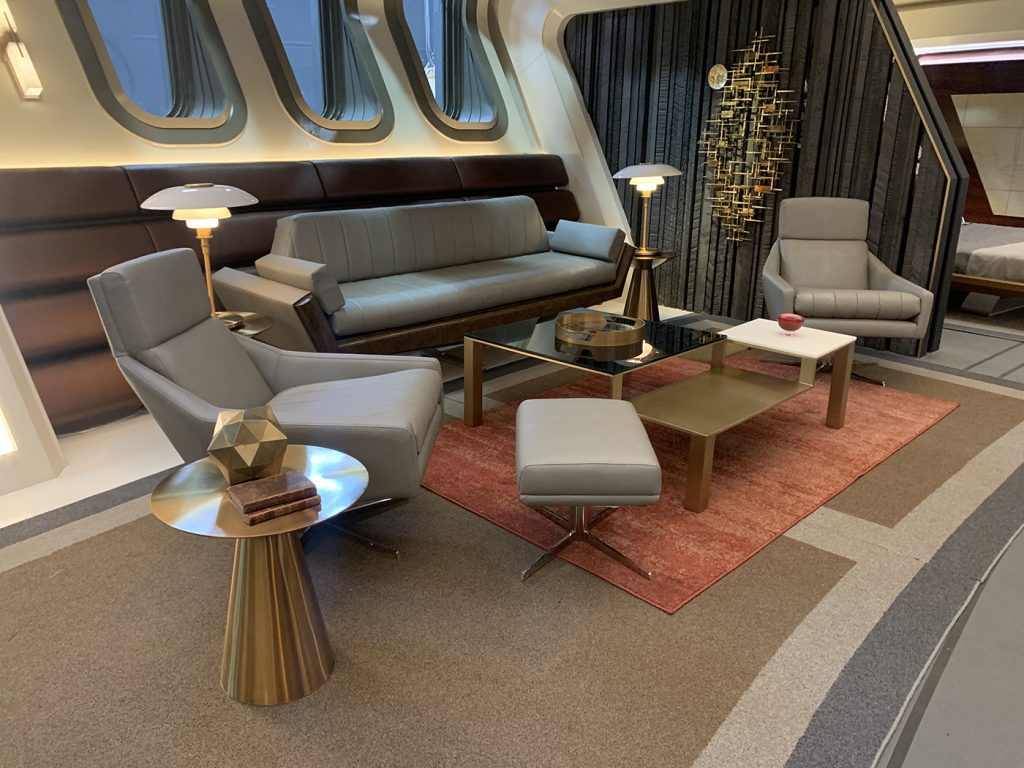 His living area also features a pair of PH table lamps by Poul Henningsen which sit on Spun brass Carmel side tables either side of a grey sofa (which was custom built by Justin Craig to match the pair of Austin chairs which they reupholstered in grey leather).
The coffee table in the middle is the Saber coffee table, with a black glass, white marble and beautiful brushed champagne gold top and frame.
The Cadmo floor lamp also appears in this space. Designed by Karim Rashid in 2013. The columnar body is open on one side and its thickness varies over its entire length. Rashid won the IF Product Design Award and the Good Design Award of the Chicago Athenaeum with this eye catching design.
His quarters have beautiful midcentury pottery dotted around (similar available from Etsy and Chairish).
Where can I watch Star Trek: Strange New Worlds?
Star Trek Strange New Worlds is available to watch on Paramount +. It began its 10-episode debut season on 5 May 2022 in USA, Latin America, Australia and the Nordics and is now available in the UK also on Paramount + – which is also available through Amazon Prime here >
Following a successful first season, a second season has already been confirmed.
Hungry to seek out more from Star Trek: Strange New Worlds Enterprise design?
Part 2
which covers the The Transporter, Spock's Quarters and the Enterprise Sick Bay has now also been published
here >
What do you think of the additions to the Strange New Worlds Enterprise design?