Dr No to No Time to Die – 60 Years of Bond film sets
In 1962, Sean Connery introduced Ian Fleming's James Bond to cinema audiences and the visionary Ken Adam established a look and feel for Bond film sets that broke new ground in production design. We've never looked back.
This year sees all 25 Bond films return to cinemas in the ultimate 007 retrospective for the 60th Anniversary of what has become the beloved British spy institution – screening chronologically from April to October 2022 and culminating in World Bond Day on 5th October.  Starting with the first Bond film Dr No, all the movies will be screened in 4k in cinemas nationwide across the UK and Ireland.
Join us as we take a whistle stop tour through some of our favourite Bond film sets and furniture together with a full list of the 60th anniversary screening schedule throughout the year.
Dr No – screening from 15 April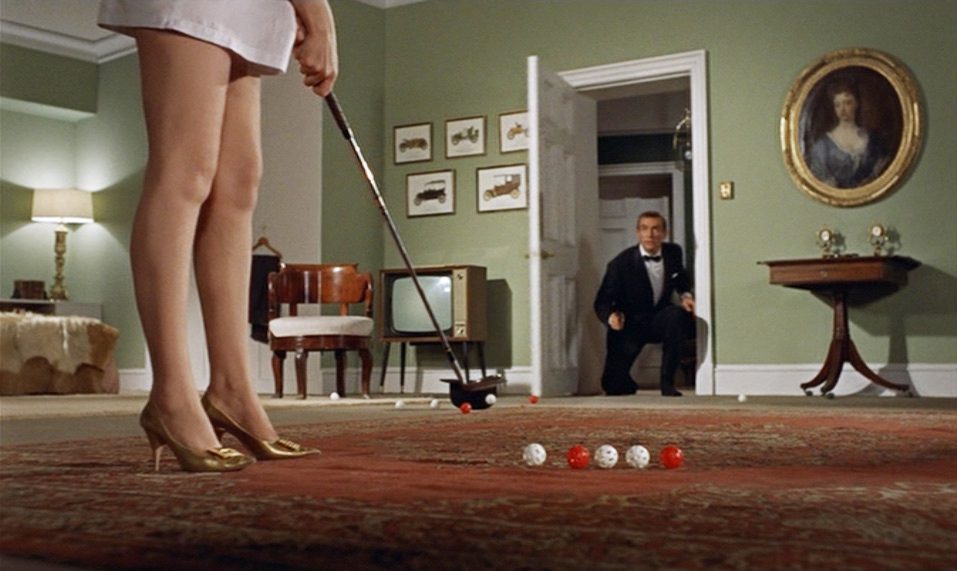 With a game changing stylised main sequence, the introduction to Bond through the view if a gun barrel, iconic theme music by John Barry and an elaborate visual style with production design by Ken Adam, Dr No established many aspects of a typical Bond movie.
This film also gave us a rare glimpse of the interior of Bond's London townhouse. The only other films that show Bond's living space are Live And Let Die and Spectre.
Adam incorporated many moving parts on his sets. In the decontamination scene Bond and Honey are transported through showers on a 'moving walkway' now known as travelators.
From Russia With Love – screening from 22 April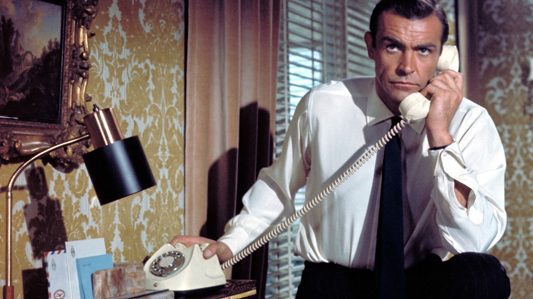 Sean Connery gives such good phone action! The bronze and matt black midcentury table light and Damask wallpaper in this scene in From Russia With Love (above) are also worthy of note.
You can find a similar Damask wallpaper by Cole & Son called Carmen which comes in various colours including Gold (shown above) – available from Wallpaper Direct.
Goldfinger – screening from 29 April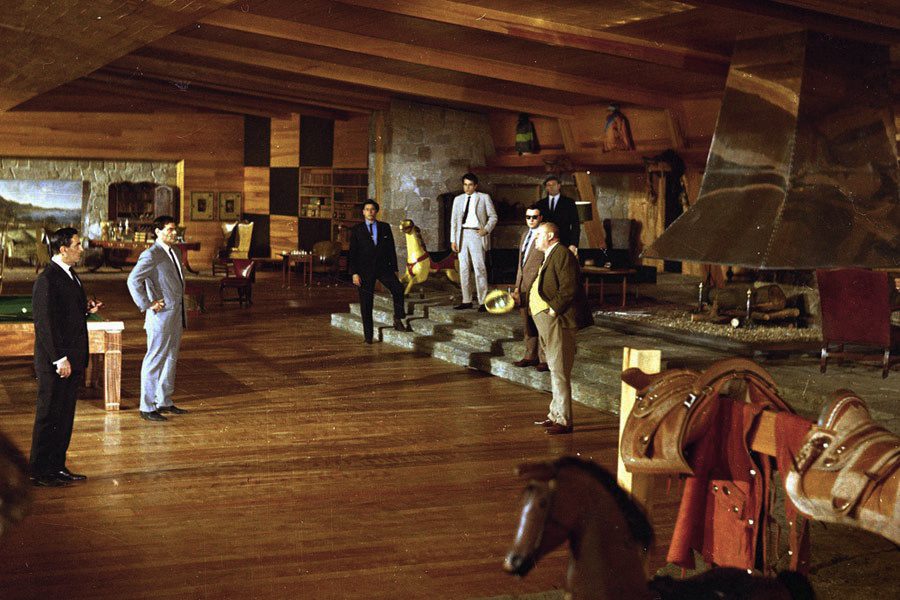 With design once again by Ken Adam, the wood-panelled Rumpus room in Goldfinger is a mighty fine Bond film set. It's the interior of Auric Goldfinger's stud farm and is essentially an elaborate, deluxe tack room. The warm wood ceiling, floor and walls dominate the room and convey a retro feel of luxury. The wood contrasts magnificently with the monumental shiny stainless-steel fireplace sitting on the raised split level area.
We see some horses tack, a couple of fairground horses in the window, and a wagon wheel as references to the stud, but then we go off into pure Bond gadgetry with a retractable wall-size aerial map, the trick pool table which turns over at the touch of a button to reveal a secret control panel, and a floor section which slides open to reveal a scale model of the Fort Knox.
Cubby Broccoli said he wanted the interior of Fort Knox to resemble a 'cathedral of gold'. Adams used his midas touch and created this film set from scratch.
ThunderBall – screening from 6 May
25% of the screen time of Thunderball takes place underwater.
Ken Adam designed a corridor in the pool, made of perspex glass, so that Sean Connery could get close to the sharks.
You Only Live Twice – screening from 13 May
The volcano set of You Only Live Twice cost more than the entire budget of Dr. No and every single lamp available in Pinewood Studios was used to light the set.
Possibly one of the most famous chairs ever to be captured on celluloid, supervillain Blofeld's chair in the movie has gone on to achieve iconic status as a result. The 'Blofled chair' was called the 6250 Chair when it first launched and was also aptly known as 'The World's Most Comfortable Chair'. Now renamed as The Sixty Two, its distinctive winged design and deeply buttoned back, provide the ultimate in comfort. It rocks and swivels too. The newly manufactured The Sixty Two chair can be sourced through as at Film and Furniture. 
The Leo chair designed by Robin Day in 1965 was also featured in You Only Live Twice – where Sean Connery sits in one with effortless style. The reclining angle of the chair adds to its functionality and comfort. We've found a pair of vintage 1960s black vinyl Robin Day Leo chairs for sale for your seating pleasure.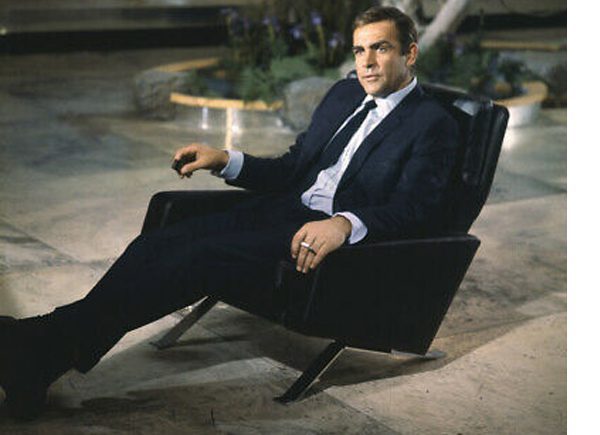 On Her Majesty's Secret Service – screening from 20 May
A key sequence of On Her Majesty's Secret Service at a skating rink, involved the production team flooding a car park in Grindelwald, Switzerland every night until the ice that formed was thick enough to withstand over 100 skaters. The same technique was employed for the stock car chase on ice utilising a large open field between Stechelberg and Lauterbrunnen.
Diamonds Are Forever – screening from 27 May
Bond film sets often introduce us to notable architecture. The Elrod House, a residence in Palm Springs, California designed by American architect John Lautner makes a stunning film set for Diamonds Are Forever .
The UP chair and ottoman designed by Gaetano Pesce make an interesting appearance where Bambi and Thumper give Bond (Sean Connery) a kicking! 
Blofeld's hideout in Willard Whyte's penthouse features many circular motifs and a delightful mix of wood and chrome. A pair of Arco floor lamps frame the desk beautifully.
Live and Let Die – screening from 3 June
Roger Moore as James Bond tries his luck at a spot of tarot in Live and Let Die. Let's just pause on that chair for a moment!
The Man With The Golden Gun – screening from 10 June
The Spy Who Loved Me – screening from 17 June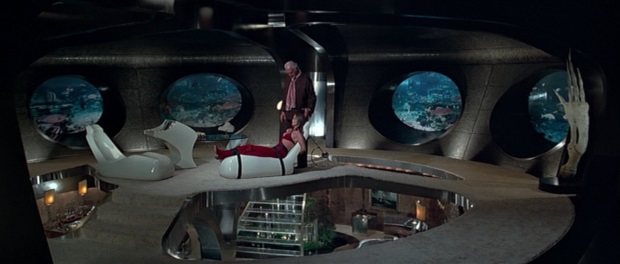 The Spy Who Loved Me was filmed in Egypt, Sardinia, Canada, Malta, Scotland, Okinawa, Switzerland and Pinewood Studios, England. The underwater sequence was filmed in Nassau, Bahamas.
The below scene features the Cantilevered 291 Armchair designed in 1969 by Steen Ostergaard for Cado.
Moonraker – screening from 24 June
At the time of release, Moonraker featured the largest amount of breakaway glass in any scene, and the largest simulated weightless scene ever filmed.
In this Bond you will find the Sorella table lamp – three black Sorellas appear on the desk in Dr. Goodhead's office as well as white ones in Drax's spaceship.
For Your Eyes Only – screening from 1 July
For Your Eyes Only was Peter Lamont's first Bond film as production designer, taking the sets in a more realistic direction.
Octopussy – screening from 8 July
A View To A Kill – screening from 15 July
The production of A View To A Kill was set back after the 007 stage was burnt down during filming of Ridley Scott's Legend, meaning the stage had to be re-built.
Living Daylights – screening from 22 July
Living Daylights was the first of two Bond movies to star Timothy Dalton as our favourite MI6 agent. Directed by John Glen, the film's title is taken from Ian Fleming's short story "The Living Daylights" and was the last film to use the title of an Ian Fleming story until 2006's Casino Royale.
License To Kill – screening from 29 July
License to Kill saw many Bond firsts and lasts: It was the final Bond film produced by Cubby Broccoli, the fifth and final Bond film directed by John Glen, the last appearances of Robert Brown as M and Caroline Bliss as Moneypenny, the first Bond film to be shot outside the UK in its entirety (with Estudios Churubusco in Mexico replacing Pinewood for interior shots), the last film that Maurice Binder designed/shot the main title credit sequence and the first Bond film score by Michael Kamen after John Barry's run of 26 years.
Goldeneye – screening from 5 August
Production Designer Peter Lamont recreated the Russian streets on the Leavesden film lot.
Tomorrow Never Dies – screening from 12 August
The Apple computer on the table in the background of this bedroom scene above clearly dates the Bond film Tomorrow Never Dies (1997). On the same table is a Luxo lamp – the Luxo (derived from Latin – I give light) L1 lamp designed by Jacob Jacobsen was the original inspiration behind the Pixar lamp as seen in the production ident at the beginning of all their films and in the film 'Luxo Jr' – the Pixar 1986 short film. 
The World is Not Enough – screening from 19 August
Die Another Day – screening from 26 August
Casino Royale – screening from 2 September
Casino Royale is the first Bond film to star Daniel Craig.
Production designer Peter Lamont is the only crew member to have worked with all six Bond actors as well as working on more Bond films (18 out of 21) than anyone else.
The Barcelona Chair by Mies Van der Rohe and the Aeron chair feature in M's apartment.
Quantum of Solace – screening from 9 September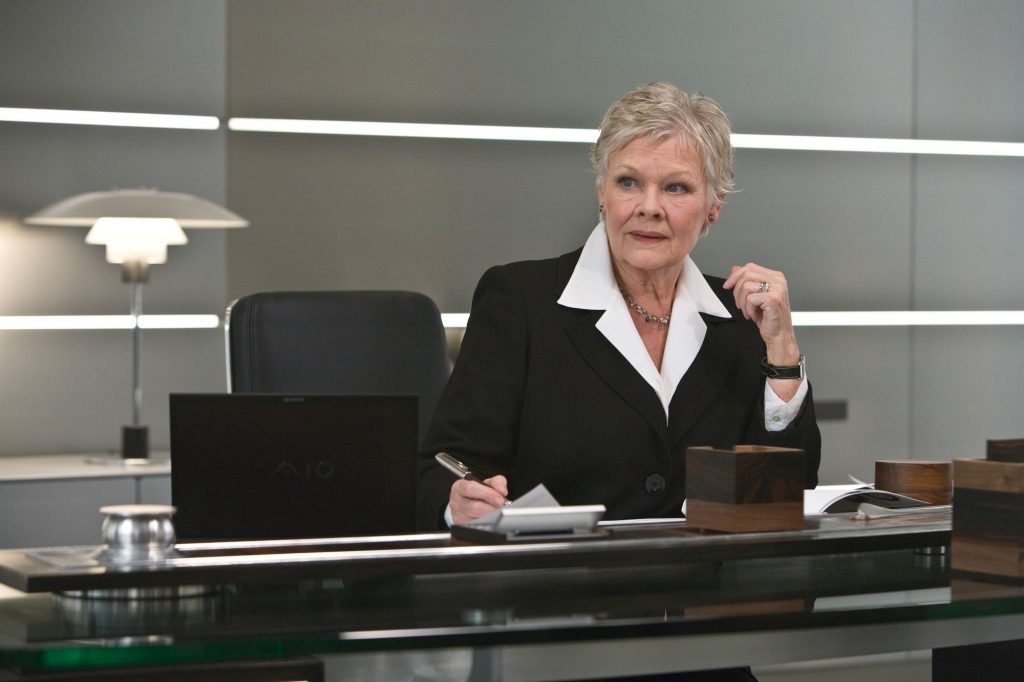 M's slick office in the Bond Quantum of Solace features the PH Table Lamp by Poul Henningsen and the Interstuhl Silver Mid Back Executive chair.
Skyfall – screening from 16 September
Spectre – screening from 23 September
No Time To Die – screening from 30 September
The 25 Bond film 4k screenings throughout 2022 finishes with No Time to Die on 5 October, on what has been termed World Bond Day.
Perched on the edge of a lagoon, James Bond's Jamaican home is often considered his 'spiritual home'. At the beginning of No Time to Die, we find Bond at home enjoying the elegant space which is furnished with traditional objects and furniture from around the world.
In the living room we find a recreation of the Tripe armchair by Lina Bo Bardi and a Hardoy Butterfly chair.
Discover more about 60 Years of Bond at 007.com and buy your tickets to screenings now via Odeon, Vue and Cineworld websites.
Let us know your favourite Bond film set in the comments section below.