From the 1950s to the 1990s: The film sets and locations of My Policeman
From Patrick's 50s bohemian Brighton apartment to Tom and Marion's 90s humdrum Peacehaven house, the film sets and locations of My Policeman create heaps of atmosphere. This sensitive film tells the story of forbidden romance, changing social conventions, and how longing and regret can linger in our lives for many years. We talked with production designer Maria Djurkovic about her approach to designing the film which was shot in London, Brighton, Peacehaven and Venice.
Contains spoilers!
Directed by Michael Grandage and based on the novel (influenced by the life of English novelist E.M. Forster) by Bethan Roberts, the film follows the the relationship of three people over two time periods. Policeman Tom (Harry Styles), teacher Marion (Emma Corrin), and debonair museum curator Patrick (David Dawson) embark on an emotional journey in 1950s Britain. Flashing forward to the 1990s, an older Tom (Linus Roache), Marion (Gina McKee), and Patrick (Rupert Everett) have one last chance to repair the damage of the past.
The film jumps backwards and forwards in time, and sometimes even crosses over, with characters from the past appearing in the present. The film sets help ground us in each time period, whilst also being interwoven.
"One of the most exciting challenges was finding the visual language," says Grandage. "It was lovely to do that with such a creative group including director of photography Ben Davis and production designer Maria Djurkovic, and costume designer Annie Symons".
Throughout both time periods, whether in Brighton or in nearby Peacehaven, the film's ambience is linked to the sea, its rolling tides a constant parallel to the sometimes calm, sometimes chaotic, lives. Brighton's towering, bleached cliffs, and Edwardian pleasure pier feature as locations.
"I enjoy designing period films more than any other and the two time frames of My Policeman appealed to me" says Djurkovic who was first contacted by Grandage to work on the design of the film sets. "I was very aware of how important it was to make the feeling of the film one aesthetic whole" she says. "The idea was to set a strong mood that never gets visually soft or soggy. Even in 1999, when things are more melancholy, I wanted there to be a certain sharpness."
"Michael and Amazon employed me to put together a visual mood board for the piece before it was even fully financed. I work with Phil Clark, a brilliant visual researcher, and we assembled something that Michael loved. It is extremely gratifying to be so in tune aesthetically with the Director, so when the film was green lit, it was not a hard decision to accept the job", she adds.
Djurkovic undertook a great deal of research as her starting point and from here, the look and feel of the film emerged. "The most enjoyable part of any movie, for me is 'discovering' what it's going to end up looking like. Finding the mood and the colour palette, every single location choice, however small, contributes to this. The really enjoyable part is editing the research, deciding what is wrong and what is right", she says.
The Art Gallery
Tom, Marion and Patrick's friendship blossoms through various meet-ups including a tour of Brighton Art Gallery, where Patrick is museum curator. The real-life Brighton Art Gallery and Museum, housed in a striking, Moorish-influenced building originally designed for the Prince of Wales, played itself in exterior shots. The inside, having been modernised, was shot at the more classic Wallace Collection in London, using replicas of pieces from Brighton.
Patrick's Apartment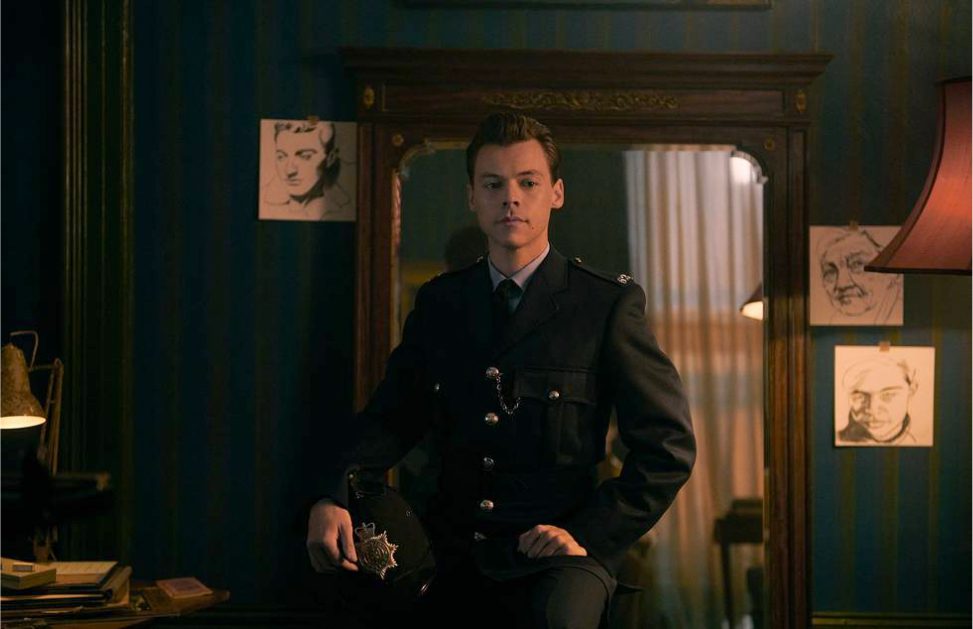 Patrick's 50s bohemian Brighton apartment is alluring, dark and full of artistic ephemera – and this is where Tom ventures alone to have his portrait drawn. Here, Patrick and Tom begin their affair. This apartment evokes his role as an art gallery curator and where we'd love to hang out for an evening. It's meticulously decorated, filled with art, and his taste in furniture is eclectic and sophisticated compared to the other characters.
Djurkovic enjoyed giving lavish life to this space: "It was a lot of fun to create the world of this well-traveled, cultured man," she says. "The flat we used was in an incredible location near the sea and had these fantastic, very high ceilings which gave us a lot of possibilities." The flat also notably contrasted with Tom and Marion's more modest home, quietly reflecting their class differences.
"Location and colour choices come from decisions made very early on, right from the mood board stage. I am very decisive, I can tell pretty much immediately from photos if a location will work. Right at the start of any film she visits prop houses with her set decorator, in this case Tatiana McDonald, who has collaborated Djurkovic on many films. "We spend a day identifying pieces of furniture that inform different sets and different characters. Normally we discover key pieces that inform all the other choices. My pet hate is seeing sets where all the dressing is from the same period, this isn't how most people live. We gave him a mixture of antiques and a few modern pieces."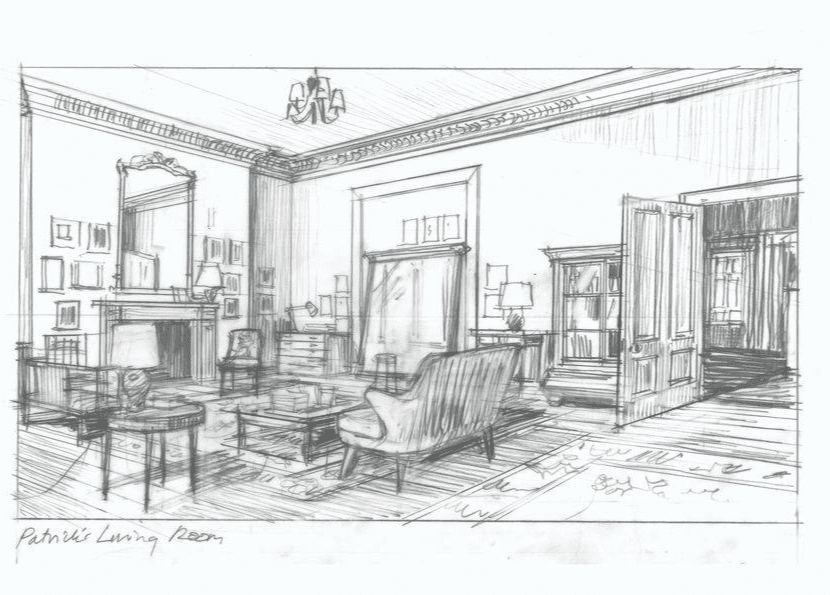 Director Grandage related so much to the character Patrick that he blended some of his own personal mementos and influences, including artworks and photos, into the apartment including a self-portrait his aunt drew in the 1930s that he felt matched with Patrick's taste. He also included images of people who've been important in his life –  an early photograph of his parents on the mantel and a photo of his own partner on Patrick's bureau.
He also requested that Djurkovic add a convex mirror in Patrick's hallway to pay a gentle homage to Joseph Losey's The Servant of 1963, another film about class and sex.
It was important too, for the production team to find someone fitting to create Patrick's sketch portrait of Tom together with other sketches that Patrick has hung on the walls. It turns out that Harry Styles loved his portrait and took it home with him.
The honeymoon cottage
Despite Tom's emotions being tied up with Patrick, Tom and Marion share a different kind of love and friendship, and eventually marry. Several locations, including Tom and Marion's wedding reception, were created inside one of London's quirkiest Edwardian buildings, Stanley Halls. They honeymoon in a humble but delightful cottage with sunflower yellow window and door frames.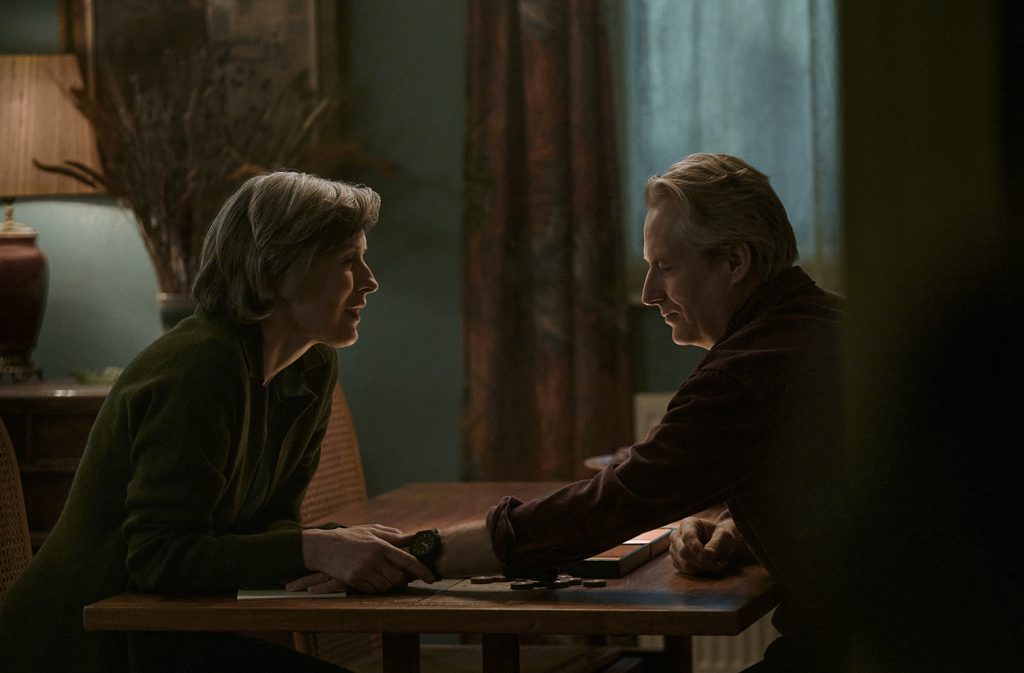 Tom and Marion's Peacehaven house
Skipping forward in time to Tom and Marion in the 90s, we find them living in a modest house in Peacehaven which provides quite a contrast, and also serves to quietly reflect class differences between Patrick and the couple.
The production team had an image of a Peacehaven bungalow in an early mood board and after they scouted Peacehaven, they kept coming back to that one property which ended up being used for the exterior in the film. The interior was a set build.
We asked Djurkovic about the design for the different sets for the 1950s and 1990s. "Designing the whole, is more important to me. I was absolutely not looking for a contrast between the two time periods, quite the reverse. It was very important to me to make them cohesive and be part of the same piece. The 50s looked different to the 90s, that was quite enough. Actually the 50s were much more visually exciting than the 90s, slightly drab, Peacehaven section. I tried to make the bungalow work with the colours of the earlier period".
"While Patrick's apartment gave us the opportunity to do something interesting, the Peacehaven bungalow, by its very nature was quite dull. Tom and Marion's furniture and art choices are far more prosaic and it was important to elevate it at least a bit, with colour choices", adds Djurkovic.
My Policeman, the story of three people caught up in the shifting tides of history, liberty, and forgiveness, is in theatres now and on Prime Video from November 4.