The alluring design details of the apartment in Nanny
The New York apartment of Amy and Adam in the horror film Nanny (written and directed by Nikyatu Jusu), is a modern, creative and sophisticated space. It's carefully designed with some inspiring colours, furniture and art which we identify below – but all is not quite as it seems…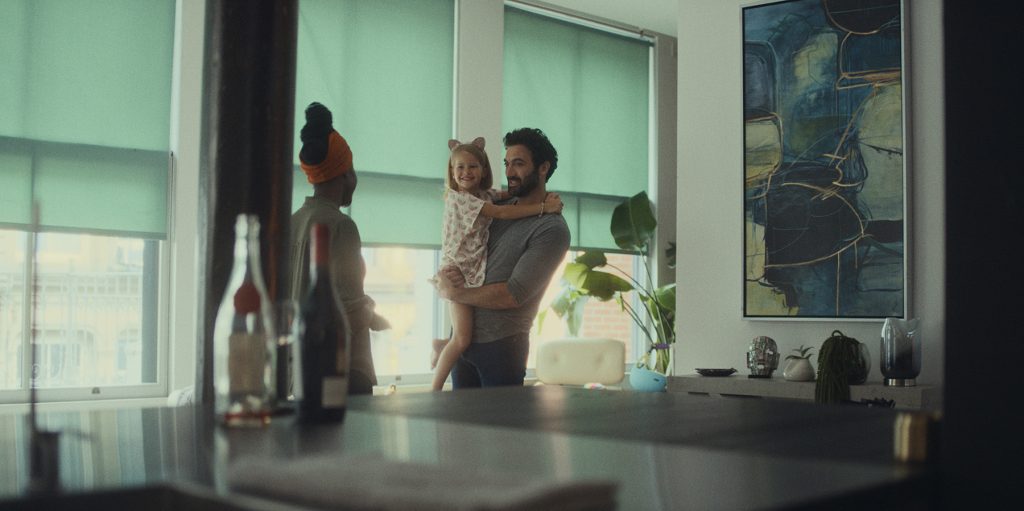 The story
Aisha (Anna Diop) is an immigrant nanny from Senegal working for an affluent couple in New York City. Her employers are Amy (Michelle Monaghan), a career-driven woman thwarted by more powerful men in her field, and Adam (Morgan Spector), a photojournalist with a wandering eye who dips in and out of the couple's home.
Their Upper East Side apartment is a beautiful space for Aisha to work in, and look after the couple's young daughter Rose, but Aisha is haunted by the absence of the young son she left behind in West Africa and becomes increasingly unsettled by the family's volatile home life.
As she prepares to bring her son to the United States, a violent presence begins to invade both her dreams and her reality. Her life begins to unravel when her plans and hopes are punctured by the all too frequent experiences of what it means to be a Black immigrant woman in America.
Amy and Adam's loft apartment
The apartment reflects the home of a wealthy Tribeca couple. It is well considered, with design features such as the Crittall black steel divider screens and doors, and the teal coloured blinds which cover the huge windows.
Abstract artworks adorn the walls and a white leather Eames Lounge chair sits nonchalantly in the corner.
The dark blue, beige and gold abstract artworks hanging on the walls, carefully match the touches of blue, teal and gold decor highlights around the house, including the Tom Dixon brass Spun table sitting off to one side.
Two green frosted glass pendant lights hang in the hall area. These are Laguna Pendant Lights from Globe Electric which hint at Midcentury Modern style.
The kitchen area of this open plan apartment is predominantly made up of dark wood cabinets and a steel (or could be zinc) counter top adorns the huge kitchen island. A triangular mirror hangs on the wall above shelving which contains carefully placed teal glassware. 
Feature walls are painted in a dark grey/black paint with blue undertones (possibly Railings by Farrow and Ball).
The choice of kitchen bar counter stools caught our eye – they are the Stud Bar Stool by Diesel Living with Moroso. 
The living area features a floor lamp in black and brass. It's a an Open Mic Light floor lamp, designed by Reza Feiz, which has swivelling arms allowing for endless shapes and sculptural compositions.
In the centre of the room we find a Panto pendant light (in brass, although it also comes in white) designed in 1977 by Verner Panton, a typical piece of high end space age design.
Adam's office area features his photography prints on the wall, which tell stories of struggle.
This alluring space however, is somewhat of a veneer for the inhabitants inner worlds.
Production Designer Jonathan Guggenheim describes his process for Amy and Adam's loft: "It felt like a haunted house to me. So much of the mental turmoil and emotional collapse Aisha experiences happens in this house. Aisha is quite unfamiliar with this untouchable world," he said.
"It reminded me of Mia Farrow's apartment in Rosemary's Baby. What should have felt like an inviting open refuge safe from the hustle of the outside world is actually an insufferable nightmare that closes in on these characters."
Nanny is in select cinemas from November 23 and on Prime Video on December 16