Shining a light on the Overlook Hotel's Room 237 carpet
Considerable attention has been bestowed upon the iconic hexagonal carpet that lines the corridors of The Shining's Overlook Hotel, but what of the infamous Room 237 carpet? Join us as we investigate the captivating carpet and design details of Room 237 and ask renowned film set decorators and interior designers to share their thoughts on this most foreboding of hotel rooms. We also show you where you can buy luxury versions of the Room 237 carpet, rugs and runners for your own home.
The orange, red and brown hexagons of the Overlook's maze of corridors have become as synonymous with Stanley Kubrick's psychological horror masterpiece as the twins. We're as guilty as anyone for giving a lot of attention to what is probably the most famous and homaged carpet in film, and we've been responsible for rightly reinstating the carpet's real name Hicks' Hexagon, but in truth, the purple and green carpet of the maximalist Room 237 is just as mesmerising and worthy of Film and Furniture scrutiny.
Few rooms in movies have been equal measures repellent and captivating at the same time as the hotel room known as Room 237. Overlook's head chef Dick Hallorann (Scatman Crothers) warns young Danny Torrance "There ain't nothing in Room 237, but you ain't got no business going in there anyway, so stay out … you understand, stay out!" but little Danny just can't help himself. And neither can we…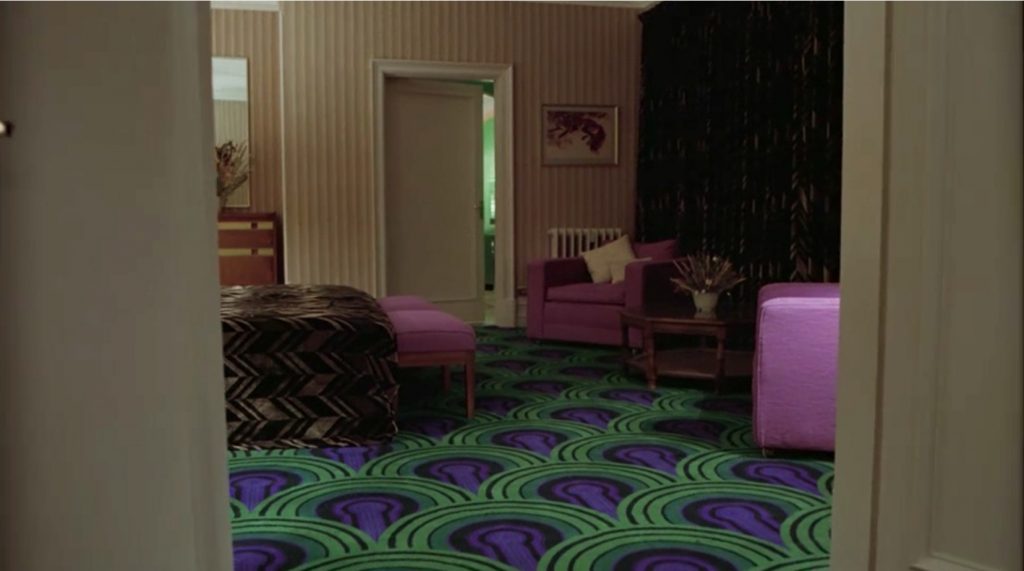 A cautionary tale
Stephen King's original novel The Shining was possibly inspired by french folktale Bluebeard which tells of the perils of curiosity: A nobleman (with a blue beard) forbids his new young bride to enter a secret chamber in their secluded country estate, yet gifts her with a magical key that unlocks the door to that very room.
When curiosity gets the better of her and she inevitably ventures in, she discovers that the room contains the decapitated corpses of Bluebeard's previous wives. A cautionary tale indeed.
Danny's encounter with Room 237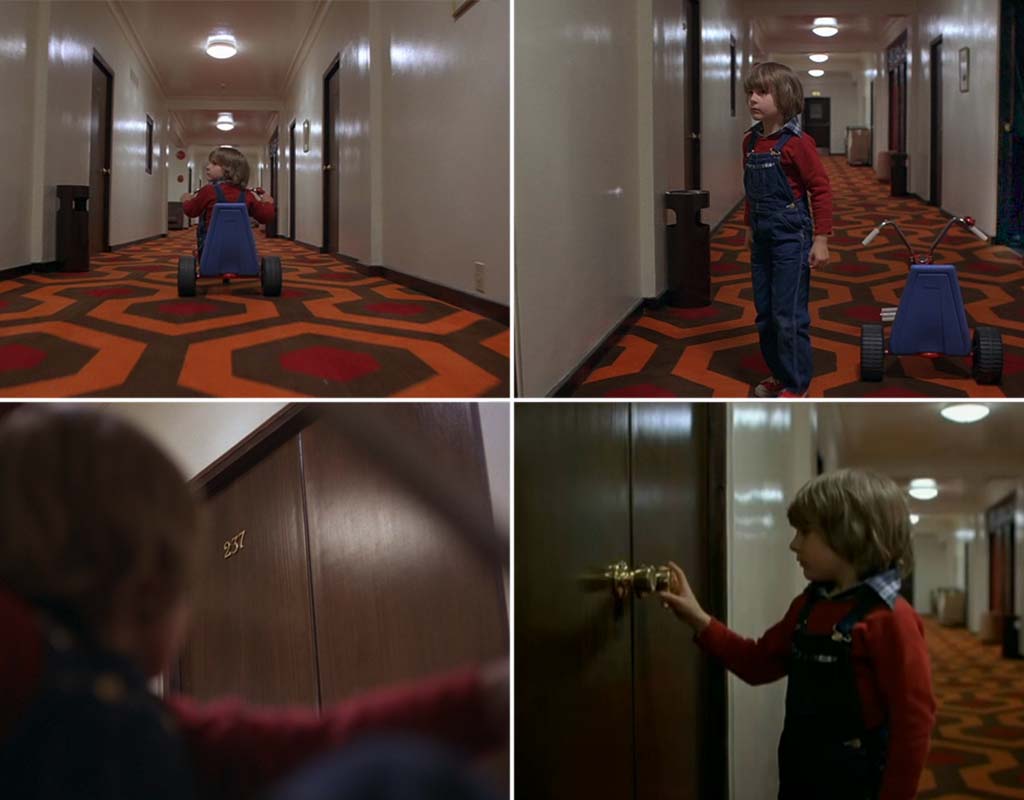 Jack and Wendy's son Danny first encounters room 237 in The Shining, when cycling around the hotel corridors on his tricycle. He stops and gazes at fear at the closed room door yet is lured towards it. He gingerly tries the round brass door handle but the door is locked. He cycles away, clearly spooked.
Later, when playing with his toy cars on the corridor's hexagonal carpet, a ball mysteriously rolls towards him and lands exactly in front of him. He gets up to investigate where the ball has come from and walks towards Room 237, whose door this time stands tantalisingly ajar with a 237 red key fob hanging from the key in the lock. We don't see what happens to Danny inside but he emerges in a very strange state.
237's wizened woman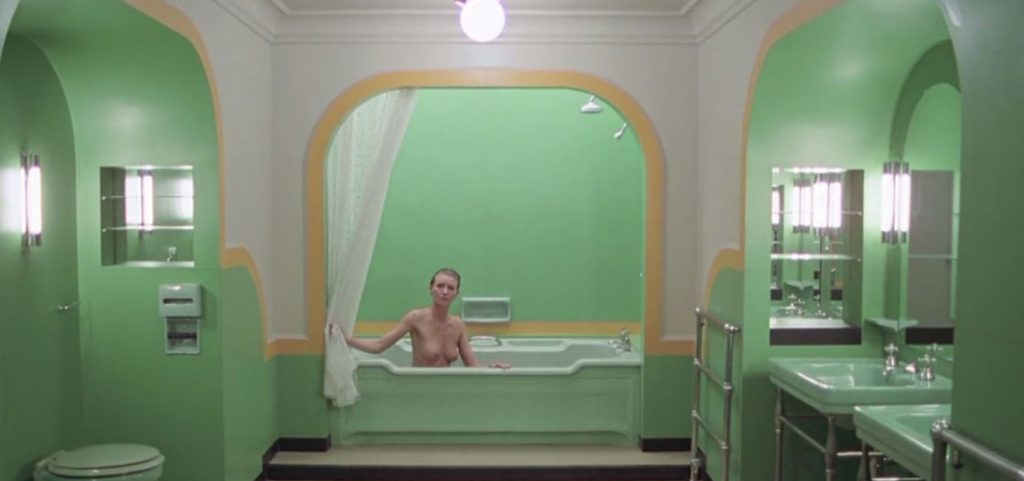 The story goes that this hotel room of The Overlook was once inhabited by a Lorraine Massey who would seduce young bellboys who visited her room. Danny claims that this "crazy woman" tried to strangle him.
When Jack goes to investigate what his son has encountered, he wanders through the gaudy bedroom suite into the mint green Art Deco bathroom. Here, he has the unforgettable, horrific encounter with the naked lady, who at first appears young and attractive but after stepping out of the bath and walking to Jack to embrace in a kiss, is seen reflected in the mirror as a wizened, rotting old woman who we assume is Ms Massey. This encounter with evil is a distinct turning point in the film and catapults the downward spiral of the Torrance family.
The decor details of Room 237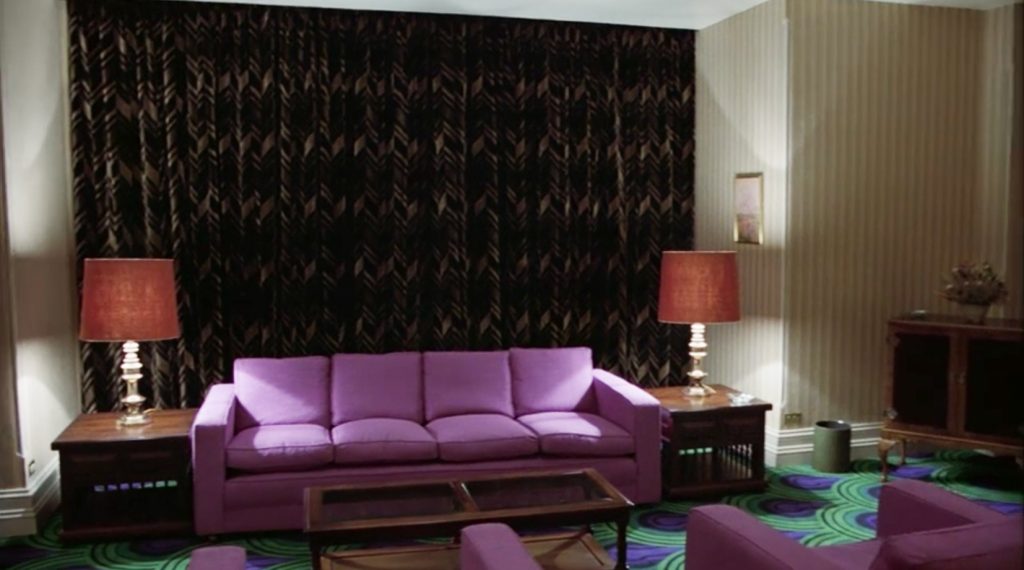 Unlike many horrors that resort to dark and dingy rooms for their scares, Room 237 (referred to as room 217 in Stephen King's book) is unusually colourful and bright, and creates tension by assaulting the senses. A similar technique of using brash set decoration to make us feel uneasy is also used by Kubrick in A Clockwork Orange.
This unnerving hotel room in The Shining jars at every turn: We find a luxurious lavender pink suite of sofa and armchairs, a bed with neat row of pink and mint green cushions and diagonally patterned brown and beige velour bedspread, full length curtains in matching diagonal fabric and one of the most incredible 70s-meets-art-deco carpet designs we've ever encountered.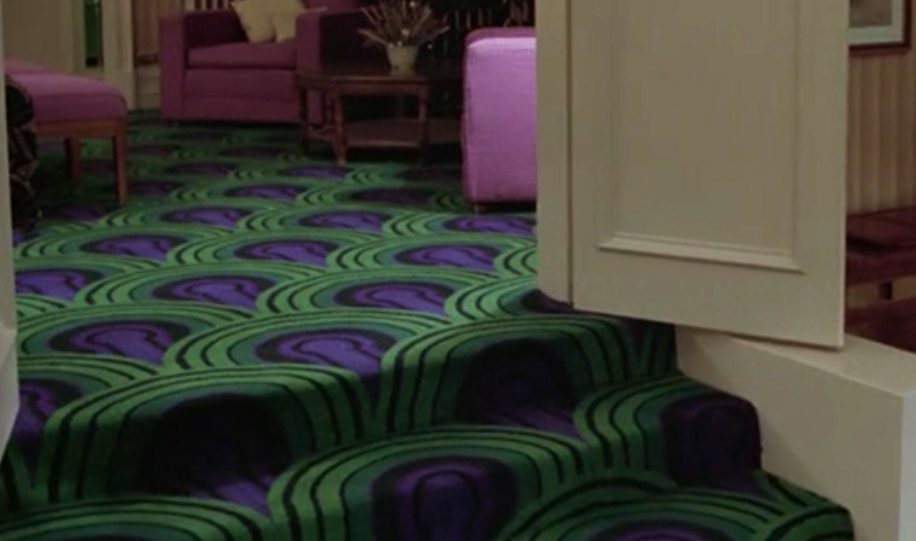 The pattern of the Room 237 carpet with its repeating vivid green and black arcs around a purple bulbous shape, have been described by some as a stylised peacock and by others as multiple phalluses. Either way, we felt it well worthy of investigation.
---
So what do award-winning film set decorators, interior designers and leading stylists make of one of the most memorable rooms in horror? We asked four professionals at the top of their game to share their thoughts.
Emma Jane Palin, interior stylist and blogger
"There's no doubt that the carpets of The Shining take centre stage in the film. Highly patterned with contrasting colours, they are always the first place your eye is drawn to. In this scene, the shades of purple and green are particularly garish, yet somehow I'm into it. I could imagine myself creating a modern day version of this look, letting the carpet do all the talking with a statement bed" says Palin.
"I also think there's something to be said for the layout of the sofa and armchairs. Despite the Scooby Doo colour scheme, the actual sofa shape is very contemporary and I love how the lighting makes it feels warm and welcoming, despite what is about to happen. I wouldn't save the striped wallpaper though, someone let me at that with a steamer!
"As Jack progresses through the room, he enters the large and, quite frankly, dreamy bathroom. The Art Deco style features three main arches that house the mint green toilet, enclosed bath and a pair of sinks respectively. Right down to the floaty shower curtain, the room feels ethereal and matches with the dreamlike vision of the naked supermodel that is bathing in it. Again, this is a set that I can imagine being recreated now as we see a resurgence in pastel-coloured bathroom suites and coved detailing."
Gene Serdena: Set Decorator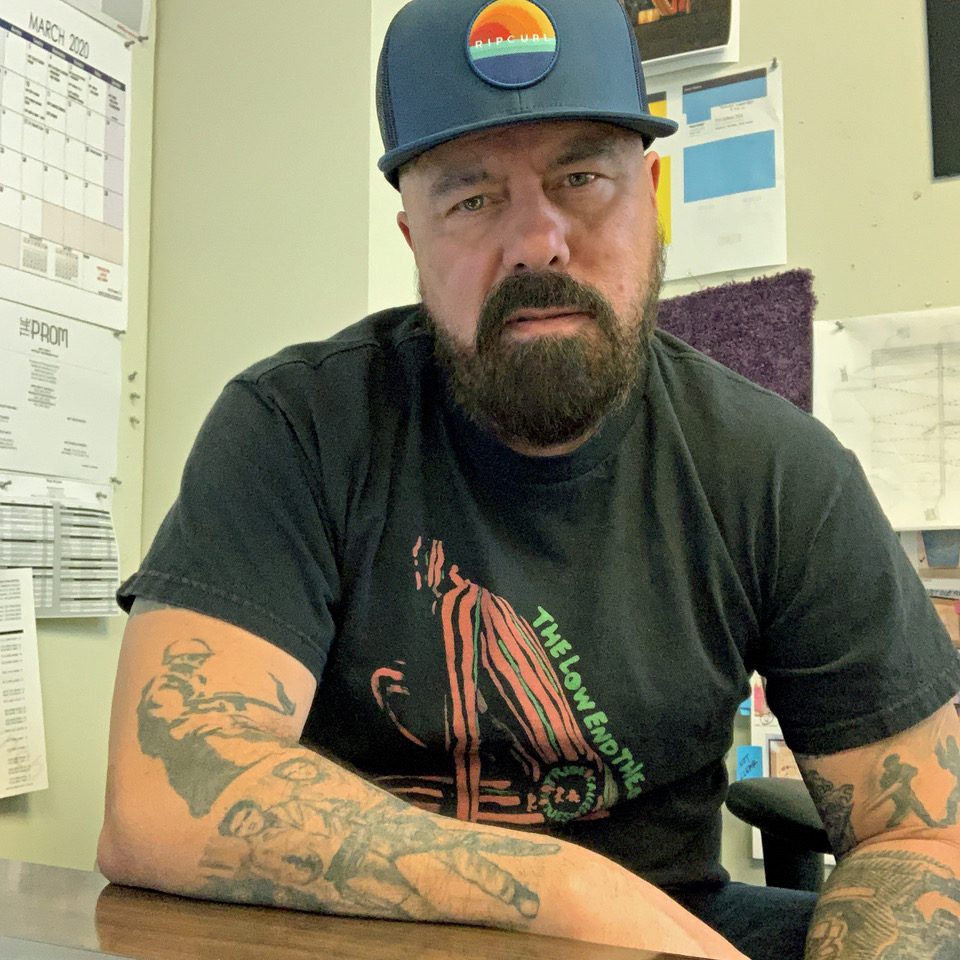 Set Decorator Gene Serdena had the incredible task of recreating Room 237 for The Shining's much anticipated 2019 sequel Doctor Sleep so we're pretty sure no one has studied this hotel room in more detail than he. Here is an extract of what he shared with us about his recreation of the Overlook Hotel (and you can read the full interview with Serdena in a few weeks here at F&F).
Serdena received an early phone call from Production Designer, Maher Ahmad where he asked if he was familiar with Doctor Sleep. As a longtime fan of both The Shining book and film, Serdena had also read the Stephen King sequel.
"Would you be interested in traveling to Atlanta to make the film with me?" Ahmad asked.
"Do we return to the Overlook Hotel?" Serdena replied.
"Yes," said Ahmad to which Serdena simply answered "When do I start?".
The technical challenges presented in attempting to remake The Overlook for Doctor Sleep were both daunting and rewarding for Serdena and his team: "We undertook an analysis of virtually every shot of The Shining. There was a young researcher on staff in the Art Department, who, long prior to my arrival, had made an archive of screen stills, which would become our research bible".
Although the story is set and the film was made in the US, Serdena had to try to match designs that were created in the UK forty years prior, including details such as UK electrical outlets. "There were occasional odd bits, such as a box, mounted to the wall in a corridor for which we could find no identifiable use, so we merely replicated its shape and proportion. If it looked good in a photograph, and closely approximated the original, we were happy. The original film was created prior to the digital age. Today our décor work is meticulously archived for digital preservation but no such records existed of wallpaper or textile selections" he told us.
He continues: "The Director's [Mike Flanagan] expectation was that our version of The Overlook, in terms of its proportions, geography, and lighting, match, virtually seamlessly, with the original. He used to walk through the set with shots of The Shining on his laptop to compare the two versions. Spatial relationships between objects are necessarily distorted via photography, so one can imagine the thrill of being admonished that a chandelier was too far to the left or that a chair was positioned incorrectly".
On Serdena's team was Graphic Artist John Pundt, who analysed and built graphic files for patterns of the iconic David Hicks' Hexagon carpet for miles of corridor, the peacock pattern carpet in Room 237, the chevron patterned bedding and drapes together with all of the wallpapers in The Overlook. The art department printed up various iterations for camera tests while still in preproduction.
"We shopped for samples of magenta, pink, lavender and teal textiles to camera test alongside our samples of the peacock Art Deco carpet, the striped wallpaper, and the 70s chevron bedding and drapes to get a sense of which colours needed to be dialled up, and which needed to be dialled down. The styles in that suite that lead from the sitting room, up a couple steps to the bedroom, and then into the mint green bathroom are an audacious marriage of the sensational with the banal, and it felt a bit like conjuring and inhabiting the spirit of the team of excellent craftspeople who preceded us".
The whole process was a rigorous balancing act. Financial resources didn't allow everything to be fabricated so members of the Set Decoration team had to source pieces that bore a resemblance to the originals in silhouette and finish, and then fabricate the details to bring the match closer. For example in the bedroom suite of Room 237, there is a small dresser with brass panels. The team found a used wood dresser that seemed to be similar proportions and fabricated the brass panels to match the original. 
The chinois chairs for the bedroom and sitting room were sourced then reupholstered and painted to resemble the originals. Once a pink textile that most closely approximated the originals had been found, they sourced vintage pieces for the sitting room, and the sitting area of the bedroom, and had them reupholstered. 
Serdena certainly had a mighty task but he is keen to give recognition to his team: "Trying to recreate a space with a high degree of verisimilitude, limited resources, and a ticking clock is a challenge that requires a deeply committed, high-functioning team. I'm fortunate to have some of the best set dressers, propmakers, drapers and upholsterers. Regardless of the film's outcome, the ultimate reward is standing there with one's team, surveying the finished set and quietly acknowledging it's a job well-done".
Russell Whitehead: Interior designer, TV presenter, one half of 2LG.
"The green bathroom of The Overlook's Room 237 is a stone cold icon. It has had far reaching influence on many designers over the years and we have definitely been influenced ourselves by the set designs on Stanley Kubrick's films. They are so grounded in the setting and the architecture, the brick fireplace, and then there is the perfectionism of the colour palettes and the graphic symmetry of the space with the period details of the bedspread and carpet design. It's a powerful mix. There is something incredibly seductive about these spaces, not least the colours and curves, but that edge of perfection brings an underlying tension that lets you know you are not safe. It's not a place to feel comfortable or relaxed. It holds such drama. 
"The layers of the design have so much to say, not only about the period of the architecture, since the hotel is an integral character in the story, but also about the period of the movie itself. The elements of 70's deco revival are strong, they are amped up. Yet it still remains timeless, perhaps by sheer force of will as the sets are so perfectly considered and balanced. They refuse to feel dated. How can something from your nightmares ever date. The need for symmetry and perfection and connection to location reveals interesting things about the human psyche. 
"The colours in the carpet bring to mind religious ceremonial garments and this only adds to the unnerving sense of dread that perhaps there is something ceremonial or spiritual about what is happening in the hotel".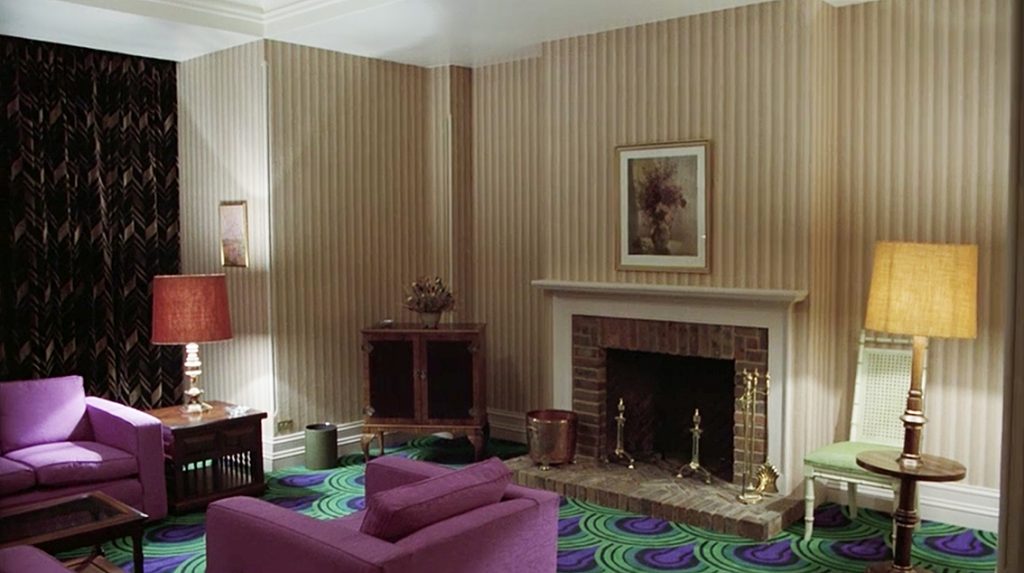 Estelle Bilson, Creator 70s House Manchester, 70s Interiors Expert and TV presenter.
"One of the interesting things that first strikes me is that the Room 237 carpet is already outdated by the film's release in 1980. It smacks of an earlier 70s opulence in colour and form. This has then been mismatched with a later decorating scheme, notably the curtains/bedspread with that late 70s, multi toned, brown zig zag. These are then both offset with a muted peach pinstripe and 80s paint colour scheme and accessories and Pepto-Bismol pink upholstery, which from a design point of view is jarring and surely no designer would ever put together. This is however not unusual with down at heel hotels and how they evolve their interior 'design' with elements of previous schemes left over as they are too costly to replace.
"The attention to detail on this set does not surprise me as Kubrick was well known as a stickler for detail, even down to creating the sets based on actual American hotel rooms he approved of for use in the set build. This gives the hotel an authentic look, one of which resonates with anyone who has travelled and frequented such rooms during the latter part of the 20th century. How many of us have been in hotels and joked it feels like The Shining? I know I have. I feel that to the viewer, this makes the hotel more 'real', it isn't the archetypal 'spooky' gothic hotel often portrayed in Hollywood films, this makes the interior more menacing, because it is relatable.
"I think it is important to note the scale of the rooms and especially the carpets used in the film, they are vast oversized graphics and use clashing colours, which only serve to illustrate how small and vulnerable Danny and his mother are, they are literally dwarfed by the interiors, trapped. I believe this is a technique that Kubrick used, not only in The Shining, but also in 2001: A Space Odyssey and A Clockwork Orange, whereby he used violent contrasts of colour to heighten the feeling of unease, he wanted us to know how gigantic and dehumanising the Overlook Hotel really was.
"There are individual elements of this room and en-suite that I adore, the very typical American style bathroom with the curved shaped bath wall is a stunning piece of architecture.  The décor here has an art deco flavour, but in very 70s colours.  There was indeed an art deco revival through the popularity of Barbara Hulaniki's store – Biba during the late 60s and early 70s, but this looks very much 'original to the 30s' in this imaginary hotel interior. 
"The brown, late 70s modernist bedspread and matching drapes are very contemporary by today's vintage tastes and I predict this late 70s/early 80s vibe to be the next big thing in vintage interior design and are both something I would definitely entertain using today in my own home.  
"The bold, clashing purple and green, graphic, 70s does art deco style carpet which has become one of the enduring, iconic images of the film and is instantly recognisable is achingly cool and an assault to the senses in equal measure. Enough time has passed for this not to be considered dated and out of fashion as it would have done, but has now passed into the realms of retro and cool in the 40 plus years since the film's release."
Recreate Room 237 in your own home or hotel
After painstakingly studying this mesmerising pattern, and to complement our officially licensed Hicks Hexagon carpet as seen in the Overlook's corridor, we are delighted to announce the launch of our luxury, beautifully crafted, Room 237 carpet, rugs and runners for your own home. From wall-to-wall fitted carpet and freestanding rugs, the maximalist purple and green design which offers a decidedly retro aesthetic, are now available for sale in high quality, hand tufted 100% 1 ply wool. We've even introduced subtle 'carving' around the black curves to ensure a crisp line.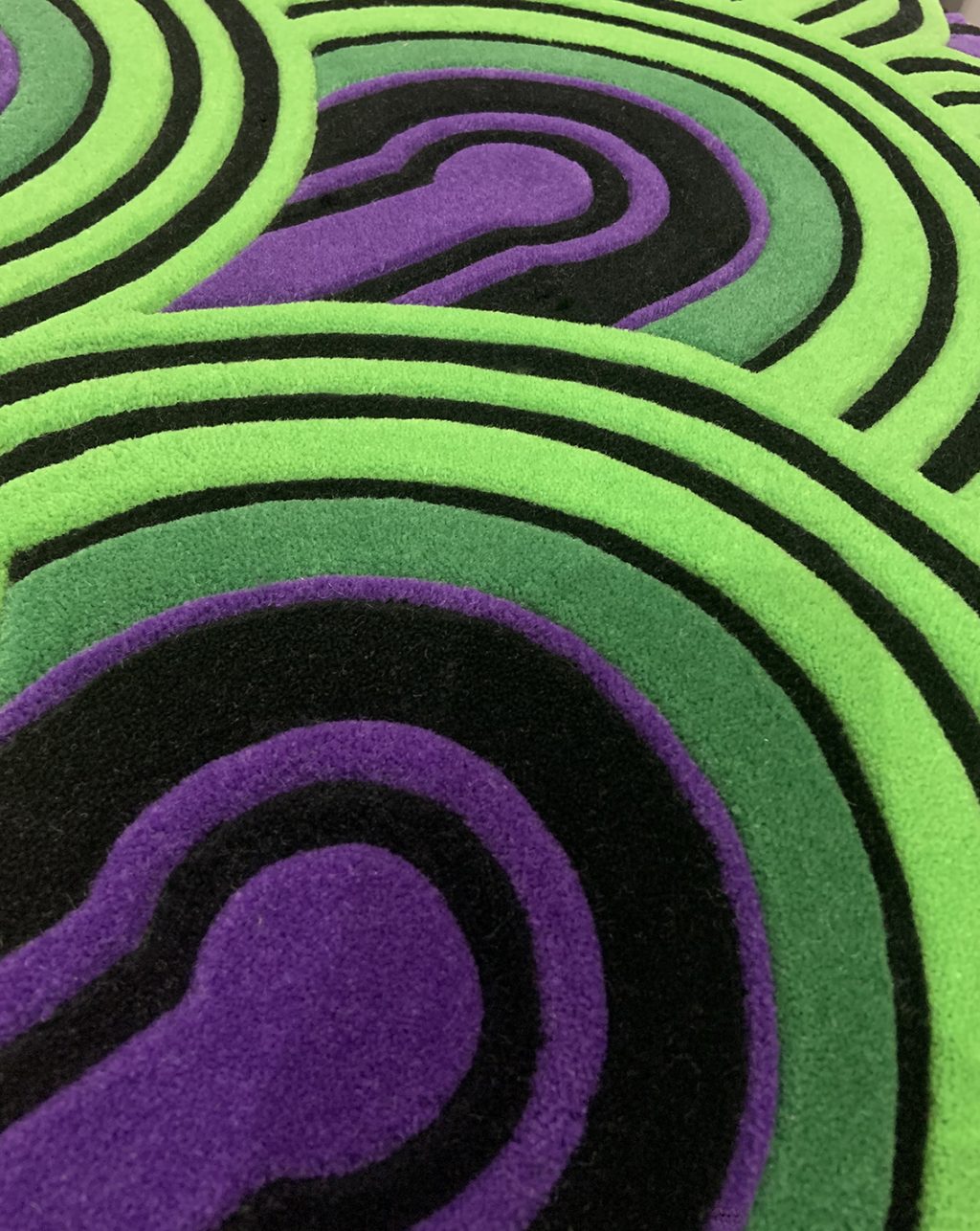 We've already provided carpet for a large home in Park City, Utah in this bold design which is a must for fans of The Shining.
Available as wall-to-wall carpet, rugs in a standard size of 240cm x 170cm, and runners at 75cm x 250cm (custom sizes are also available, please email [email protected] for details).
So, what do YOU think the pattern of Room 237's carpet represents?