The 2019 round-up: Film and Furniture's most read features
2019 has been another action-packed year at Film and Furniture HQ. This, the year that Blade Runner was set was also the year we were crowned Best Design Inspiration Blog and welcomed many new readers and followers from all over the world.  So as the year draws to a close, we take a look back at our Top 10 most popular features here on the website as well as our most popular posts on Instagram. What did you catch and what did you miss?
Film and Furniture's Top 10 most read features of 2019:
No 10: Step inside the Parr's super new house in Incredibles 2
At the end of The Incredibles, the Parr family home gets destroyed meaning they needed a spanking new house for Incredibles 2. We fell in love with the Parr's super new abode which is a lavish affair full of midcentury details.
The 20,000 square foot mansion is a four bedroom, four bathroom property with floor-to-ceiling windows and indoor rock formations. The house was even listed on real live property website Zillow (nice touch!).
The production design team of Ralph Eggleston (Production Designer), Philip Metschan (Visual Designer), Nathan Fariss (Sets Supervisor) and Bryn Imagire (Art Director) did a wonderful job!
No. 9: Dapper design and decor in Almodovar's Pain and Glory
Almodóvar's 21st movie Pain and Glory deals with the struggles of ageing film Director Salvador Mallo (Antonio Banderas) whose apartment in the film is based on Almodóvar's own Milan residence.
We took a look at some notable design and decor in the film.
No. 8: Rocketman: An exclusive tour of the film sets and furniture of the Elton John fantasy musical
The larger than life Rocketman follows singer, songwriter, pianist and rock legend Sir Elton John's breakthrough years – from his early childhood to his early days as a prodigy at the Royal Academy of Music onto his musical partnership with Bernie Taupin and his conquering of the USA. Played convincingly and effervescently by Taron Egerton (who sings all songs himself) John's life story takes us on a journey from his childhood home of Pinner, Middlesex in the mid-late 50s to his Los Angeles luxury home in the 80s, and everything in between.
We talked to Production Designer Marcus Rowland and Set Decorator Jude Farr about how they created the fascinating and varied Rocketman filmsets – and where to find similar home decor for your own home.
No. 7: Johnny English Strikes Again – The secrets of designing film sets for a secret agent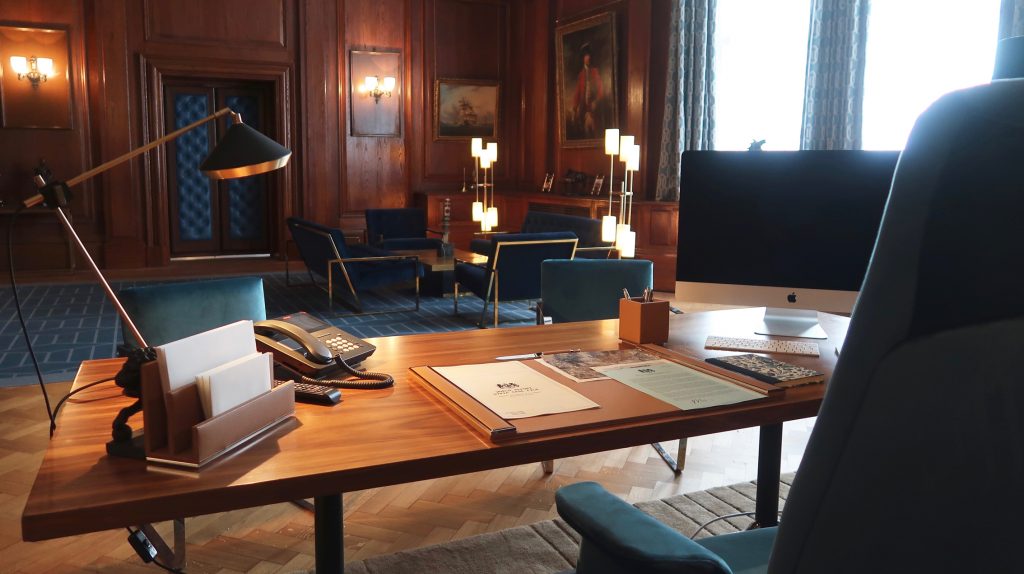 As a man with few skills and analogue methods, accidental secret agent Johnny English must overcome the challenges of modern technology to make his mission in Johnny English Strikes Again a success.
This dichotomy presented some interesting challenges for the design of the film sets, furniture and gadgets for Production Designer Simon Bowles who shared with us some secrets of working on film sets for a secret agent.
No. 6: Iconic whiskey glasses: Mad Men tumblers have the silver screen embedded in their silver rims.
One of our first ever articles published back in 2014 has made it onto the 2019 hit list! 
We gave you the low down on the desirable silver-rimmed Mad Men tumblers you frequently see Don Draper et al drinking from in the liquor-fuelled retro TV epic: They are authentic Dorothy Thorpe designs from the 1960s and these whiskey glasses are befitting of their name Roly Poly – if you place them on their side, they roll back to an upright position.
Essential barware for the discerning whiskey enthusiast. But it's not just Mad Men that connects these sophisticated glasses to the big screen…
No. 5: Life imitates art – 6 key artefacts in Blade Runner 2049 and the hidden stories they tell.
Following Paula Benson's talk at a Blade Runner 2049 screening hosted at the stunning The Conran Shop showroom in London's Fulham Road in collaboration with Sony, she took the opportunity to dissect and discuss her favourite artefacts in the film. In the follow feature we shared her opinions on the hidden narrative behind these objects, supplemented by fascinating facts gleaned from conversations with the movie's Set Decorator Alessandra Querzola SDSA and Concept Artist Mike Hill.
Given the technological, political and environmental news that have hit us lately, the choice and design of many of these objects predict the future with more insight than one might realise.
No. 4: Batman's taste in modernist furniture revealed in Bruce Wayne's house from Batman v Superman
Batman v Superman: Dawn of Justice directed by Zack Snyder spurred not only a battle between two DC Comics superheroes but also between critics and fans. One indisputable winner however is Bruce Wayne's house. His stunningly designed modernist lake-side house which was influenced by Mies Van der Rohe's Farnsworth house, continued to draw interest throughout 2019 even though we published this piece back in 2016!
No. 3: How to get the Lara Jean look: Exclusive interview with To All The Boys I've Loved Before Production Designer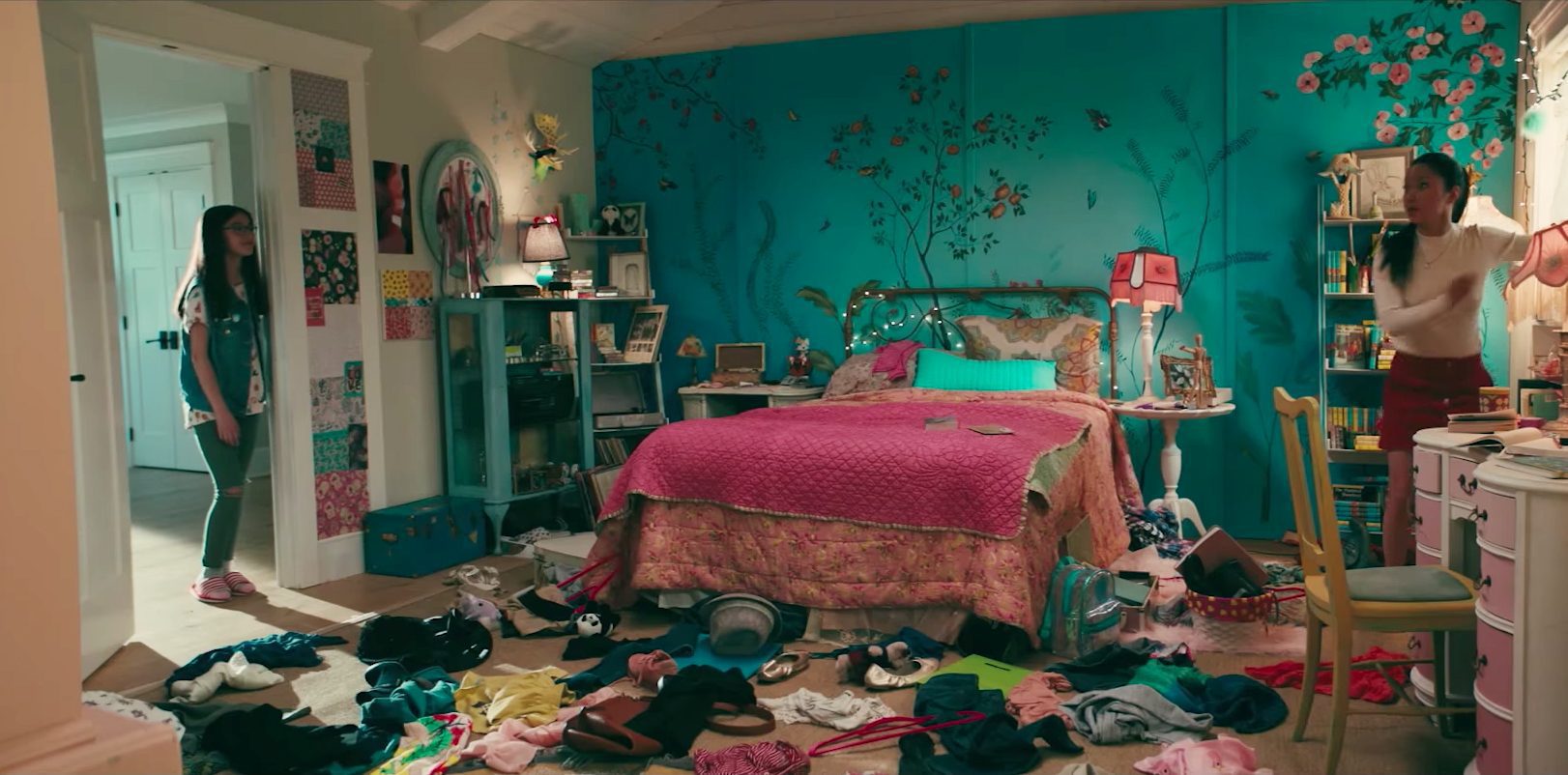 When we published a short feature on the colour themes of To All The Boys I've Loved Before prior to it's Netflix release, we didn't expect quite so much interest. So many of you have been watching it, loving it and wanting to know more about the To All The Boys filmset interior design and decor details. Based on the New York Times best-selling book by Jenny Han, we were inundated with questions about this teen romance.
Who better to ask for an insight into the behind-the-scenes design and decor than the Emmy Award nominated Production Designer Paul Joyal? Following our exclusive interview we revealed how the look was born and how you can recreate the 'Lara Jean interior style' in your own home.
No. 2: The film sets and furniture of Kubrick's A Clockwork Orange – "A real horrorshow"
Articles on Kubrick films are always popular at Film and Furniture. The disturbing dystopian film A Clockwork Orange (1971), based on the 1962 Anthony Burgess book of the same name was adapted, produced, and directed by the great Stanley Kubrick. We took and indepth look into the memorable and influential production design, film sets and furniture by John Barry. "It's funny how the colours of the real world only seem really real when you viddy them on the screen" says Alex.
Our top read feature of 2019 is…
No. 1: Checkmate! The story behind Kubrick's carpet in The Shining revealed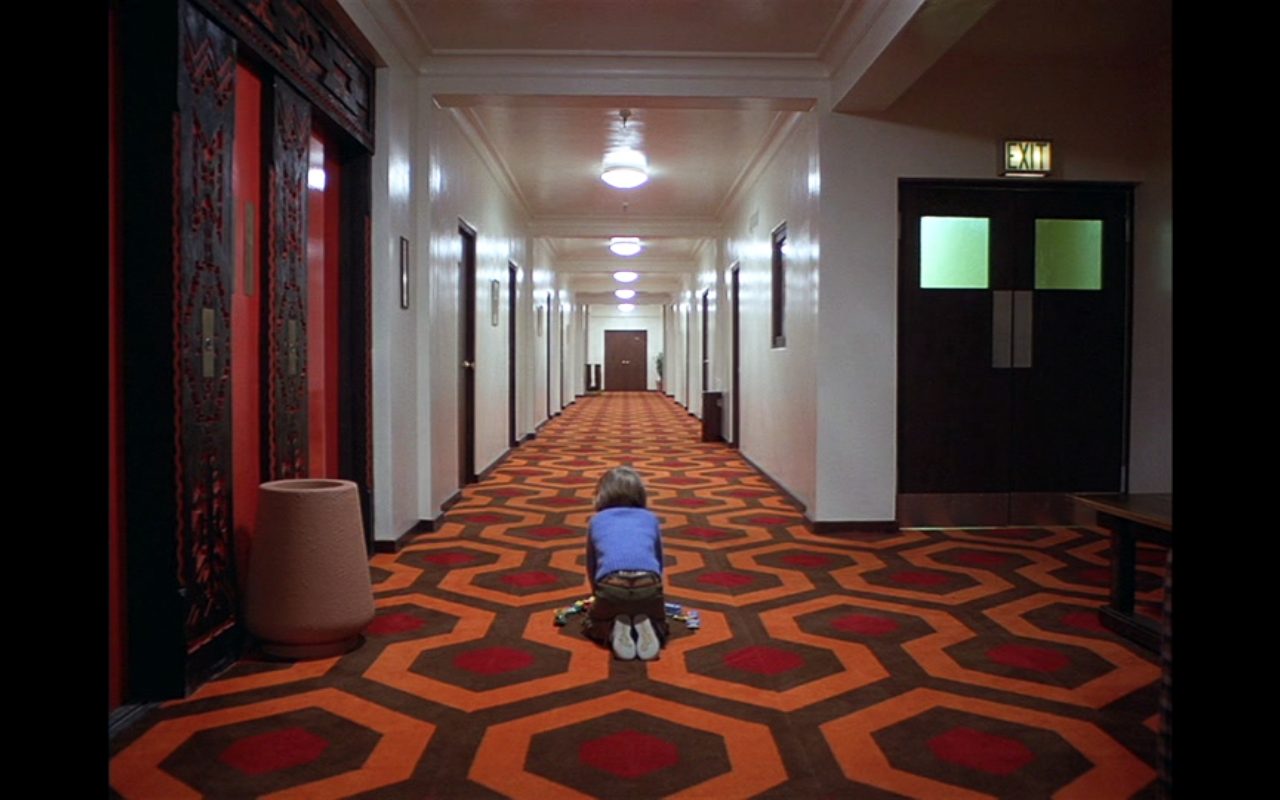 Film and Furniture regulars will know the original inspiration for this very website was the hexagonal patterned carpet in The Shining's Overlook Hotel. The carpet's dynamic orange, brown and red colour way and mesmerizing graphic pattern leap out at us from the screen, so it's no surprise that it has become the most iconic carpet to ever feature in film. We revealed who designed this carpet and why we believe it was chosen for this classic horror which has had renewed interest due to the sequel Doctor Sleep being released in 2019.
Film and Furniture's Top 3 most popular posts on Instagram
A side by side comparison of the green art-deco bathroom of the spooky room 237 in The Shining's and Doctor Sleep's Overlook Hotel proved a popular post! 
You've probably twigged by now we're obsessed with the Hick's Hexagon carpet in The Shining's Overlook Hotel and it seems you are too! We shared a comparison of Danny's adventures in hexagon-land in both The Shining and Doctor Sleep.
Floorplan Croissant painstakingly recreates the floor plans and set decoration of film sets from famous movies in watercolour paint. Her faithfully painted Elio's Italian summer villa from Call Me By Your Name proved a hit on Instagram.
There's plenty more where that came from over on Instagram where we often post images and info' which don't make it to the website.
That just leaves us to say a huge thanks for all your support and interest throughout 2019 and we look forward to bringing you more such gems in 2020. Next year is already panning out to to be a bumper year: We will be celebrating our partnership with the Museum of Moving Image, New York on the exhibition Envisioning 2001: Stanley Kubrick's Space Odyssey which opens in January, F&F's Paula Benson will be speaking about all things furniture in film at Modernism Week in Palm Springs in February, we look forward to developing our relationship with our charity partner Reuse Network, and so much more!
See you on the other side…
Happy Holidays!