Life imitates art: 6 key artefacts in Blade Runner 2049 and the hidden stories they tell.
Contains spoilers!
I was delighted to give a talk at a recent screening of Blade Runner 2049 hosted at the stunning The Conran Shop showroom in London's Fulham Road in collaboration with Sony. I took this opportunity to dissect and discuss my favourite artefacts in the film. Here I share my opinions on the hidden narrative behind these objects, supplemented by fascinating facts gleaned from conversations with the movie's Set Decorator Alessandra Querzola SDSA and Concept Artist Mike Hill. Given the technological, political and environmental news that has hit us over the last few months, the choice and design of many of these objects predict the future with more insight than one might realise.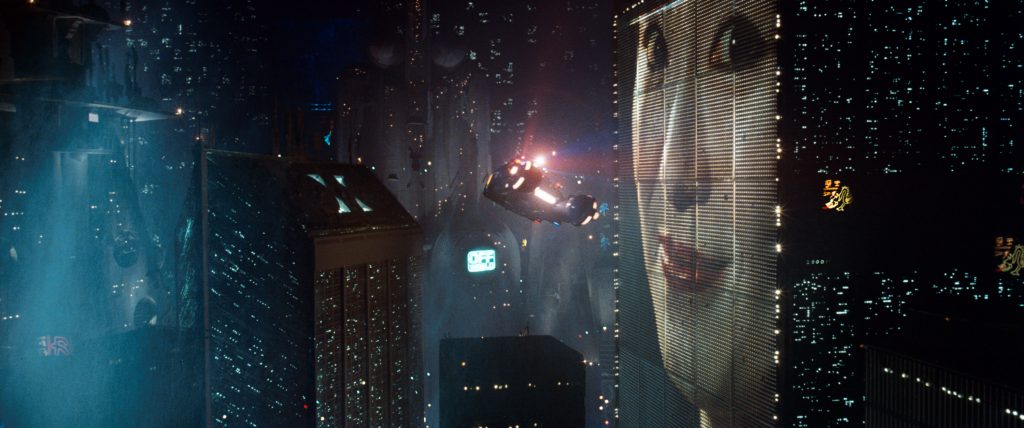 Set in 2019, Ridley Scott's original Blade Runner (1982) isn't just a well loved sci-fi movie, it's a cult. It painted a distinct, visionary picture of a dystopian future whose cultural impact permeates to this day. Based on Philip K Dick's book Do Androids Dream of Electric Sheep?, Blade Runner explores what it means to be human and was probably the first film to fuse science fiction with film noir.
When I visited Tokyo for the first time at the invitation of the British Embassy 14 years ago, high-up on my to-do list was a visit to Akihabara or "electric city" as it is known. I wanted to immerse myself in a Blade Runner-esque scene and with its chaos of neon and outsized, talking advertising screens, it did not disappoint. The only thing missing on my visit that day was the pouring rain – weather is as important to the original film as much as it is to the eagerly awaited follow-up '2049'.
How do you create a dystopian future when the perfect dystopian future has already been defined?
Set thirty years after the original and directed by Denis Villeneuve, Blade Runner 2049 centres around the story of young blade runner K (Ryan Gosling). Officer K discovers a long-buried secret which leads him to track down former blade runner Rick Deckard (Harrison Ford) who has been missing for thirty years. 2049 builds on the narrative and visual themes of the original and further evolves the quest to define what differentiates human feelings and responses from those of AI – a topic that gets hotter by the day.
Production Designer Dennis Gassner and Set Decorator Alessandra Querzola created, as setdecorator.org beautifully puts it: "deeply atmospheric sets that not only conveyed the solitude and loneliness at the heart of the film, but offered the director, cinematographer and actors distinctive worlds within a world". Sci-fi movies have covered so much ground since the first film's release in 1982 that reimagining the future is a tough job if you want to be original. How do you create a dystopian future set 30 years after the most perfect dystopian future has already been created? Villeneuve and Gassner decided that rather than reinventing 'the future' they would draw on and extend the mood and themes of the first film. The result leans more towards film noir than science fiction and now, having had some time to digest it, I think this was a clever move.
Back to the weather. As a typical Brit I'm obsessed with it of course, but then again so was Ridley Scott and, as it turns out, so is the Canadian Villeneuve. The original film is dominated by rain but by 2049 the planet has experienced extreme climate change and environmental disasters. We find over population and a collapse of the world's ecosystems, there is no plant life and food is bio-engineered.
Landscapes are orange from pollution or enveloped by snowy blizzards (the latter being triggered by the harsh climate of Villeneuve's home town of Montreal). We also witness scenes in 2049 which are heavy with smog and with a distinct lack of natural sunlight.
Brutality
As Gassner explained in a recent BAFTA Film Session I attended (which included insights from all the 2018 BAFTA Production Design nominees), 'Brutality' was the key word Villeneuve used to communicate his vision for 2049. As well as being expressed in the climate, brutality is expressed in the architecture and the set decoration.
The production and art department teams found plenty of Brutalist inspiration when scouting the angular, concrete buildings in Budapest where the movie was shot but there has been some debate on the use of this word as a visual style or as reference to Brutalism, the architectural movement born in the 1950s. Brutalist architecture has its roots in socialism and is so much more than a look or style – which is actually at odds with the film's take on a future born from capitalism, as pointed out in an interesting article on Failed Architecture.
Gassner created what he refers to as a "pattern language" – a core vision which informed the production design, the sets and the choice of many of the objects and artefacts throughout the movie. This began with the redesign of the iconic flying police car – K's Spinner, which is particularly angular and robust. 
Querzola had worked with Gassner previously on the Bond films Quantum of Solace and Skyfall and of her working process on the Blade Runner sequel she tells me: "Dennis Gassner involved me early on in the project and I had the chance to follow the process from the very beginning when the pattern language of the film was established. At that stage I had been researching design spanning from Brutalism to the classic Olivetti Spazio series. I had contact with Dennis and Denis almost every day, discussing my proposals for furniture and objects. Denis is always very clear of what he wants but he is also open to new input".
Lighting and cinematography also influenced the choice of furniture and design: "Roger Deakins had a big part in the creative process, we worked very closely looking at possible lights sources. Together we also designed and custom made light fixtures and testing all manner of materials" Querzola continues.
My six favourite artefacts in Blade Runner 2049
1. The E63 table lamp
In 2049 we find little evidence of the kind of high-tech gadgetry and interactive, holographic computer screens that we have become used to in sci-fi films. Instead we find what Set Decorator Querzola described to me as a "sidebar" view of the future. Villeneuve and the production team wanted to create a future which extended the vision of the first movie and they found a grounding in this vision by imagining how the year 2049 might look if Steve Jobs and Apple hadn't existed.
The result has a distinct Soviet, Cold War influence in the dressing of the film sets. Considering where we stand in the world today maybe the production team had more of a handle on the future than we first realised at the time of the film's release in October 2017! As a result of this approach, which is a more analogue future than we have seen on our screens in recent years (and also bearing in mind 2049′s back story of the "Blackout" which wiped all digital data), we find the film sets populated with some decidedly practical, metallic, austere props. In fact, we even find a rolodex in Lieutenant Joshi's (Robin Wright) LAPD office together with desk accessories by Danese and Bruno Munari.
My eyes were darting around this LAPD office scene trying to identify so many familiar objects when I first saw the movie, but they settled on one piece. Brutal but oh-so-beautiful is the grey metal E63 table lamp designed by Umberto Riva (currently manufactured by Tacchini Italia) seen on the far right above. 
The design for this lamp dates back to 1963, and has recently been reissued with the name E63. This alphanumeric code is a reflection of the intellectual complexity of its designer: part architect, part designer, part artist, part light-tamer. It is a table lamp designed with precision, featuring simple lines around broad surfaces that seemingly give a solid form to the light itself: steel, almost armour, protecting the source.
The amazing news is, these handsome lights are available to buy through Film and Furniture at £756, buy here >
I asked Querzola about the roladex and the E63 lamp: "We conceived, designed and built a lot of furniture and objects, but we chose and bought a lot of designer items too and this mix was the right move, no futuristic nods. So yes, the common rolodex mixed with the E63 grey lamps by Umberto Riva together with Danese and Bruno Munari designs". 
2. The Pierre Paulin Ribbon chair
This is Luv (Sylvia Hoeks). She works for the head of the Wallace Corporation, Niander Wallace and she is ruthless. She is his soldier, his warrior. Wallace played by Jared Leto (interestingly, David Bowie had been earmarked for the role) is the zen-like inventor who has taken over and well-surpassed the technology developed by Tyrell in the creation of replicants. Now he is the most powerful man on the planet.
I adore the 300-story Wallace Corporation's interiors and vast architectural spaces. These palatial, cathedral-like rooms were influenced by an ancient temple in Kyoto, Japan. We find wooden floors and walls and a large pond of water in the middle. In Blade Runner 2049 natural resources such as these as so rare that they signify real luxury and wealth.
The geometric shapes of the architecture and interiors create dramatic shadows cast by the yellow light. There is no natural sunlight in the building so Wallace has created his own (show off!).
This incredible lighting was created by Cinematographer Roger Deakins, who rightly won an OSCAR for his work on the film. The book The Art and Soul of Blade Runner shows the vast light rig that Deakins created for this film set.
As Luv sits having a manicure in her office, she coolly commands an attack many miles away which she watches through her VR glasses. Her elegant off-white dress reflects her desire for perfection with it's pure and sleek lines – which also match the lines, curves and colours of the Pierre Paulin chair in which she sits.
Her office sits below Wallace's main room, and the dappled light on the walls are created by the reflections of the water above. Querzola tells me she chose the Pierre Paulin chair in response to this lighting by Deakins: "I wanted curves and flow, I couldn't imagine these light waves reflecting on a cube-shaped chair. I also wanted something neat but eclectic".
The F582 or 'Ribbon Chair' was designed in the 1960s by Pierre Paulin for Artifort. Paulin's designs are distinctive in their striking sculptural shapes and earned him many prizes worldwide. 
Find details on where to buy the Artifort Pierre Paulin ribbon chair in our store. You can also find vintage versions at Pamono. 
3. K's kitchen tiles
K is a replicant blade runner on a mission. He has little time or sentiment for the finer things in life (apart from the mesmerising Joi). His apartment is barren and minimalist and features a compact, boat-like galley kitchen with vents and pipes, built-in metal kitchen units and appliances, an array of household objects (which Querzola bought from Budapest flea shops and markets) and some eye-catching 3D geometrically patterned relief tiles.
The reason these tiles had my eyes out on stalks, was because they resemble the distinctive tiles in Deckard's apartment in the original Blade Runner. Deckard's decorative tiles were designed by architect Frank Lloyd Wright for the Ennis House in Los Angeles. Built in 1924, it was the largest of the four Textile Block Houses, which are early examples of Mayan Revival architecture.
Although not the exact same tiles, this subtle nod was made to connect 2049 to the first film. World-renowned art director and concept artist Mike Hill who works in films and television including Game of Thrones, to games such as Call of Duty, Infinite Warfare and Killzone, worked with director Denis Villeneuve and Production Designer Dennis Gassner to develop the world of Blade Runner 2049, creating models, animations and concept paintings to inform the film's visual design – making among other things, K's apartment, Joi's Emanator and Ana's Memory Orb. He told me "K's kitchen tiles was certainly me trying to find a careful balance with the original movie, but making a contemporary version that felt like it could have been mass manufactured in a way that had less grandeur than Deckard's apartment".
The Ennis House geometrically patterned reliefs were cast in concrete and you can buy 16″ cast concrete versions of this tile on Ebay or from Mouldings.com. Swedish furniture brand Offecct have teamed up with the Frank Lloyd Wright Foundation to create the Soundwave® Ennis acoustic tile which are also available to buy for your own home.
4. The Memory Orb
The Memory Orb is my favourite piece of kit in the movie. This piece of wizardry is used to design memories for Wallace's replicants, to help create structure for their personalities. These memories are created by a singular genius artist – Dr. Ana Stelline, a kind of virtual 3D artist using the Memory Orb to manipulate holographic stories which are then coded into replicants to make them feel more 'real' or human. "There's a little of every artist in their work" she says. 
The Blade Runner Wiki tells us "Dr. Ana Stelline is a subcontractor under the Wallace Corporation working as a memory designer at an 'upgrade center' named 'Stelline Laboratories'. Although enamored with her work, Stelline is confined within an isolated dome, only visible through a visitor window; due to a 'compromised immune system', meaning that if she were to leave, she would die and the sole reason she is not off-world. Her parents had put her there, but gave her enough to make her happy".
The memory orb movie prop was made as a fully functional physical object. 2049 Property Master Doug Harloker explains in the You Tube video Adam Savage Explores the Props of Blade Runner 2049! how the memory orb is made up of concentric rings which move by pressing different buttons. These rings move at different speeds and the speed is controlled by a button on one end. It's structurally reminiscent of a series of camera lenses joined together.
I love the memory orb not only as a design object but also conceptually as an artefact that makes us consider what it means to be human and because of the questions it throws up around the connection between memory and identity.  
5. The statues in collapsed Las Vegas
Deckard is now hiding out in a collapsed dystopian Las Vegas, living alone with his dog in a deserted casino. In the sculpture garden of this abandoned orange landscape we find several dust-covered, dilapidated gargantuan nude sculptures which are frozen in sexual poses. 
This is one of Villeneuve's favourite sets. He wanted to create a toxic landscape, a red desert influenced by the Italian classic The Red Desert (1964) and he involved Syd Mead, the genius "visual futurist" of Blade Runner in the design of this scene. It sets a tone of environmental and emotional dystopia. "Roger [Deakins] and I needed to create an uneasy mood, an emotion; orange tones are a metaphor we've used before — for fire, heat. And yellow's envy in the gestalt" Gassner told Variety.
Described by Gassner as "Romanesque gods of sex", I interpreted this scene as a fallen land where sex, capitalism and disregard for our precious planet – where man's need for selfish satiation no matter what the costs – has all come crashing down.
Incorporation of gigantic women in film is not new of course: From the Attack of the 50 Foot Woman (1958) to the female sculptures in the Korova bar in Kubrick's A Clockwork Orange, many (including myself) have offered up theories and debates on the subject (in my research I discovered a whole new term, Macrophilia!) but the reason this scene fixed my gaze was another Kubrick connection.
When I visited the Kubrick touring exhibition in Copenhagen a few months ago I was fascinated by Chris Bakers early concept sketches for AI: Artificial Intelligence's Rouge City, the movie which was started by Kubrick but finished by Speilberg after Kubrick's death in 1999.
The similarities are astonishing.
Interestingly Chris Baker said in an interview on Medium "If I designed Rogue City now I would have been a little bit more subtle. I would have stopped it from being overly feminine as well because it's one sided, It's very female oriented. I would have intertwined it so you were not quite sure what's male and what's female. I have always thought of it as being the sexual equivalent of Las Vegas".
6. The Arnolfo di Cambio "Cibi" whisky glasses
We catch a glimpse of the stunning Arnolfo di Cambio "Cibi" heavy-weight, Italian whisky glasses in the Wallace building when Deckard is brought in to meet Niander Wallace.
We get a better view of them in a behind-the-scenes shot of Denis Villeneuve on set, but they played even more of a starring role in the first movie.
As guest contributor Matt Cole puts it in a previous Film and Furniture feature on the original film: "Standing on his apartment balcony hundreds of stories above the city, Deckard reflects on cruelly bursting Rachel's faux-human bubble. For one fleeting moment Deckard leans over as if he might jump. The glass in his hand is a 1974 Arnolfo di Cambio CIBI tumbler – a serious whiskey glass surely built with Future-Noir, Replicant Hunting, Killer Cops in mind".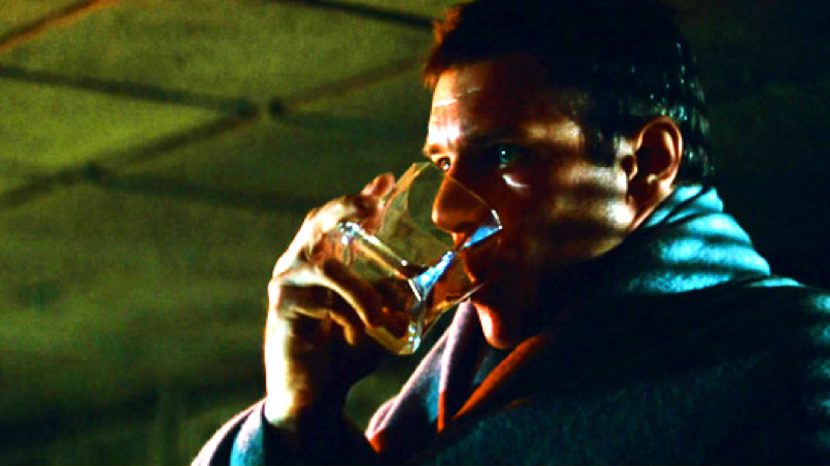 These gorgeous, hand blown, heavy weight, double old fashioned glasses have been made by same Italian glass company in Tuscany since 1974 and are available to buy in our store.
Why they ended up in Wallace's office in 2049 perplexed me at first but Querzola explained: "The whole point of this scene is Deckard confronting his past" which of course makes perfect sense given who/what he is presented with in this scene. The glasses are Wallace's attempt to woo him in – a kind of "welcome back home Deckard". It's testament to how well made and iconic these whisky glasses are that they are used here by the most powerful and richest man on earth.
I hope you enjoy spotting these objects on your next viewing of the film, and that my musings have brought some insight into the hidden narrative created by the furniture and artefacts. At least you can wax lyrical at your next dinner party! However, if you're left feeling a little disjointed, you can always take a baseline test.