Step inside the Parr's super new house in Incredibles 2
We love the Parr's super new house in Incredibles 2. The production design team of Ralph Eggleston (Production Designer), Philip Metschan (Visual Designer), Nathan Fariss (Sets Supervisor) and Bryn Imagire (Art Director) have done a wonderful job and we're ready to move in!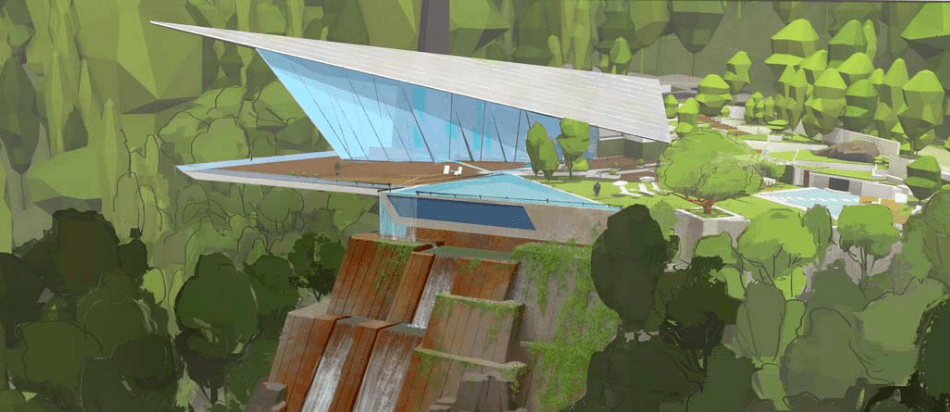 At the end of The Incredibles, the Parr family home gets destroyed meaning they need a new house for the new film. The new Parr family home is a much more lavish affair full of mid-century modern details.
The near 20,000 square foot mansion is a four bedroom, four bathroom abode with floor-to-ceiling windows and indoor rock formations. The house is even listed on real live property website Zillow (nice touch!).
The listing boasts The Incredibles SuperHome has "All the bells and whistles of a secret lair, but with the space to raise an active family. This mid-century mansion is just the place to hang your cape (should you be so daring with your attire). You'll never tire of the view with floor-to-ceiling windows looking over Municiberg. But what's really impressive are the smart devices wired throughout the house to make daily chores a breeze, even for novice homemakers".
The space age, mid-century brass sputnik chandeliers are a real statement piece in the living room.
Find contemporary sputnik chandeliers at Wayfair and stunning vintage originals at Pamono and Etsy.
The Zillow property listing continues: "You'll be the hero of hosting with remote-controlled features in the grand room, like a fireplace and movable flooring that reveal pools filled by waterfalls from above. Entertain in the conversation pit, perfect for reliving glory days".
The team behind Incredibles 2 was inspired by architects like Frank Lloyd Wright, photographers such as Ezra Stoller and mid-century modern homes and buildings they visited while on a trip to Palm Springs. 
The Parr family kitchen is bright and cheerful. "It's easy to find colors and textures, palettes that are specific to mid-century design, so we just picked up on those and used them throughout the film," Bryn Imagire, the film's Art Director, told Oh My Disney.
Incredibles 2 is in cinemas now.