Rocketman filmsets and furniture: An exclusive tour of the Elton John fantasy musical
The larger than life Rocketman follows singer, songwriter, pianist and rock legend Sir Elton John's breakthrough years – from his early childhood to his early days as a prodigy at the Royal Academy of Music onto his musical partnership with Bernie Taupin and his conquering of the USA. Played convincingly and effervescently by Taron Egerton (who sings all songs himself) John's life story takes us on a journey from his childhood home of Pinner, Middlesex in the mid-late 50s to his Los Angeles luxury home in the 80s, and everything in between.
Film and Furniture's Paula Benson talked to Production Designer Marcus Rowland (Scott Pilgrim vs the World, Baby Driver, Hot Fuzz) and Set Decorator Jude Farr (The Kings Speech, First They Killed My Father, American Sniper, My Week with Marilyn) about how they created the fascinating and varied Rocketman filmsets – and where to find similar home decor for your own home.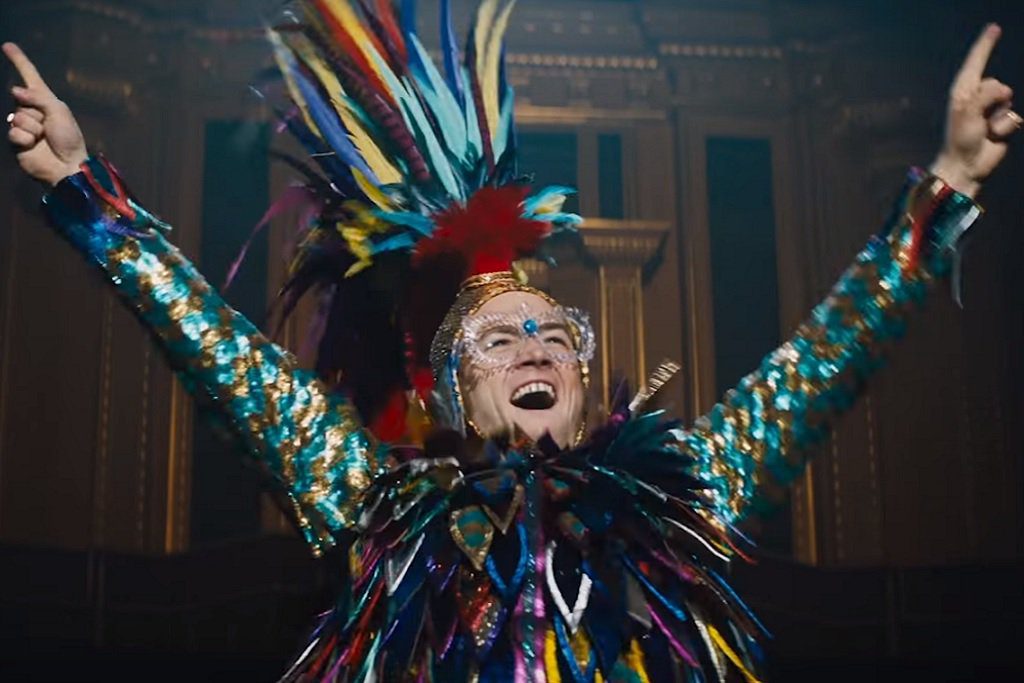 Rocketman certainly isn't a documentary, nor is it a traditional biopic. Production Designer Rowland refers to is as a "heightened reality" and explains: "We weren't slavishly following reality, the tone and exuberance of Elton is what's reflected in the overall design and look of the film. The story is driven by Elton's imagination and perception of what was happening at certain moments in his life". 
"He was happy for us to run with our interpretation of that" adds Farr, "He was pretty 'hands off' with our design work and in our first meeting with him [at the film's production base in Bray Studios, Berkshire, UK] he said he wanted to be surprised and entertained". 
The film has been referred to as a 'fantasy musical' so I was intrigued to know if this is the way Rowland and Farr were briefed at the beginning of their work on the film. "Not really, it wasn't billed that way, and when we first read the script it could have been taken in many different ways but what was pivotal to the way the film works, is that certain parts of Elton's life are explained through the music, even though it's not chronologically accurate" says Rowland. The songs are incorporated, as Taron Egerton puts it "to express important beats in his life at emotional moments". The film acts as a kind of jukebox. The film sets and the music (and editing of course) help drive the story and the pace as the film builds. 
Farr elaborates on this and tells me that at first she thought that the musical scenes needed to incorporate set dressing that fitted the relevant period of the song but quickly learned that the timing and integration of the music is a method of telling different parts of the story and so didn't need to get 'hung up' on period detail in her choice of furniture and decor.
Rowland says "In early meetings with director Dexter Fletcher [who was brought in to direct Bohemian Rhapsody after Bryan Singer was fired, and who also directed Eddie the Eagle and was actor in Press Gang, Caravaggio, Lock Stock and Two Smoking Barrels], he made it clear we didn't need to be bogged down by 'authenticness' but to use the songs to evoke an emotion and drive the story from the childhood home to the more buoyant Rocketman filmsets such as the pub and the fairground".
Rowland explains to me how it was an interesting brief for them as Production Designer and Set Decorator given the film jumps around from period to period, so they felt liberated to explore. "It was nice to get the period bits in too, such as the childhood home of Pinner which is a little more grounded in reality, but then contrast this later in the film when we get a little more bonkers!" exclaims Farr. 
Elton John, born Reginald Kenneth Dwight, has said that his ebullient costumes were a way of expressing himself after a restrictive childhood. These real life stage outfits were designed by Bob Mackie, who was not surprisingly a big influence on the costumes for the film designed by Julian Day. The costume and art departments were located close together for Rocketman. "I know what the costume department are doing and they know what we're doing so we were able to juxtapose the environments against the costumes in a fluid working process. Take the orange dramatic devil costume for example, a very bright and visual statement in the opening scenes where John enters the rehab therapy room (set in 1990) and then in the street – we contrasted this with a relatively monochromatic background so in those types of scenes the character is more prominent" says Rowland, "so we use the tone of the film sets to try to emphasise the story at various points in the film and to help bring out Elton's mindset and personality". 
Rocketman was filmed entirely in the UK. Some real life locations were used but most scenes were built sets either at Bray Studios or a large warehouse nearby (which housed twelve different sets) but not all of them made the final cut" "The Studio 54 set was huge but is hardly seen in the final film, and the whole of the private plane we built isn't seen, but that's the nature of the job" says Rowland. 
Let's take a look at the film sets, furniture and décor in some key scenes.
Elton John's childhood home, Pinner, Middlesex, London
Rowland and Farr took some artist license with their representation of John's childhood Pinner home, set in the mid-late fifties. "There's no way we could have shot in a house so small as the real life semi-detached house, but of course we were influenced by the overall feel" Rowland says, "so we made it bigger and took the core of a post war, suburban house. We used a subdued palette but made it visually appealing".
We spotted details in the kitchen such as the brown betty teapot (a type of round teapot with a manganese brown glaze known as Rockingham glaze), the 1950s style fridge and the enamel bread bin. "We hired various pieces from prop houses but as they are old looking by their very nature, some pieces needed some attention – like adding a new formica worktop to the kitchen units to make them look newer or re-laquering or repainting pieces" says Farr. "It's also about unifying the look as you don't want it to end up looking like lots of disparate bits and pieces" says Rowland.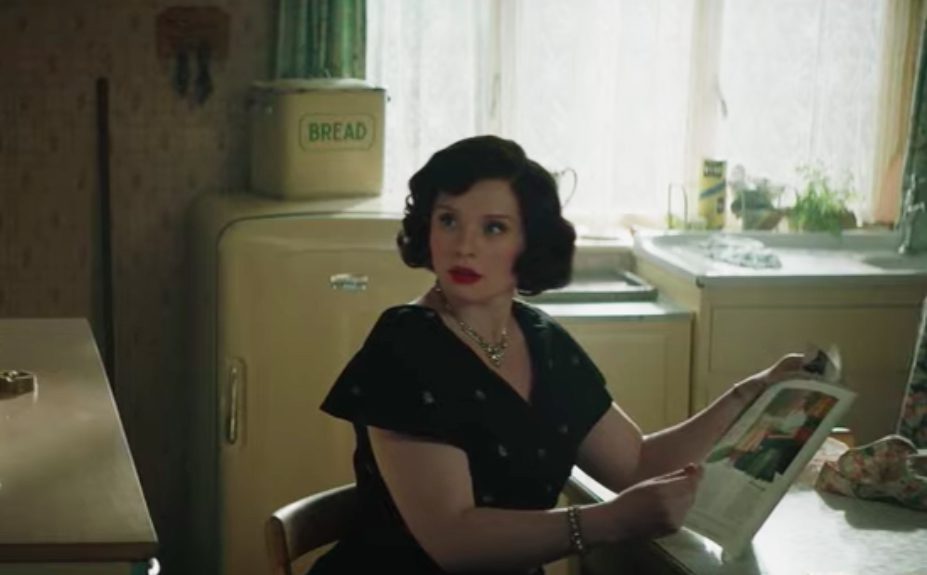 We're big fans of wallpaper in film here at Film and Furniture (we take great pleasure from identifying these details) so we were delighted to see both Rowland and Farr get quite animated when we asked about the wallpaper in this house: "The wallpaper is real paper from the period, but sourcing authentic wallpaper which isn't just one roll isn't always easy and especially difficult when wallpaper from this period comes with awkward edging that needs to be cut off, it rips really easily and its just very fiddly – our decorators hate it" says Farr. "We like to source from the period as the texture and depth makes a big difference rather than designing it and printing it up new which can look a little soulless" she adds.
"Wallpaper can actually make a huge difference to the look and feel of a set. We carefully chose wallpaper which had a little dowdiness and matched our greens and browns of the woodwork and smokey tones" Rowland explains. 
Find similar vintage wallpaper on Etsy.
Mama Cass' Laurel Canyon house
Mama Cass' (of the American band The Mamas and The Papas) iconic Laurel Canyon wood home is the scene of the party attended by Elton John, Bernie Taupin and his friends after a memorable and career-changing performance at the Troubadour. This home was rebuilt on a farm, a location called Shardlows in Amersham which has big, old woods on the side of a stately home.
"This location is a favourite with our location manager" jokes Rowland "and the the house we built is based on that Laurel Canyon improvised cabin look." 
"We dressed it when it was hot, beautiful weather with dappled light coming through the trees, just amazing!" adds Farr, "and we built it early on on in the process so by the time we filmed there it had actually aged itself a little". 
But how do you make a wooden cabin in the middle of a wood on the edge of London look like LA? "We digitally stripped in L.A. so you see the lights in the distance when you see the car arriving with Elton, and luck was on their side as the sun came out for filming. If you asked most people, they'd think this was a real place that existed" insists Rowland. "Even when the crew arrived they said "who lives here normally?"" adds Farr. 
We love the hippy chic of this house with all it's plants, ephemera, bamboo and cane chairs (find similar on Etsy).
Elton John's luxury Los Angeles house
The Rocketman LA House was filmed in on location in Brookman's Park, Potters Bar, north London, complete with outdoor swimming pool. This house was dressed to feel more authentic to the LA location and palm trees were also added. 
We particularly like Elton John's bedroom. The bedhead it transpires was a gold inlaid screen which Farr found at a hire company, and the bedside lights were from Modern Props. They weren't strictly of the 80s period in which the scenes in this house took place, but they had the "right colour, shape and feel" says Farr.
The production team also commissioned pictures to be painted to fit the house such as the Hockney look-alikes seen in the living room (real art is always a problem on films because of clearance issues). One of Farr's favourite paintings in the film (which came from a prop house) was the Napoleon painting which appears in the LA bedroom scene. 
"I was privileged to visit Elton's house [in Windsor] and I know what the real thing looks like and all the collections he has including his large collection of contemporary photography (and the large art gallery he has attached to the house) and vast number of small cameos and snuff boxes for example which he's been collecting for many years. Everything is very ordered and beautifully looked after –not a surface is empty" Rowland tells us, "and actually the manor house which appears towards the end of the film where he is living with John Reid – where he falls down the stairs – is actually much bigger than his real house".
John Reid's Office
Another painting which was painted specifically for the film (which is commented on as being hung upside down) appears in the office of John Reid (Elton John's manager and lover played by Richard Madden). It also makes an appearance in the dance sequence where John is seen buying cars and giving keys to houses.
This, Rowland's favourite set of the film, was influenced by 1960s Versace and involved Farr designing and making a carpet specifically for the scene.
The private jet 
Elton John's 'plane in Rocketman is based on an interpretation of the private jet called The Starship hired by many bands and artists of the time (including Led Zeppelin, Rolling Stones and Bob Dylan) – it even had a fireplace and a bedroom.
During the private jet scene John sits on a statement sofa which sits on a purple carpet. We're 99% sure this is a Howard Keith (HK Designs) Barbican sofa designed in the 1970's, in a distinctive striped velour fabric. We at Film and Furniture are agents for selling vintage Howard Keith sofas and chairs and currently have a striped velour HK Diplomat for sale (the same fabric as seen in here in Rocketman).
Studio 54
As Elton exits the private plane he walks straight into Studio 54 (the legendary former Manhattan nightclub). For this set Farr had a huge gold and silver sofa made (in the style of a De Sede Non Stop sofa) which is hardly seen in the final film! 
Concert venues: The 

Troubadour 

and Dodger Stadium
Several different live venues were included in the film and Rowland re-created the infamous West Hollywood nightclub the Troubadour – a key point in John's career, as well as the Dodger Stadium, which John played in 1975. "When I arrived on the Troubadour set" says Farr, "I thought I'd been transported to LA – but we did this in the car park!" 
"We had lots of reference for the real venue but the real Troubadour was a lot scruffier and hotch-potch than our set "says Rowland, adding "and there was a slight different shape to the balcony but we took the key elements and reinvented it".
There wasn't a neon Troubadour sign in the club on the stage as seen in the film, but this was created for the Rocketman filmset to create a real sense of place and adds to iconic status and significance of Elton's performance here.
The Pianos
The pianos in the film were mainly sourced from Yamaha to whom Elton John was very faithful after he fell out with Steinway. "Yamaha sent us nine very expensive pianos over from the States including his 9-foot concert piano (which goes all around the world with him when he tours) for our Rocketman filmsets. They needed to look really sharp so getting them new direct from them, rather than hiring in pianos was important as they're integral to the story. The story after all is about a pianist so the pianos were key to the authenticity" says Farr who also acquired a large silver Yamaha piano for the Dodger Stadium scene.
Rocketman premiered at Cannes Film Festival on May 16, was released in UK on May 22 and launches in USA theatres on May 31. 
Rocketman is released on DVD/BluRay/On Demand on September 30, 2019. Pre-order now >