How to get the Lara Jean look: Exclusive interview with 'To All The Boys I've Loved Before' Production Designer
When we published a short feature on the colour themes of To All The Boys I've Loved Before film sets prior to it's Netflix release, we didn't expect quite so much interest. So many of you have been watching it, loving it and wanting to know more about the To All The Boys filmset interior design and decor details. Based on the New York Times best-selling book by Jenny Han, we've been inundated with questions about this teen romance.
Who better to ask for an insight into the behind-the-scenes design and decor than the Emmy Award nominated Production Designer Paul Joyal? Following our exclusive interview we reveal how the look was born and how you can recreate the 'Lara Jean interior style' in your own home.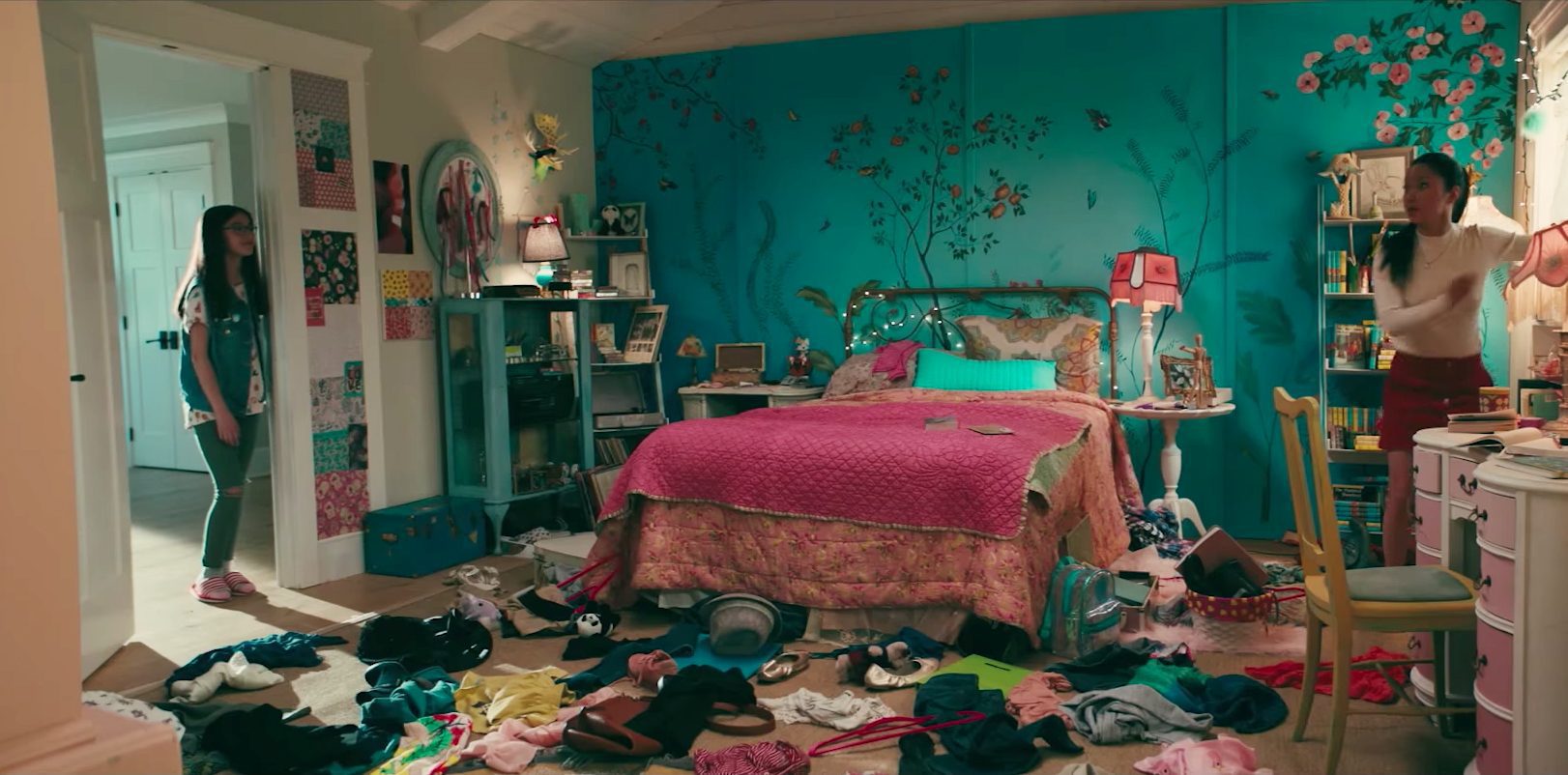 The journey to creating the look of To All The Boys I've Loved Before film sets
"It was a great pleasure to design the look for To All The Boys I've Loved Before" Joyal told Film and Furniture. "The creative team trinity consisted of the director Susan Johnson, the cinematographer Michael Fimognari and myself".
The film centres around teenager Lara Jean Song Covey's (Lana Condor) secret love letters which are exposed and wreak havoc on her love life. We were hooked on the colourful and evocative film sets from the minute we clapped eyes on them. Especially Lara Jean's bedroom in the Covey household.
Joyal decided early on that a "total, impressive look" would be needed to raise this film above the standard teen romantic movie. He achieved this with flying colours.
The role of a Production Designer is to interpret the screenplay into visuals and have a significant influence on the final look and feel of the film. Joyal's design process started with many meetings, design sketches and gathering of visual research material to narrow down what he and his team wanted the film to look like whilst simultaneously scouting suitable locations which fitted the colours, textures and spaces needed to tell the story. "We believe that the audience has a strong visual awareness and would join us on the journey" he explains.
Filmed entirely in Vancouver BC, locations such as the High School sports track in glorious teal (more here) were the main starting points for the film's colour palette which is dominated by blues, greens and teals often contrasted with pink and yellow. "We created a visual presentation with images and photographs of what we called 'The Book'. This presentation was sent out to all the creative departments – costume department, art department, set decoration department, props department and the construction/paint department so they could begin to put the visual pieces together along side of us".
Together with this visual presentation Joyal created a written background story of Lara Jean Song Covey's family, her friends and the neighbourhood.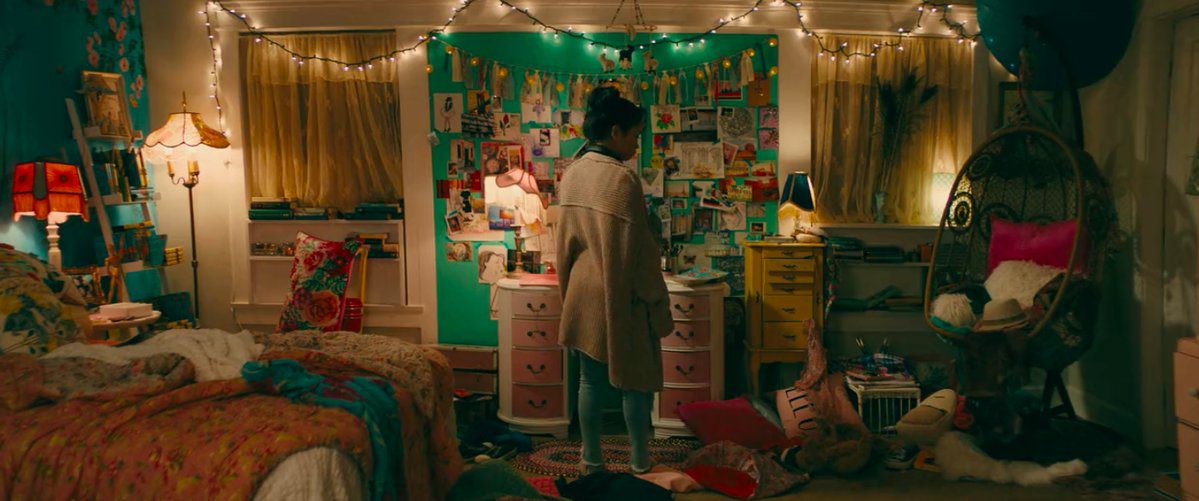 How to get the 'Lara Jean style'.
"The most important set design was, naturally, Lara Jean's bedroom. Since the 16 year old Lara Jean (played by Lana Condor) lived with her books and her strong imagination, we decided to make her room a reflection of her fantasy world" Joyal continues.
And what of that fantastic floral wallpaper creating a statement wall behind her bed? It turns out not to be wallpaper at all but a hand painted mural: "We decided that she would have painted the magical wall mural herself and surrounded herself with furniture and items that all made an emotional impression on her and brought beauty to her world".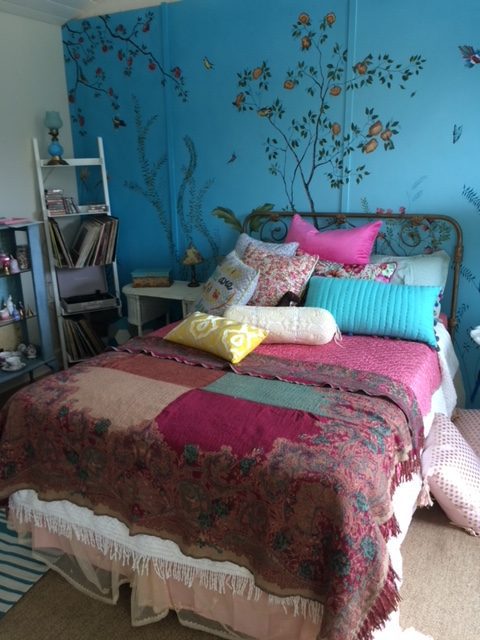 Floral murals such as Lara Jean's are often influenced by the art of chinoiserie (from 'chinois' – the French for Chinese) which refers to a style inspired by art and design from China, Japan and other Asian countries. Usually painted by hand, Chinoiserie first became popular in the 18th Century. This style of wall covering is painted onto paper or silk and often depicts trees, flowers, insects and birds. These craft-led, labour-intensive works often come with a very high price tag.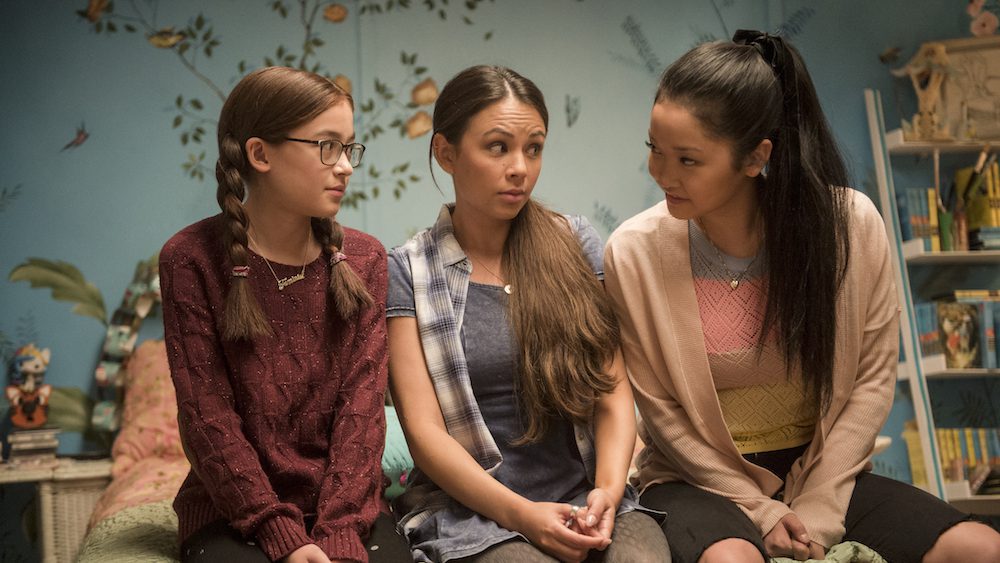 Given Lara Jean's Asian roots it makes perfect sense that she might have been drawn to the art of chinoiserie and created her own design on her own bedroom wall. The famous high-end British wallpaper house de Gournay create hand painted wallpapers and fabrics which can take days and weeks to paint by many highly trained artists including this extraordinarily beautiful design below called 'Amazonia' on custom blue painted Xuan paper. We have a hunch this might have been an influence for Lara Jean's mural design.
A wide selection of floral wallpapers and off the shelf murals can be found at Wallpaper Direct. Check out our edit below (get 15% off at Wallpaper Direct throughout September on all wallpaper from Morris, Harlequin, Scion, Sanderson and Zoffany using code WALK0915).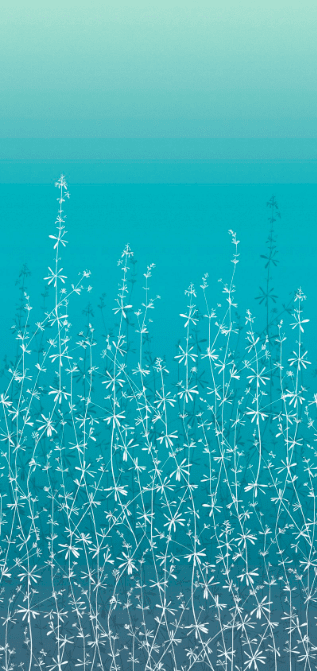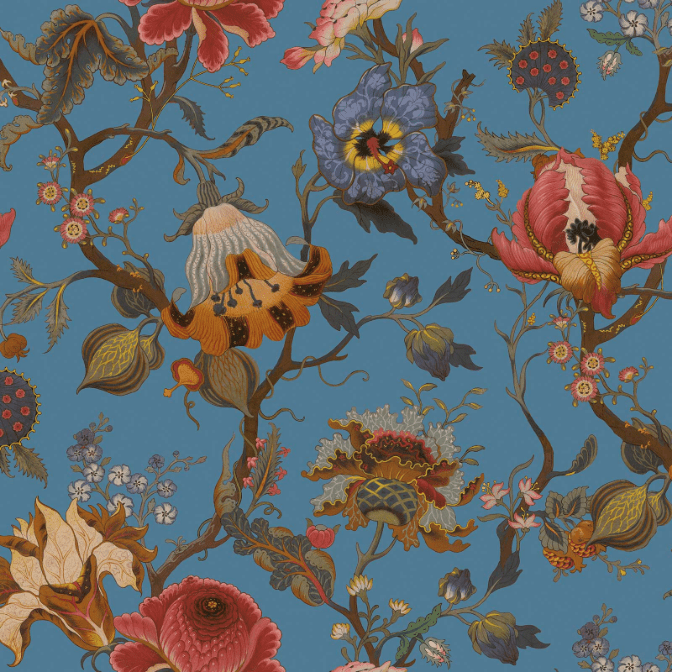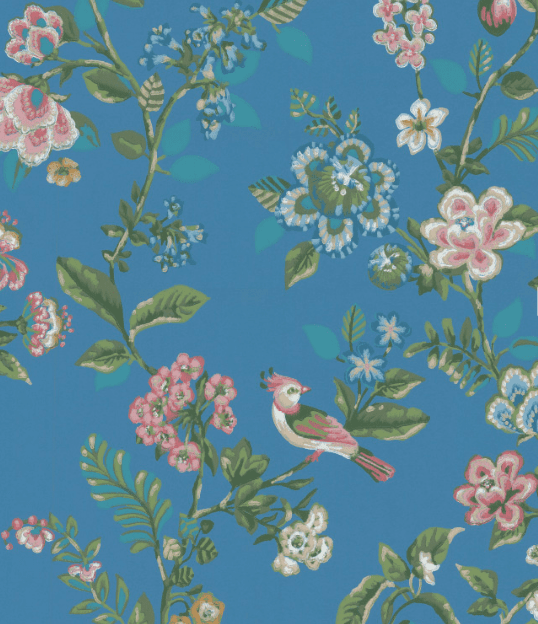 A more economical and possibly more fun way to recreate the Lara Jean bedroom wall would be to get arty with paint to create your own floral mural! You can use regular interior household paint – eggshell sheen works best for a mural. Designer Paint bring you the widest choice of designer paint colours online.
To All The Boys I've Loved Before Production Designer Paul Joyal describes further how he made choices on how Lara Jean's own personal style might play out: "As the production designer, I go over the script line by line to see what can be visually added to the film. In the case of Lara Jean I asked myself questions such as: Does she play a musical instrument? What makes her unique in her wardrobe choices? How has she coped with the death of her mother? Are their elements in the room that reflect her Asian roots? You keep asking questions that are going to bring a strong visual background and depth to the film and tell a captivating story".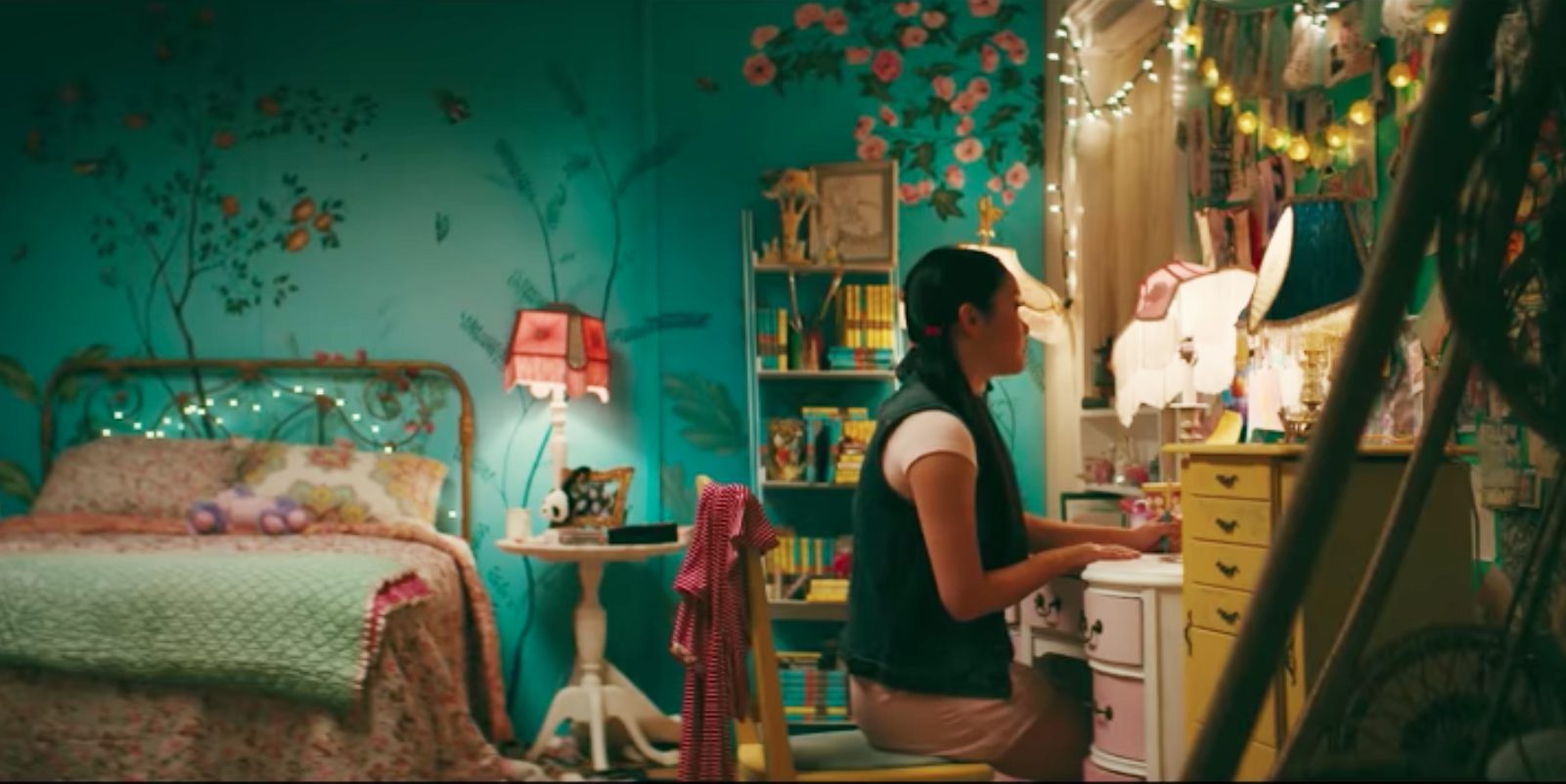 Lara Jean also expresses her creative side in her bedroom with hand-painted and upcycled second hand furniture such as her pink-drawered dressing table/desk (found in a second hand shop and painted white and pink) and her yellow hand-painted second hand chair (find similar on Etsy or eBay).
She also has a plethora of retro fringed lamps in her room. You can find similar fringed lamps on Etsy. 
We love Lara Jean's pink and pistachio (what a colour combo!) reversible quilted bed throw. We found similar bedspread throws on Amazon such as Homescapes' 100% Cotton, reversible twin colour quilted bedspread  in deep cerise and pink (from £39.99) and light sage green and cream (from £49.99).
We love her ladder shelf (similar shelves from Made.com), the string of fairy lights and her antique retailers display cabinet re-painted in teal. 
We also couldn't help but notice Lara Jean's transparent backpack with green/blue trim sitting amongst all that colour-coordinated mess on the bedroom floor. What's more we found one here:
Other To All The Boys… locations – including that ski lodge hot tub scene!
Most of the locations used in the filming of All The Boys I've Loved Before were real – The Covey house, Lara Jean's bedroom, the Corner Cafe, the school and the mansion party scene. The 'spin the bottle' scene was a set built in the school gym as was the 'Titanic themed dance' film set. Joyal and his team selected set decoration, set dressing and costumes to highlight the colour palette.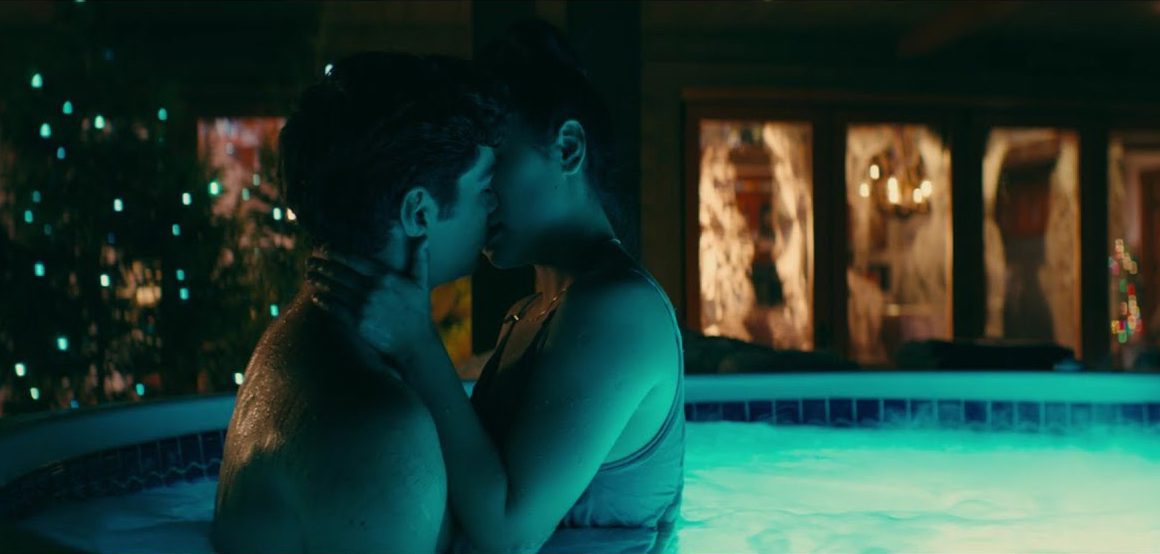 And 'what of the hot tub ski lodge scene with Lana Condor and Noah Centineo?' we asked Joyal: "This was an interesting set" he replied. "We shot the film in the summer at a private residence, actually, more like a ranch, outside Vancouver. The ski scene is winter, so creating movie magic, we trucked in tons of snow and the mountain range in the background is CGI. The cinematographer created the magical blue colour of the water in the hot tub with lighting gels. Beautiful! The cold winter night's hot tub scene was shot on the house's patio, during daylight. The entire patio was covered over with a huge black tent. It was a hot summer day! I really pressed for the hot tub to be near the outdoor fireplace. That Look would have all the natural elements for a love scene: Water (the hot tub and the snow), Fire (the fireplace), Earth (the fireplace rock and the timber of the lodge) and Air… Love is in the air by the end of that scene".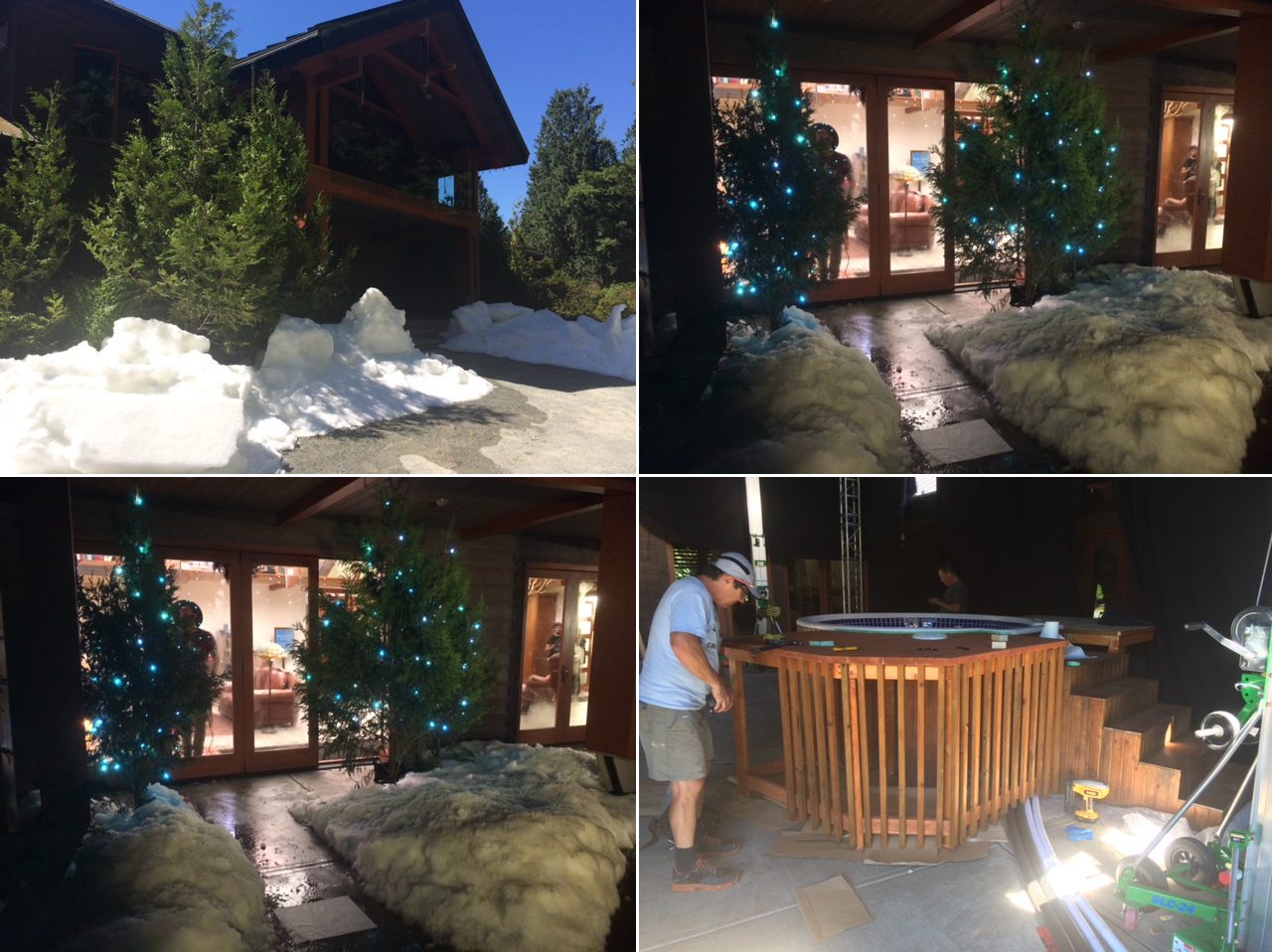 We asked Joyal how he got into designing for films: "My background was at interior design school, theatre design school and several years as a theatre set designer" he replies. "A strong knowledge of art and design is important to  anyone that desires a career as a Production Designer as well as travel. Travel the world and witness what past civilizations, cultures and societies have created throughout history… and let your imagination soar" says Joyal, adding: "My favourite travel quote is 'We journey not to see new places, but to return with new eyes'."
We thank Paul Joyal for opening our eyes to this stunning film set design.