The Film and Furniture festive gift guide 2023
Our carefully curated holiday gift guide has become well-known from London to Los Angeles (and everywhere in-between) as the place to find inspiration for that special someone in your life who loves film, furniture and design. We didn't win the Best Design Inspiration Award for nothing!
Film and design lovers can be a picky bunch, so you can rely on us to understand their tastes.
Without further ado, allow us to present our eagerly awaited edit of homeware, lighting, books and barware for the movie and design enthusiast alike.
Give a gift with a story to tell…
1. The Madison crystal bowl as seen in Barbie
This mesmerising mutli-coloured glass bowl sits on Barbie's dressing table in Barbie's Dreamhouse in Greta Gerwig's hit movie.
The crystal bowl is rendered with 1920s Art Deco design accents seen in the geometric octagonal rim and sweeping base silhouette. It's crafted from hand cut crystal and shaped with the curved centre that makes it ideal for filling with jewelery, fruit, sweet treats or simply as a beautiful sculpture in its own right.
£445 and you can can enjoy 15% off your first order using code NEW15.
See more features and products as seen in Barbie here >
2. Bag yourself the grill charcoal as seen in Beckham
Even in the depths of winter, outdoor cooking is all the rage.
In the Netflix series Beckham we see David filling up his outdoor grill with WildKitchen charcoal and what better winter gift for an outdoorsy type than some of the best charcoal on the market.
This lumpwood charcoal is made from 100% local, sustainable-coppiced or naturally-fallen trees.
£25 for a large bag.
See more features and products as seen in Beckham here >
3. Shining tea towels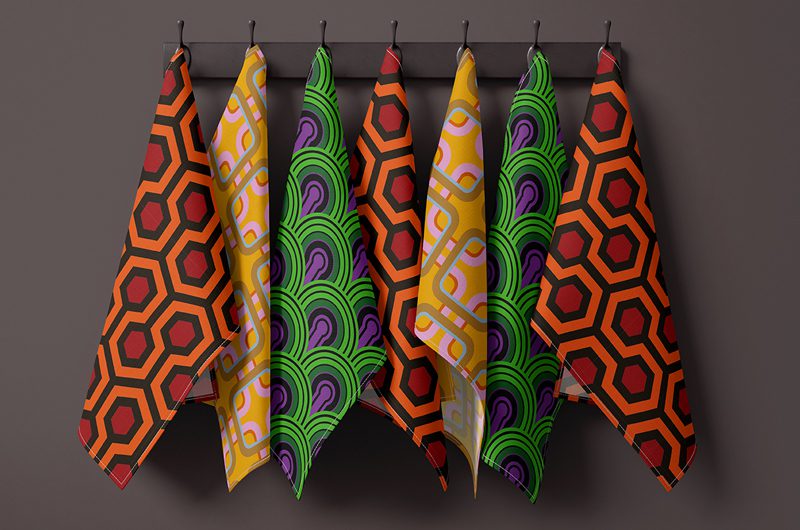 Give the gift of a shining kitchen: The three most iconic carpets in film are now available in tea towel form.
We're famed for our officially licensed Hicks' Hexagon carpet and rugs as seen in The Shining Overlook Hotel, and now we're happy to aid kitchen chores with our tea towels which herald key patterns from the Overlook: The hexagonal mesmerising graphic pattern from the hotel corridors with a dynamic orange, brown and red colour way, the semi circular Room 237 design (the most famous bedroom in horror) with its decidedly retro purple and green aesthetic, and The Gold Room design (the ballroom where Jack takes a drink at the bar) with its gold, brown and pink retro square design.
These tea-towels are handmade in the UK and made from cotton-linen pesticide-free natural yarn. They're mailed in a recycled & fully recyclable mailing bag.
£22.50 each or buy a set of all 3 which come in a box perfect for gifting at £60.
See more features and products as seen in The Shining here >
4. Mexican Copa Chabela Cuadrada (square glass) as seen in Rick Stein's Road to Mexico
These large, square, traditional Mexican beer glasses appear in Rick Stein's Road to Mexico and we tracked them down from a small supplier in Mexico. Organising for this glassware to be sent over to the UK has been a long journey in itself, but we are now proud to be (to the best of our knowledge) the only place in the UK to buy these traditional Mexican glasses which can be used for beer or as a dinner party starter or dessert glass.
Barware to be proud of and a conversation point in their own right – even more so now that they have played a starring role in this celebrity chef's televised adventures. With super thick glass, which is square with rounded corners,  they are designed to keep the liquid contents cold. You can even put them in the freezer to cool the glass in order to keep its contents colder for longer.
£42 each
5. Bellhop table lamp as seen in Nordic Noir TV series Face to Face
One of favourite lamps is perfect for gifting. The portable Bellhop table lamp has become a good friend at F&F HQ: We have two which get moved around from office to garden as and when we desire. The wireless flexibility means it can be placed literally anywhere, and the glow of the light is very atmospheric.
Designed by the multi award winning duo Barber Osgerby, it's a lesson in sleek simplicity and is rechargeable via an included USB cable offering 24 hours of wire-free illumination.
The Bellhop table lamp also features a dimmable function through a button located on its base, its light can be adapted to suit its surroundings for a personalised space.
We've spotted these in many TV series' and films including the Nordic Noir TV series Face to Face.
£230 currently available with 10% off
See more features and products as seen in Face to Face here >
6. Yellow Submarine model
The re-release of the Corgi Yellow Submarine model from The Beatles' iconic film, Yellow Submarine (1968) is fun for collectors of all kinds.
Originally released in 1969 the model includes moveable hatches to reveal four original Beatles figures as well as a rotating periscope which moves as the model is pushed along.
£29.99
See more features and products as seen in Yellow Submarine here >
7. Mayday light as seen in The Architect
Designed by Konstantin Grcic for Flos, the Mayday light can work as a table lamp or can be hung from other furniture, or even from the wall.
Thanks to the practical hook, the lamp can be hung anywhere and the use of polypropylene as a material also makes Mayday particularly durable.
You'll spot one in Marcus and Nina's apartment in The Architect.
Usually £124, currently on sale at £99.37.
See more features and products as ssen in The Architect here >
8. Futuristic flatware as seen in 2001: A Space Odyssey
The actual screen-used space-age cutlery from Kubrick's masterpiece 2001: A Space Odyssey sold in Propstore's Entertainment Memorabilia auction a few years ago for £2,000 but never fear, you can still grace your modernist Christmas dinner table with the real deal at a fraction of the price.
The futuristic, elegant stainless steel cutlery used on Discovery One by the Jupiter Mission crew in 2001 were in fact designed a decade earlier than the film's release by Danish designer Arne Jacobsen. Given their modernist aesthetic and minimalistic shapes, they still look so utterly contemporary today.
£220 for a 16 piece set.
See more features and products relating to 2001: A Space Odyssey here >
9. The elegant striped bowl as seen in Dead Ringers
We spied a black and white striped Toppu bowl in the Mantle twins apartment in Dead Ringers (2023).
It's made by hand of sustainable stoneware and adds a stylish touch to any home with it's graphic goblet design.
The serving bowl is perfect for snacks and looks beautiful as a decorative detail when it's not in use.
Approx £57.99
See more features and products as seen in Dead Ringers here >
10. Art Deco Whiskey Glass set as seen in The Avengers
Give Santa a surprise when he comes down the chimney and have a tipple waiting for him in these Art Deco Whiskey Glasses. They were also the perfect choice for Tony Stark's jaw dropping bar in The Avengers.
These 10oz bourbon glasses come packaged in an exquisite presentation box and are perfect if you want to savour more than one shot of your best whiskey, scotch, bourbon or rum with ample room for water, ice, whisky stones or rocks. They are also ideal for your brandy and other spirits, cocktails and mixers.
Unlike traditional crystal, this drinkware range is beautifully crafted from 100% non-leaded crystal, thus allowing you to safely savour every sip. This stylish glassware is also durable and dishwasher safe.
Approx $24.95 for a set of 2.
11. Film Books
The festive season is the perfect time to hole-up with a good film book.
Take a look at our 10 books for film fans and design lovers or if you're short on time here's our edit :-
Colours of Film: The Story of Cinema in 50 Palettes
The use of colour is an essential part of film. It has the power to evoke powerful emotions, provide subtle psychological symbolism and act as a narrative device. Taking you from the earliest feature films to today, Colours of Film introduces 50 iconic movies and explains the pivotal role that colour played in their success.
The Cinema of Powell and Pressburger: Romantic Imaginations
The Cinema of Powell and Pressburger unveils the extraordinary genius of two British film pioneers. Together, they crafted breathtaking Technicolor masterpieces such as A Matter of Life and Death (1946), Black Narcissus (1947) and The Red Shoes (1948) that continue to captivate audiences to this day.
The Ken Adams Archive
More of an object of desire than a book, The Collector's Edition of The Ken Adam Archive features a wealth of material from his archive of sketches, concepts, and photographs and was produced as 1,200 numbered copies. Each is signed by Sir Ken Adam and features a hardcover bound in iridescent bicolor fabric with a four-phase lenticular and comes with an acrylic, engraved bookstand. A giant of production design, Sir Ken Adam was the architect of Cold War satire with Dr. Strangelove and the inspiration behind the sinister lairs of James Bond's adversaries.
We hope our gift guide 2023 has made your shopping list a little more interesting and we wish you a very happy festive season, with love from Film and Furniture!
Note: All prices quoted are correct at time of going to press but may be subject to change.