10 books for film fans and design lovers
If you're in search of a perfect present for a cinephile who also appreciates the beauty of interiors, design, and art, then look no further! We have exactly what you need.
Behold, our carefully curated selection of film books that delve into the captivating world of filmmaking, exploring the artistry behind production design, graphic design, cinematography, and film set design.
1. Colours of Film: The Story of Cinema in 50 Palettes
Film relies heavily on the use of colour, as it holds the remarkable ability to stir profound emotions, convey intricate psychological symbolism, and serve as a crucial element in storytelling.
Embarking on a captivating journey through the history of cinema, Colours of Film delves into the realm of 50 legendary movies, shedding light on the indispensable role that colour played in their triumph.
2. The Cinema of Powell and Pressburger
The Cinema of Powell and Pressburger unveils the extraordinary genius of two British film pioneers. Together, they crafted breathtaking Technicolor masterpieces such as A Matter of Life and Death (1946), Black Narcissus (1947) and The Red Shoes (1948) that continue to captivate audiences to this day.
Immerse yourself in their enchanting and all-consuming realms as this illustrated publication offers fresh insights into the dynamic duo's filmmaking prowess. Not only does it shed light on their remarkable talents, but it also celebrates the contributions of their brilliant collaborators. Thelma Schoonmaker, Caitlin McDonald, Alexandra Harris, Mahesh Rao, Sarah Street, Ian Christie, and Marina Warner delve into the lives of the key figures who embarked on this creative odyssey alongside Powell and Pressburger. Furthermore, Tilda Swinton, Tim Walker, Sarah Greenwood, Michelle Williams Gamaker, Sandy Powell, Joanna Hogg, and Stephen Jones share their personal reflections on how Powell and Pressburger's narratives and visuals have both haunted and inspired their own artistic endeavours.
3. Spider-Man: Into the Spider-Verse – The Art of the Movie
Discover the world of Spider-Man: Into the Spider-Verse in this best selling book which brings together a collection of art from the highly acclaimed animated movie.
Unmasking the artistry behind the film, this book contains concept art, sketches, previously unseen storyboards, final designs, and brings fascinating insights into the creative process.
Phil Lord and Christopher Miller, the creative minds behind The Lego Movie and 21 Jump Street, brought their unique talents and fresh vision to the Spider-Man Universe. With a groundbreaking visual style Spider-Man: Into the Spider-Verse introduces Brooklyn teen Miles Morales, and the limitless possibilities of the Spider-Verse, where more than one wears the mask.
4. Colour Films in Britain
How did the arrival of colour change the British film industry? Slowly is the answer. For British film-makers and enthusiasts, colour was a controversial topic. While it was greeted by some as an exciting development with scope for developing a uniquely British aesthetic others were more sceptical.
Black-and-white films were commonly regarded as being superior to their garish colour counterparts so audience reaction was uncertain. Yet despite this initial trepidation, colour captivated many British inventors and film-makers. Using different colour processes, these innovators produced films that demonstrated remarkable experimentation and quality.
The study Colour Films in Britain traces the history of colour in British cinema, and analyses the use of colour in a range of films, both fiction and non-fiction, including The Open Road, The Glorious Adventure, This is Colour, Blithe Spirit, This Happy Breed, Black Narcissus, The Red Shoes, The Tales of Hoffmann and Moulin Rouge.
5. The Art of Film: Working on James Bond, Aliens, Batman and More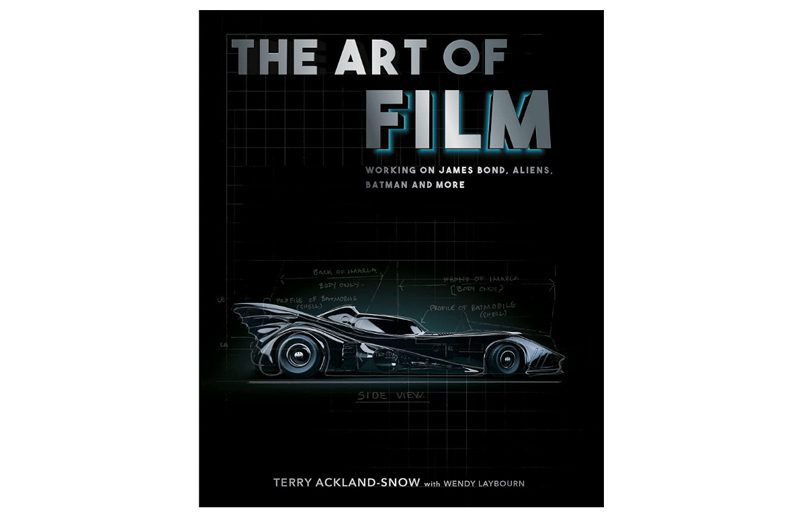 Terry Ackland-Snow was Art Director on The Rocky Horror Picture Show (1975), Death on The Nile (1978), Superman II (1980), Superman III (1983), Labyrinth (1986), Aliens (1986), The Living Daylights (1987) and Batman (1989).
He was also Production Designer and worked in the Art Department as draughtsman on a huge number of high profile films including Barry Lyndon, 2001: A Space Odyssey, Tommy, Fahrenheit 451 and On Her Majesty's Secret Service. 
His book The Art of Film lifts the lid on his extraordinary career, from being held hostage by a wannabe film crew in Jamaica to forgetting to add doors to the Batmobile.
This book is an insight into a lifetime of working in the film industry, mixing the amusing anecdotes with revelations about just how the magic in these movies was created.
With over 200 images, including set sketches and design plans.
6. The Ken Adam Archive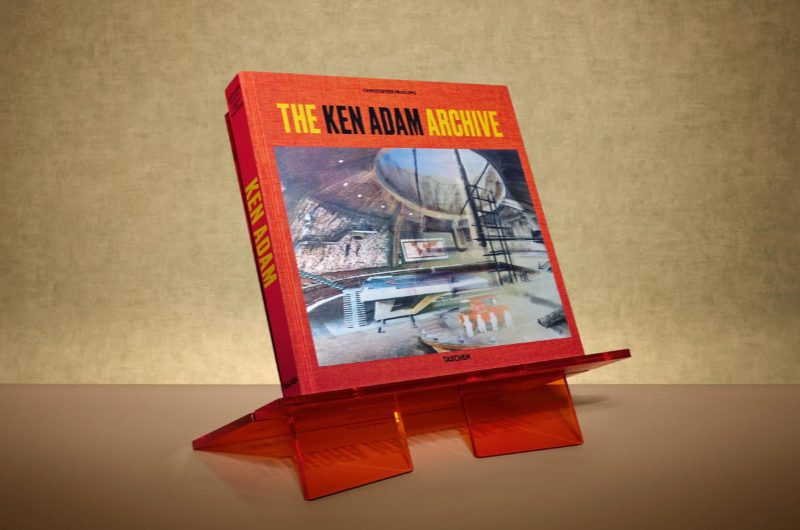 More of an object of desire than a book, The Collector's Edition of The Ken Adam Archive was produced as 1,200 numbered copies, each signed by Sir Ken Adam and features a hardcover bound in iridescent bicolor fabric with a four-phase lenticular and comes with an acrylic, engraved bookstand. 
A giant of production design, Sir Ken Adam was the architect of Cold War satire with Dr. Strangelove and the inspiration behind the sinister lairs of James Bond's adversaries.
Featuring a wealth of material from his archive of sketches, concepts, and photographs held by the Deutsche Kinemathek, this edition honours an astonishing career.
Whether in the sprawling extravagance of You Only Live Twice's volcanic lair, or the unassuming simplicity of the sinister anteroom in Dr. No, Adam's designs were indispensable to the look and feel of seven of the early James Bond films. 
Not only did Adam craft the space stations, bunkers, and laboratories of 007's villains, he was responsible for many of his memorable vehicles, from the amphibious Lotus Esprit in The Spy Who Loved Me to Goldfinger's gadget-laden Aston Martin DB5.
7. French New Wave: A Revolution in Design
The French New Wave is one of the most important movements in the history of film.
Its fresh energy and vision changed the cinematic landscape and the poster artists tasked with selling these Nouvelle Vague films to the masses were at the forefront of a revolution in art, graphic design and photography.
This book is a visual celebration of their explosive and ground-breaking poster art. Featuring posters for films like Breathless, Fahrenheit 451 and Le Mepris and accompanied by biographies on over 100 artists, photographers and designers.
A definitive celebration on the visual imagery of the French New Wave.
8. The Architecture of Cinematic Spaces: By Interiors
Like all of us in the Film and Furniture community, Armen Karaoghlanian and Mehruss Jon Ahi enjoy being immersed in cinematic worlds. This filmmaker/writer and architectural designer/graphic artist are the duo behind the online journal Interiors and their book The Architecture of Cinematic Space shares their obsession with the spaces that movie characters occupy. 
The book is a graphic exploration of production design and spaces in cinema, and combines critical essays with original architectural floor plan drawings. 
It investigates scenes from film spaces including Stanley Kubrick's 2001: A Space Odyssey (1968), Tom Ford's A Single Man (2009), Jacques Tati's Playtime (1967), Spike Jonze's Her (2013), Alfred Hitchcock's Rope (1948), Jean-Luc Godard's Le Mepris (1963), Chris Columbus' Home Alone (1990), David Fincher's Panic Room (2002) and Kogonada's Columbus (2017).
The monochrome book features bold typography throughout and presents analysis of ten films organised chronologically by release date (from 1920 to 2017). As well as the captivating graphic floorplans of key scenes, each film is accompanied by an evocative graphic icon.
9. Designing Graphic Props for Filmmaking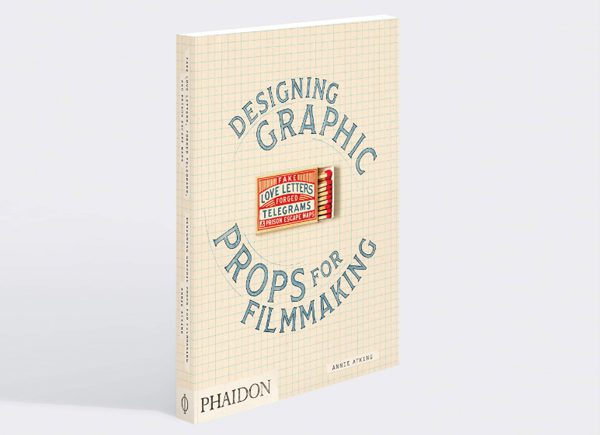 Fake Love Letters, Forged Telegrams, and Prison Escape Maps: Designing Graphic Props for Filmmaking is a standout book title befitting the standout work of Dublin-based designer Annie Atkins.
Atkins has designed film props for Wes Anderson's The Grand Budapest Hotel, Isle of Dogs, Penny Dreadful, The Box Trolls, Steven Spielberg's Bridge of Spies, and Todd Haynes' Wonderstruck.
Although graphic props such as invitations, letters, tickets, and packaging are rarely seen close-up by a cinema audience, they are designed in painstaking detail. This book invites readers into the creative process behind her intricately designed, rigorously researched, and visually stunning graphic props. These objects may be given just a fleeting moment of screen time, but their authenticity is vital and their role is crucial: to nudge both the actors on set and the audience just that much further into the fictional world of the film.
10a. Saul Bass: A Life in Film & Design
Saul Bass was undoubtedly one of the greatest American designers of the 20th century, as famous for his work in film as for his corporate identity and graphic work.
His best-known works include a series of unforgettable posters and title sequences for films such as Alfred Hitchcock's Vertigo, and Otto Preminger's The Man with the Golden Arm and Anatomy of a Murder. He also created some of the most famous logos and corporate identity campaigns of the century, including those for major companies such as IBM, AT&T, Quaker Oats, United Airlines and Minolta.
His wife and collaborator, Elaine, joined the Bass office in the late 1950s. Together they created an impressive series of award-winning short films, including the Oscar-winning Why Man Creates, as well as an equally impressive series of film titles, ranging from Stanley Kubrick's Spartacus in the early 1960s to Martin Scorsese's Cape Fear and Casino in the 1990s.
Designed by Saul Bass's daughter Jennifer and written by distinguished design historian Pat Kirkham, who knew Saul Bass, this book contains more than 1,400 illustrations, many from the Bass archive and never published before, providing an in-depth account of one of the world's leading graphic artists.
10b. I Want to Make Beautiful Things, Even If Nobody Cares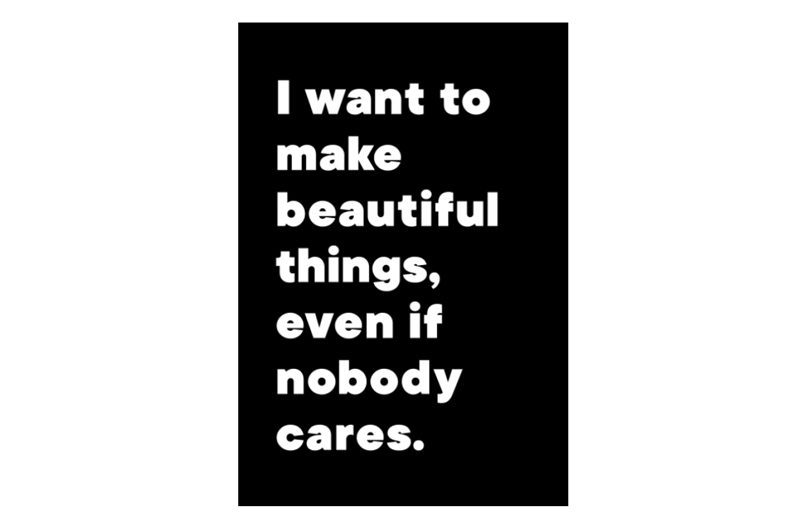 Talking of Saul Bass, his memorable quote "I want to make beautiful things, even if nobody cares" features on the front of this notebook, perfect for jotting down notes of films you want to see, sketching out your next interiors project, brainstorming, journal writing, ideas, bucket lists and more. 
We hope our book gift guide has made your shopping list a little more interesting – stay tuned for 10 more books for film fans and design lovers coming soon.