Batman's taste in modernist furniture revealed in Batman v Superman: Part 2
Part 2 of this article on Bruce Wayne's house in Batman v Superman: Dawn of Justice details the exact pieces of furniture we spotted in Batman's new abode and exactly where to buy them. Read part 1 here >
(with big thanks to F&F reader Dave Richards who joined in our design and furniture geekery).
Batman's Glass House draws heavily on Mies van der Rohe's Farnsworth House. We see several Brno chairs around a dining table and also at his walnut wood-topped desk. Designed by Mies van der Rohe for Knoll the handsome Brno chair has a solid steel cantilever frame supporting a luxurious leather seat. It was a true innovation when first designed for the Tugendhat House and shows all the hallmarks of the Bauhaus, the German school of design where he was the third and last director before it's enforced closure in 1932. Batman's Brno chairs have the flat bar base and black leather seats.

Etsy often have vintage original Brno chairs for sale.
Digita1auar on Etsy for example currently has this beauty:

The dining table is a glass-top LC-6 for Cassina.
Perched beautifully on the dining table we see a gorgeous glass bowl.
Moon Bowl
This large bowl features a semi-transparent design with internal sculpting, giving it the appearance of a double-face lunar cap. With its textured design it refracts light in unusual and striking ways, making it a wonderful centrepiece for any table setting. 
Designer: Mario Bellini
Manufacturer/commissioner: Kartell
Available from Amara £61. Buy Now >
The desk we originally thought looked like a Saarinen oval dining table with black base and wooden top, but upon further investigation, another view on google maps reveals a sculptural loop on the pedestal. On top of the desk sits a Tripod Desk Lamp by Serge Mouille and walnut desk accessories including a paper clip holder. Something tells us Batman wouldn't have much time to be bothering with paperclips.
Tripod Desk Lamp
The shade of this lamp is modeled after a "moule" or mussel shell. The arm is connected by a brass swivel and supported by an unusual tripod base with legs bent at the front accenting the angle of the stem. Available in white or black with brass fittings.
Available from 1st Dibs.
Similar to the interior of Mie's Farnsworth House and the Philip Johnson Glass House (see part 1 of this feature) we also find two Knoll Barcelona chairs and a Barcelona day bed/couch – both timeless and iconic designs often spotted in the movies.
The Barcelona chairs here in Bruce Wayne's house, our Knoll inside expert tells us, are covered in Spinneybeck distressed leather which explains the matt seat and slight sheen on top of the back rest.
Barcelona Chair
Authentic licensed new versions:
In UK from The Conran Shop >
In USA from Design Within Reach >
Vintage originals:
Etsy currently have several for sale – try searching Barcelona chairs within your country here >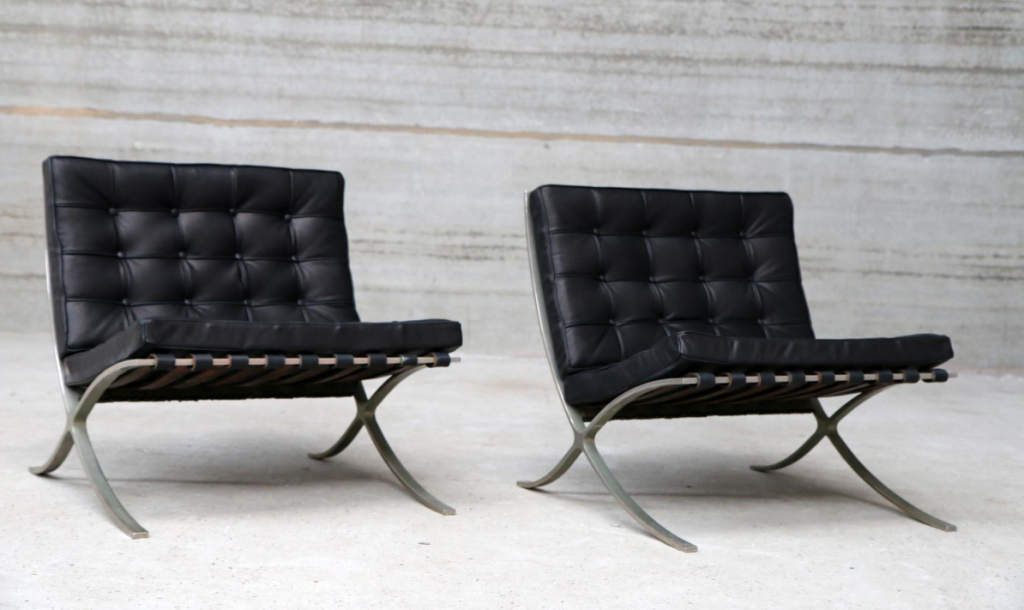 Barcelona Day Bed
Authentic licensed new versions:
In USA try Design Within Reach >

The sofa is a Charles sofa by B&B Italia. Just perfect isn't it?
B&B Italia Charles sofa
Designer: Antonio Citterio
Manufacturer/Commissioner: B&B Italia
Year: 1997
A landmark in the world of design, the Charles sofa has an airy shape, a gorgeous simple profile and is available in various fabrics, leathers and finishes.
Available from Chaplins and Harrods.
The large glass coffee table in front of the fireplace is a B&B Italia Alanda table by Paolo Piva (it was made in 1982, and also features prominently in Patrick Bateman's apartment in American Psycho)

The lamp by the sofa is a Standing One-Arm Lamp by Serge Mouille.
Available from 1st Dibs >
The lamp seen towards toward the back left in the above image is Standing Lamp with Three Arms by Serge Mouille.
Last but not least, the incredible Fire tools by the fireplace were made by Pilgrim in the United States around 1950. The particular set used in Batman v Superman are the wrought iron with chrome handles.
Bravo to Batman v Superman production designer Patrick Tatopoulos and set decorator Cal Louks.
STOP PRESS
Due to popular request, we have also tracked down the black 'spine' chair in Batman's batcave – please see our new mini feature here >
You might also like:
Batman's glass house was built by the production team on the Girl Scouts of South Eastern Michigan's Camp Metamora property in Lapeer Township. See it being built here >

Batman v Superman is released for home entertainment on 1st August 2016 – Buy the DVD, Blu-Ray and find the 'Watch Now' links in the sidebar of this article (desktop) or below (mobile).