Charlotte Perriand exhibition highlights one of the most pioneering designers of the 20th Century
Hats off to Charlotte Perriand! Not only was she one of the most pioneering designers of the 20th Century, she played a crucial role in defining the modern interior and her modern thinking influenced the way we live today – from use of materials to her belief that good design is for everyone. She was also a fiercely independent woman, a sportswoman and a global traveller. 
Charlotte Perriand: The Modern Life exhibition currently staged at London's Design Museum presents a retrospective on the astonishing designer and showcases some wonderful immersive recreations of some of her most famous interiors, such as the apartment she designed for the Salon d'Automne in 1929. It also treats us to a grand display of her iconic furniture designs, many of which have made their way on to a few notable film sets.
Often overshadowed by her more famous male collaborators, who included Le Corbusier, Pierre Jeanneret and Jean Prouvé, this exhibition puts Perriand's name and her ideas firmly on the map, and is a must for furniture, interiors and architecture fans and professionals alike.
The exhibition charts her journey through the modernist machine aesthetic to her adoption of natural forms, and later from modular furniture to major architectural projects. As well as displays of original furniture we also find photographs and personal notebooks which all serve to shed new light on Perriand's creative process and her rightful place in design history.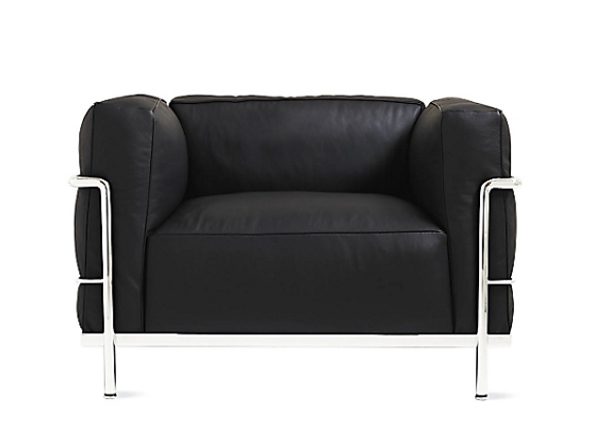 Take the Fauteuil Grand Confort (LC3 and LC2) armchair and LC sofa series designed in 1928 for example. These are true design classics designed by Perriand with Le Corbusier and Pierre Jeanneret. Film fans will recognise LC sofa and chairs from Maude Lebowski's art studio in The Big Lebowski.
The LC sofa can also seen in Judy (which stars Renée Zellweger as legendary performer Judy Garland) and the chair LC3 Armchair is famous for being the chair of choice for Sherlock.
With machine-age materials and lack of ornamentation, the modernist design of the LC series has a sculptural shape and comfortable arm rests that were ahead of their time. Crafted from a chromed tubular steel frame that supports the leather seats, these armchairs and sofas are padded with feathers for optimal comfort.
As unlikely as it may seem on the surface, Modernist design and pornography are frequent bedfellows. One of Perriand's most famous designs, the LC4 chaise longue recliner appears in hundreds of adult movies.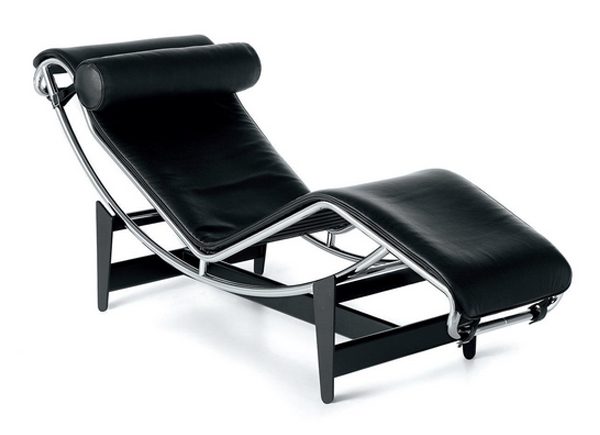 This fact was highlighted a few years ago by artists Augustine and Josephine Rockebrune who noticed that the tubular steel and leather modernist classic designed in 1928 by Perriand in collaboration with Le Corbusier, makes a common appearance in porn movies. This led to the twin sisters watching hundreds more and to dedicate their findings to a book on the subject called We Don't Embroider Cushions Here.
The title of their book refers to Le Corbusier's words written in an early rejection letter to Perriand when she first applied to work in his studio. 
A bedfellow of a very different kind is Alex's bedroom light in Stanley Kubrick's A Clockwork Orange. The Space Age silver wall light (or 'sconce') with exposed bulb was designed by Charlotte Perriand and manufactured by Honsel of Germany.
These wall lights were originally used in the apartments of the Ski Resort 'Les Arcs', decorated by Charlotte Perriand in 1967. The design of this masterpiece of a ski resort is covered in detail in the final room of the Design Museum's exhibition.
Another design classic, the glass-top LC-6 dining table designed by Le Corbusier and Perriand also in 1928, can be seen in Bruce Wayne's jaw dropping modernist lakeside house in Batman v Superman: Dawn of Justice and Justice League.
Charlotte Perriand: The Modern Life is open now until 5 September 2021 at the Design Museum, London. Book your tickets >
Shop Charlotte Perriand in film in our store.