New shining rugs, tea towels and cushions to flaunt your love of film
Our new shining rugs, cushions and tea towels will not only cement your love of a classic film but also add a vivid design statement to your home.
If you've dropped by here before, you'll know that we're famed for our officially licensed luxury 100% wool, hand tufted, Hicks' Hexagon carpet and rugs made famous by Kubrick's The Shining and we're now delighted to bring you even more ways to introduce a piece of the Overlook into your own home – with a smaller price tag and with a fast turnaround time – with our Shimmer rug range, our tea towels and our sumptuous cushions, which we now offer along side our luxury high end range.
Introducing our new Shimmer range of rugs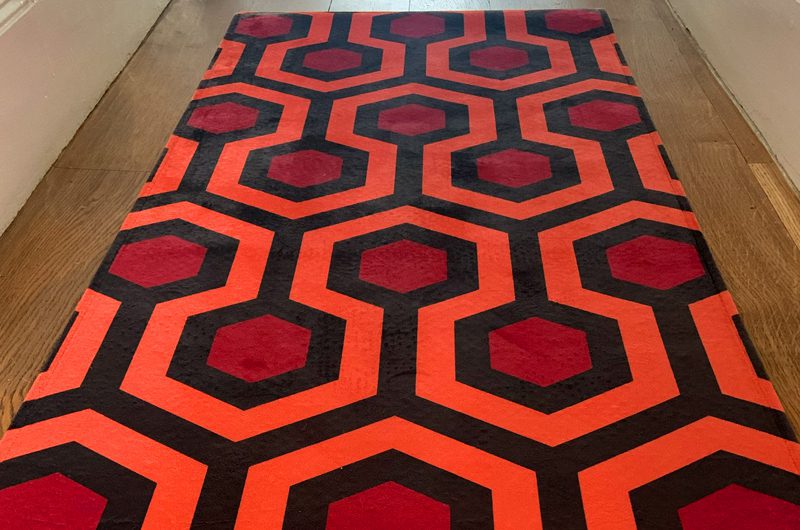 Our new Shimmer range of printed velvet shining rugs and runners feature select iconic carpet patterns as seen in The Shining, and will help you take your dedication to the most famous of horror films to the next level.
The new range is available in the orange, brown and red hexagonal pattern from the Overlook corridors, the Room 237 retro purple and green carpet design and the Gold Room bar's gold, brown and pink rounded square design.
The new range of rugs are made in the UK and digitally printed on Luxury Velvet Shimmer using a process which fuses the inks deep into the fibres of velvet, creating vivid colours.
These rugs are backed with an anti-slip latex sponge base with jute custom made rug binder.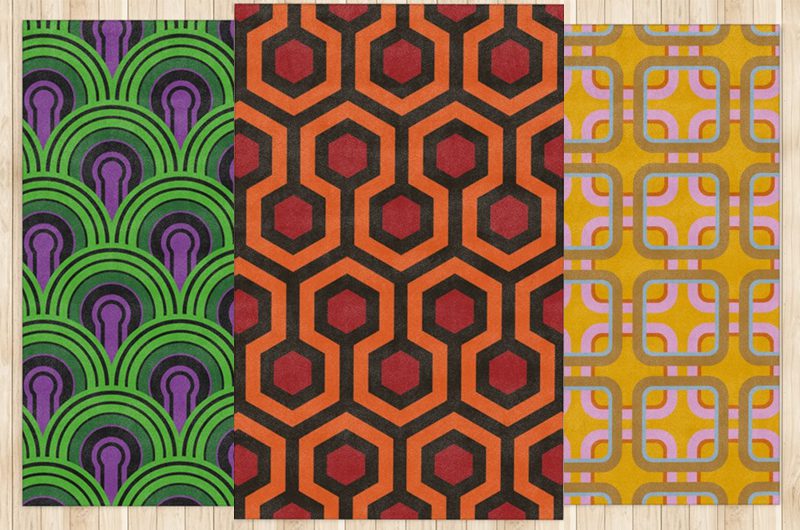 The hexagon rugs
Film and Furniture regulars will know one of the original inspirations for this very website was the hexagonal patterned carpet in The Shining's Overlook Hotel. The carpet features prominently in several key scenes of the film, including young Danny's first unnerving encounter with Room 237 as he investigates on his tricycle. 
Room 237 rugs
The purple and green carpet of the maximalist Room 237 is just as mesmerising as the Overlook corridors. Few bedrooms in movies have been equal measures repellent and captivating at the same time and therefore, this pattern with it's decidedly retro, purple and green carpet has also been added to our Shimmer rug range.
Gold Room rugs
The Gold Room is The Shining's ballroom and home to the bar where Jack takes a drink. With its gold, brown and pink retro square design this pattern is for those whose Shining knowledge goes deep.
The standard sizes in this popularly priced range are runners at 180 x 63cm (priced at £165) and large rugs at 128 x 200cm (priced at £355).
If you have the budget then we wouldn't hesitate to suggest you check out our officially licensed luxury wool Hicks Hexagon range, available as Hicks Hexagon rugs, Hicks Hexagon runners and Hicks Hexagon wall-to-wall carpet, as well as our Room 237 luxury rugs, Room 237 luxury runners and Room 237 wall-to-wall carpet.
Time for Tea (Towels)
You can now also get your kitchen and crockery sparkling with our shining new tea towels.
Also available in all three patterns: The Hexagon tea towel, the Room 237 tea towel and the Gold Room tea towel, all handmade in the UK from cotton-linen pesticide-free natural yarn. They're sized at 70 x 50 cm and are mailed in a recycled & fully recyclable mailing bag.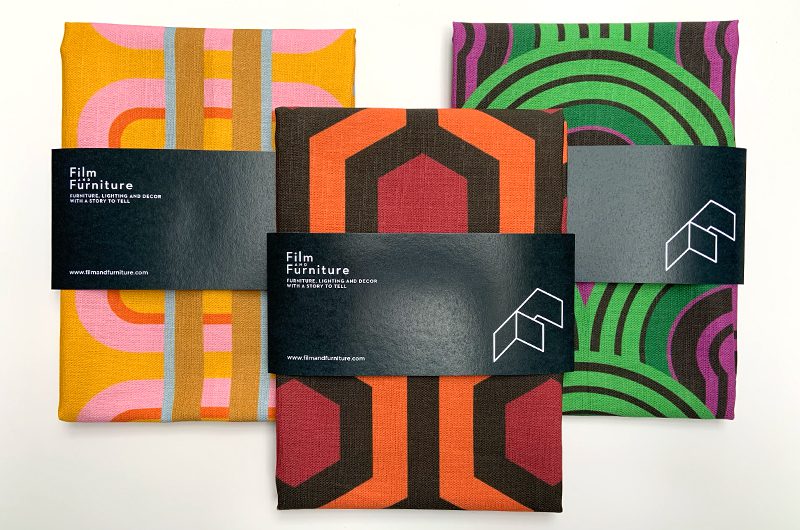 The tea towels are priced at £22.50 each , and a set of all 3 (which come in a box perfect for gifting) is £54.
Shine on, with vivid cushions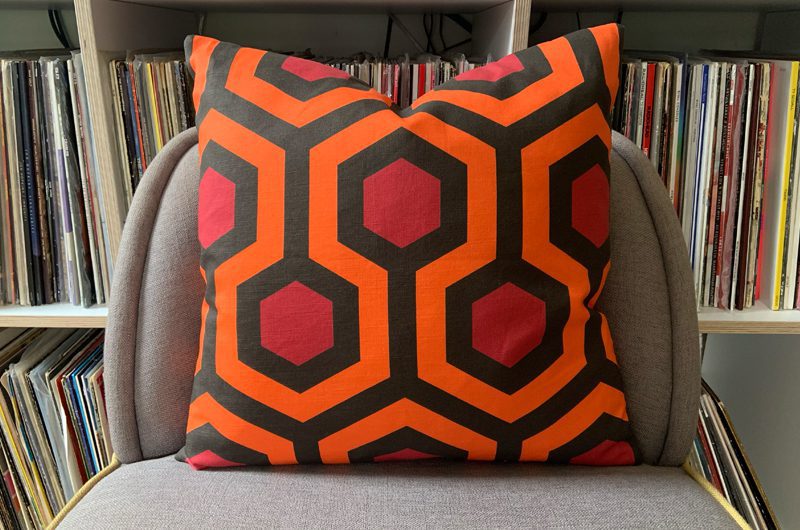 Your living room will shine brightly with our shining cushions range. 
Each cushion is sized at 40cm x 40cm and comes with it's own high quality duck feather cushion and a double-sided cover printed on cotton-linen pesticide-free natural yarn.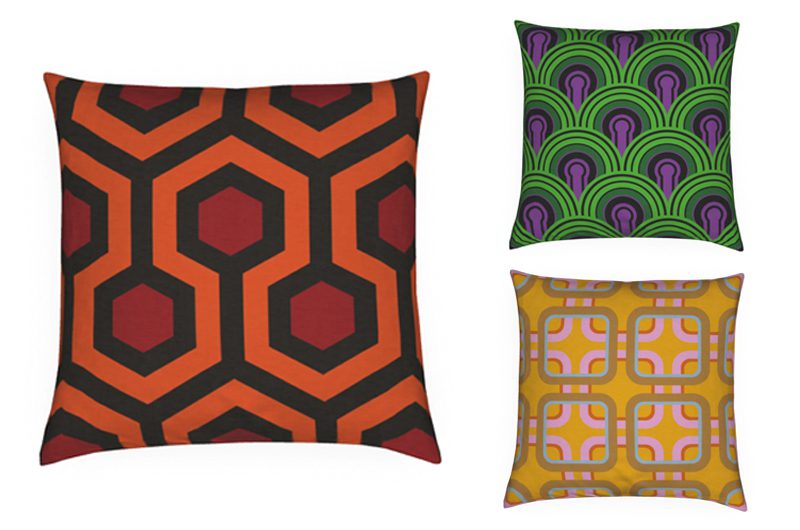 Made in the UK, the pattern options for our cushions are the Hexagon cushion, the Room 237 cushion, and The Gold Room cushion.
All cushions are priced at £67 or you can also buy a set of 3 cushions for £196.