Fifty Shades Darker furniture and decor (Part 1): Set decorator Cal Loucks reveals Christian Grey's taste – in exclusive detail
Christian Grey's stunning penthouse apartment Escala plays a key role in the Fifty Shades trilogy and has received a luxurious make over for the second movie in the series, Fifty Shades Darker. Starring Jamie Dornan as Christian Grey and Dakota Johnson as Anastasia Steele the film arrives in theatres on Friday 10th February (just in time for Valentines Day) and allows the camera into some previously unseen rooms of the billionaire's sumptuous bachelor pad.
It wasn't Christian who rolled up his sleeves to repaint the walls or who went shopping for new high-end furniture and décor for his apartment of course – he hired the talented film Set Decorator Cal Loucks and gifted Production Designer Nelson Coates to weave their magic. Film and Furniture is delighted to bring you our exclusively detailed interview with Cal Loucks, who shares her vision for the look of the film and helps us identify – room by room, piece by piece – the furniture, art and décor of this deluxe abode.
Part 1 (below) covers the inside story of Cal's research together with behind-the-scenes details on the furniture and décor of the main living and dining area of Christian Grey's Fifty Shades Darker penthouse.
Part 2 reveals details of Christian's bedroom, Ana's dressing room, the brand spanking new office, the decadent Library complete with billiard table and the Red Room of course! Read it here >
Part 3 will cover unique details of the Masquerade ball that takes place at the Grey family's mansion.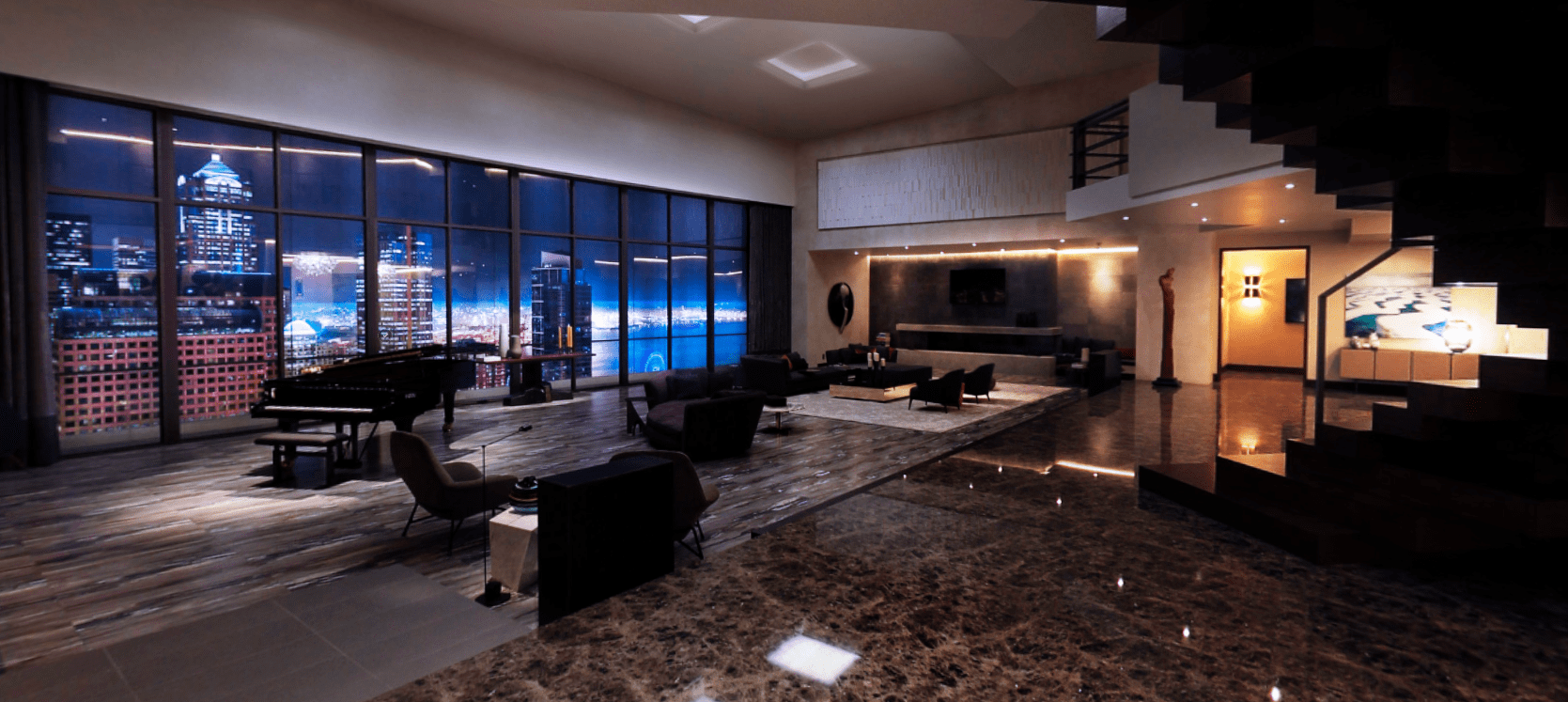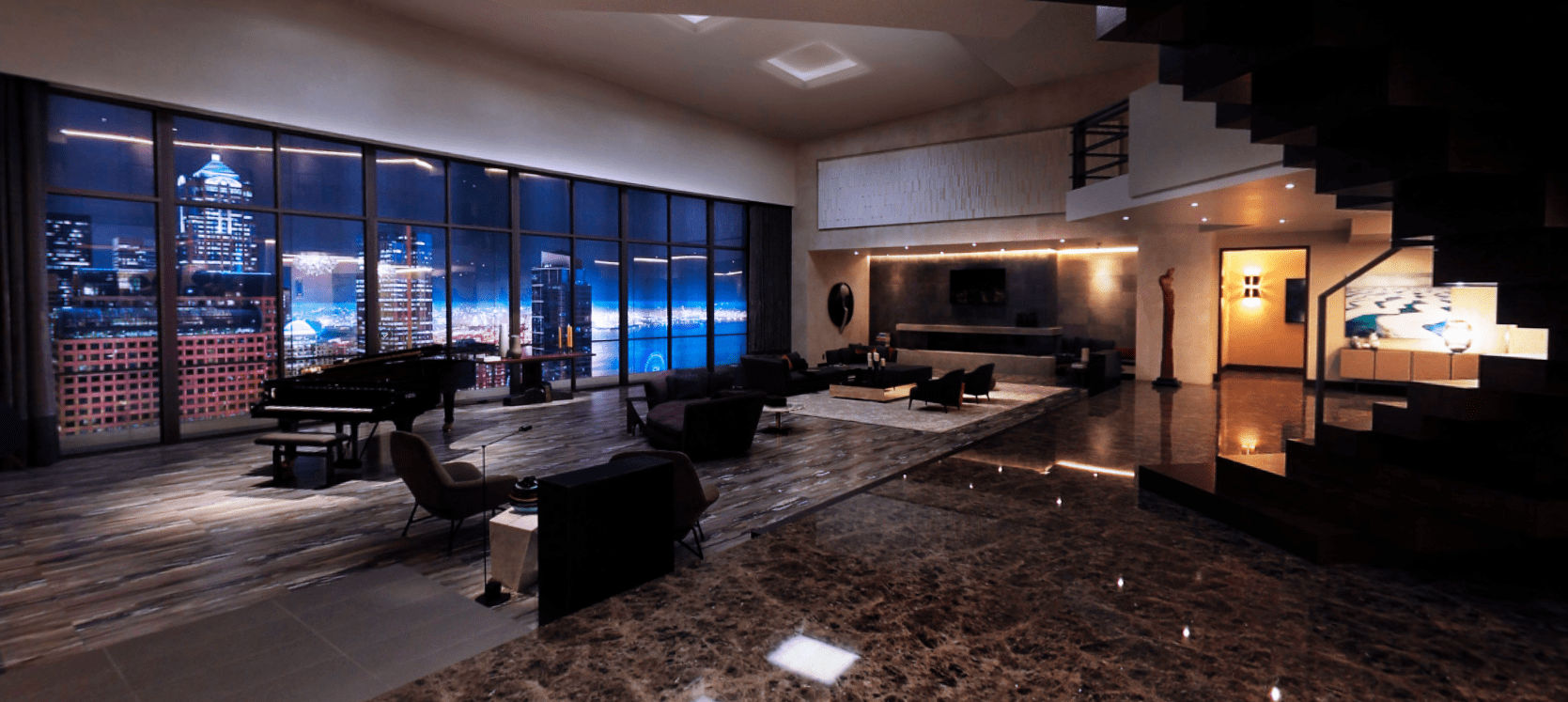 With James Foley taking to the directors' chair for the Fifty Shades Darker movie, Christian Grey seduces a now more cautious Anastasia Steele – she demands new rules before giving him another chance. Just as they both begin to gain confidence, Christian's past encounters arise to haunt the relationship.
Film and Furniture: How did you approach the movie Cal? What research did you undertake?
Cal Loucks: I had read all of the EL James books long before the first movie Fifty Shades of Grey was even made. As a fan and a Set Decorator, I already had my own ideas about what, where and how a handsome billionaire bachelor would live in a gorgeous penthouse apartment in the city of Seattle on the northwest coast of USA. Right away, I did an enormous amount of research to touch on every set in the film. I went though West Coast and international design magazines searching for the rich and famous – especially single men – their current architecture and lifestyles. Magazines I referenced were Object, Elle Decor US, Elle Décor UK and Elle Décor Italy, Interior Design, Architectural Digest, Coastal Living, etc.  The widely documented house of director Michael Bay played a heavy influence on my design ideas.
I then hit the streets of Beverly Hills and Hollywood, heading to my favourite places like Blackman Cruz, Twentieth, Mass Beverly, Minotti and RH Modern. I did all this before I actually started the job but it was important because I wanted to be armed with a vision. This would be crucial as we had a very short prep and over 100 sets to design and decorate.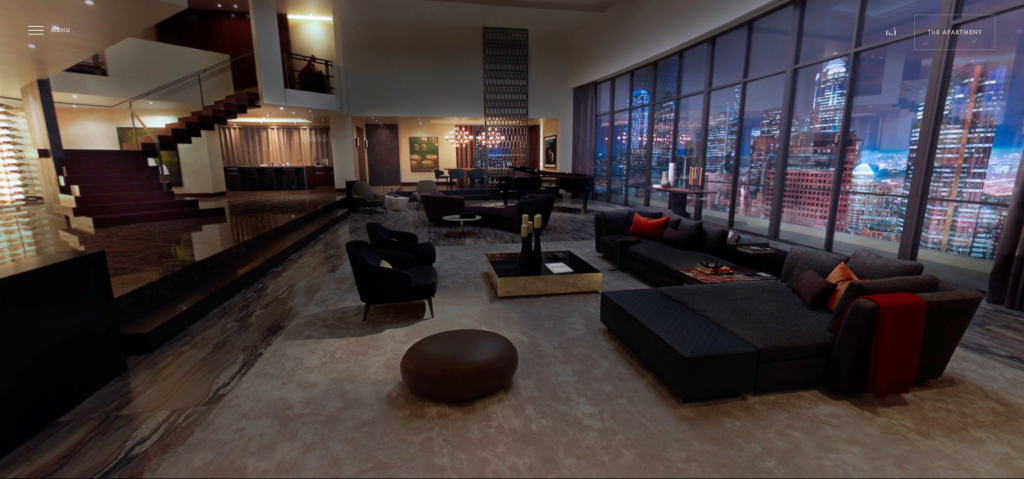 F&F: What changes did you make to the furniture, art and colours in Christian's apartment from the first movie? We notice some warmer colours on the walls and in the décor choices for example – and some new rooms too. Is this to reflect how their relationship has developed?
CL: Importantly, we all collectively decided – from the Studio executives to EL James – to move away from the first movies' design and decor to create a darker, sensuous and more mysterious mood, but we also wanted the developing relationship and heat of Christian and Ana to inform the colours of their world. You will notice when you watch the movie that the colours subtlety continue to warm and the range expands just like Christian's love. As a result, I used very little of the furnishings or art from the first movie in Christian's penthouse. Based on the inspiration we had taken from our research, Production Designer Nelson Coates used materials and choices of finishes on the main floor that opened up opportunities for my choice of furnishings, draperies and art.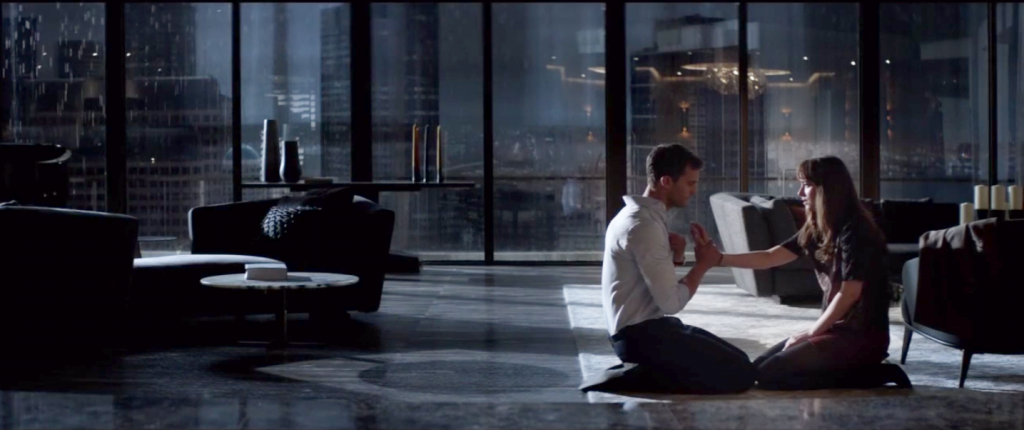 F&F: Is Christian's penthouse a real apartment or is it a stage set?
CL: It's a stage set, and while the footprint remained true to the original movie, Darker and Freed required additional rooms such as the Study, the Library and Ana's dressing room. We also added the balconies directly outside the master bedroom and bathroom as well as Christian's gym. The outdoor spaces were inspired little secret areas with outdoor lounge furniture, pottery, gardens and artwork.
F&F: What do the choice of furnishings for the apartment say about Christian's character?
CL: Primarily I wanted this apartment to be a personal statement of who Christian is – this is his private sanctuary. A statement about what is important to him – books, music art. A man who loves to live well – from his wine collection to his collection of women in the Red Room! I also wanted the whole space to feel that this was a place a woman could relax and enjoy pleasure in all its forms.  
F&F: Talk us through the main pieces of furniture in the main floor living room.
CL: During my research phase, I decided that the shapes and textures of menswear fabrics and the leathers of Minotti furniture was exactly the right style for Christian. I was so excited to use their Seymour Collection that launched in late 2015 – it was perfect for sexy, sophisticated Christian!
The main cluster of sofas and chairs
When Ana sits down on the luxurious Serpentine sofa in the middle of the living room – she look so beautiful and comfortable there, I knew we had made the right choices! Darker and richer were our operative words.
The two sofas here are 1. Minotti Seymour Chaise Longue and Seymour Open End Element with arm rest – all in fabric Moka 09. Contact us for details on where to buy all Minotti furniture in this feature >
2. Behind the sofa is a Minotti Aylon Living Sideboard.
3. Opposite the sofas we spot two Minotti Leslie armchairs in leather aspen and Wabi Petrolio 03 fabric.
 4. Between the Leslie chairs is a custom made Little Gem side table by Riley McFerrin of Hinterland, Vancouver.
Closer towards the fireplace is an organic grey shaped ottoman.
5. Between the sofas is a Minotti Elliott Coffee Table in rosso marble with bronze frame.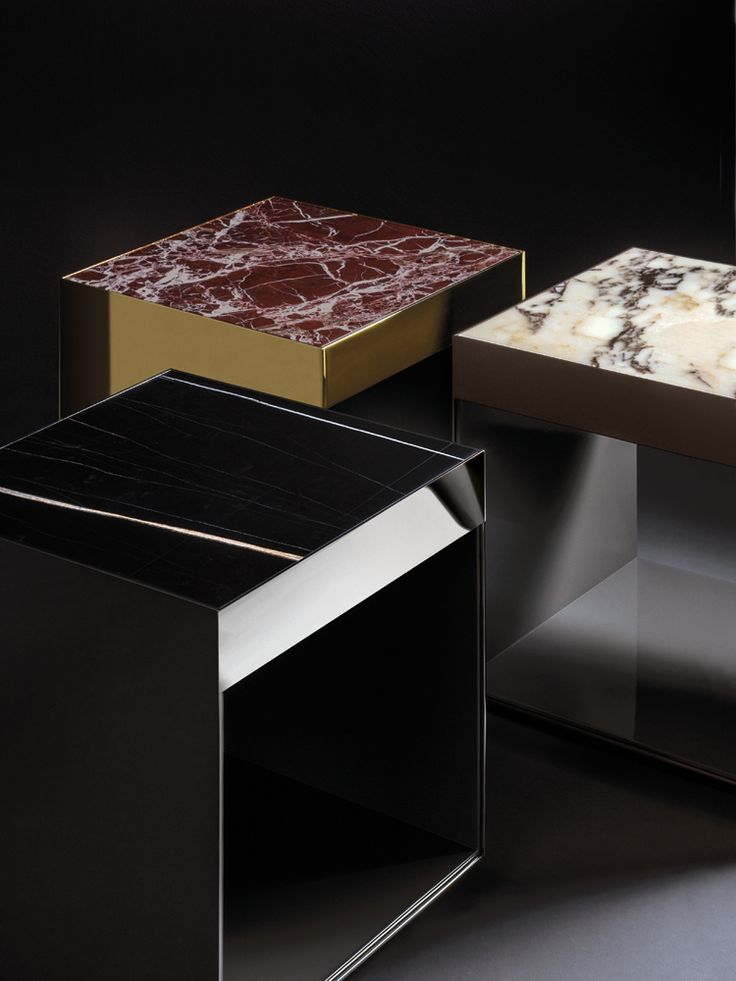 6. Centrally sits an Elliott Coffee Table in Sahara Noir Marble with gold frame.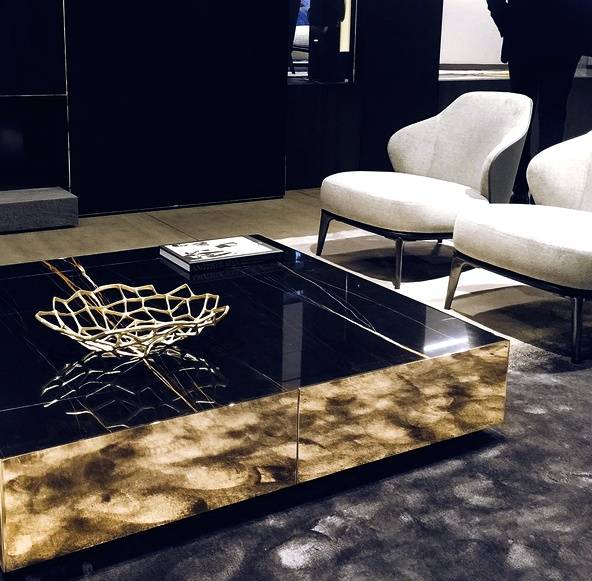 7. The enormous 18′ x 20′ silk carpet is a wonderful soft mocha that changes tones as you walk on it. It is custom made by Jan Kath, an art carpet company who created this as an incredible favour to me since they are an exclusive carpet designer. We also use these carpets in the master bedroom and Christian's dressing room. As well as the gorgeous carpet in front of the fireplace in the Library.  
8. On the wall the left of the fireplace we find the artwork David Robinson "Luna". This sculpture, crafted in bronze, cement and stainless steel is available in an edition of 12 from David Robinson Studio, Vancouver.
The centre of the room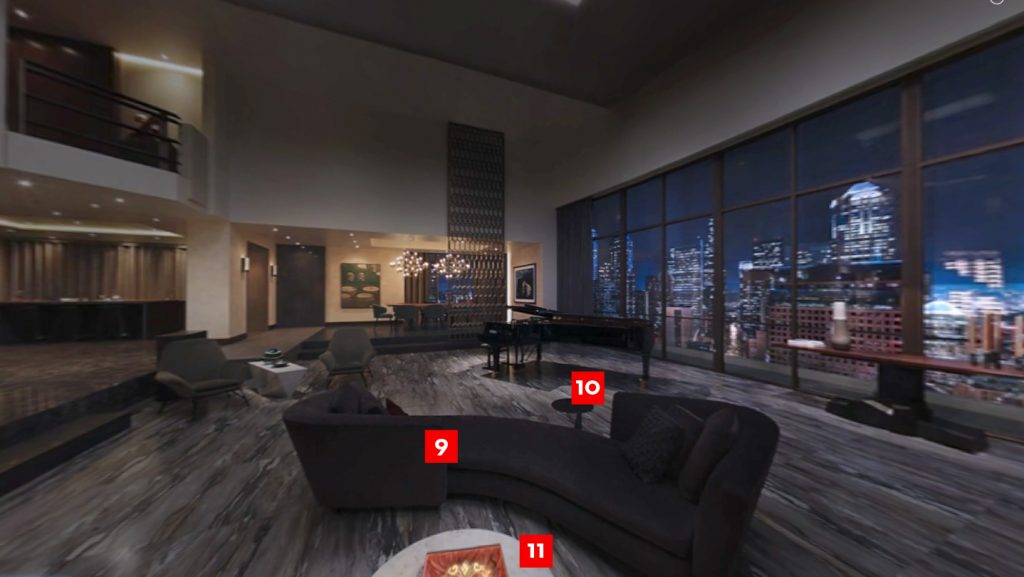 In the centre of the room, between the piano and the main sofa area, we find yet another impressive sofa – 9. the Minotti Seymour Serpentine Vis a Vis Sofa in Moka 05 fabric.
10. Sitting at the side of this sofa we find a Minotti Joy "Jut Out" metal side table and
11. The Catlin coffee table with marble top.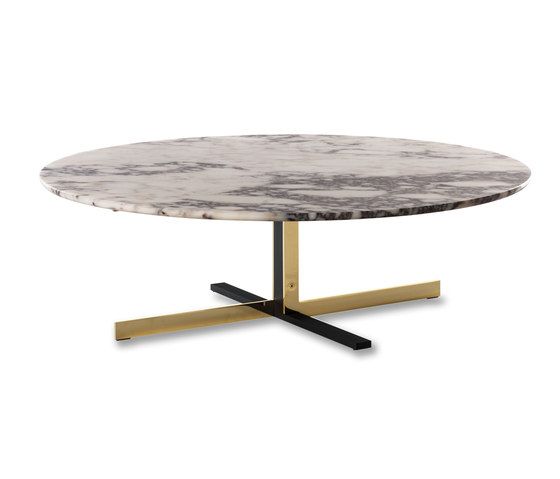 The rich draperies became a combination of Thomas O'Brien's Ground Work Collection with striped smoky grey and dark blue velvets as well as Clarke & Clarke's rich moss green velvet draperies in the Dining room.
Fireplace area
12. By the built-in benches along the fireplace wall is a Live Edge coffee table re-purposed from the first movie.
13. The art here is by Casey McGlynn, privately owned by Baux-Xi Gallery, Toronto
14. The Sculpture on the mantel is by Peter Kiss called "The Clothes Peg People"
The Murino glass piece on the hearth is from ARCADE by Ivan Baj, called Tropicus
Cal adds: I added hits of rusty brick red mohair cushions to warm the bench to make it an inviting area that Ana might choose to quietly read a book.  
In front of the window
15. Standing in front of that jaw dropping view we see the Datum Console designed by Chuck Moffat available from Blackman Cruz.
By the Piano
F&F: 16. We see the piano from Fifty Shades of Grey remains in place – its an Italian Fazionli F278 Grand Piano handmade in red spruce. Some parts are plated in 18k gold bringing the cost in at a cool $250,000.  
Facing the sofas, towards the dining room we see 17. Minotti Prince Armchairs covered in Army 16 fabric.
Between them sits 18. a custom-made, white marble table by Brett Riekert Design, Vancouver.
Provide Home in Vancouver provided beautiful accessories and home decor to reflect Christian with a strong modern aesthetic and helped me layer the look. They carry such lines as Rena Minardi Ceramics, Martha Sturdy, Oscar Maschera, Barter, Missoni Home, AKMD.  
The entrance hallway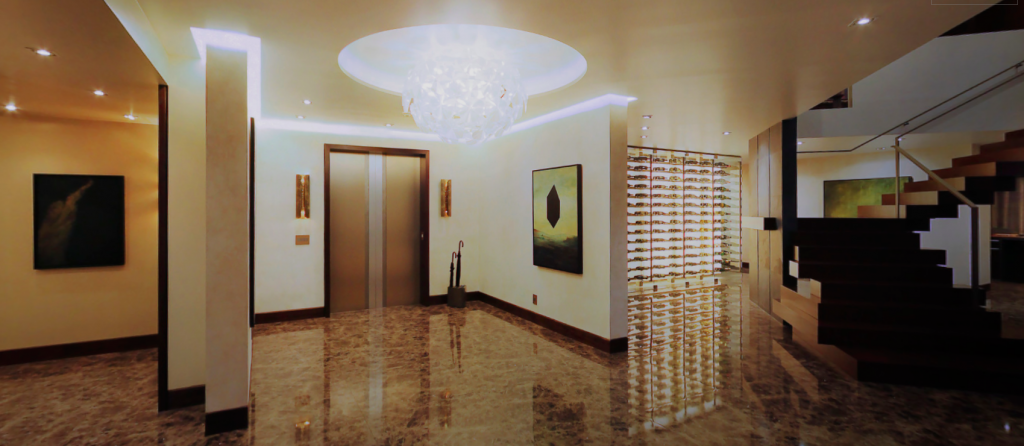 On the right as you face the elevator is the unusual painting by Rebecca Chaperon's 'Presence II a 3 ft x 4 ft acrylic painting on Canvas.  
A very important art piece can be found on the landing before you step into the Living room – the magnificent sculpture by Richard MacDonald "Angelic Crystal column" from Dawson Cole Fine Art, Laguna Beach, CA.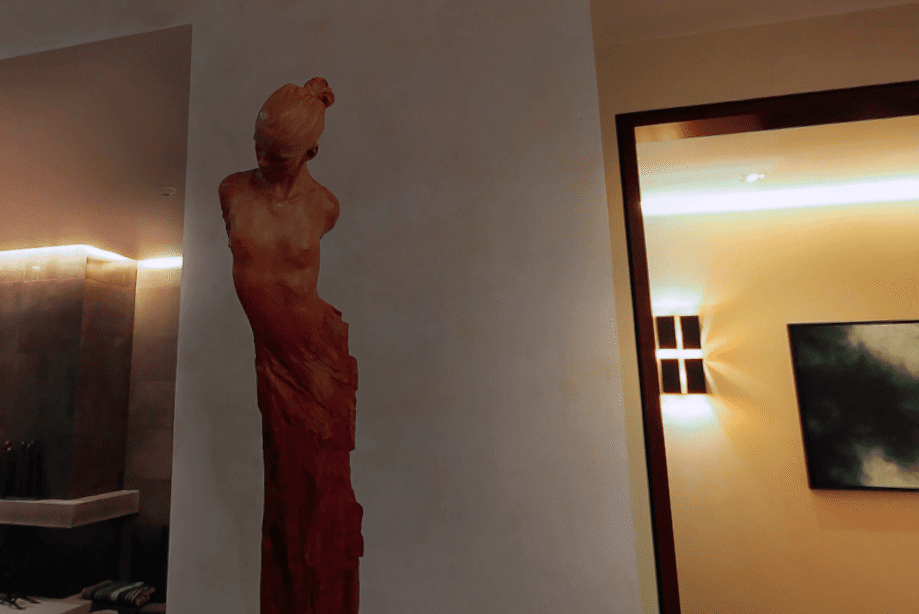 In the hallway leading to the bedroom we find 19. a Minotti Morrison Horizontal Sideboard,  180cm with leather doors. Contact us to buy >
20. The photograph which sits proudly above it is by David Burdeny "Rain Over Lencois Maranhenses 1".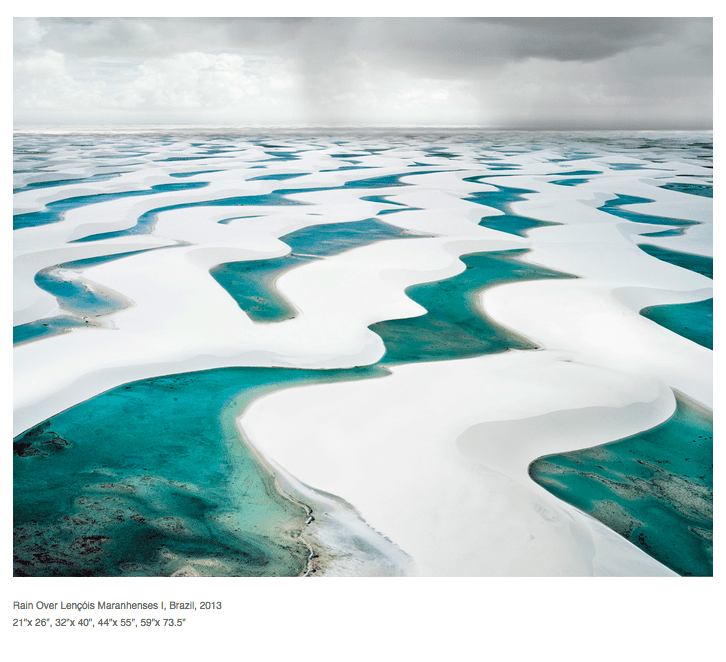 The Dining area  
21. The Dining room features eight Minotti Aston Little Dining Chairs in colour reference Giada 10.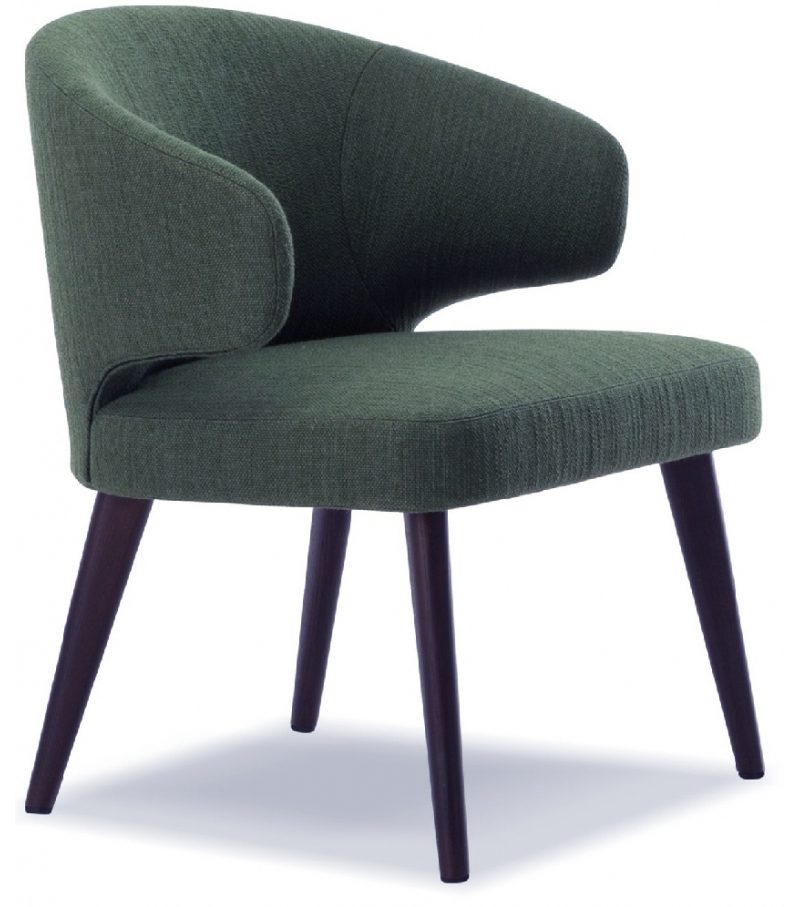 22. They surrounded the original dining table from the first movie, which I had stripped and refinished in a wax with a cold rolled steel base.
23. The sculpture on the table is a Stephen Booth "Personal Apace" from the Kurbatoff Gallery, Vancouver  
24. The Crown Major Suspension chandelier by NEMO chandeliers originally hung in the living room in the first movie. Cal transformed them into a soft bronze/gold and hung them over the Dining room table. For original Nemo chandeliers we can acquire these for you at a discounted price. Please contact us for details.
25. The painting to the left (when facing the dining area) as seen above is Nick Capaci "Lillies in a Field" available from Kelsey Michaels Fine Art. Contact us for details >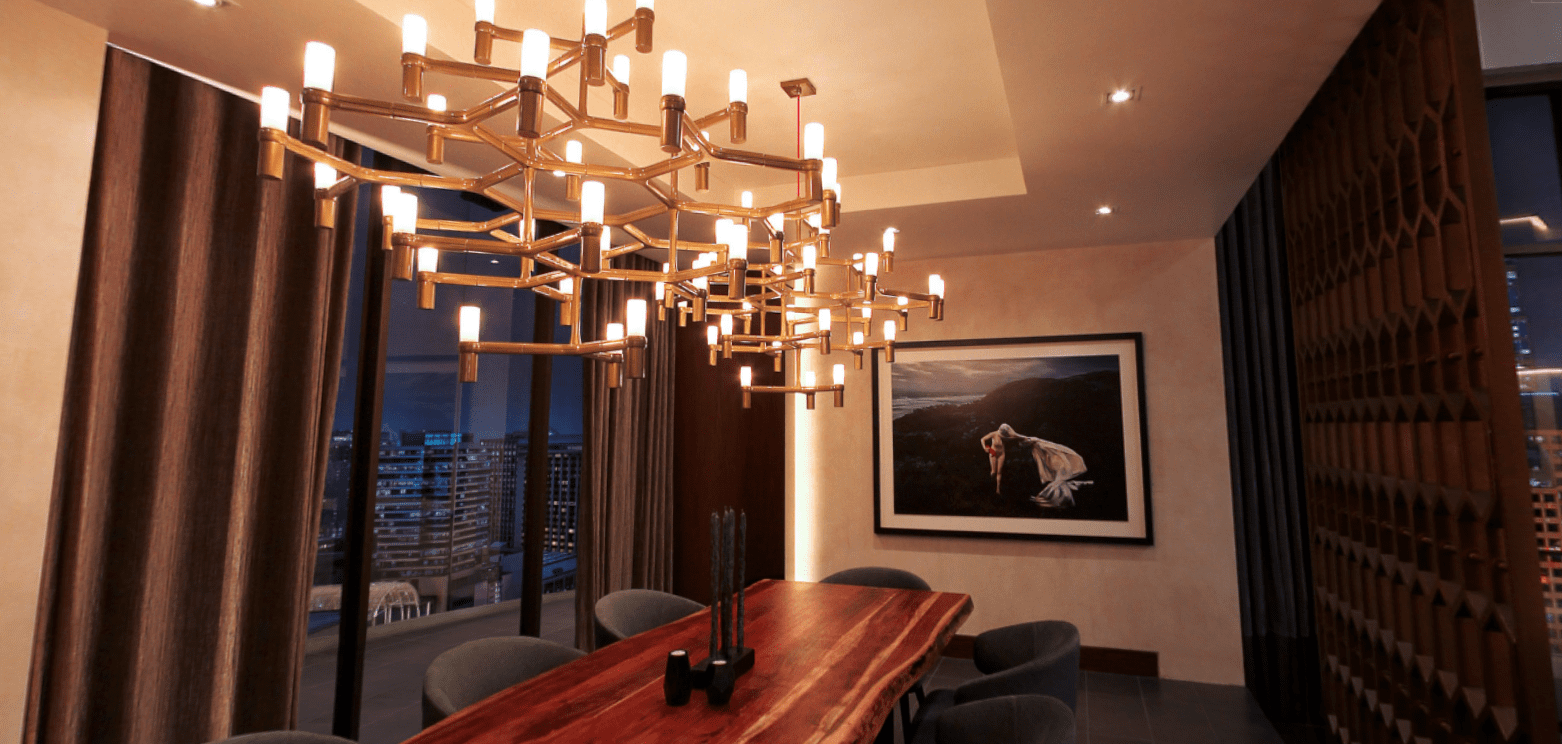 In the dining room we find more captivating art including Lilli Waters "Anja #22" as seen above. Available as limited edition pigment prints on archival cotton in 4 sizes. All prints come signed and numbered. We are delighted to announce you can buy this photographic art through  Film and Furniture. See more here >
That completes our first tour of Christian's apartment and we are indebted to Cal Loucks for sharing such exclusive and detailed behind-the-scenes information which enables you to find the exact pieces for your own home. Many of these pieces of furniture and art can be acquired through Film and Furniture at discounted rates – please contact us for more information.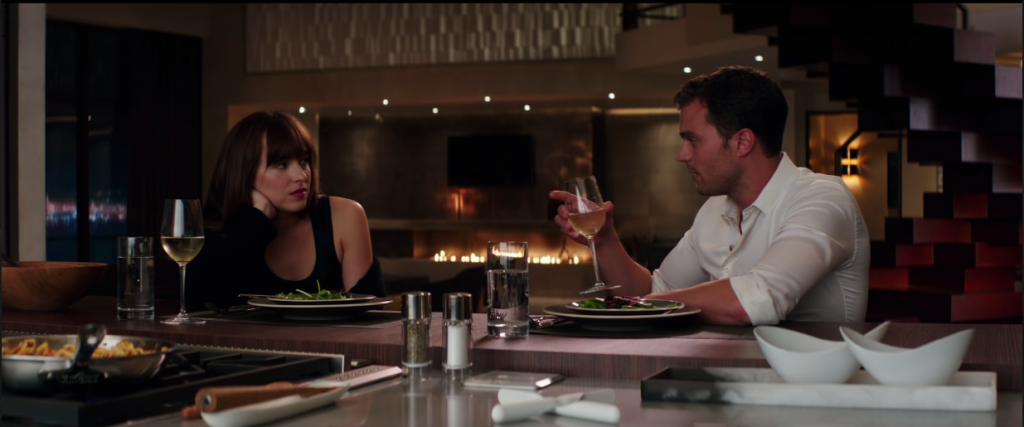 Cheers Christian, enjoy your new home!
And there's more! Part 2 of this extensive interview reveals details of Christian's bedroom – now distinctly warmer in tone and texture (and with a piece of art that tells a deep meaning), together with Ana's dressing room, the brand spanking new Study/Library complete with billiard table, Christian's home office, and the Red Room of course! Read it here >

Part 3 will cover every detail you could ever imagine of the Gala – the Masquerade Charity ball that takes place at the Grey family's mansion  
Fifty Shades Darker, which also stars Kim Basinger, Bella Heathcote, Eric Johnson and Marcia Gay Harden, hits theaters on Friday 10th February.  Watch the trailer:
You may be also interested in: 
Fifty Shades of Grey furniture and decor >
#FFFind: The bird sculpture in Fifty Shades >
All content in this feature is ©2017 Film and Furniture. All rights reserved. Content cannot be reproduced, distributed, transmitted, displayed or published without consent from the author of the website. All original images: copyrighted to the original image maker and/or film company.