Art in Fifty Shades: New limited edition prints available
Created and authored by E. L. James, the third in the Fifty Shades movie trilogy Fifty Shades Freed, is out tomorrow (Feb 9, 2018) just in time for Valentine's Day. 
Displayed in the billionaire's luxury Seattle penthouse apartment, Christian Grey's art collection communicates some surprisingly deep and complex themes. Fifty Shades Darker and Fifty Shades Freed Production Designer, Nelson Coates curated this collection together with Set Decorator and Film and Furniture contributor Cal Loucks, and Director James Foley. Let's take a longer look at some of the key art in Fifty Shades and allow us to show you where to buy limited edition prints of these very works, direct from the artists.
Emmy-nominated Coates, who is also president of the Art Directors Guild Awards, frequently works with fine artists and currently serves on the board of trustees of the Laguna College of Art and Design. Prior to Fifty Shades Darker filming, Coates reached out to LCAD students and faculty asking interested artists to submit work for an 'unnamed film project'. One of the artists chosen for the film set of the Universal Pictures movie was Masters of Fine Art graduate Stephanie Leonard.
Her enigmatic painting '
The Passage
' appears in Christian Grey's private office in his penthouse apartment in
Fifty Shades Darker
and
Fifty Shades Freed – 
which were filmed back to back. This painting together with
'With This Sacrifice'
  seen in Christian Grey's master bathroom and '
The Curtain of Imprinted Memories'
by his master bedroom, belong to the series '
Splendid Wounds'
.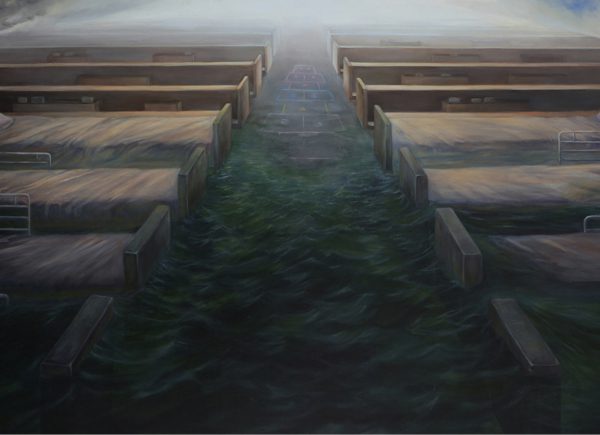 Leonard's artworks, which carry psychologically charged themes – much like Christian Grey's past – are now available for the first time as limited edition prints, from Film and Furniture. With the use of surrealism and magic realism that ranges from detail to loosely simplified forms, her oil paintings explore narratives with elements to represent nostalgia, wonder, and resiliency of the human spirit.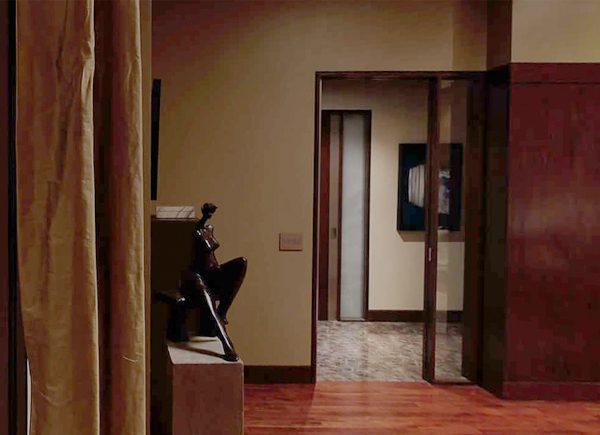 "Life changed forever when cancer grabbed a hold of my child. From that precise moment, I began to see the world around me with a heightened sense of survival and purpose." says Leonard.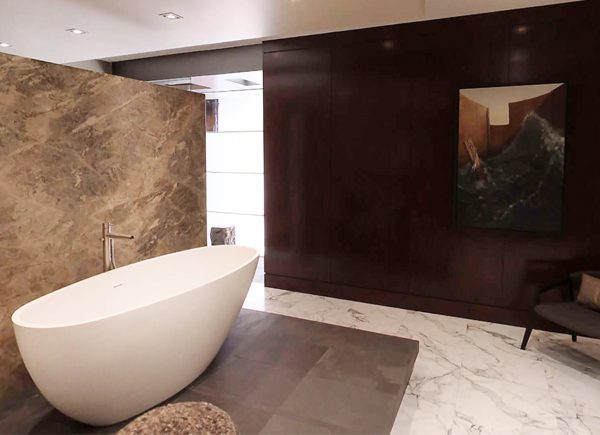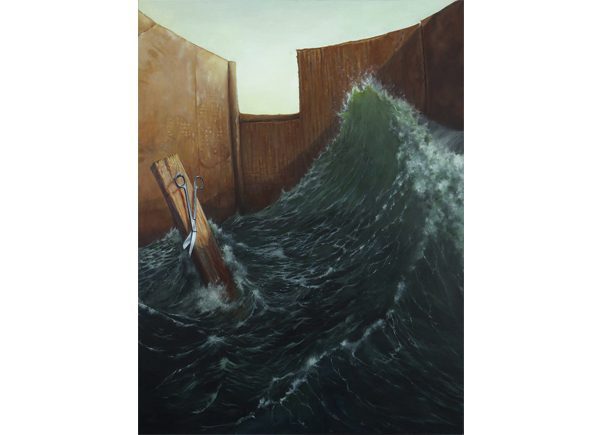 These limited edition Giclee prints are hand signed and numbered and include a certificate of authenticity.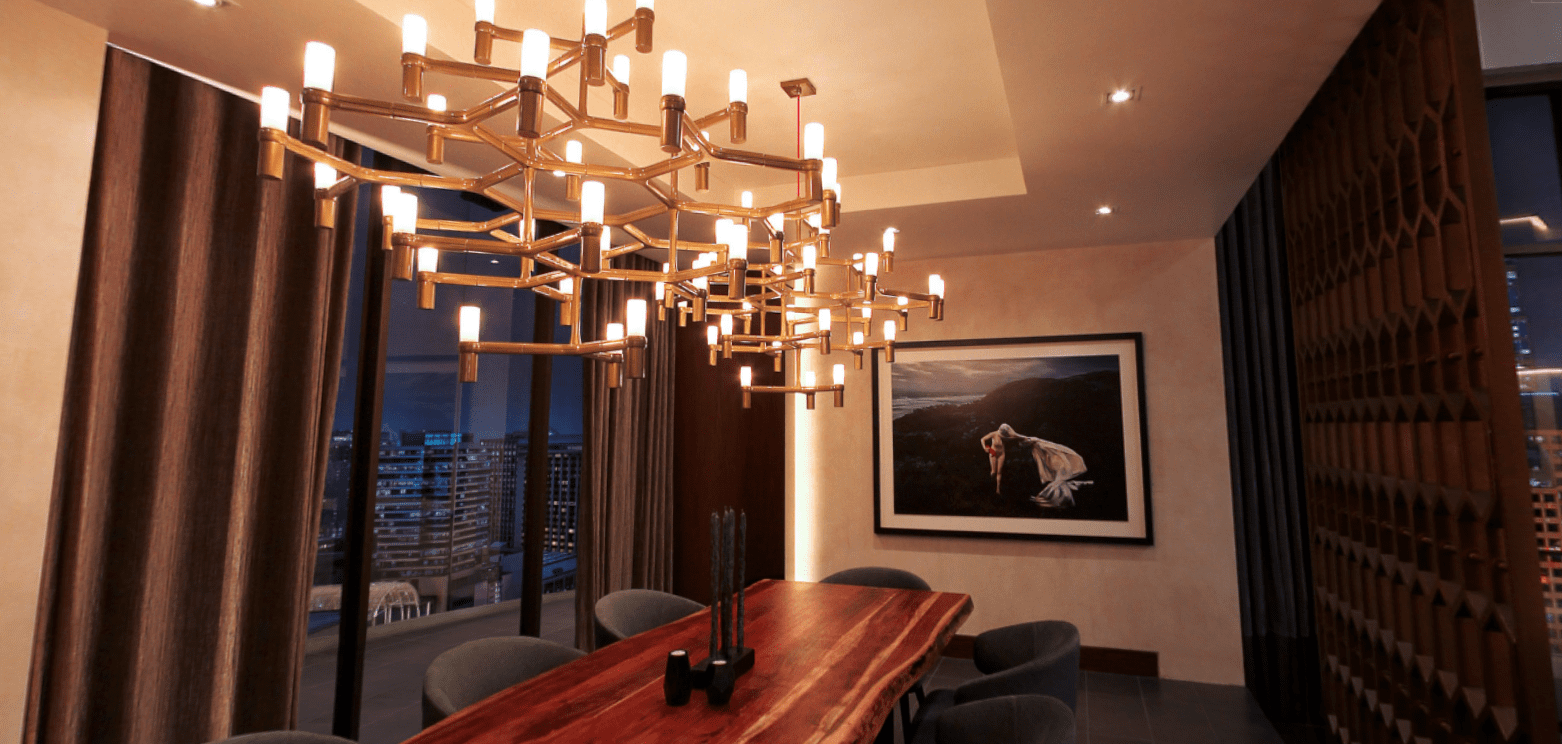 Another particularly arresting photograph that stood out to us at Film and Furniture hangs on Christian Grey's dining room wall. It's called 'ANJA #22' by Lilli Waters, a photographic artist based in Melbourne, Australia. 
Waters seeks to present not only an evocative image, but "a strange and sometimes dark narrative, an intermingling of haunting backgrounds and landscapes combined with romantic notions".  Her series "ANJA" features young women, often partially nude, in a mix of natural and domestic settings.
Lilli tells us the ANJA series confronts the fears and stigmas associated with the perceptions of women's bodies in today's world of unrealistic and idealised standards of how women ʻshould look'.
"I am not interested in sexualising the form of my subjects, but am on a quest to find self-compassion and emotional awareness, in both myself and in my audience. Photographing these women helps me in my search for these things, and perhaps helps my subjects to find a moment of self acceptance and recognition, which is deserved and should be encouraged much more within our culture".
We are delighted to announce that you can also own a limited edition print of this photographic artwork 'Anja 22' as featured in Fifty Shades Darker. Find details and prices.
We even find an original Edvard Munch piece in Christian's bedroom. You can read more about that together with full details on other art, furniture and decor in the apartment here and buy items seen in the movie in our store.