Design classics in the movies: 8 outstanding film sets to inspire your home
Spotting a furniture design classic in a film is our obsession and we know the same is true for many of our readers who literally loose the plot when watching a movie or TV series with a beautifully set-decorated film set. If you're a furniture fiend or a designaholic then you'll know that familiar feeling of losing the thread of the storyline to focus on that mid century modern chair, some iconic wallpaper or time-honoured table lamp featured in a well-designed movie. It never ceases to amaze us how much detail and research goes into the choice of these pieces by production designers and set decorators to make up the mise en scène. How many furniture design classics in film can you recognise from our selection below?
Film sets can give us a great deal of interiors inspiration for our own homes too and one of the first retailers we often turn to when in search of the furniture and decor design classics we have spotted in films is The Conran Shop: 'The home of iconic designs and future classics'. Founded by Sir Terence Conran in 1974, The Conran Shop continues to play a central role in the vital London design scene. We were reminded of their well-curated luxury furniture and decor collections on a recent visit to their beautifully merchandised Chelsea, London showroom where Film and Furniture founder Paula Benson gave a pre-screening talk in this revived historic Michelin House building. Similarly their website is well designed, easy to navigate and full of treasures. 
Here, we shine a spotlight on some our favourite furniture in films which are all available to buy from The Conran Shop website. Competition! What's more, they've given us an exclusive £100 gift card to give away to a lucky reader who can answer the furniture related question at the end of this feature. (NB. This competition is now closed)
1. Navy Chair as seen in The Dark Knight, Maze Runner, I, Robot et al
If a film involves an interrogation scene, you can bet your bottom dollar that the interrogator and interrogatee will be seated in a Navy Chair. We've spotted them in The Dark Knight, TV series House, Kingsman: The Golden Circle, Terminator Genisys, Maze Runner: The Scorch Trials and I, Robot.
It's an extremely practical chair but also very comfortable having 2 seat 'curves' which are said to be inspired but the buttocks of Betty Grable, the second world war pin up. First built for use on submarines in 1944 and capable of withstanding a torpedo blast the 1006 Navy Chair regained popularity partly after being championed by Philippe Starck for New York's Paramount Hotel. Manufactured by EMECO and utilising the skills of local craftsman, the chair is handmade from recycled aluminium using a famous 77 step process which includes forming, welding, grinding, heat-treating, finishing and anodising for superior quality and strength. 
The indestructible design of the Navy Chair boasts a lifetime warranty – making it ideal for everyday family use and this chair looks particularly good around the dining table or in the kitchen (as long as you don't use it to interrogate your spouse or children!). As the 'industrial chic' trend in the home becomes ever more fashionable the Navy Chair is here to stay and is a long standing star of both the silver screen and many an interior blogger photo. Given that it's virtually indestructible, it's a very good investment.
Available in aluminium, £610* from The Conran Shop.
Also available in charcoal, red, grass green, white and orange.
2. The Cherner armchair as seen in Toy Story 2
Pixar are famed for their attention to detail with furniture and set design (see The Incredibles – Mid Century Modernism exemplified and The legend of Lasseter and the Pixar Luxo lamp) and in Toy Story 2 the elegant and sculptural Cherner chair makes a notable cameo: Al McWhiggin, the greedy toy collector who owns Al's Toy Barn has a penthouse apartment full of Mid Century furniture. After stealing Woody from Andy's parents yard sale, Al takes him back home. There is a touching scene where Woody climbs onto the wasp-waisted Cherner chair to console a sad Jessy who is sitting on the window sill lamenting her lost relationship with previous owner Emily.
Designed by American architect and designer Norman Cherner, this plywood chair is his most well-known creation and has become a Mid Century icon. As well as designing furniture, Norman Cherner worked in many different areas of design such as graphics, glassware and lighting and interestingly (given the Toy Story connection) authored the book How to Build Children's Toys and Furniture (1954).
The Cherner chair was produced until the 1970s and his son's have more recently reissued this famous chair. It's also sometimes referred to as the 'Rockwell Chair' as Normal Rockwell featured it on a 1961 cover of the Saturday Evening Post.
The Cherner Side Chair is available to buy at £720* and the Cherner Armchair in classic walnut is £1104*.
3. The Spun Table Lamp as seen in Fifty Shades
The stylish trumpet-shaped base of the Spun T2 Table Lamp combined with its sleek, glossy finish gives this lamp a retro-meets-contemporary look. Also considering that the cable has an electronic dimmer which allows the regulation of light brightness, it works perfectly as a bedside lamp in Christian Grey's bedroom in Fifty Shades Darker and Fifty Shades Freed. The talented set decorator Cal Loucks SDSA knows perfectly what Mr Grey prefers in the way of interior design!
This lamp is suitable for a table or desk and was designed in 2003 by Sebastian Wrong. It provides a soft, diffused light. 
Available in polished aluminum, MUD, Shiny black and Shiny white, £735*.
4. KTribe Table lamp in Avengers: Age of Ultron
Another table lamp that caught our attention is the KTribe designed by Philippe Starck. The movie Avengers: Age of Ultron features several classic pieces and in the party scene we see the KTribe Table Lamp by Flos sitting in front of Tony Stark (Robert Downey Jr.). 
With a stand of aluminium, this light has a chic translucent smoky grey shade and a dimmer switch to create the perfect atmosphere.
Available from The Conran Shop, £452*
5. The Jacobsen Egg Chair in The Bridge
Set on both sides of the bridge between Copenhagen, Denmark & Malmö, Sweden, The Bridge (Bron/Broen) is brimming with Scandinavian design classics. Detective Martin Rohde's house includes the heroic Jacobsen Egg Chair amongst many others. Rohde's Egg chair is upholstered in Sørensen's Elegance Leather, a firm yet flexible aniline variety crafted from the finest European rawhide from Alpine cattle, with natural markings that only get better with age. Beautifully soft and smooth.
Originally designed in 1958 for the lobby and reception areas of the Royal Hotel Copenhagen, the Egg Chair's fluid curves offered a sculptural contrast to the building's straight-edges and vertical lines. The Egg Chair was crafted using entirely new techniques for the time.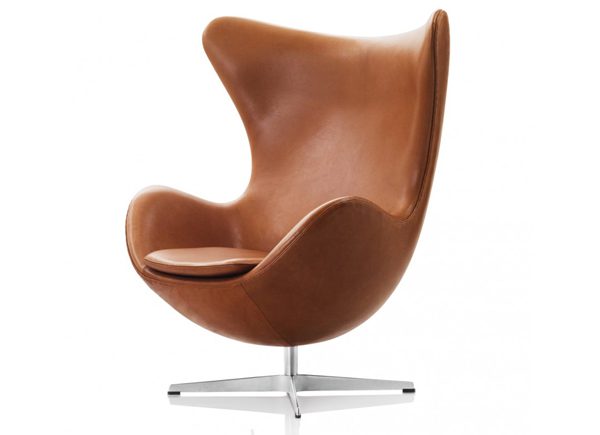 Arne Jacobsen's Egg Chair also makes an appearance in the Beatles film Help! – this time in a blue fabric. It also crops up in Men in Black in white leather.
The Leather version is available from The Conran Shop, £11,910*.
Also available in Kvadrat's Divina fabric, £5,508*.
6. Noguchi coffee table in The Skin I Live In
Dr. Robert Ledgard (Antonio Banderas) is a wealthy, skilled plastic surgeon with an unusual mission in the Spanish psychological horror The Skin I Live In written and directed by Pedro Almodovar. Production designer Antxón Gómez, art director Carlos Bodelón and set decorator Vicent Díaz created an intriguing, palatial house for Dr Ledgard which is tastefully furnished with an eclectic mix of Mid Century, contemporary and classic furniture and art.
On the bold geometric carpet we find several Noguchi coffee tables. This 20th Century design classic is notable by it's distinctive organic shape.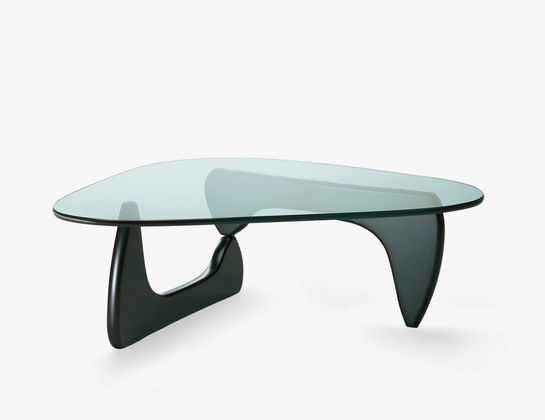 This piece of furniture design represents designer Isamu Noguchi's belief that 'everything is sculpture' and makes fine use of different materials working in harmony: the table's curved legs are crafted from rich black ash and seem to effortlessly and delicately support the freeform glass surface.
Available from The Conran Shop, £1,490.00* 
7. Wassily Lounge Chair in Nine and a Half Weeks
Marcel Breuer's famous Wassily Chair made an appearance in Mickey Rourke's memorable '80s monochrome bachelor pad of the steamy 1986 flick Nine and a Half Weeks also starring Kim Basinger.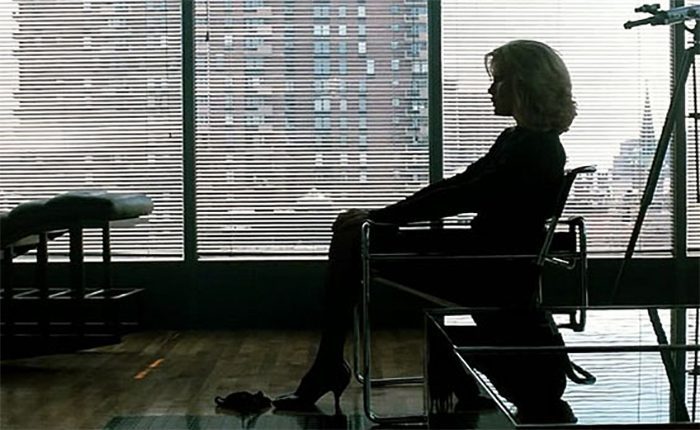 Marcel Breuer was an apprentice at the Bauhaus in 1925 when he conceived the first tubular steel chair and which he named in honour of his contemporary, Wassily Kandinsky. The tubular frame was inspired by a bicycle.
The Wassily Lounge chair is available from The Conran Shop, £1908*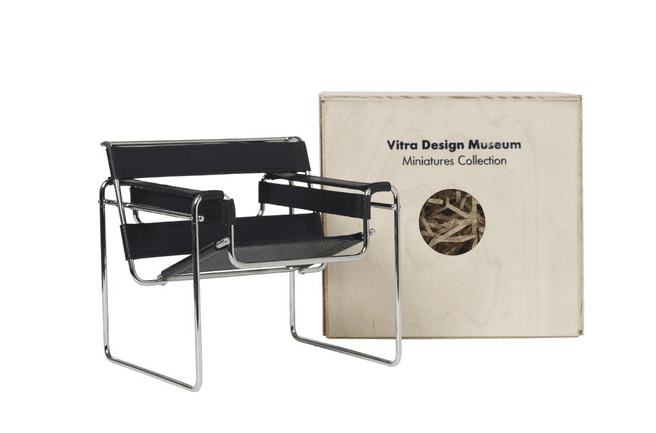 The Wassily Lounge chair is also available as part of a miniature collection of the most important classics of modern furniture history. The construction, materials and colours correspond perfectly to the historical Vitra Design Museum Collection original and in some cases were assisted by the designers to develop the miniatures. The miniatures are valuable collectors items in their own right. The Wassily miniature is available for £180* from The Conran Shop.
8. Le Corbusier LC3 arm chair in Sherlock
Speaking of tubular steel and bachelors (see above), pride of place in Sherlock's (Benedict Cumberbatch) famous front room in Baker Street is a vintage 1959 Le Corbusier's Grand Confort LC3 chair. Here this modern day detective does a great deal of thinking and problem solving.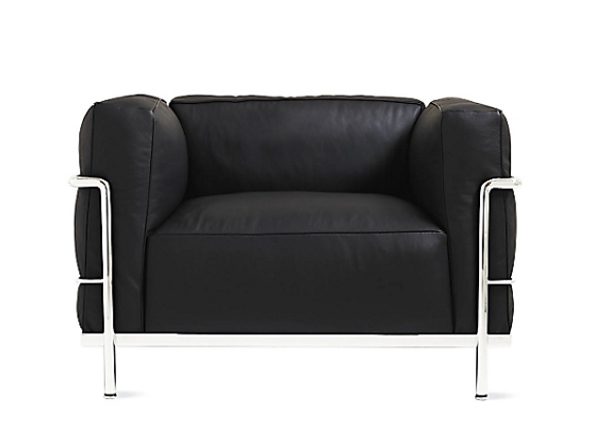 Although often referred to as the 'Le Corbusier LC3′ it was technically the result of a design collaboration between Le Corbusier, Pierre Jeanneret and Charlotte Perriand in 1928. Believeing that a home was a "machine for living in" and that the machine needed appropriately functional furniture or "équipement de l'habitation" the original design marks the end of Le Corbusier's use of ready-made furniture in his buildings.
Noteable by its polished chrome-plated steel tube frame and luxuriously deep leather cushions this chair, now produced by Cassina, provides optimal comfort. 
Available in chrome and black leather from The Conran Shop £4,728*
Don't miss our Le Corbusier-themed competition to win an exclusive £100 gift card below!
*prices quoted are subject to change
WIN a £100 gift card to spend at The Conran shop!
Le Corbusier made a now famous quote about chairs and sofas. What was it?
NB. This competition is now closed and Congratulations to Molly our lucky winner.