Eames furniture in film and the 'must see' exhibition at the Barbican
Charles and Ray Eames furniture feature in multiple movies. When film set decorators need to convey a character's good taste and style or when they simply need an extremely handsome piece in a domestic or office setting, we'll often spot an Eames creation and indeed there are many beauties from this dynamic design duo to choose from.
Yet there is so much more than meets the eye. As Design Within Reach put it "Charles and Ray Eames created more than a 'look' with their seating. They had ideas about making a better world, one in which things were designed to fulfill the practical needs of ordinary people and bring greater simplicity and pleasure to our lives".
To coincide with the current Eames exhibition at The Barbican Art Gallery, we show you their key pieces in films and where to buy them for your own home. What's more, now is a perfect time to invest in a classic Eames with many of our recommended retailers offering up to 15% discounts.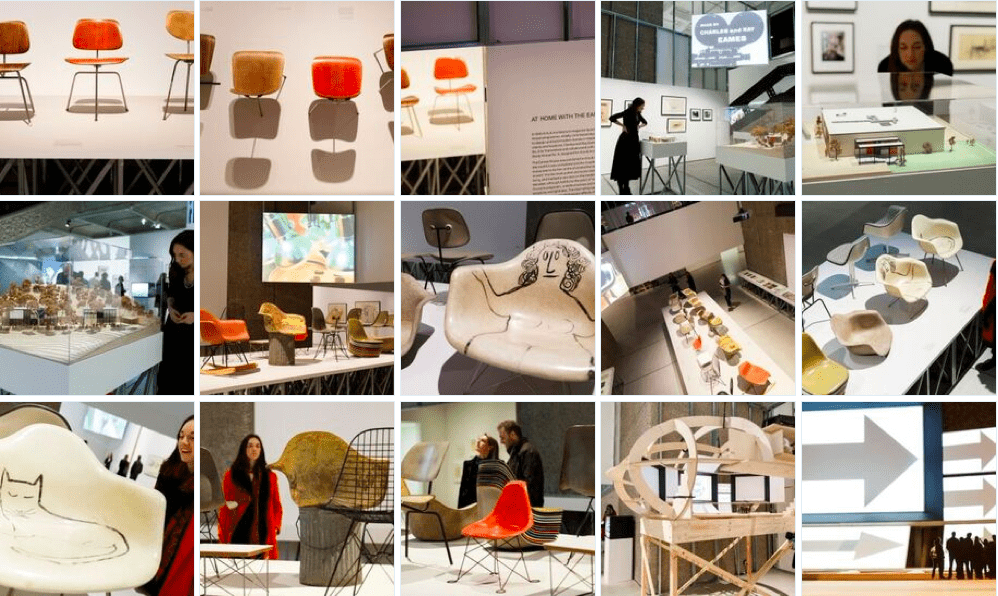 Charles and Ray Eames were design beacons and the story of the Eames Office is that of visual and material culture in the post-war, modern period. Their work is currently being reviewed in detail in a truly excellent exhibition in London's Barbican Art Gallery. "The World of Charles and Ray Eames" isn't simply an exhibition about design or furniture however, it's an exhibition about ideas and problem solving. The display examines the very heart of how we think and how we live.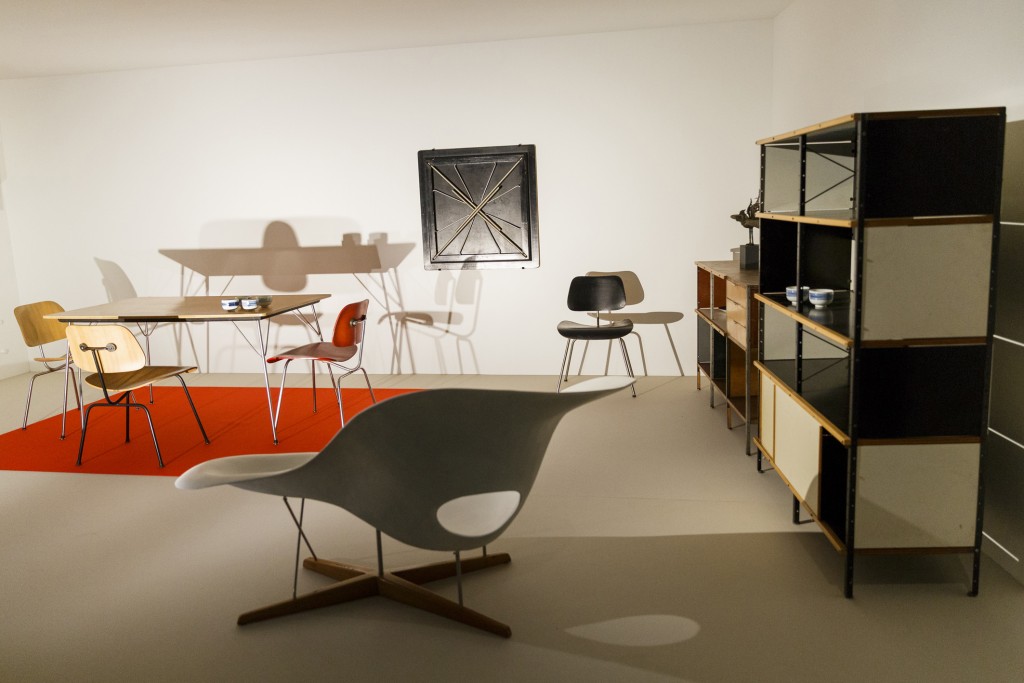 This husband and wife team are among the most influential designers of the 20th Century. Enthusiastic and tireless experimenters, they moved fluidly between the fields of photography, film, architecture, exhibition-making and – what we perhaps best remember them for – furniture and product design.
Their pioneering furniture pieces have become true classics and are representational of thoroughly thought through and considered design, which is also why their furniture pieces have become firm staples in the movies.
Although driven mostly by creating accessible and affordable pieces, it is the higher price tagged Eames Lounge Chair that has become such a design statement that it has in some ways become a cliché for a homeowner that wishes to communicate their good taste and design understanding. That doesn't stop us loving it and indeed, such is the pull of an Eames Lounge Chair, that even discerning media and design types will be prepared to camp out overnight in the street outside the Vitra Clerkenwell showroom in order to obtain one in the big annual sale.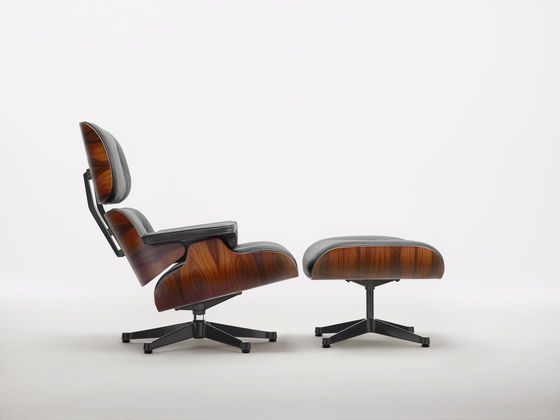 This, the most famous and desirable of all Eames has been featured in film and TV programmes as diverse as Tony Stark's mansion in Iron Man, Click (2006), Sunday in New York (1963), The Ghost Writer (2010), Frasier, Gossip Girl (where it was recovered in a gorgeous Missoni fabric), Hope Springs (2012),  the Korean movie The Housemaid (2010), a white version in Tron Legacy (2010), Closer (2004) and even in the animated spy comedy Archer. See details below on where to buy.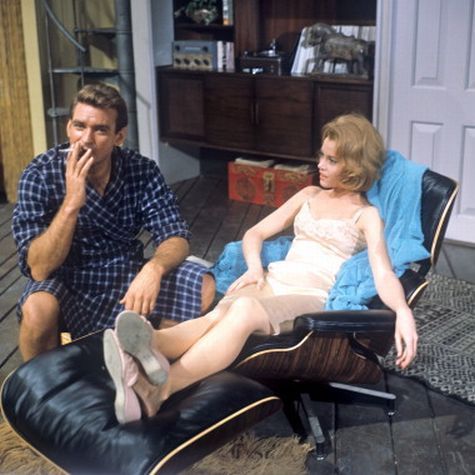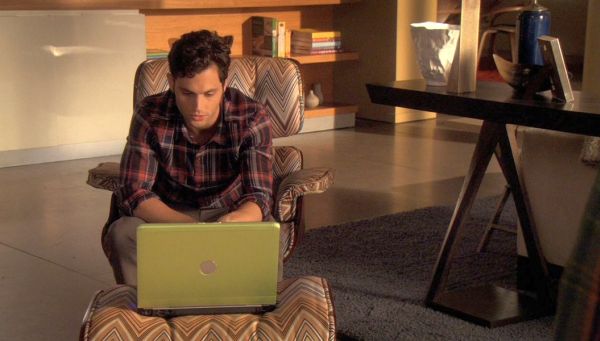 Other big screen connections.
These aren't the Eameses' only connection to the big screen: On moving to LA in 1941 Charles worked in the art department of MGM Studios and the couple undertook their creative persuits in a makeshift studio at home. They later went on to make over 100 films themselves.
The Eames Office website tells the story of how in 1950 Charles Eames designed the Eames Chaise for his friend, the famous movie director Billy Wilder (Some Like It Hot (1959), Sunset Blvd. (1950), The Apartment (1960), Love in the Afternoon (1957), The Spirit of St. Louis (1957)): "While the idea of the Eames Chaise may have been brewing for a while, it really took hold in 1955, when Charles accompanied renowned film director Billy Wilder on a film location scout to Newfoundland. During this trip, Charles learned that Billy liked to take naps in the same way as lighthouse keepers–on a narrow plank of wood.
Napping on a narrow plank of wood (back down with arms crossed over chest), facilitates a restful, but brief sleep.  When the sleeper falls into too deep a slumber, his arms fall to his sides and he wakes up. Wilder himself enjoyed naps and wondered whether he might have such a device, an Eames-designed 'machine for napping.' And thus Eames designed the Chaise and even though Charles had the idea to design the chair by 1955, it didn't go into production until 1968″.
Charles was also second unit director on Billy Wilder's film The Spirit of St. Louis. Ray Eames designed the titles for Wilder's film Love in the Afternoon.
The Eames Aluminium chair featured in The Holiday (2006).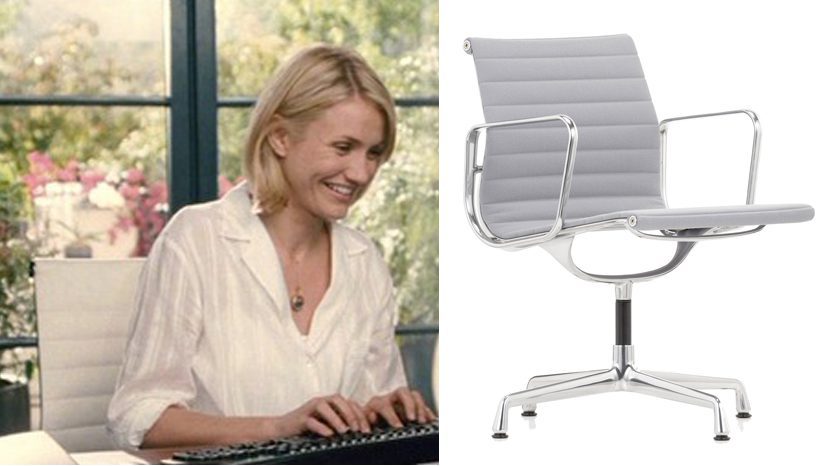 The Executive chair (also known as the Lobby chair and the Time Life chair) was a star in Mad Men.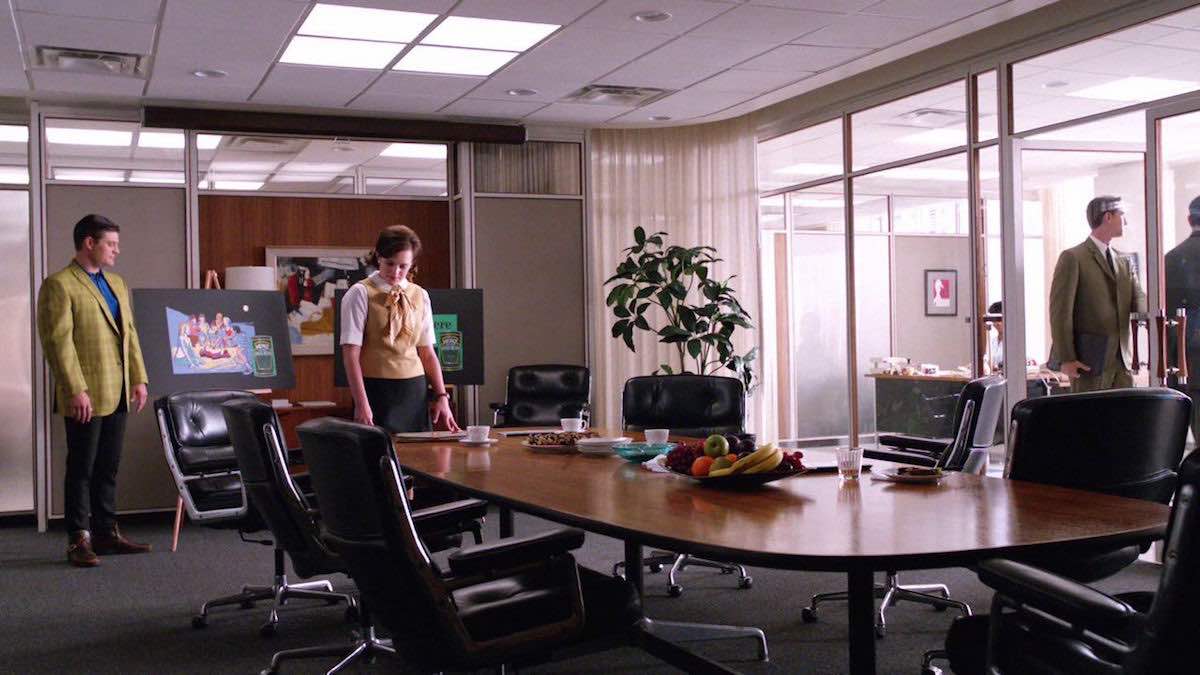 Still on a Mad Men tip, the Eames DAR Fiberglass Shell Armchair can also be seen in Joan Harris's office.
Even the Eameses own house (which was originally a commission by Arts & Architecture Magazine) is reminiscent of a film or theatre set, paused and waiting for the action to play out.
So where can I get one?
Eames Lounge chair (and ottoman)

The iconic Eames Lounge Chair (1956) began with a desire to create a chair with "the warm, receptive look of a well-used first baseman's mitt." In continuous production since its introduction in 1956, the Eames Lounge Chair is widely considered one of the most significant designs of the 20th century. Pairing soft, inviting leather with the sleek form of molded wood, this set was the culmination of the Eameses' efforts to create a club chair using the molded plywood technology that they pioneered in the '40s. Entirely hand-assembled out of parts that are fully replaceable, the timeless Eames Lounge Chair and Ottoman is constructed to last lifetimes.

Original vintage versions are available in the UK and Europe from Pamono.
Authentic, fully licensed contemporary versions are available
In UK:
From John Lewis who have upped their furniture game recently with a Design Icons department which includes classics featured in movies from Vitra, Eames, Flos, Herman Miller, Hans Wegner, Kartell and Morris & Co. The famous strapline Never Knowingly Undersold means, amongst other things, if they find a national high street competitor offering a better nationwide price for the same individual product, they'll match the price, including on the website, and including when a competitor is having a sale.
In USA and Canada:
From Design Within Reach >


The Eames Executive chair (also known as the Lobby Chair and The Time Life chair) 

This iconic piece was originally created for the executive floors of New York City's Time-Life Building in 1960 and hence it's appropriateness for the Mad Men meeting room as shown above. The generously sized Eames Executive Chair tilts, swivels and has a height-adjustable seat with thick, plush cushions. Yes please!
Original vintage versions are available in the UK from Pamono
Authentic, fully licensed Herman Miller chairs are available
in USA and Canada:
From Design Within Reach >

Eames 'soft pad' ES106 Chaise
Herman Miller, the original manufacturer of the Eames Chaise, still makes the chair on the very same aluminum molds developed by the Eames Office in 1968.  While Charles and Ray tweaked many of their other designs over the years–changing glides, making slight structural modifications, and upgrading bases–Herman Miller makes the Eames Chaise just as it was when first produced. Vitra began making the chaise for customers in Europe and the Middle East in the 1980s, and also follows the design specifications from 1968.
Soft Pad Chaise are scarce and tracking one down can be a tricky business but the good news is we at Film and Furniture can organise for you to order an authentic, fully licensed Chaise direct from the manufacturers: Email us at [email protected] and we'll put you in touch.
Eames Aluminium chair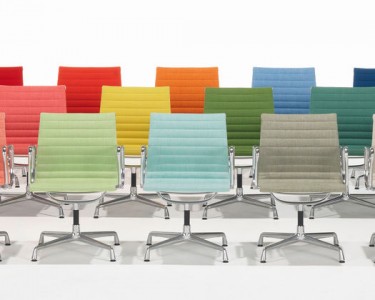 Part of the Aluminium group, The EA117 is a smart, sophisticated design and is perfect for home offices thanks to its neat and compact shape. With gas lift functionality, it can be easily adjusted to a height that suits for maximum comfort while you work. Designed in 1958 for the private residence of an art collector in the USA. For the construction of this chair, the designer couple abandoned the principle of the seat shell, instead stretching a panel of fabric or leather between two aluminium side members to create a taut but elastic seat.

Original vintage versions are available from Pamono
New authentic, fully licensed chairs are available
in UK:
From John Lewis >
In USA and Canada:
From Design Within Reach >


Eames DAR Fibreglass shell chair


The iconic Eames DAR armchair has a moulded polypropylene shell and come in a delightful variety of colours and a choice of bases.

Original vintage versions are available in the UK and Europe from Pamono.
New, authentic, fully licensed versions are available
in UK:
from John Lewis >
in USA and Canada:
from Design Within Reach >
There's always the Vitra minatures too which are eternally cute.
You may also be interested in our fascinating interview with Eames scholar Pat Kirkham following her talk at the Barbican which explored the Eameses' fascinating and varied relationships with the Hollywood film industry. From design commissions and advisory positions to their support of those affected by the political 'blacklisting' of Hollywood professionals during the McCarthy era, the Eameses' Hollywood connections were abundant. As well as Billy Wilder there was screenwriter Philip Dunne, actors Alexander Knox, Doris Nolan, Vincent Price, Norman Lloyd, Kirk Douglas and Janet Gaynor, costume designers Adrian and Dorothy Jeakins, producers John Houseman and Julian Blaustein, and composer Elmer Bernstein. Read the interview here >
The Barbican exhibition closed on 14 February 2015.
The new book which accompanied the exhibition is splendid! – buy it here >