Valentines gift ideas with a difference: 10 red objects in movies to fall in love with
Nothing gets our hearts beating faster than spotting a gorgeous piece of furniture, lighting or homeware in a movie. While often considered secondary to the main plot, furniture in film is more than just a movie prop. It can indicate the state of mind or the aspirations of a character and accentuate or alter the tone of an environment. To celebrate Valentine's Day we've selected our top picks of radiant red furniture and decor in film, some of which would make perfect Valentines gift ideas for the film lover or furniture fan in your life (and all a damn site more exciting than a bunch of roses).
Let's start big and bold…
1. The red Florence Knoll sofa in Mad Men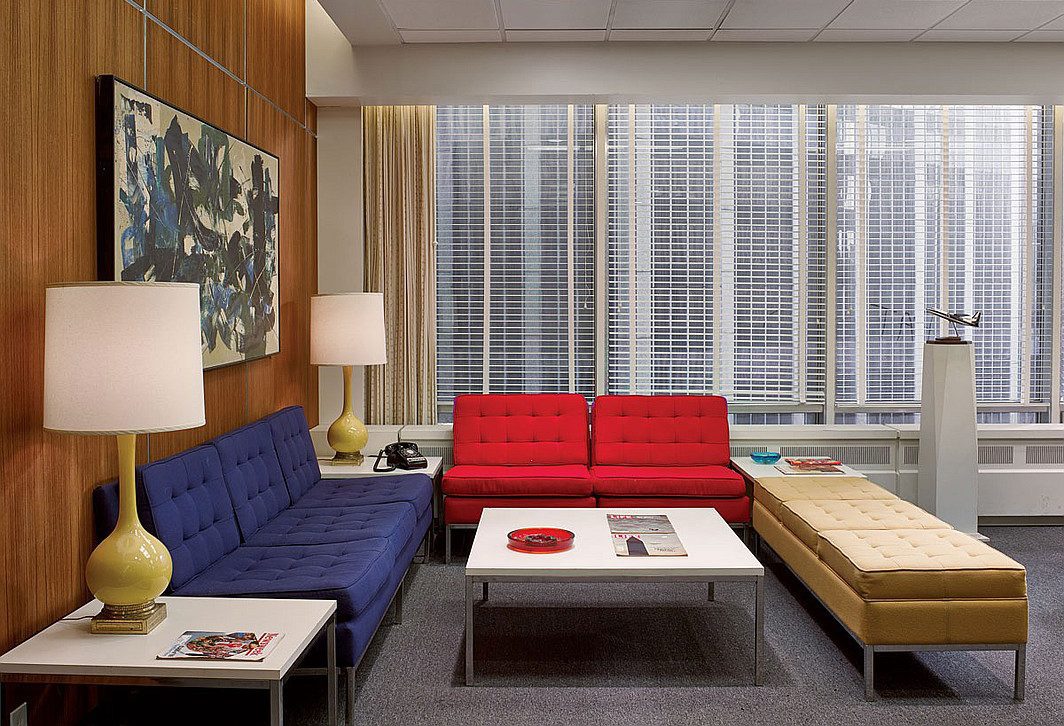 Designed by Florence Knoll in 1954, the eponymous Florence Knoll sofa (or 'couch'/'setee' depending on where you're from) is incredibly distinctive and far more comfortable than it looks. This sofa is seen in many different styles and colours throughout Mad Men but it's the red 2-seater which we remember best from the stunning reception lobby.
Iconic designer Florence Knoll's contributions to the world of design are immeasurable, while her inimitable vision over her long illustrious career won her countless awards and accolades. She also pretty much invented the furniture showroom.
Imagine this sofa turning up as a surprise gift!
2. The red wallpaper in Paddington
Production Designer Gary Williamson developed a colour theme for each character in the Paddington films. Mary Brown (played by Sally Hawkins) wears a lot of red and her bedroom at Windsor Gardens is also predominantly red. It's the red Chinoiserie wall covering which caught our attention. Chinoiserie (from 'chinois' – the French for Chinese) refers to the style inspired by art and design from China, Japan and other Asian countries. Chinoiserie wall coverings are typically hand painted onto paper or silk and often depict trees, flowers, insects and birds.
Y Mural hand paints incredible silk wall coverings including this example shown above. 
If you're looking for a dramatic red or nature inspired wall, try these wallpapers from Wallpaper Direct – Sanderson's Cow Parsley (£51 per roll) Morris & Co.'s Bramble (£76 per roll) or Angeliki from Clarissa Hulse for Callista from Harlequin (£65 per roll)
3. The Tolomeo Micro red desk lamp
The design and set decoration of Pedro Almodóvar's films are always a visual delight and his last film, Julieta is no exception. Production Designer Antxon Gómez is a longstanding collaborator with the internationally acclaimed Spanish film maker. In a pivotal scene where the brokenhearted Julieta confronts the pain of her memories in a letter to her estranged daughter, she pens her story next to a red desk lamp. Red is a recurring theme in Almodovar films which he uses to a more subtle effect than usual in this key scene.
The Tolomeo Micro Red Desk Lamp (around £160) is a near match. This award-winning and museum-featured table/desk lamp is a stylish and practical design, providing the quality light that is required for working situations. It features a fully-adjustable, articulated arm in extruded, anodized aluminum. Joints, tension control knobs and mountings are polished die-cast aluminum, and cables are stainless steel.
Artemide's models appear in the collections of some of the word's most prestigious museums of art and design including MoMA and the V&A.
4. Go gloss like The Grand Budapest Hotel
Wes Anderson film's are famed for their strong colour themes and we love the gloss red lift in The Grand Budapest Hotel. Interior wood work and front doors look radiant when painted gloss red. You could also always paint your bed frame red for Valentine's! For a good gloss red, look no further than Albany's Red Letter paint (around £16.64 per litre) from Designer Paint.
5. Red roses with a twist
Take influence from the classic roses scene in American Beauty but instead of a boring bunch of flowers, try something a little different with this red rose bath mat (£80) from Amara.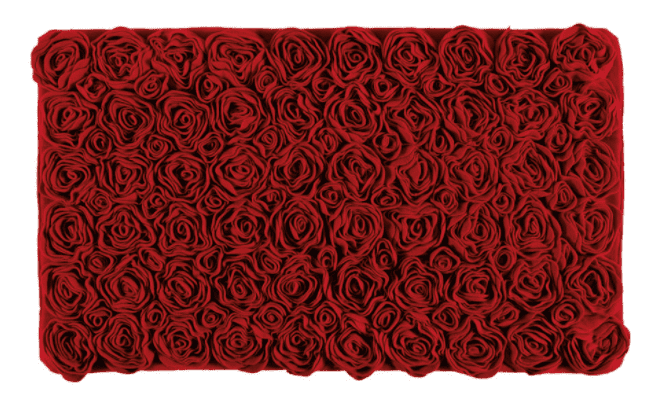 6. The Olivetti Valentine typewriter in A Clockwork Orange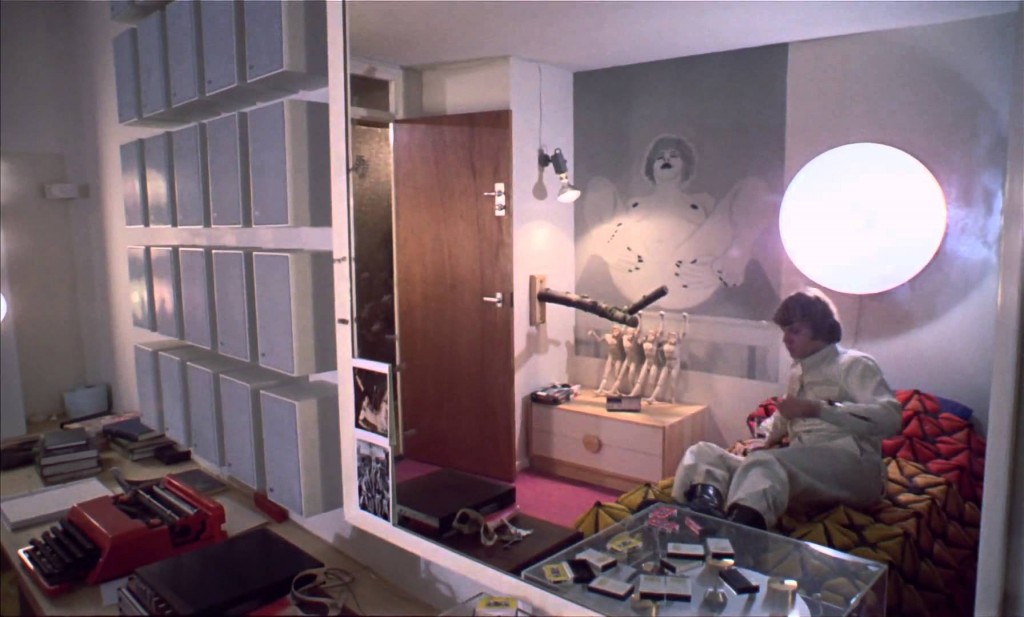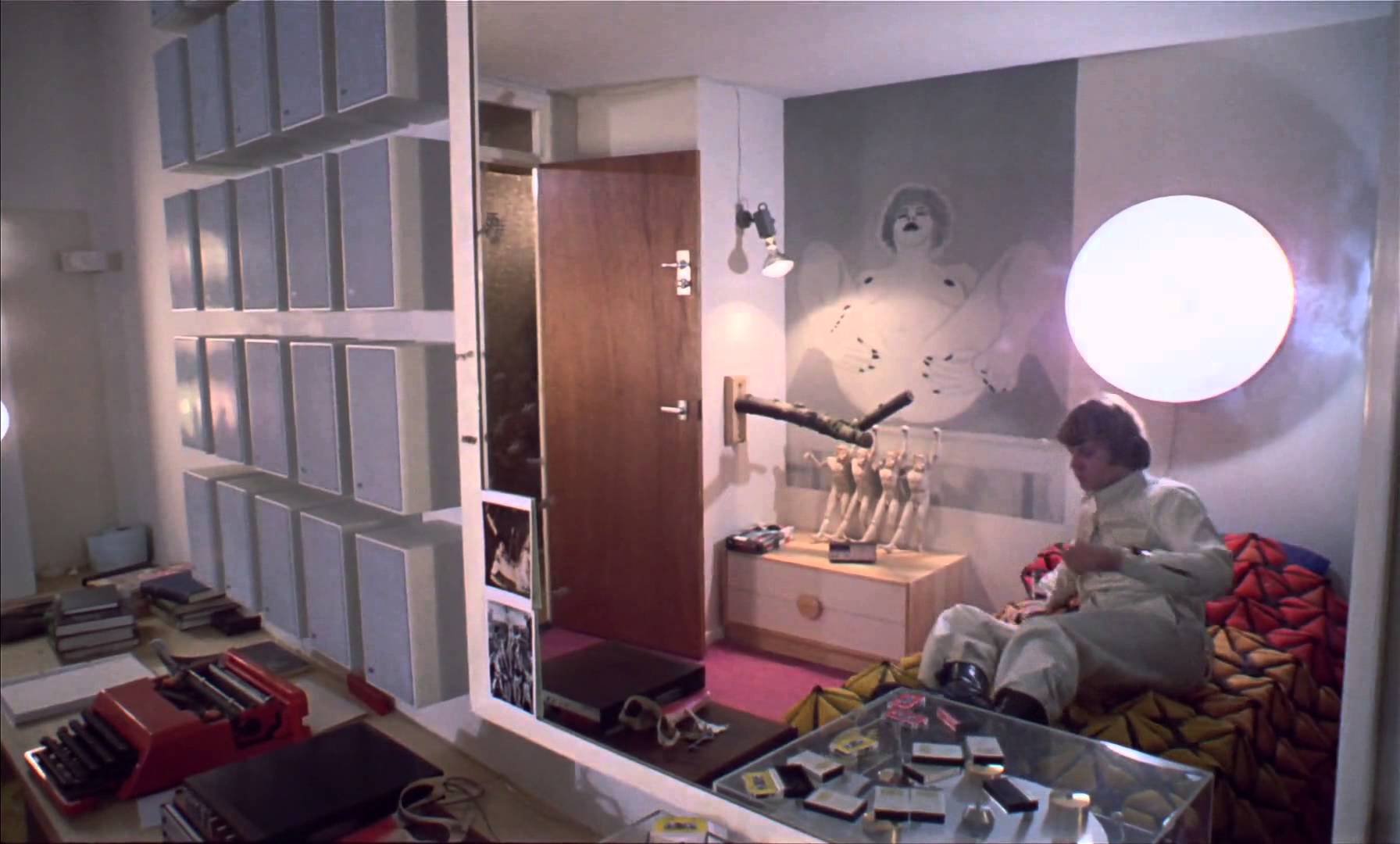 Ettore Sottsass' legendary "Valentine" portable red typewriter makes a famous appearance in Alex's room in Kubrick's A Clockwork Orange and is one of the finest examples of 1960s Italian design. It bears witness to the time when Olivetti was leading the way in industrial design "the pre-digital precursor to the Macbook, as emblematic of style as it was of mobility".
Around £283 from Pamono.
7. The Djinn chair in 2001: A Space Odyssey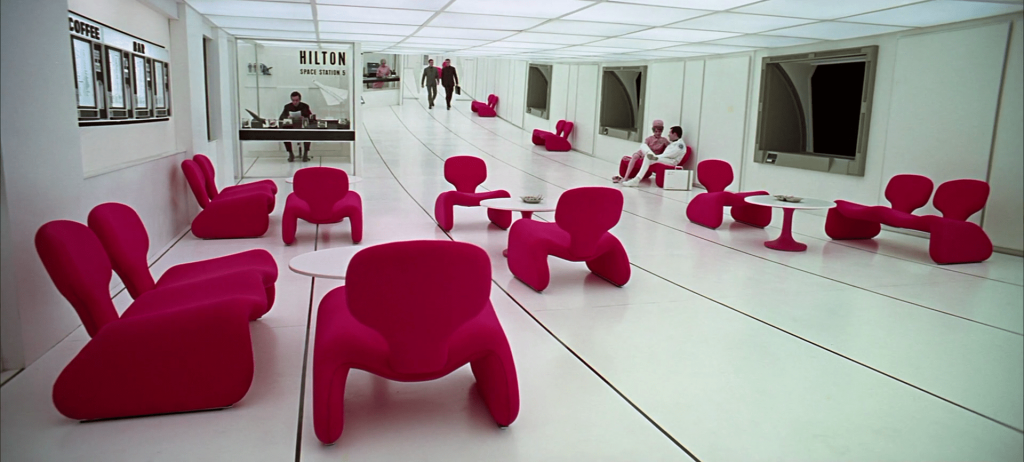 The Djinn Chair is one of the most iconic chair designs ever to be featured in a film. Designed by Olivier Mourgue in 1965 whilst working for French manufacturer Airborne International, the Djinn chair embodies the essence of 60s futuristic design and has gone on to firmly take it's place in design history. With their wave like, low slung silhouette, they were selected by Stanley Kubrick to appear in the Space Station 5 lobby in  2001: A Space Odyssey. These chairs represent Kubrick's vision of the future when the film was made (released in 1968) and the film has gone on to define what most visualise as the 'future' ever since.
We are thrilled to offer the Djinn chair for sale through Film and Furniture. These professionally restored Djinn chair's are made from the original Airborne shells and are recovered (by law) in fireproof foam and covered in stretch Jersey. These pieces are museum quality and have been loaned to the Design Museum in London for an exhibition and Film and Furniture currently have one on loan to the Filmmuseum, Frankfurt. They are made from bent steel tubing, which is covered in webbing, then foam and finally a zipped cover exactly as the originals.
The original film props have not survived. Stanley Kubrick destroyed all the sets and props afraid that they might fall into the hands of lesser directors. Coupled with the fact the Djinn chairs are no longer in production, they have become valuable collectors items.
Price: £1475. Available through Film and Furniture. Email us at [email protected] for details.
8. The red Twiggy lamp in How Do You Know?
Matty's apartment in How Do You Know? features a Foscarini Twiggy lamp (and a mighty fine Gaetano Pesce UP chair). Designed by Marc Sadler in 2007, this graceful arched floor light (around £1,097) is a linear design combined with strong flexibility and sophistication. It's one of our favourite floor standing lights and is the perfect edition to any space – we have one at F&F HQ.
9. Breakfast in Bed
Churchill (Gary Oldman) takes breakfast in bed most mornings in The Darkest Hour whilst dictating letters.
Taking the love of your life breakfast in bed is a lovely Valentines gesture, especially if it's on a beautifully laid out tray, so at this point in the proceedings we'd just like to draw your attention to this wonderful red vintage tray by Guzzini available for £258 from Pamono.
10. Popcorn maker
Or simply cuddle up on the sofa with a damn good movie and a box of homemade popcorn. This
VonShef Popcorn maker
(£19.99) enables you to create your own flavours from Sweet & Buttery to Parmesan Cheese & Bacon. Or create healthier flavours by using herbs & spices.
Wishing you a Happy Valentines Day. Lots of love, from Film and Furniture x