The colour code: Movie palettes in print
Colour has a big part to play in film. It sets the tone and mood, conveys emotion and effects us on a psychological level. Movie palettes aid storytelling to enhance the narrative or define the pace, and can be expressed through the physicality of the interior setting, and through cinematography, choice of lighting and colour grading.
Think Wes Anderson and you're thrown into a retro palette of yellows and oranges as in Moonrise Kingdom and The French Dispatch, or think pink and you're transported to the fictional eastern European state of Zubrowka and it's Grand Budapest Hotel. Villeneuve's Dune is doused in the muted yellows of the desert sand and his Blade Runner 2049 depicts landscapes that are orange from pollution or enveloped in the grey of snowy blizzards. Pedro Almodovar loves to incorporate pops of vivid colours into his films and red in particular is a recurring theme.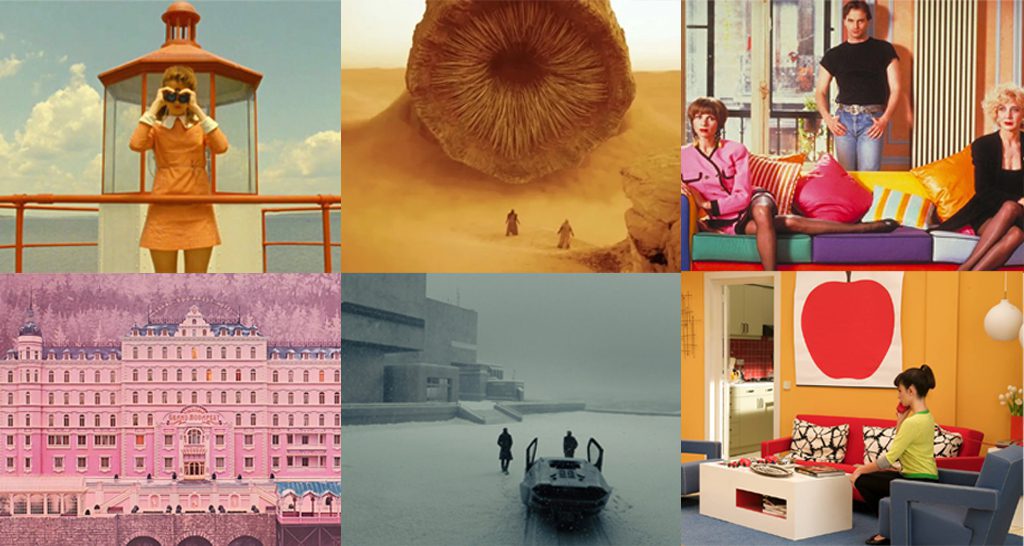 There are Instagram accounts which document movie palettes such as Movie Colour Palette and Colours Effect, and several small creative businesses who sell prints of their film colour analyses from Etsy such as Eeek Prints and Movie Palette Official, but here at Film and Furniture we're particularly drawn to the minimalism of Movie Palette Prints who produce posters and postcards based on film colour themes. When we discovered that Katie McVeigh – the person behind this business – was only 18 years old, we were compelled to find out more about what drives this movie passion.
Film and Furniture: Katie, what led you to create Movie Palette Prints?
Katie McVeigh: I studied art in school and when I began making my minimalist prints a couple of years ago, they were very different from how they are now. I hadn't considered the possibility that other people would be interested in them, so at that point they were just hand-painted scraps of card on my wall. I think the first one I came up with was Baby Driver. I have my family to thank for convincing me to share them through Etsy.
F&F: Do you use a particular scene to choose the colour palette for each film, or do you draw on an overall image that sticks in your mind from watching the film? 
KV: Generally speaking, my process begins with looking at the official posters or covers of the film, as this tends to generate the most widely recognisable palette. Sometimes this is easy – in the case of La La Land the choice to include a purple gradient was an obvious one. 
There are usually a range of different official posters, so I use my own judgement to select which I will draw inspiration from, based on which I see as more visually striking as well as which one comes to mind when I think of the film. For example, for The Shining there are two iconic posters that come to mind: the one which uses the "Here's Johnny" shot, and the simpler yellow one. I ultimately ended up choosing the yellow one as it generated a much bolder, cleaner palette.
F&F: What are your most popular prints?
KV: My best sellers are Portrait of a Lady on Fire and The Grand Budapest Hotel by far. I think this is because people tend to prefer more pastel colour schemes, though I'm not sure why. I'm glad people seem to love these two prints, because I do too. I think the popularity of the Grand Budapest Hotel print may come from the fact it's a Wes Anderson film, and the colour palettes of his films are instantly recognisable. My Fantastic Mr. Fox is pretty popular too.
F&F: What is your  favourite film?
KV: Goodfellas! It checks all the boxes for me: Excellent soundtrack, slick editing, and of course, Robert De Niro. I'm a huge fan of the mafia genre, and also love films based on true stories, so Goodfellas is absolutely perfect in my eyes. I am always in the mood to watch it again.
F&F: Which films are on your list to create posters for next?
KV: I'm in the process of coming up with a few designs of movie palettes for some recent films as well as some classics. Scorsese's After Hours is at the top of my list, along with prints for Jacques Demy films, which have beautiful official posters to draw inspiration from. Of course, many of my ideas for what films to create prints for come from messages from my buyers. I absolutely love taking requests and working collaboratively with the buyer to bring their vision to life.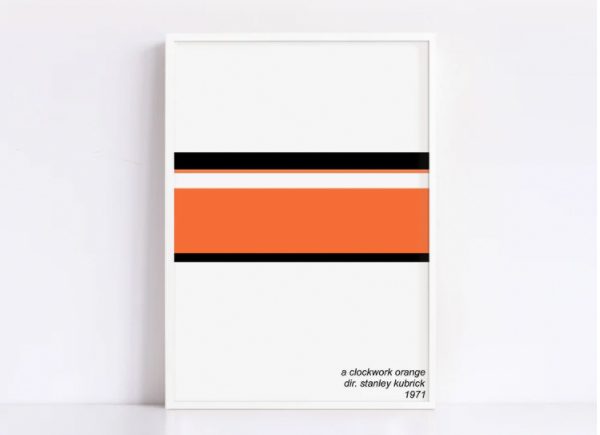 Movie Palette Prints are available as A4 and A3 posters, as well as postcards. What's more we have a set of colourful postcards to give away to one lucky winner of our competition.
Competition (NB. THIS COMPETITION IS NOW CLOSED!)
To receive as set of postcards depicting colour schemes from Midsommar, Portrait of a Lady on Fire, La La Land, Clueless and The Grand Budapest Hotel simply answer the questions below.
Q: Which film director famously created a film which features a single static shot of the colour blue?
THIS COMPETITION IS NOW CLOSED! The answer was of course Derek Jarman's Blue and the winner is Josephine Bradbury!
See more minimalist film poster prints and postcards at the Movie Palette Prints shop on Etsy.