Almodovar's Volver: Red is the colour for danger, passion, love and death.
Fiona Cole shares her love for colour in the art direction and set design of Almodovar's Volver – plus a competition to WIN a stunning vintage cushion. Read on mis amigos…
A film about murder, superstition, cancer, betrayal, parental abandonment and death has no business being this cheery. But one of the many treats in Almodovar films aside from story, left of centre humour and visceral performances, is the hyper real art direction – the combination provides the audience with an intense hit of human life in all it's colour.
And this ravishing melodrama is filled with colour.
The design of Volver (2006) has always stayed with me but I couldn't remember specifically why until I revisited the Film for F&F. This time, keeping a keen eye on the set design in search of a signature piece, it was clear what I remembered so vividly about the style of the film and it was the use of red.
The opening sequence sees the mourners of the Village ritualistically tending the graves of loved ones while a fierce easterly wind blows away their flowers. 
It's a scene so over the top that it wouldn't have seemed out-of-place for the mourners to spontaneously burst into song or even flames, but the outrageous scale and colour of the Film's title graphics which arrive at this point provide all the volume needed.
And that red block type sets the temperature for the whole story in which every scene and every location is filled with saturated colour.
Raimunda played by Penelope Cruz is a working class mother living in the Spanish region of La Mancha. There are no airs and graces here, Raimunda's apartment is functional but like all the homes in the film it's cleverly timeless and could sit comfortably in the late 50s, 60s or 70s bringing all the generations of women in the story together as their secrets unfold.
The soft furnishings like the chroma are abundant – neighboring designs hold absolutely no regard for each other, in fact if the prints were people they'd be wielding knives and possibly drunk.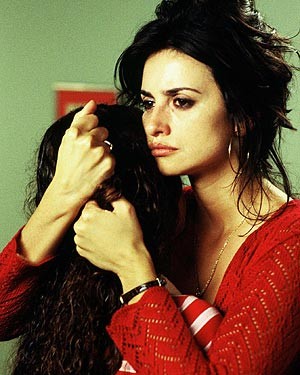 Art Director Salvador Parra brings a sense of belonging to every scene. These characters don't spend time re-configuring their living spaces or de-cluttering, but you wouldn't call the design shabby either. All the furniture looks used and loved by mothers and aunties long gone but still somehow present.
The details such as the tea service in Aunt Paula's house, the curtains, the pendant lights, the standards and particularly the tiling work look like childhood memories, those arbitrary patterns we remember but can't quite place; even the tatty mint Tupperware boxes used by Irene to present biscuits to her grown up daughters with parchment labels with their names on look emotionally meaningful. When and why did we ever think Tupperware wouldn't age well?
I imagine when grading the picture Pedro forcibly screamed "keep turning up the reds" to the colourist until the hues were so saturated even a simple cardigan looked like it was coming to get you.
Red for passion, red for danger and of course red for heightening all other natural colours in a scene; I wonder if Parra was given such a singular brief from his Director or did he just keep finding the colour red in all the twists and turns of the story?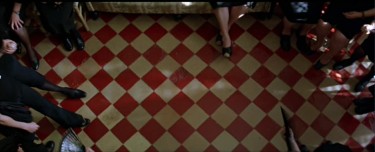 Volver – heavy, female, passionate, murderous and funny, a bubbling hot sauce of colour blocked patterns and colliding decades of childhood memories – and that's just the furniture. Best revisited in a room of neutral palette for the full intense hit. Come on the reds!
Fiona Cole.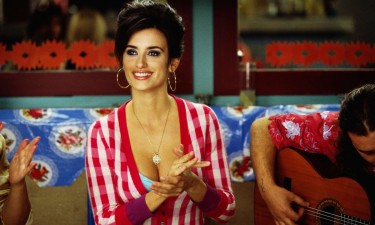 GET THE LOOK by Film and Furniture founder Paula Benson – and a competition to win a stunning Vintage Cushion!
There's an abundance of bold retro floral fabrics in Volver and which brings to mind Vintage Cushions who produce incredibly well made cushions from vintage fabrics like this beauty shown below. They're all bespoke-made pieces that come complete with a wonderful plump duck feather pad.
WIN THIS STUNNING CUSHION worth £100 (inc p&P) by simply sharing this story on Facebook or Twitter using the icons at the foot of this story or tell us your favourite Almodovar film and why in the comments box below.
(NB. 16.4.15 please note the competition is now closed).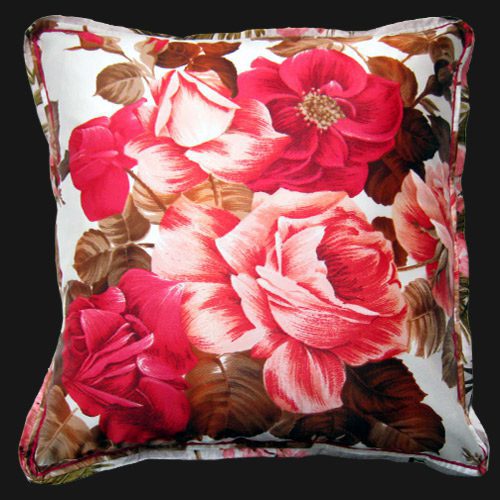 If you're feeling creative, buy some vintage fabrics from Dutch Details on Etsy and upcycle your own furniture finds.
Red and white checks are a reoccurring theme in Volver and crop up as floor tiles, on Raimunda's cardigan and on a table-cloth. Red and white tiles work particularly well in a hallway or kitchen.
Or if you'd prefer something slightly less bold and graphic, then Zazzle sell these very pretty red and white tiles in a gingham pattern (£11.95 per tile) or the red subtle floral patterned tiles shown below (£12.95 per tile).
These Batik red and white mixed pattern tiles from Topps Tiles have a spanish/moorish feel about them currently reduced from £45 to £19.99 per box (also available in other colours).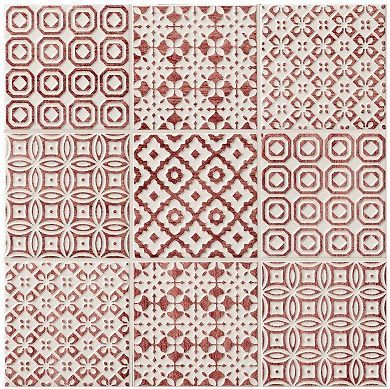 Nothing beats finding a perfect, low priced vintage tea set in a back-water charity shop. I'm always on the look out on my travels, ever since my Mum started showing me all the Midwinter and Meakin 60s and 70s ceramics sets she'd found for a fiver in charity shops in Northumberland (the same thing is about £100 down my way in London town). You'll be sure to find vintage tea sets on Etsy.
Talking of cups and saucers, did you know Almodovar designed his own range of cups and saucers for Italian coffee company Illy? There's even one featuring Penelope Cruz herself in Volver.
 
You may also be interested in…

Almodovar is currently working on his next movie Silencio. Due for release in March 2016 he describes it as "a return to the cinema of women, of great female protagonists, and it's a hard-hitting drama, which excites me". 
The stunning book The Pedro Almodovar Archives is an in-depth exploration of this true artist's complete œuvre.