Space Age furniture in Sci-Fi films
A new era of space travel began last week: SpaceX successfully launched NASA astronauts Bob Behnken and Doug Hurley into orbit from the coast of Florida, the first humans to do so from USA in nearly a decade.
This makes SpaceX the first company to send passengers to space on a privately made vehicle (Crew Dragon) and is the final major test for SpaceX as part of NASA's Commercial Crew Program. Before too long, spacecraft will regularly take astronauts to and from the international space station, the largest artificial object in space.
This space station however, looks a world apart from the aspirations of key ground-breaking science fiction films which are embedded in our minds. Directors such as Stanley Kubrick, Joseph Kosinski, Ridley Scott, and Gerry and Sylvia Anderson dreamed up places and spaces beyond our own imagination and defined visions of the future we can never escape.
Triggered by the first stages of space exploration in the 1960s and 1970s, the Space Age design aesthetic was born in an era of vast technological and economic progress. This distinctive, futuristic approach to design was propelled by films such as 2001: A Space Odyssey and TV series Space: 1999, and still lingers in more contemporary films such as Oblivion and Blade Runner 2049.
We won't see astronauts Behnken or Hurley sitting on striking sculptural chairs or wandering down any curved white corridors as part of their current space mission, yet Space Age furniture is still a sought after look for our homes here on earth.
Here's our round up of striking Space Age furniture and lighting which have featured in films and TV.
A design showcase.
The TV Sci-fi series Space: 1999 ran for two seasons from 1975 to 1977 and centres on the plight of the inhabitants of the moon scientific research centre Moonbase Alpha. Oh, boy! did they pull out the stops with the production design and set decoration.
The interiors of this space drama are a design collector's dream and feature many highly acclaimed Italian pieces of furniture and lighting design.
High white was the order of the day including the Sorella Table Lamp by Harvey Guzzini.
Space: 1999 was the last production by Gerry and Sylvia Anderson and was the most expensive series produced for British television up to that time.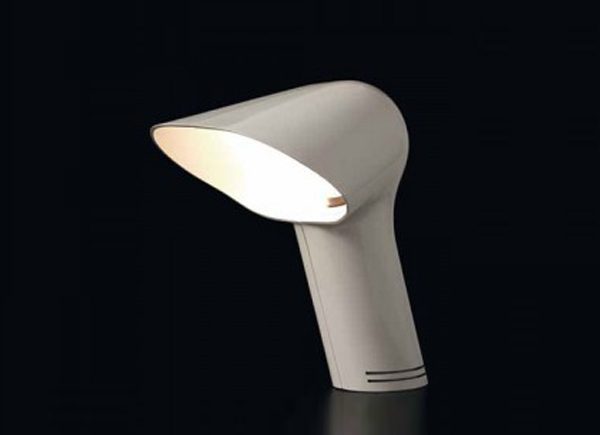 Another attention grabbing Space Age light which appeared in Space: 1999 is the the Pileo floor lamp.
This floor lamp has Sci-Fi written all over it. Designed by the prolific Italian architect, industrial, exhibition, graphics and furniture designer Gae Aulenti for Artemide in 1972, the shade pivots like a helmet to direct the light.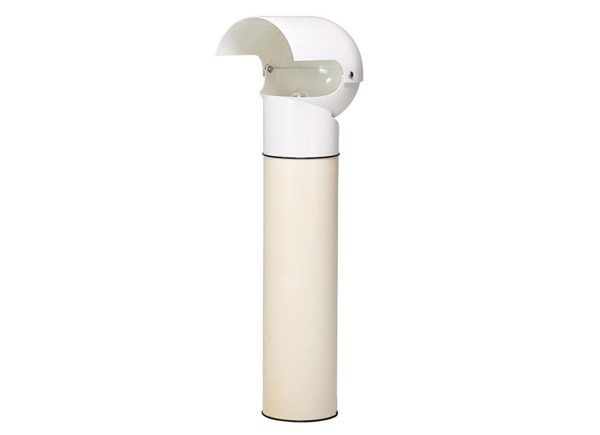 The Pileo lamp is also seen in episodes of Dr Who (including on the planet Gallifrey in 'The Invasion of Time' of 1978 and inside the Tardis from 2010 to 2012).
Joe Colombo's Elda chair is a cinematic icon and, as well as making appearances in The Hunger Games and The Spy Who Loved Me, was also a fixture of Space: 1999.
Also featured in Space: 1999 is the Ribbon Chair by the Frenchman Pierre Paulin.
The F582 or Ribbon Chair was designed in the 1960s by Paulin for Artifort and is still in production today.
Pierre Paulin's designs are distinctive in their striking sculptural shapes and earned him many prizes worldwide. 
Paulin's work can be admired in museums throughout the world. The French president Sarkozy honoured him as "the man who made design an art" and in 2009, Paulin was posthumously awarded the distinction of "Royal Designer for Industry" (RDI).
The Ribbon Chair has represented 'futuristic design' from the 1960s right through to today: It also made a star appearance in 2017's Blade Runner 2049 where we find Luv (Sylvia Hoeks) sitting beautifully in the very same in the Wallace Corporation headquarters (whilst ordering an attack through her VR glasses). More on that here. 
The Ribbon Chair also famously appeared in the Bond Diamonds are Forever.
Fabulously futuristic Djinn chairs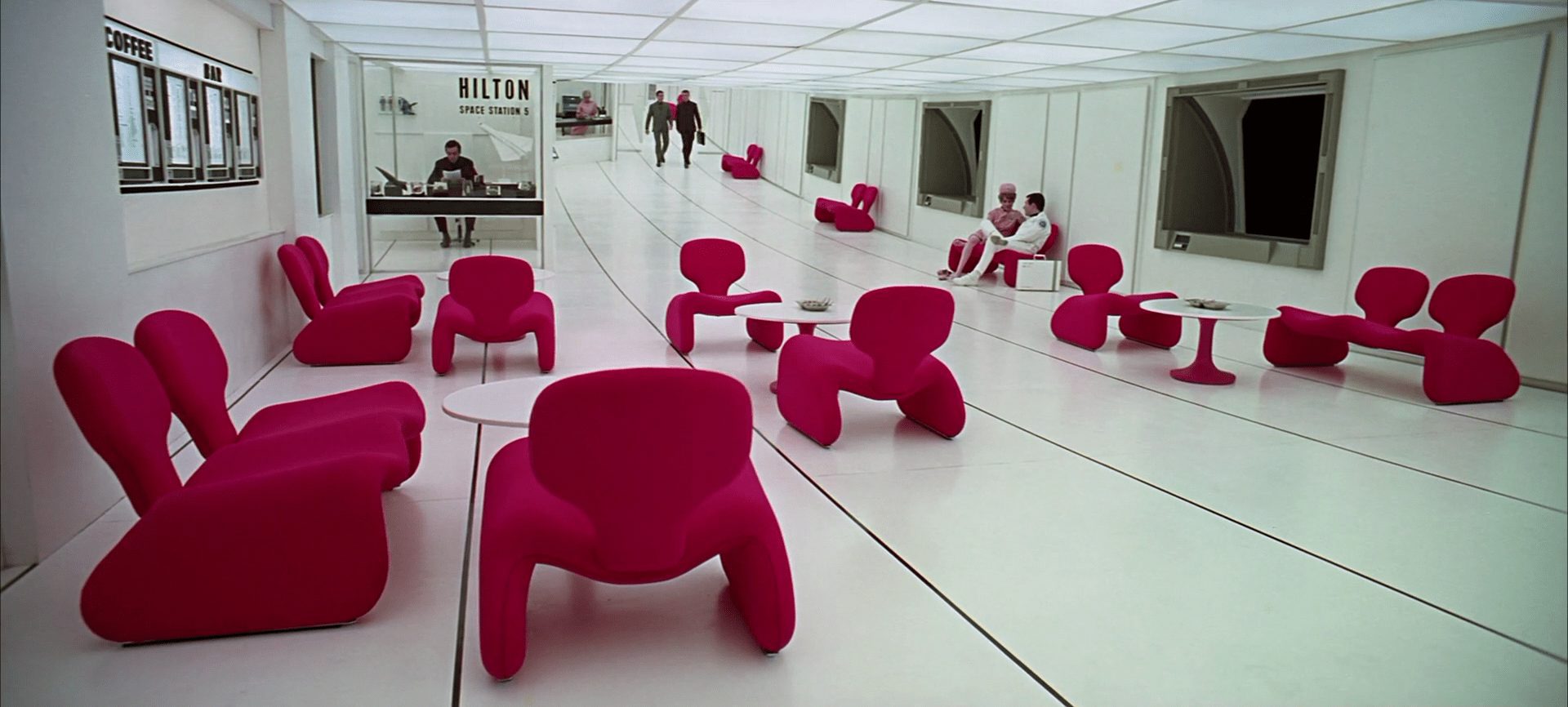 Whose jaw could fail to drop the first time you set eyes on the playful yet functional Djinn seating as Dr Floyd enters the Hilton lobby of Space Station Five in 2001 A Space Odyssey?
Designed by Olivier Mourgue in 1965 whilst working for French manufacturer Airborne International, Djinn chairs and sofas embody 60s futuristic design and have gone on to firmly take their place in design history.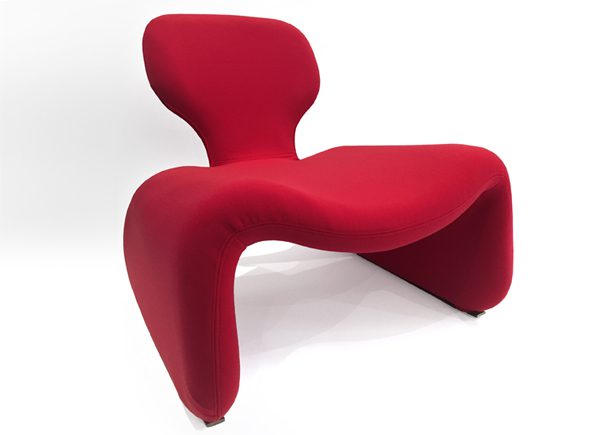 With their wave like, low slung silhouette, Djinns are made from tubular steel covered with foam padding and upholstered in jersey fabric.
In Kubrick's film the chairs appear a vivid red due to lighting, but they actually had a slightly magenta pink tonality. In any case they stand out loud and proud against the rest of the high white interiors.
Kubrick employed a large art department and many specialists including scientific advisor Frederick Ordway, set/visual effects designer Joy Cuff, special effects supervisor Douglas Trumbull and art department guru Harry Lange to help realise his vision of space.
Tom and Boby
2013's Oblivion is a post-apocalyptic action-adventure film co-produced and directed by Joseph Kosinski and stars Tom Cruise. Having also directed Tron: Legacy Kosinski is no stranger to envisioning the future yet he also pays homage to 1970s science fiction films.
It's no surprise then that we find a Boby storage trolley designed in the 1970's in Oblivion – a film set in 2077. Remember what we said about not being able to escape the 60s and 70's view of the future? This is a fine example.
The Boby storage cart designed by Joe Colombo has long been a favourite of designers, artists and… space travellers! It also appears in numerous scenes in Space 1999.
Spys and Cantilevers
Space Age furniture of the 60's made use of new technology and materials.
The 290 cantilevered chair designed in 1969 by Steen Ostergaard was the first ever cantilever chair in the world that was injection-moulded in one single operation. This also required the largest piece of moulding-tool ever made for injection of nylon at that time.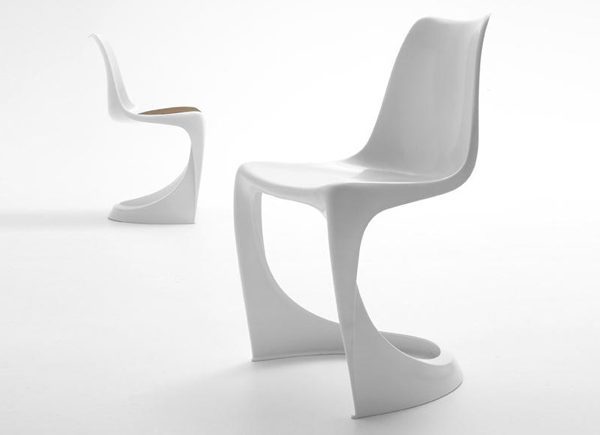 The 209's sister, the 291 armchair, is a simple and elegant chair with retro futuristic styling and has featured in movies such as the 1977 James Bond The Spy Who Loved Me (with Production Design by Ken Adam).
The Future is now
Taking it's cue from the Space Age aesthetic, the Coza has become a favourite choice of production designers and set decorators for contemporary Sci-Fi films.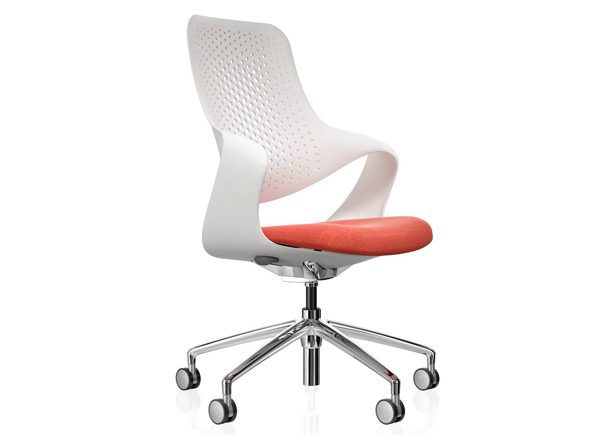 Coza is visually and functionally unique, and is the perfect chair to facilitate flexible working in a modern office including the Mi7 Control Room in Johnny English Strikes Again or manning the Bridge on board space ship Avenue 5!
This task chair provides comfort and dynamic support by using the natural flexibility of a single ribbon of material: The back rest is formed from a single ribbon of polymer.
The future is now, but it's the past that brought us here.
Space Age furniture and design represent aspiration and optimism – something we could all do with a little bit of right now. 
Discover more about Space: 1999 on the excellent Catacombs website.