The Film and Furniture festive gift guide 2019
Do you have someone in your life who loves film, furniture and design? Please allow us to be of service! May we present our carefully curated gift guide with a twist – homeware, barware, lamps and all kinds of loveliness that have graced the big screen, together with some of the year's most captivating filmset-related books.
Or if you're the filmset guru, then why not put some of these delights on your own Christmas list?
Give a gift with a story to tell… 
1. The Eclisee lamp as seen in Almodovar's Pain and Glory
The cute Eclisee lamp is seen in Pedro Almodovar's latest film, Pain and Glory. Designed by Vico Magistretti in 1967, this Pop masterpiece won the Compasso D'Oro for its original and inventive design.
Almodovar used many pieces from his own Milan apartment for the film.
Available in red or white.
Big-screen villains often live in architectural splendour. From futuristic fantasies to deathtrap-laden hives, from dwellings in space to those under the sea, pop culture and architecture join forces in these outlandish, primarily modern homes and in Lair, which features buildings from fifteen films, including: Dr. Strangelove, Star Wars, The Incredibles, Blade Runner 2049, You Only Live Twice, The Ghost Writer, Body Double and North by Northwest.
3. Aplomb Concrete Pendant Light as seen in Harvey's apartment in Suits
Take inspiration from Harvey Specter's super stylish apartment in Suits and introduce a sculptural, contemporary aesthetic to your space with the clean-lined grey Aplomb Pendant Light by design duo LucidiPevere.
Crafted from concrete cast in a linear lampshade style, the Aplomb Pendant takes direction from industrial materials to update the traditional pendant light.
4. Call Me By Your Name art print by Floor Plan Croissant
Floor Plan Croissant painstakingly recreates the floor plans and set decoration of film sets from famous movies in watercolour paint.
Here she has faithfully painted Elio's Italian summer villa from Call Me By Your Name.
Available in several sizes from Mini 8″ x 8″ ($37.99) to X-Large 28″ x 29″ ($103.99) with world wide shipping.
5. Blade Runner whisky tumblers, as seen in Blade Runner and Blade Runner 2049
No Film and Furniture gift guide would be complete without the exact 'CIBI' glass tumbler design that Deckard (Harrison Ford) is seen drinking whisky from in Blade Runner. Tried and tested by Film and Furniture on many an occasion, these glasses are the ultimate gift for a whisky drinking Blade Runner fan.
Made from hand blown crystal glass by the original Italian company since 1974, the heavyweight stunning glasses command respect and come in beautiful Arnolfo do Cambio gift box.
These glasses come in 2 sizes – 37cl and 22cl. The true Blade Runner size is 37cl.
Also available as a single boxed glass, £69.95 >
6. Designing Graphic Props for Filmmaking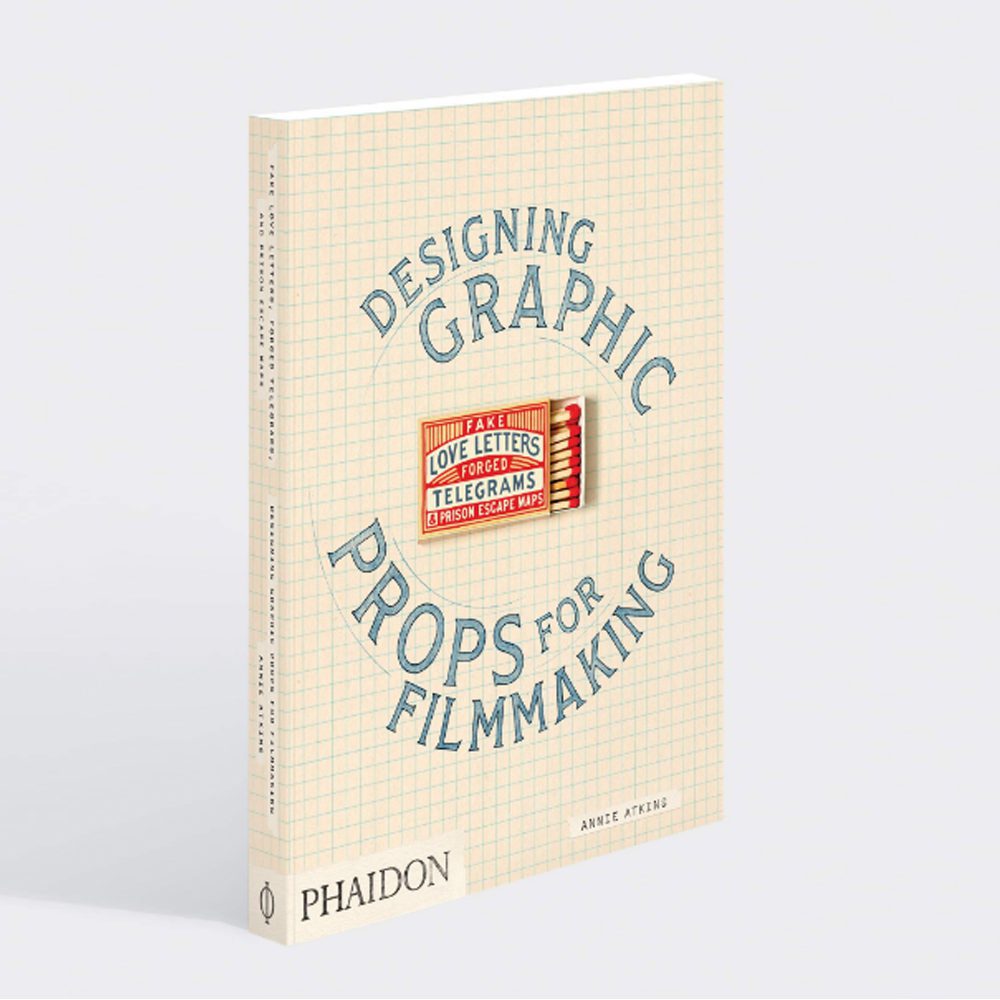 Annie Atkins' new book, Fake Love Letters, Forged Telegrams, and Prison Escape Maps: Designing Graphic Props for Filmmaking takes a behind-the-scenes look at the extraordinary and meticulous design of graphic objects for film sets.
Although graphic props such as invitations, letters, tickets, and packaging are rarely seen close-up by a cinema audience, they are designed in painstaking detail. Dublin-based Atkins, who has designed for Wes Anderson's The Grand Budapest Hotel, Isle of Dogs, Penny Dreadful, Steven Spielberg's Bridge of Spies, and Todd Haynes' Wonderstruck, invites readers into the creative process behind her intricately designed, rigorously researched, and visually stunning graphic props. 
7. Tulip-style round low table as seen in 2001: A Space Odyssey
We are proud to present a round tulip-style pedestal low coffee table with red base – the perfect accompaniment to the red Djinn chairs and Djinn sofas seen in the Space Station 5 lobby in 2001: A Space Odyssey.
This table is oft thought to be an Eero Saarinen by Knoll but this design was never made with a red base (confirmed directly to us from Knoll) and the shape differs slightly to that seen in 2001. Therefore, to the best of our knowledge, this is the only red-based round table purposely made to match a 2001 Djinn chair!
Shipped directly from us at Film and Furniture.
8. Laser engraved coaster set inspired by The Shining's Overlook Hotel
Instantly recognisable to a fan of Kubrick's The Shining (and/or Doctor Sleep) these laser engraved wooden coaster sets are inspired by the famous carpet pattern in The Overlook Hotel and are a craftful homage to our favourite carpet in film.
Gothic decor for the home or perhaps a gift for a coffee lover.
Available in sets of two and four.
See more/Shop Now from £12.95 >
Or if you prefer the real deal and are looking for a grand statement with which to welcome guests, then we suggest…
9. Hicks' Hexagon officially licensed luxury runner, as seen in The Shining's Overlook Hotel.
The most iconic carpet in film is available as officially licensed hexagon rugs, runners and carpet for your own home.
The Hicks' Hexagon runner, as seen in the Overlook Hotel, is made especially for Film and Furniture by the sole license holder of the original 1960s carpet design by legendary interior designer David Hicks.
Custom made in hand tufted High Quality 1 Ply Wool or China Wool
10. The Royal Tenenbaums Zebra print cushion
Fans of zebras and Wes Anderson will love this cushion.
Margot's bedroom in The Royal Tenenbaums features the iconic zebra design by Scalamandre, a decorative textiles and American heritage design house. Founded in 1929 in New York City, Scalamandré is best-known for helping Jacqueline Kennedy decorate the White House and for the Grand Curtain at the Metropolitan Opera House.
This cushion/throw pillow features a zebra print design influenced by the cult classic and are available in several sizes as well as indoor and outdoor versions.
We hope our gift guide has made your shopping list a little more interesting and we wish you a very happy festive season, with love from Film and Furniture!
Note: All prices quoted are correct at the time of going to press, but may vary. Please use as a guide price only.