Bond is back (Part 1): How to create a Goldfinger inspired interior
So Bond is back in the news again. Some good news (Spectre, the 24th Bond epic is on the way) and some bad (the draft script was part of the Sony hack – the meaning of Spectre: 'Special Executive for Counterintelligence, Terrorism, Revenge and Extortion' was clearly not lost on the hackers).
In any case, we'll be looking forward to some stylishly designed sets and gorgeous furniture in the new film due for release later this year. Bond always pushes the boat out on that score, from Ken Adam's awe-inspiring futuristic sets in Goldfinger (1964) to a luxurious B&B Italia bed in Quantum of Solace (2008).
We've put together our top 5 Bond sets with info' on how to recreate a contemporary version of the look. Here's Part 1 of the series:
Part 1: Goldfinger's Rumpus Room.
Ken Adams, in my opinion, set the gold standard for set and production design in the 1960s and 70s, and the wood-paneled Rumpus room in Goldfinger, (the third Bond movie) is one of his finest. This set is an interior of Auric Goldfinger's stud farm and is what one might call an elaborate, deluxe tack room. The warm wood ceiling, floor and walls dominate the room and adds a now retro feel of luxury. It contrasts magnificently with the monumental shiny stainless-steel fireplace sitting on the raised split level area.
We see some horses tack, a couple of fairground horses in the window, and a wagon wheel as references to the stud, but then we go off into pure Bond gadgetry with a retractable wall-size aerial map,
the trick pool table which turns over at the touch of a button to reveal a secret control panel,
and a floor section which slides open to reveal a scale model of the Fort Knox.
(We'll ignore that fact other switches turn the room into a gas chamber to kill off the mobsters Goldfinger has gathered, shall we?)
Adams also used his midas touch with the interior of Fort Knox itself, created completely from scratch.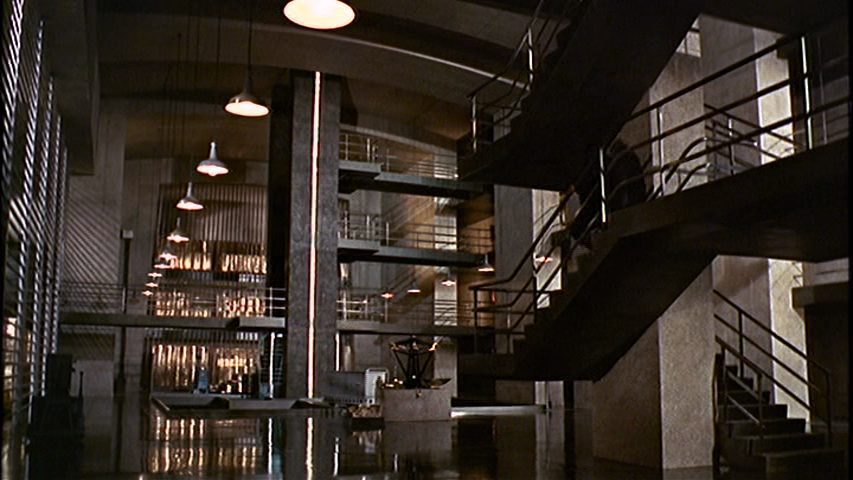 Watch the scene in motion here:
What's the FF low down and where can I get the look?
Here are some suggestions to recreate a contemporary hint of Goldfinger's Rumpus Room.
1. The Horse Lamp by Swedish design group Front for Moooi (Moooi distribute some of the industry's most eclectic and talented designers). Read and see more about the lamp here>. Moooi dealers can be found around the UK and include B&B Italia, Chaplins, and Ferrious in Manchester for example.
2. A Fairground horse:
UK Gallopers create fairground style horses and as luck would have it they currently have a wall-mountable gold version available as we speak:
3. Wood paneling adds instant deluxe retro:
You can even buy a complete original wood paneled room from several architectural salvage dealers. Take this one for example – an impressive antique walnut panelled room, formerly a boardroom from a private bank and dating from the 1920's. It features three full height walls of raised and fielded panels, egg and dart header, dado moulding and skirting boards. It includes two doors each with moulded frames, one of two solid panels, the other with iron lattice mesh work. Several others like this are available from Andy Thornton or Robert Mills Architecural Antiques
4.  Hang a large map mural or wallpaper on the wall.
You could blow up a map of your local area and turn it into a mural or even and entire wall of wallpaper from Surface View from £60 per sq m.
5. No Goldfinger referenced room would be complete without a pool table.
Luxury pool tables which convert into dining tables can be custom made by Michael Allen at Luxury Pool Tables or standard high-end pool tables are also available from Liberty Games.
6. And with the Fort Knox model featured in Goldfinger's Rumpus room in mind, you might consider getting a model made of your own home. We managed to find two wonderful companies who can do this – one more modernist: Chisel and Mouse.
And one more traditionalist: a gentlemen by the name of Alan Tolfrey at Mossley Modelmakers will make a individual handcrafted model of any house, shop, hotel or building.
Other scenes worthy of note:
Also of note in Goldfinger are some mighty fine lamps in the lounge area of the Miami hotel room
Not forgetting of course the gold bed and bronze coloured bedside lampshade in the famous bedroom scene. That bold combination of bronze and gold does it for me every time. I love everything about this shot – gold bed head, bronze lamp, white marble topped side table with retro radio: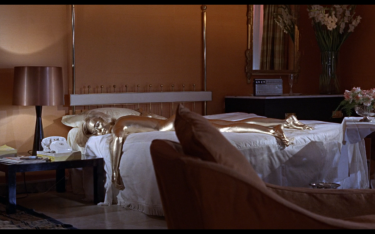 Bond later takes a trip in Goldfinger's own private plane, the interiors of which are also spectacular. In 1964 a private jet was a very rare luxury indeed and serves to underline the true glamour of the film.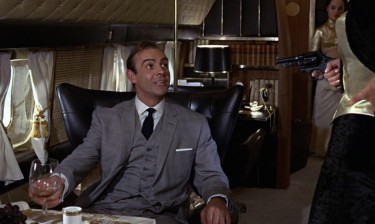 You may also be interested in…
Ken Adam exhibition in Berlin til 17 May 2015
Sir Ken Adam, who also designed Harry Saltzman's The Ipcress File, Cubby Broccoli's Chitty Chitty Bang Bang, Kubrick's Dr Strangelove and Barry Lyndon is opening up his voluminous private archives for public display at an exhibition housed at the Deutsche Kinemathek — Museum für Film und Fernsehen in Berlin, Germany from December 11th 2014 to May 17th 2015. The exhibition contains more than 4,000 pieces, including his unpublished drawings and sketches, blueprints, storyboards, set-designs, letters, models, awards, rare photographs and film footage. I shall be hot footing it over there and will report back forthwith…
Watch the Film now on iTunes or buy the Goldfinger DVD, as well as books on Ken Adam and production design from the sidebar or this story (if viewing on desktop) or below (if viewing on mobile/tablet).