'The Gentlemen' outdoor grill table is now available for your own garden
David Lynch may have brought us the immortal words "fire… walk with me" via Twin Peaks, but Director Guy Ritchie leans more towards "fire… sit (and cook) with me" with his obsession for BBQs. The outdoor grill table and marquee-like tent which featured in Ritchie's action-comedy The Gentlemen caused quite a stir when the film hit our screens in 2019. We kindled a great deal of interest with an article we published when rumours were afoot the luxury BBQ could become commercially available. It turns out there really is no smoke without fire and we're now able to share some good news with you: The 'fire table' film-prop prototype which featured in the film has now been developed and is now available for your own garden.
You'll remember the luxury BBQ from the scene in The Gentlemen where tabloid journalist Fletcher (Hugh Grant) joins Ray (Charlie Hunnam) in his garden and share banter around the outdoor grill table. Fletcher is very impressed by Ray's BBQ set-up and comments on how cleverly it "heats up your knees and cooks at the same time!". 
Where to buy the outdoor table grill
Now called the 'WildTable', Ritchie and his team at the Cashmere Caveman Co, Wild Kitchens have been hard at work behind the scenes perfecting the outdoor grill and accompanying 'WildTent' design since their cameos in The Gentleman. It has come to light that Ritchie has an obsession with outdoor cooking and has personally owned over 30 different BBQs. He originally designed this deluxe beast of a barbie to keep warm and to entertain guests outdoors all year round at his Ashcombe House estate, near Salisbury, Wiltshire.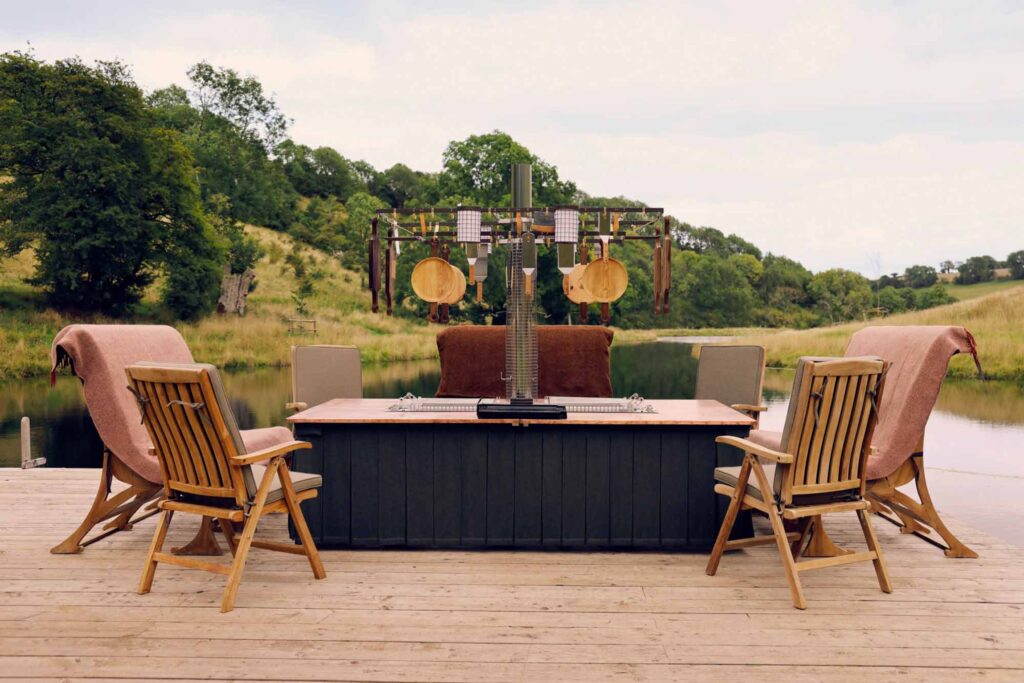 The resulting high-end outdoor grill table (and variations thereof) offers a "brand new way to cook, gather and eat" and are now available to the public after being unveiled for the first time at this year's Chelsea Flower Show.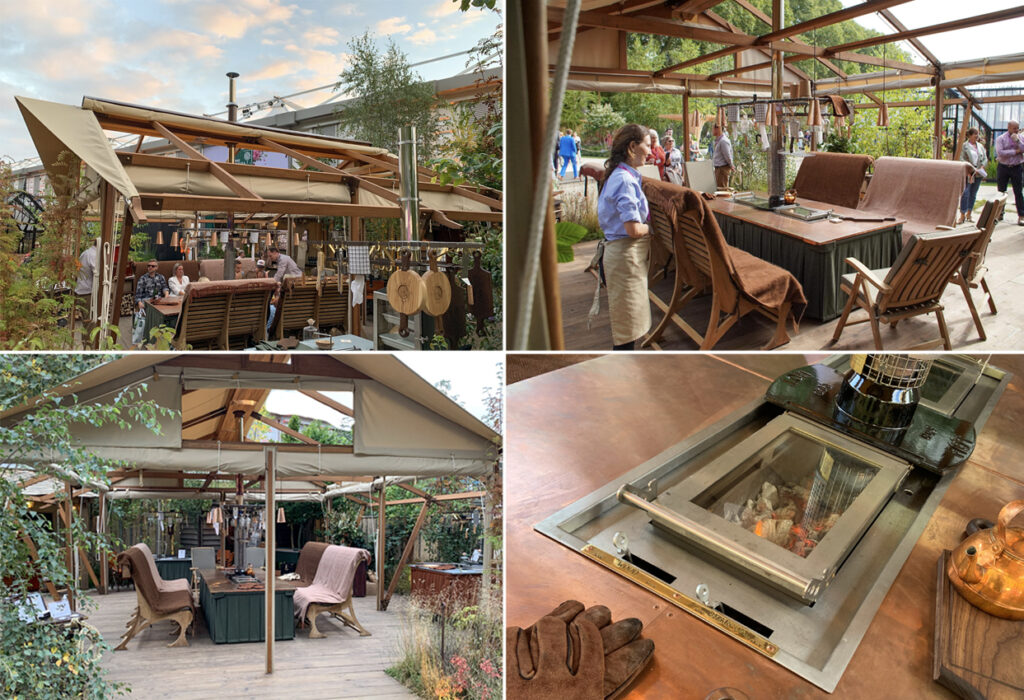 There are four sizes of the 'WildTable' (for 4, 6, 8 or 12 people) which allow charcoal or wood to be burned under a central firebox with a glass lid in the centre of the table and a flume which draws away the smoke. All tables come with a clever 'skilt' around the edge of the table, which acts as a kind of table skirt and keeps your legs warm, whatever the weather.
The 'WildTable' is available to buy on its own or in one of three 'editions':
The closest to the prototype version in The Gentlemen film is the 'Aspirational Caveman 12' which includes the 'WildTable 12'. This, the largest WildTable with two fireboxes seats 12 people, making it ideal for bigger occasions. It's basically a grand outdoor cooker that makes it simple to grill, fry, roast and steam – all on one artisanal table. Once everyone is suitably full of foodie delights, the 'WildTable' acts as a wood burning stove to keep you warm into the evening. 'The Aspirational Caveman' edition includes the table, cooking tools and other accessories.
'The Cashmere Caveman' edition includes the same as 'The Aspiration Caveman' but also comes with seating. 'The Caveman' edition is the table itself to which you can add a skilt or any of the accessories.
All editions come with a choice of either a copper or zinc table top, a teppanyaki cooking plate, a five piece cooking tool set, fire retardant gloves and a protective cover.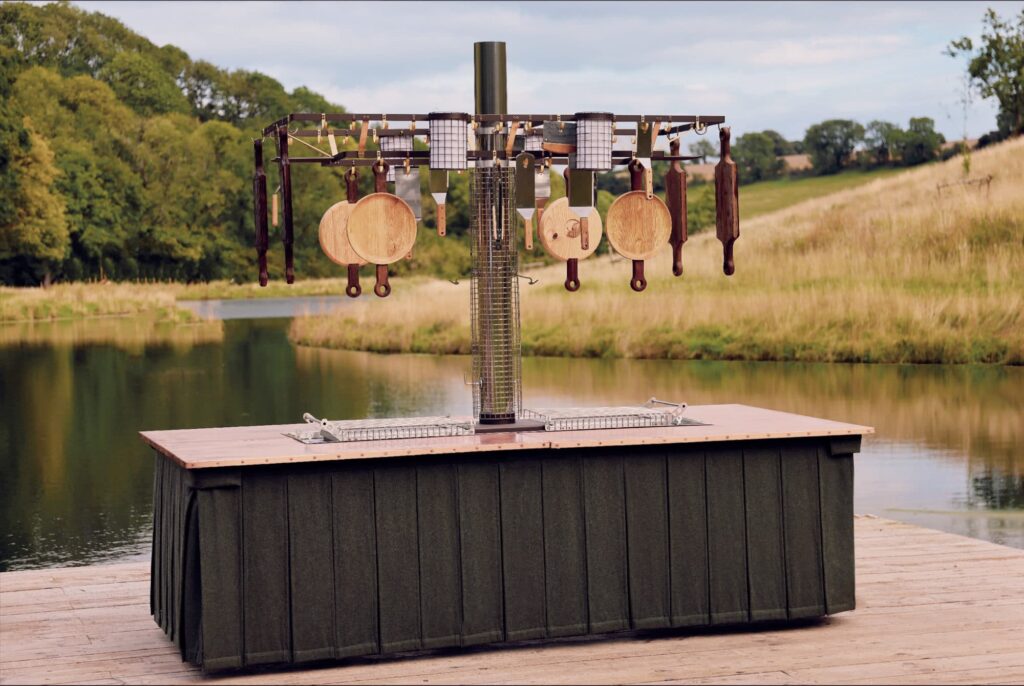 Prices range from Prices range from £2,995 for a 4-seater WildTable, £8,495 for a 12-seater WildTable (including Teppanyaki Cooking Plate, Fire Retardant Gloves, Cooking Tools, WildKitchen Lumpwood Charcoal, WildKitchen Starter Kit and WildTable Protective Cover) to £75,000 for the WildKitchen – am all-singing-all-dancing 12-seater with many extras and a retractable dining tent.
'The Aspirational Caveman WildTable 12' edition for example is £10,113.60. See more/buy here >
'The Caveman WildTable 12' is £7,320.81. See more/buy here >
The 'WildTable 8' is £5,493 – See more/buy here >
The BBQ grill tables also come with an optional, rather majestic, retractable canvas 'WildTent'. The tent creates a controlled indoor/outdoor environment no matter the weather. The design allows you to quickly and easily raise or lower its natural canvas sides and roof, giving you a chance to "bask in the sun or gaze up at the stars on a clear night's sky, or hunker down when the wind picks up, always comforted by the warmth of the central flame".
Ritchie, who also directed Lock, Stock and Two Smoking Barrels and Snatch said he has "a lot of time for cavemen. I like primitive man" adding "but I like the life of a primitive man in a romantic sense: you want to 'cashmere' it. You want all the benefits of a very simple, primal natural life, with all the benefits of evolution and technology that we have managed to refine over the past few hundreds or thousand years, so you can have the best version of a natural life". 
Having experienced this gorgeous bit of kit first hand, Film and Furniture can certainly see how these barbeque grills make a superb addition to any garden or outdoor restaurant as they bring people together in an interactive way to cook and enjoy food. In our current socially distanced age where outdoor gatherings are preferable it also offers a particularly timely solution to social dining.
This really is the ultimate outdoor cooking and dining experience, let's just hope The Gentlemen's Fletcher doesn't turn up as an unwanted guest.
Sponsored post