Exclusive! An original '2001' Djinn chair from Kubrick's film set has emerged and settles a debate
A rare, original Djinn chair from the actual film set of Kubrick's masterpiece 2001: A Space Odyssey (1968) has just surfaced in a South London private home and helps settle an ongoing debate.
Created before man first went to the moon and without the benefits of computer technology, 2001: A Space Odyssey delivered captivating, realistic images of space using effects which broke new technical and artistic ground. This unique and influential film also featured striking space age furniture including the playful yet functional chairs and sofas known as the 'Djinn' series which we first see as Dr Floyd enters the Hilton lobby of Space Station Five on his way to the moon.
Designed by Olivier Mourgue, the Djinn chairs and sofas stand out loud and proud against the high white interiors of the Space Station's lobby and as we discuss in our feature Seeing red or tickled pink? The colour of the Djinn chairs in 2001: A Space Odyssey our investigations into the chairs have thrown up some interesting debates on their true colour – red or pink?
Kubrick ordered that most of the furniture and props used in 2001 be destroyed after filming so that these remarkable objects did not fall into the hands of lessor directors or resurface in other films. The only surviving Djinn piece from the film set that we were aware of to date cropped up on an episode of Antiques Roadshow in 2017. This Djinn sofa, as the Antiques Roadshow expert Marc Allum states, is "a beautifully designed and fluid piece of furniture" of "groundbreaking design". This particular piece was rescued from the film set by 2001 producer Victor Lyndon.
Even though the shabby 50-year-old sofa is covered in a brown fabric and is in a rather sorry state, given its great cinematic and design history it was given a tentative value of £5,000-£8,000.
This week we were extremely excited to receive an email and some photos from a reader of an original Djinn chair from Kubrick's 1960s Shepperton Studios film set, covered in the original pink fabric – meaning it is the only surviving chair from the film covered in the original fabric that we are aware of (if you know different please get in touch).
This rare chair has been kept in a loft in darkness for decades. The owner got in touch with Film and Furniture to ask for some restoration advice and has kindly agreed to us to sharing these photos with you.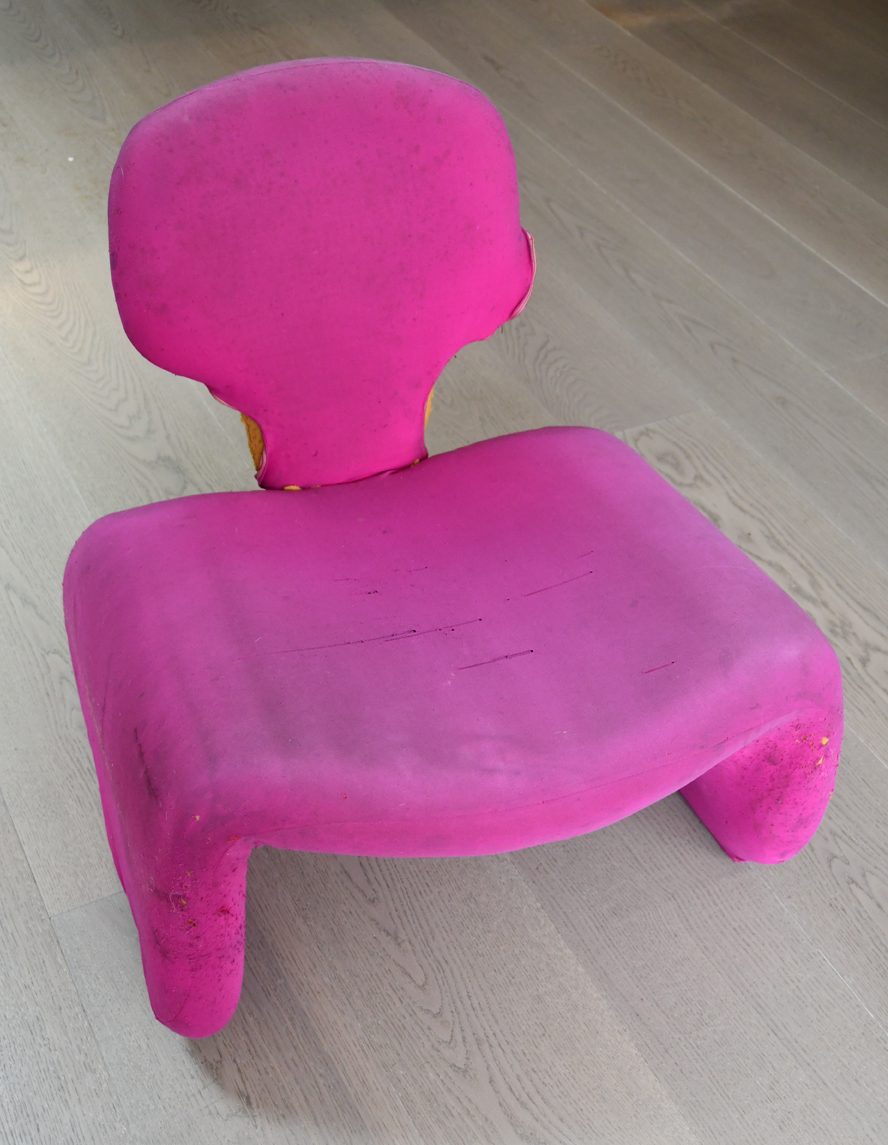 Areas of the fabric of this chair have faded but other sections appear bright and unblemished. Some of the stitching has perished but as you can see these chairs used in the film were most definitely on the magenta/pink scale.
Film and Furniture's own "pink" Djinn is currently on display in the official Kubrick exhibition in the Filmmuseum, Frankfurt. The chair has been carefully lit to appear more red than pink – as was the case in the film itself.
Recently restored Djinn chairs and sofas made from the original shells are available to buy in red in our store.
Read more about these iconic chairs in the following features:
Seeing red or tickled pink? The colour of the Djinn chairs in 2001: A Space Odyssey
2001 A Space Odyssey – a close look at those fabulously futuristic Djinn chairs and how Kubrick's vision of the future was brought to life through 'product placement'