Celebrating Spring with pastel colours in film sets
To celebrate the joys of Spring we take a look at the very specific pastel colour palette that has become synonymous with this time of year – symbolizing positivity and new life. Spring is also the perfect time for a redecoration project so let's take some inspiration from our favourite pastel coloured film sets.
Pastel Green
Pastel green reminds us of new growth, green grass and if you're a film fanatic – the walls of the children's party in The Grand Budapest Hotel.
Pastel Green home decor inspiration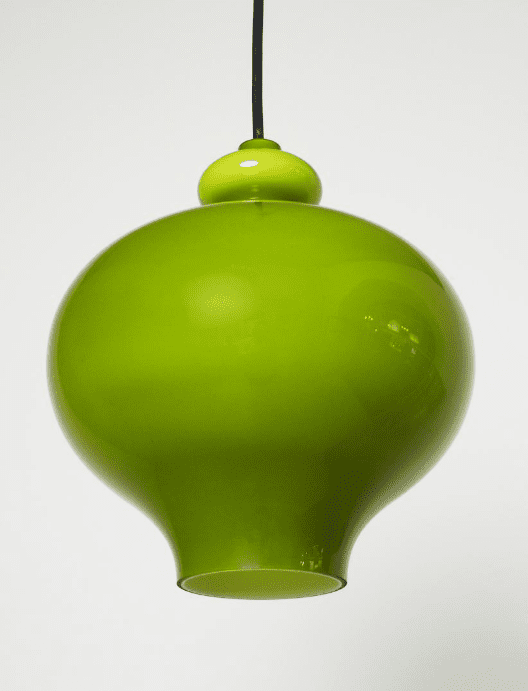 This 1960s German green handblown glass pendant lamp from Staff is currently available from vintage online furniture marketplace Pamono.
£462. Buy now >
Add the perfect finishing touch to any room with this Snapdragon wool throw from Amara. In bright green and pale grey, this throw has a large block stripe design which is a fabulous bold pop of colour to add to the home. Finished with a narrow white stripe and white tasselled edging, it is a luxurious accessory to a bed or sofa.
£60. Buy now >
Pastel Pinks
Pastel pinks symbolize joy, blossom, fresh beginnings and playfulness – and if you're a film and furniture fan – the film set of Hail Caeser!, Napoleon Solo's bathroom carpet in the original 60s Man From Uncle episode The Spy With My Face (1965), the perfect pink Saarinen Womb chairs in Down With Love and of course, Wes Anderson's The Grand Budapest Hotel.
Pink home decor inspiration
This  vintage Djinn Lounge Chair in pink by Olivier Mourgue for Airborne (the red version made it's name in Kubrick's 2001: A Space Odyssey) available from Pamono.
£2306. Buy Now
Take inspiration from The Grand Budapest Hotel before you get the decorators in and search for your perfect pink or gorgeous green at Designer Paint who stock paint by all the most respected companies like Little Greene, Farrow and Ball, Zoffany, Abigail Ahern and Paint by Conran to mention but a few. Little Greene has just launched a delightful capsule collection of 8 new pink paint shades, offering both delicate and bolder hues. Dispelling the myth that pink it sugary and feminine, these fantastic new colours are the ideal backdrop for on trend interiors. Search by colour online >
The Ewer Table lamp from Made has delicate grooves in the glass which gently distorts and diffuses the light. Polished brass fittings complement the gently-hued glass and the soft grey fabric cord finishes the look perfectly.
£59. Buy now >
Pastel blues and lavender
Pastel blues and lavenders reminds us of clear blue skies, spring fresh water, birds eggs and – if your a set decoration devotee – the beautifully executed film sets of the Black Mirror episode Nosedive (five app stars from us for Production Design) and the kitchen cupboard doors in Paddington.
Pastel blue home decor inspiration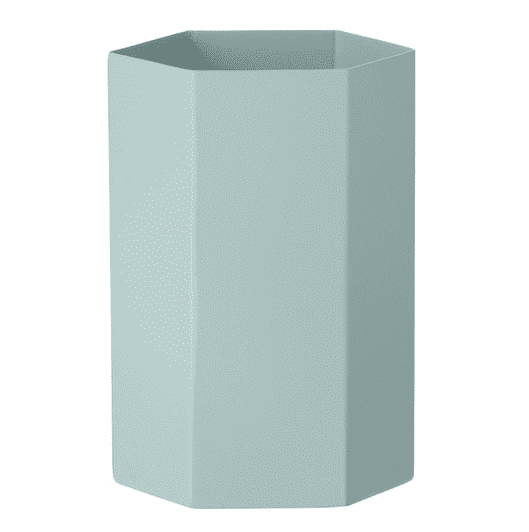 Ferm vases from Amara
Add a decorative touch to a shelf or windowsill with this Hexagon Vase from Ferm Living. In a light blue tone, the vase is made from powder coated metal with a matt finish. Perfect for filling with a favourite flower or to leave empty, team with more colours and sizes available separately to create a statement finish.
£27. Buy now >
The whole range is rather stunning:
This very cute 1950s blue dining chair with wooden legs is available from Pamono.
£128. Buy now >
Yellow
Yellow reminds us of new born chicks, the sun shining, hope and positivity, and – if you're a film fan – the floor tiles in Amelie's bathroom and the bedroom in American Hustle.
Yellow home decor inspiration

This pair of "Lady" easy chairs, designed by Marco Zanuso and manufactured by Arflex in Italy are available from Pamono.
The upholstery has been professionally renewed using velvet in mustard yellow.
£5646. Buy now >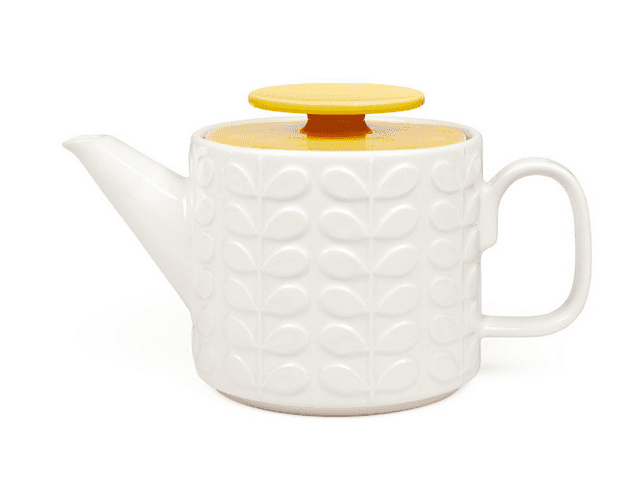 The Orla Kiely Raised Stem Tea Set is available from Amara.
Perfect for spring time with its embossed leaf pattern, bring Orla Kiely's signature style to everyday tea time with this beautifully retro teapot. Made from 100% earthenware it features the raised stem design in cream with a bright yellow lid. Mix & match with more Orla Kiely dinnerware to add fashionable style to your home in an instant.
£60. Buy Now >
Let us know your favourite pastel coloured film set!