5 Films That Exude Fabulous '70s Interior Design
Finding retro home-decor inspiration from Hollywood movies, particularly those filmed or set in the 70s, is a perfect way to discover tricks that will help you add distinctive colours and a late Midcentury aesthetic to your interior design scheme. 
In this article, we will check out some movies that pay homage to fabulous 70's interior design to inspire you to implement this look and feel into your own home.
Whether it's a classic movie from the 70s or a more recent one with a retro theme, these film sets exude the sheer maximalism of the decade, in terms of textures, patterns, and furniture.
1. Licorice Pizza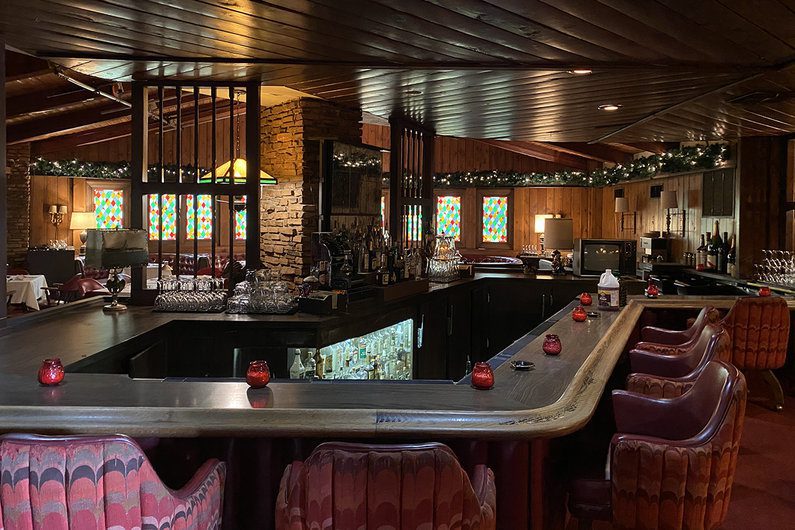 Directed by Paul Thomas Anderson, Licorice Pizza is a 2021 movie set in the LA of 1973. From the restaurants to the homes of the protagonists, this movies oozes 70s style.
From waterbeds, pinball arcades, multi-coloured stained glass windows, teak furniture, wood-panelled walls, to leather seats and pink patterned bar stools, the 70s style pervades the film.
If you haven't watched this movie yet, make sure you do, in order to capture the nostalgia of this coming-of-age story.
2. Boogie Nights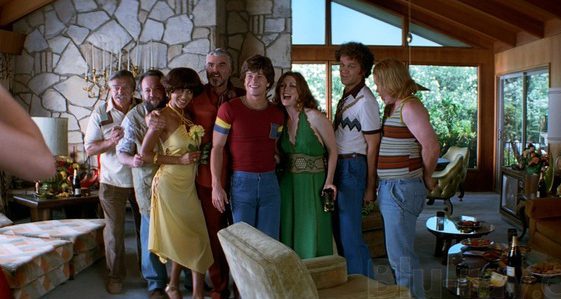 Also directed by Paul Thomas Anderson and also set in Los Angeles's San Fernando Valley, Boogie Nights covers the period 1977 to 1984.
This movie provides plenty of 70s inspiration and ideas. Feast your eyes on the characters' cozy homes and the wood-panelled poolside houses – they're decorated in the height of  70s retro style.
Shag-pile carpets also abound.
3. The Goodbye Girl
Released in 1977, the romantic comedy drama The Goodbye Girl is considered a cult classic and the set design brings us a rustic and intimate colour palette.
If you're looking for design inspiration, check out Paula McFadden's apartment in the movie, where the aesthetics are mostly natural and earthy colours. These colours are accentuated by the sunlight and verdant greens, inspiring comfort and intimacy throughout the film.
Also, check out the 70s rug patterns in several of the rooms to get ideas for a perfect retro rug for your living room.
This colour palette is a big trend among Gen Z  interior designers.
4. A Clockwork Orange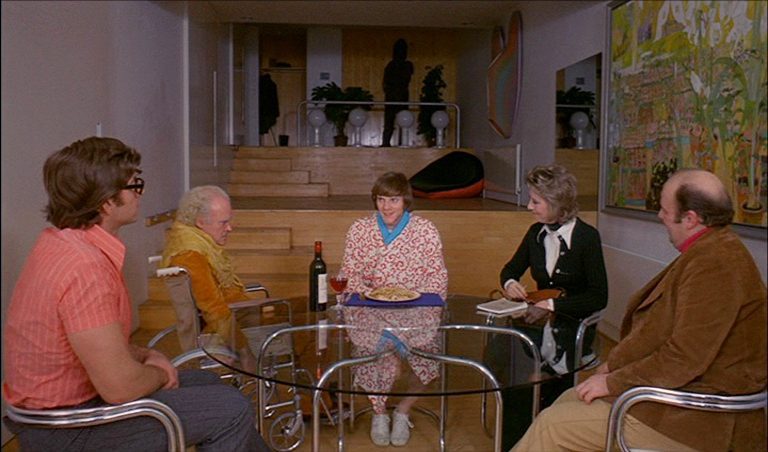 The 70s era is awash with retro interior design inspiration for your home, and in terms of films which exude the maximalism of the time, A Clockwork Orange is high up on the list.
Based on the 1962 Anthony Burgess book this Kubrick movie  embodies a dystopian theme coupled with hyper-stylized film sets. These sets capture a retro-futuristic, mid-century take on interior design.
Mr. and Mrs. Alexander house displays carefully placed ultra modern, space-age 60s furniture, almost like a museum and Alex's parents flat is the epitome of post modernist 70s design
5. American Hustle
American Hustle is a 2013 movie that stars Amy Adams and Christian Bale as the perfect con couple forced by an FBI agent to set up an operation on corrupt politicians.
Production designer Judy Becker did a marvellous job of implementing retro elements into the scenes and creating some wildly different and notable sets. The sophisticated and sleek apartment of the two con artists is simply a rhapsody in retro interior design.
Take inspiration from American Hustle's decor: Wooden or textured wallpapered walls, velvet furniture, and bold accents are some of the retro decor ideas you can incorporate into your living room. Or perhaps, choose some orange-shade wallpapers, vintage metallic furniture, and bold-coloured red or orange rugs.
Enjoy the Decoration Process!
70s design boasts bold colours such as mustards, oranges, and avocados which display an upbeat confidence compared to many of the neutral trends we see today. Retro design trends continue to inspire new generations, with many keen to implement such features into their homes.
While you're in the process of decorating and have picked out your colours, patterns, and designs, make the most out of it! And if you feel like retro 70s style is the right choice for you and your home, make sure you do proper research, and have fun!
Sponsored post.