Get a room! 3D floorplans of famous hotel rooms in film
We're big fans of a good old floor plan. We get pretty hot under the collar about interesting hotel rooms too. And as regular readers of Film and Furniture will well know, we get quite frenzied when it comes to furniture in movies. So we were enthralled when we discovered Expedia.com's celebration of some of the most famous hotel rooms in film – faithfully recreated as 3D floor plans.
Grab your room keys at reception and let's take a look around…
Room 237 in The Shining
The National Historic Timberline Lodge, at Mt Hood in Oregon, USA was the very hotel used as the iconic exterior establishing shots of the wintry Overlook Hotel in Kubrick's The Shining.
The interiors of the hotel in the film were influenced by the interiors of  the Ahwahnee Hotel at Yosemite and were filmed on recreated sets at Elstree Studios, Hertfordshire, UK (where part of the Timberline Lodge was also recreated in a backlot for further exterior shots).
Now known as The Majestic Yosemite Hotel you can book a room whenever we're next allowed to travel.
The purple and green carpet in Room 237 of The Shining is etched on many of our minds and soon we will making this design available as luxury wool rugs, runner and carpet to compliment our officially licensed Hicks Hexagon rugs and carpet from the Overlook Hotel corridor scenes. Email us for details to hear when our eagerly awaited Room 237 rugs launch.
Park Hyatt Hotel in Lost in Translation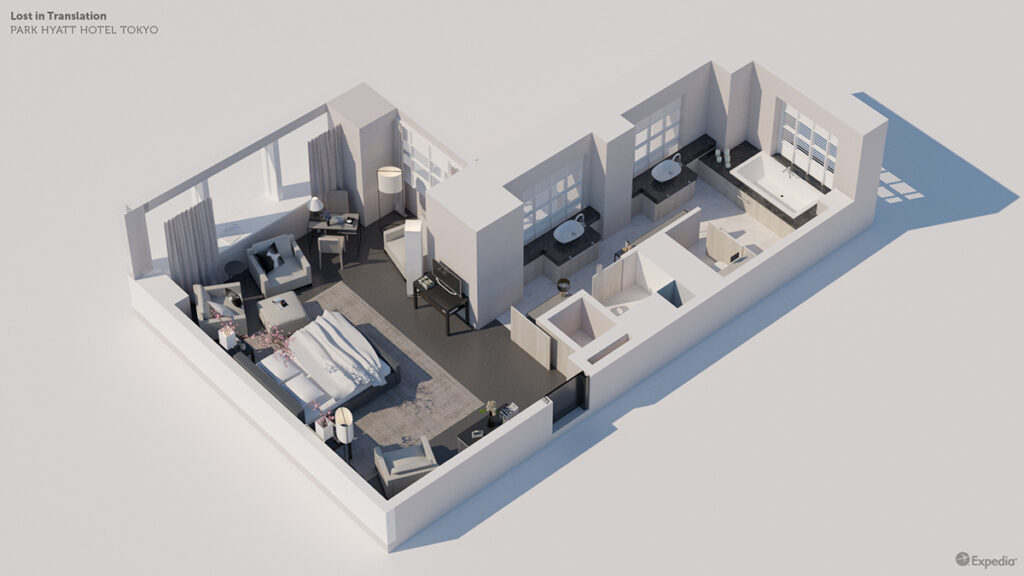 Just the title Lost in Translation conjures up a strong visual of a young melancholic Scarlett Johansson in the bedroom of the Park Hyatt, Tokyo (or sitting at the bar with Bill Murray as he drinks Suntory Whisky). 
Fontainebleau Miami Beach in James Bond: Goldfinger
The Fontainebleau Miami Beach hotel is where Sean Connery discovers the infamous 'golden girl' Jill Masterson (played by Shirley Eaton) asphyxiated with gold paint in Goldfinger. What a way to go!
The same hotel has featured in Scarface (1983) and Police Academy 5 (1988). Reserve your room here.
Ambassador Hotel in Fear and Loathing in Las Vegas
Sadly, you can no longer book a room at The Ambassador hotel as seen in Terry Gilliam's psychedelic adaptation of Hunter S. Thompson's book Fear and Loathing in Las Vegas. It has now been demolished but it lives on in celluloid and in the memories of anyone who attended any one of the six Academy Awards ceremonies that were held there. 
Hôtel Raphael in Hotel Chevalier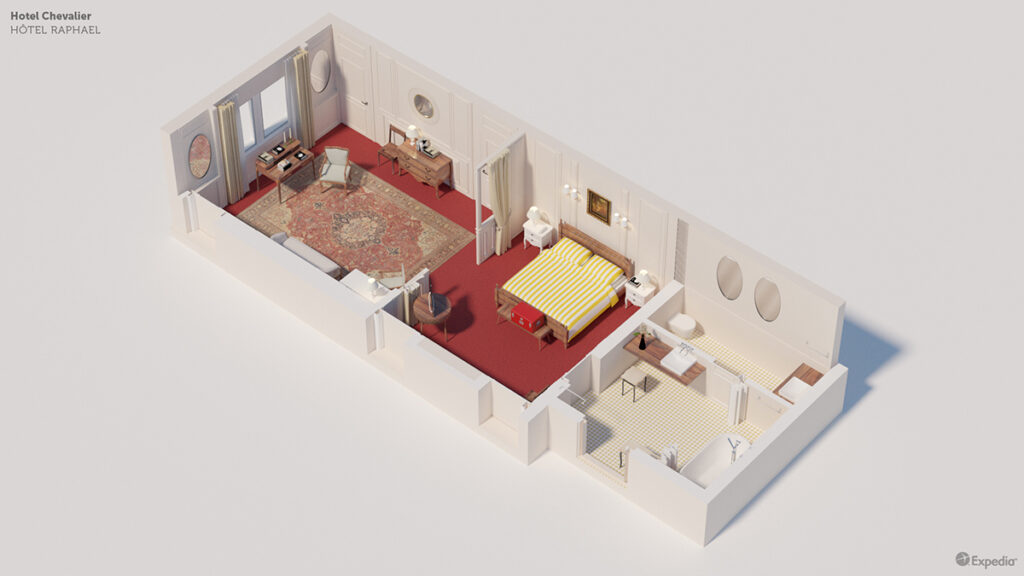 Hotel Chevalier was 'played by' Hôtel Raphael on Avenue Kléber in Paris in Wes Anderson's short prologue to The Darjeeling Limited.
Caesars Palace in The Hangover
The Hangover reignited the already famous Las Vegas hotel. Is there any better place for a stag weekend than Caesars Palace?
Which one of these famous hotel rooms in film would you most like to check into?
If you love films and floor plans as much as we do, you will also love the work of Floor Plan Croissant. That's guaranteed. Check out her work on films in our feature Mesmerising film set floor plans.