Lights and lamps inspiration from film and TV
Remember Amelie's cute bedside pig lamp? Or the dynamic curve of the Arco floor lamp in Iron Man's house? Or maybe it's the abundance of retro table lamps in the Bond movies of the 60s and 70s which you revere. In a movie or TV filmset the choice of lights and lamps can tell us a great deal about the characters that live in the space and add architectural interest to the scene, whether that's an eye catching vintage Cobra table lamp in Maurizio Gucci's sophisticated office in House of Gucci, a sculptural Danish pendant light hanging from the ceiling in Borgen, or M's Poul Henningsen desk lamp in the Bond movie Quantum of Solace.
While most lighting set-ups in filmmaking are created using studio lights, movie props (that provide additional illumination) like table lamps, floor lamps, candles or even torches can be incorporated to enhance the mood of the scene. 
Films and TV programmes bring us a plethora of lighting and interior design inspiration for our own homes. Lights and lamps in our own interior projects don't just simply light up a room: Light fittings, just like a new piece of furniture, can completely change the feel and atmosphere of the space through the choice of style, design and shape and by the kind of light they emit. The careful placing of a statement light can bring an interior design project to life and great lighting can create depth, a cosy spot, or draw attention to a particular piece of furniture or art. 
The right lighting can also increase your feeling of well-being and the latest lamps and light bulbs can help save you energy and money. High-quality LED lamps, for example, can save you up to 90% in electricity costs and are just as bright as traditional light bulbs. As energy savings mean lower CO2 emissions, you're also helping the environment at the same time.
Taking inspiration from our favourite films and TV series', join us as take a deep dive into lights and lamps on the screen. 
The Twiggy arc floor lamp in How Do You Know? and Ten Percent
The Twiggy arc floor lamp from Foscarini is the perfect addition to any space and creates additional interest in the scene above in the Romcom How Do You Know?. In Matty's (Owen Wilson) apartment we see the Twiggy floor lamp in a rather stunning red colour. Foscarini are one of our favourite contemporary lighting companies and indeed a black Twiggy sits in F&F HQ!
The TV series Ten Percent takes place at a London talent agency where agents scramble to keep their star actor clients happy. The character Jonathan Nightingale takes refuge from the stress in his beautiful home which also features a Twiggy floor lamp.
Designed by Marc Sadler in 2007, the linear design of this floor lamp is combined with strong flexibility and a sophisticated lighting.  The curved rod can be tilted further down in height by weights and the flat base can easily be pushed under the sofa.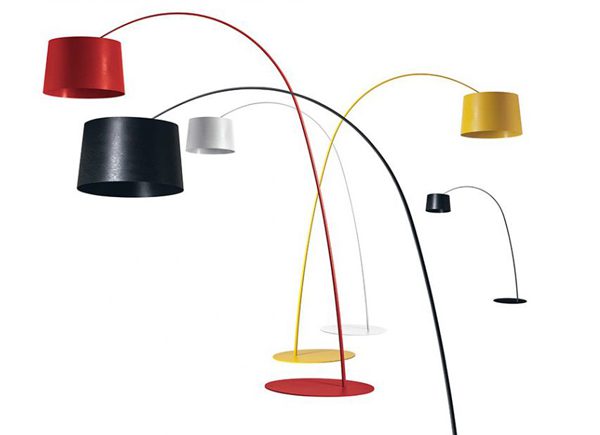 Buy the Twiggy floor lamp, from £1,619 here >


The Tolomeo desk lamp in Julieta
Red is a recurring theme in films of the much respected Spanish director Pedro Almodovar: Red signifies danger, passion, love and death.
In his film Julieta we find a red lamp on her desk similar to the Tolomeo Micro Red Desk Lamp. This award winning and museum featured table/desk lamp is a stylish and practical design, providing the quality of light needed to work efficiently.
The Tolomeo Micro desk lamp by Artemide has a fully-adjustable, articulated arm (in extruded, anodised aluminium) and has won several international design awards, including the "Compasso d'Oro" (1989) and the "Observeur du design" (2001).
The designer and architect Michele de Lucchi developed the Tolomeo light series together with Giancarlo Fassina more than 30 years ago. Inspired by a mechanism seen used by fishermen in Apulia, this desk lamp was originally designed by Lucchi for his own workspace. 
This lamp is available in a range of other colours too.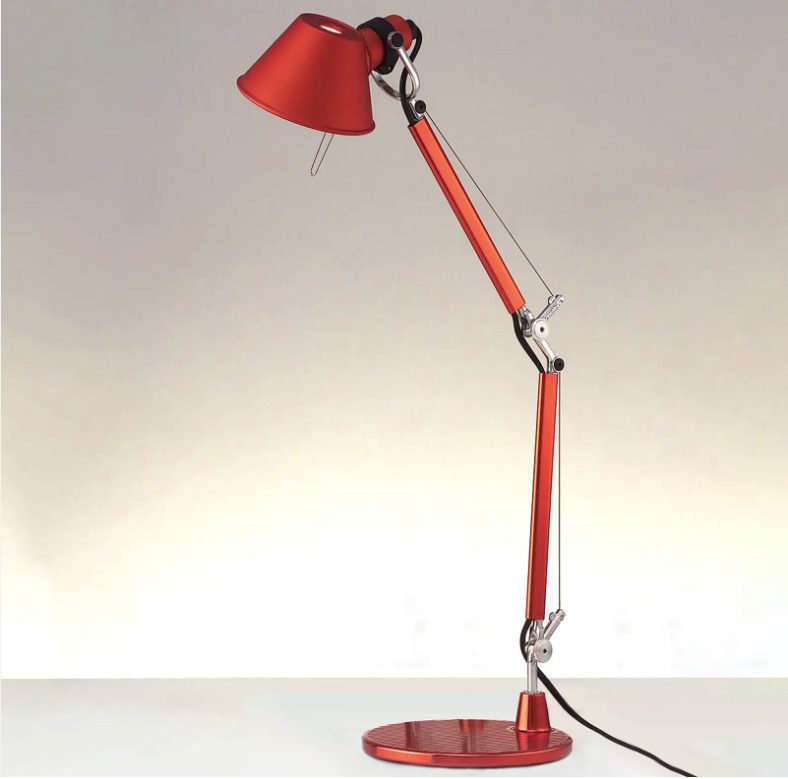 Buy the Tolomeo desk lamp, from £199 here > 

The Pipistrello lamp in Pain and Glory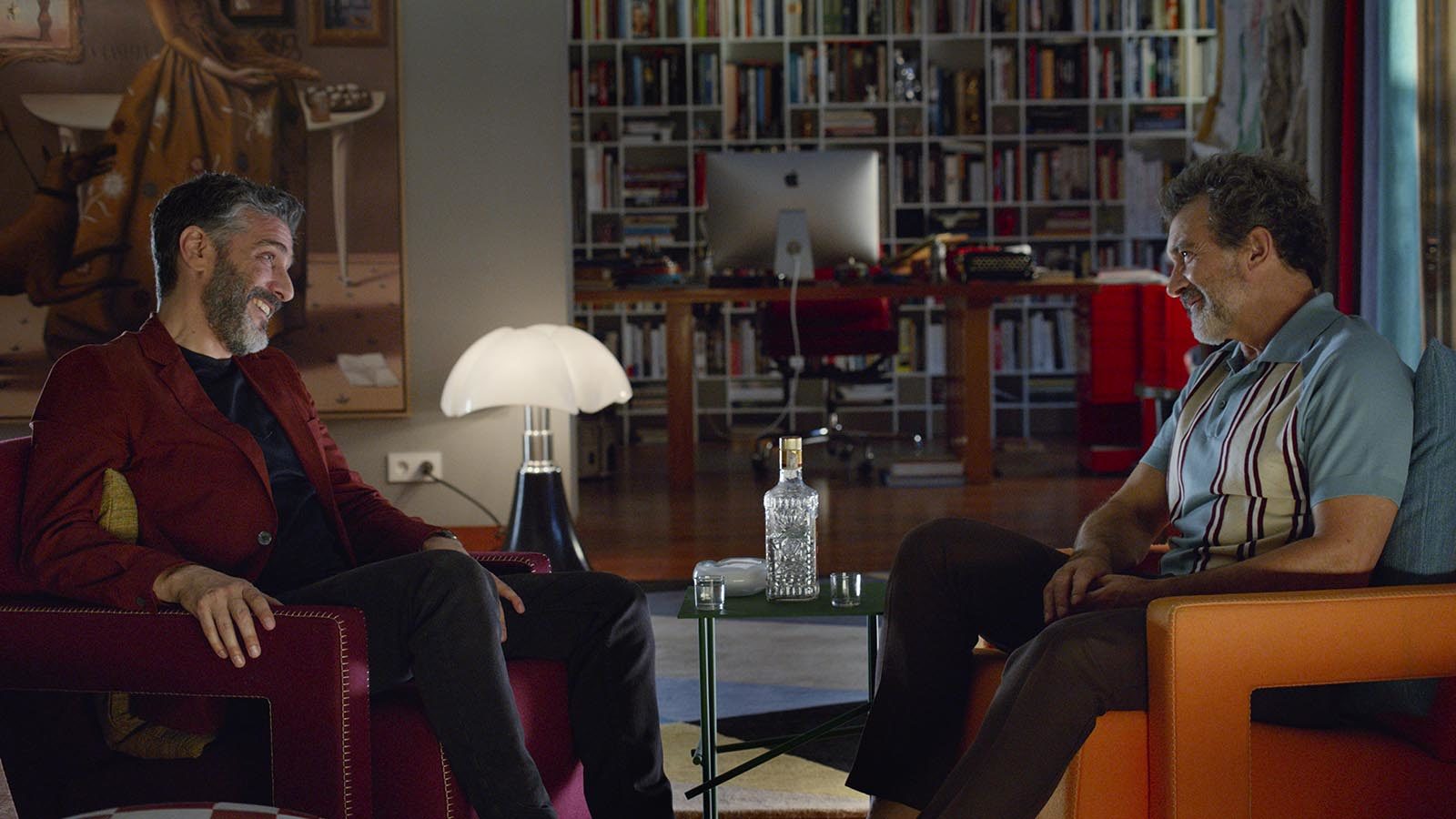 Keeping on the Almodovar theme, his 21st movie Pain and Glory deals with the struggles of ageing film Director Salvador Mallo (Antonio Banderas). Mallo's apartment in the film is based on Almodóvar's own Milan residence and here we find an eye-catching Pipistrello lamp.
Manufactured by Martinelli Luce, this table lamp exhibits an imposing yet elegant character given its height. The clever telescopic metal base allows for adjustments to the height and although the lamp is reminiscent of a palm tree, Pipistrello actually means 'bat'.
Designed in 1965 by the Italian architect and designer Gaetana "Gae" Aulenti the Pipistrello cuts an excellent figure. It can be placed on the table as well as the floor and the shade, made of opal methacrylate, is divided into four sections to emit the light of the four bulbs evenly into the room.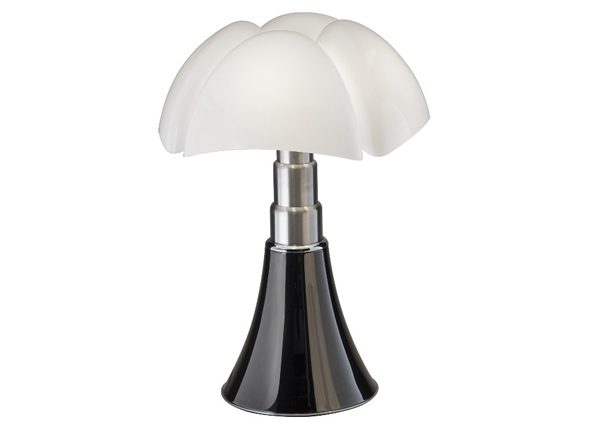 Buy the Pipistrello lamp, from £739 here > 
Summer Sale: Lights.co.uk have a Summer Sale on right now: Get an extra 10% off on orders over £50 such as the Pipistrello lamp above – and even on reduced items – from 4th July to 10th July 2022. Use the code UK22-SUMMER10 to save now!
From 11th July to 17th July 2022 get an extra 12% off on orders over £60 – Use code: UK22-SHINE12 and an extra 15% off on orders over £100 with with free delivery within the UK – Use code UK22-SHINE15
From 19th July to 25th July 2022 get an extra 13% off on orders over £110, with free delivery within the UK – use code UK22-SUMMER13
Aplomb concrete pendant light in Suits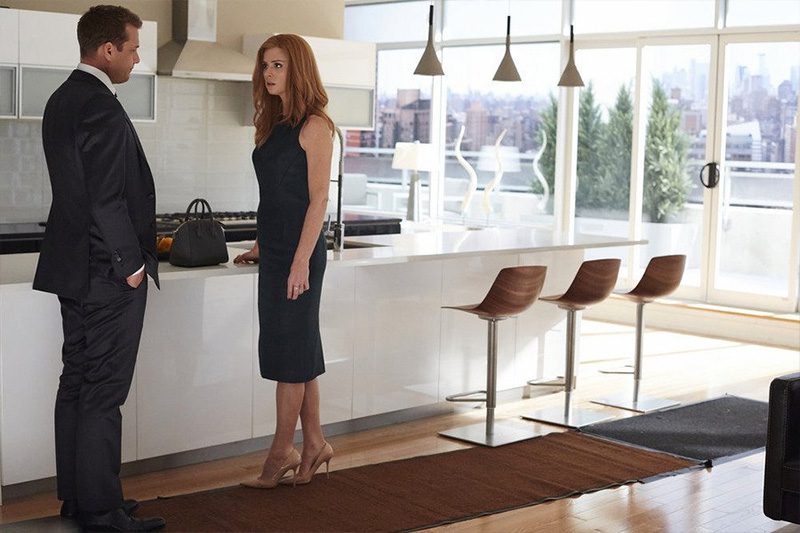 We can take quite a lot of interiors influence from sharp-dressed lawyer Harvey Specter in Suits. His apartment has wrap-around views and is equally sharp-dressed. His spacious kitchen area is stunning and above the vast island counter we find three clean-lined grey Aplomb Pendant Lights by Milanese design duo Paolo Lucidi and Luca Pevere.
Crafted from concrete and cast in a linear lampshade style, the Aplomb Pendant takes its cues from industrial materials to update and refine the traditional pendant light: This light was born out of the desire to work with concrete, an unusual material for a lamp shade. It appears both elegant and raw at the same time and is identifiable by its characteristic shape of an inverted funnel. 
The extraordinary surface is created by a special cement mixture poured by hand into a thin mould in a liquid state. Special colour pigments give the basic material a new interpretation.
The Aplomb's elegant shade allows light to shine down in a targeted and glare-free way making it perfect for lighting kitchen tables or counters, whether individually, in groups or in combination with the slightly larger version of the Aplomb series.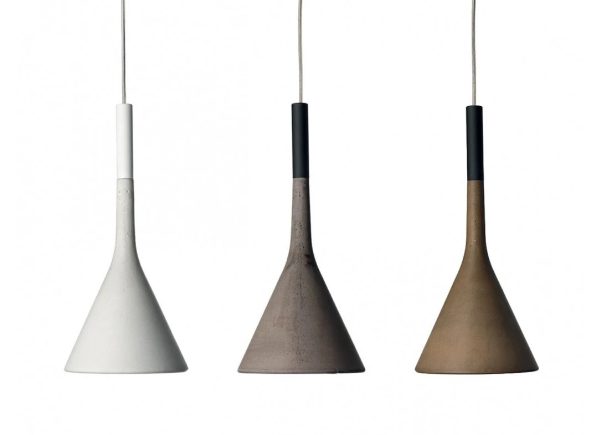 Buy the Aplomb Concrete Pendant Light, from £239 here >
Poul Henningsen PH lamp series in Borgen, Luke Cage, Widows and Quantum of Solace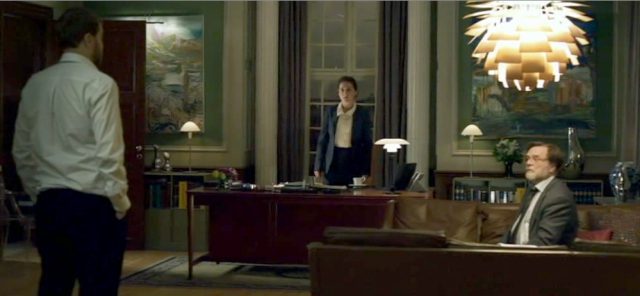 Designer Poul Henningsen (1894-1967) created iconic and memorable shapes with his lighting. He was an author, critic, architect, and designer and in Denmark, he was a leading figure of the cultural life of his home country .
He is most associated with his design of the distinctive PH-lamp series which feature glare-free, shaded lamps which give off a warm, soft light.
The PH Artichoke hanging lamp designed in 1958 features in Cottonmouth's Harlem Paradise club in Marvel's Luke Cage (below). Perhaps not surprisingly, we also spotted this light in Danish political drama series Borgen (above) which is in set Copenhagen. We see two PH Artichoke lamps hanging in the formal political offices which adds a notable modern design aesthetic to an otherwise classical space.
The Artichoke is available in several sizes and finishes such as white, black, brass and copper etc.
Buy the PH Artichoke hanging lamp, from £7,359 here >
As a budget option with a similar aesthetic, we would suggested the UMAGE Silvia medium pendant at £99.
We wouldn't normally seek interior design tips from a criminal mastermind and his wife, but when your home décor taste is as refined as Harry and Veronica Rawlings from heist thriller Widows, we're all eyes and ears. The bold coloured pendant light in their otherwise monochrome kitchen makes a statement and adds a pop of colour.
This beautiful light is the PH 31/2 – 3 Pendant Lamp in red also by Poul Henningsen for Louis Poulsen. This ceiling pendant light comes in various number of 'layers' and colours. More often seen in white, the choice of a red suspension light works brilliantly here.
The fixture is designed based on the principle of a reflective three-shade system, which directs the majority of the light downwards. The shades are made of mouth-blown opal three-layer glass, which is glossy on top and sandblasted matt on the underside, giving a soft and uniform light distribution.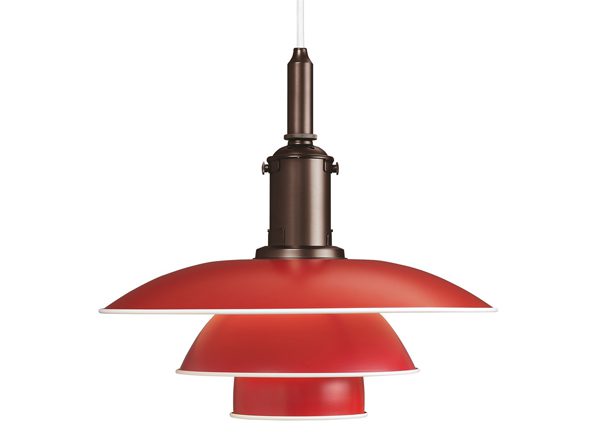 Buy the PH Pendant Light, from £639 here >
From a criminal mastermind to the head of the Secret Intelligence Service: M's choice of office lamp in the Bond film Quantum of Solace (below) is from the same design series – it's the elegant PH Table Lamp.
The dynamic looking table lamp was originally designed in 1925 and has been crafted in Denmark ever since.
Like the PH Pendant light, this table lamp features a tiered shade for a glare-free light.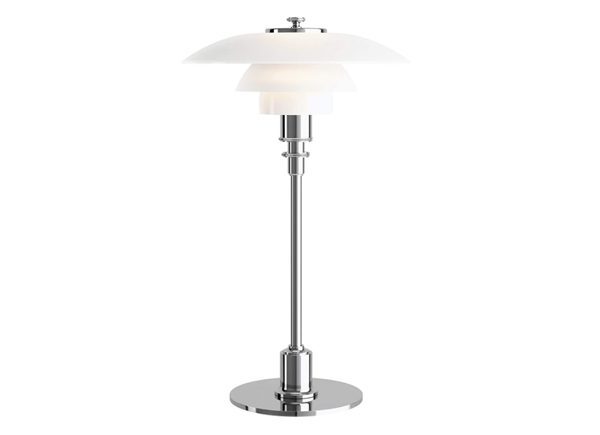 Buy the PH Table Lamp, from £689 here >
The Cobra Table Lamp in House of Gucci
Lady Gaga, Al Pacino, Jeremy Irons, Adam Driver, Salma Hayek and Jared Leto all make compelling performances in the House of Gucci, and in fact much of the luxury furniture pieces and lighting chosen for the filmsets play starring roles too!
In Maurizio Gucci's refined Italian office we find a Cobra Table Lamp. This lamp's shape, designed by Elio Martinelli, takes its cues from the snake, and the rotating arm enables the light to create direct and indirect lighting.
This retro looking lamp is suited as a reading light, a bedside light in the bedroom and also as a desk lamp in the office and is available in high gloss white, black and red.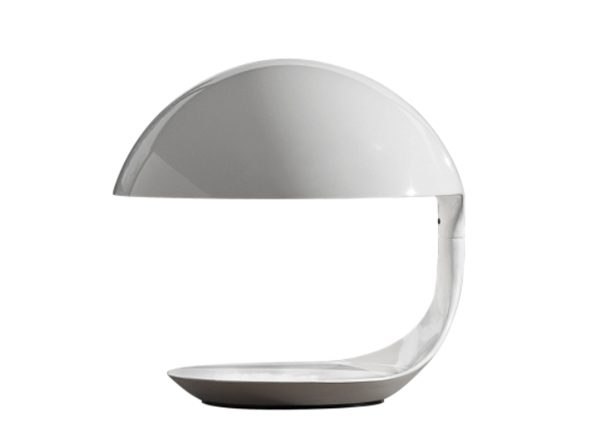 Buy the Cobra Table Lamp, from £619 here >
Lights.co.uk Summer Sale: Get an extra 10% off on orders over £50 such as the Cobra Table lamp above – and even on reduced items – from 4th July to 10th July 2022. Use the code UK22-SUMMER10 to save now! (see above for additional voucher codes which apply after 10th July).
The Luminator Floor Lamp in House of Gucci
Also in the Gucci office we find a Luminator Floor Lamp (seen in the corner on the right, above).
The floor lamp is one of the first projects that Pietro Chiesa, then the owner of a workshop in Milan specialising in artistic glasswork, created for FontanaArte – where he would later become artistic director alongside Gio Ponti.
The indirect light floor lamp is composed of a thin metal shaft that opens into a cone from which the light emits. It is available in nickel and white.
Buy the Luminator floor lamp, from £1,629 here >
Find your lights and lamps!
We're often looking for a good online source to buy lights and lamps and so we were excited to discover Lights.co.uk recently – all the lamps and lights featured in the article above are available from their online store. They're a great source for so many lights from designer brands to lesser known ones too. In their online shop you will find your dream light and lamp from a wide range of products (almost 50,000!), whether for your house, garden, office or shop.
If you have any questions related to lights and lamps, on changing from traditional light bulbs to LED lamps for example, then their knowledgeable customer service team will be more than happy to help. Check them out!
Sponsored Post