The film sets of Normal People ooze interiors inspiration
The screen adaptation of Irish author Sally Rooney's novel Normal People takes us on an emotional and sexual rollercoaster. It also takes us on a journey through some captivating locations, film sets and interiors.
The 12 half-hour episodes (directed by Lenny Abrahamson and Hettie Macdonald) follow the story of an intense and fraught love affair between Marianne (Daisy Edgar-Jones) and Connell (Paul Mescal). We binge-watched the entire series over two nights!
With production design by Lucy Van Lonkhuyen, the family homes and student digs of the two protagonists help to portray their contrasting backgrounds. The locations and film sets of Normal People also serve brilliantly to contextualise and set the scene as time passes in their lives – from school to young adulthood.
Marianne's well-to-do family home, her Dublin flat and to-die-for Italian villa all caught our attention. Let us explore…
Marianne's family home in Sligo.
Marianne and Connell both grow up and go to school in Sligo, Ireland. Marianne's striking home was filmed in Enniskerry in County Wicklow just outside of Dublin.
The house chosen for filming is a classical hunting lodge – once part of a larger estate, and the film set interiors are magnificent. Natural light floods the rooms making for some moody scenes.
This aspirational family house is predominantly decorated in muted tones of slate blue, greys and sage, and complemented by many natural wood features and furniture – presumably chosen by Marianne's solicitor Mother. Although a cold character, she clearly has sophisticated taste. Perhaps she uses her home to express the inner feelings she doesn't outwardly show. She wouldn't be the first to do so.
The expansive open plan kitchen/dining room (with original french doors leading to the garden) is of particular note.
Around the wooden-topped dining table we find a set of Wishbone chairs. These sculptural chairs were designed by Hans J. Wegner and have been produced by the Danish firm Carl Hansen & Søn since 1950. A fine choice of dining chair.
Marianne's Dublin flat
Fast forward, and we find ourselves in Marianne's student home whilst studying at Trinity College (where writer Rooney also went to university). These scenes were filmed at Wellington Road in Ballsbridge.
This attractive road in Dublin features many Georgian houses once inhabited by aristocracy or landed gentry who lived down country.
The Dublin flat film set interiors are brimming with bric-a-brac and antique finds to create what makes for a dream of a bohemian pad. It oozes with atmosphere.
Every shelf and mantlepiece is filled with eclectic vases, bottles, candles and all manner of vessels.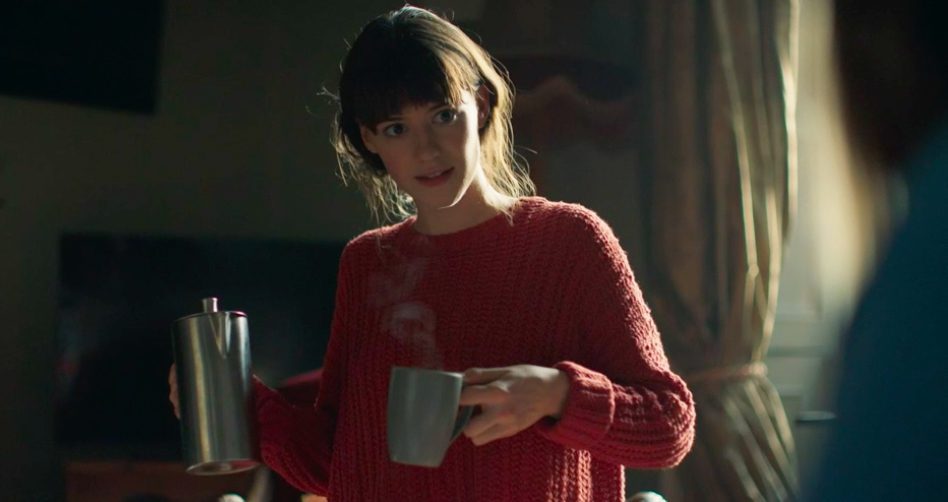 Amongst all the 'shabby chic' (as some interior magazines irritatingly refer to this style of design), as Marianne and her flat mate Joanna discuss their future lives, look at books on art and drink coffee from what appears to be our favourite cafetiere – the Stellar Double Walled Cafetiere. Having done a lot of research on cafetieres a little while ago we can testify this is the most perfect of its kind! Whilst Marianne rejects her Mother, she seems to have inherited some of her classy taste in homeware.
And if the Slilgo family home and Dublin flat weren't enough to get our fill of interiors inspiration, we are introduced later in the series to…
Marianne's family Italian villa
The Italian villa scenes in Normal People are set in Trieste but were actually filmed at Tenuta di Verzano 'Il Casale' in Sant'Oreste.
A typical Italian country home with a traditional kitchen, distinctive tiled floors and walls throughout, a beautiful swimming pool and a picturesque al fresco dining area.
It is while Marianne and her friends eat lunch 'all'aperto' they have to explain to Marianne's obnoxious current boyfriend Jamie, the difference between a champagne coupe and a flute. We proceed to get some long lingering close-ups of the vintage glassware. You can almost taste the bubbles.
This same Italian house was also used in Eat Pray Love starring Julia Roberts and you can rent this very 4-bedroomed villa yourself on airbnb for 236 euros a night.
You can find a wide selection of vintage champagne glasses and glassware of all kinds at Etsy. We'd have no hesitation in raising a glass to the stunning production design in this series.
Which is your favourite of the atmospheric film sets of Normal People?
This TV series is now streaming on the BBC iPlayer, Hulu and Stan.