Johnnie Walker new Black Label whisky to appear in Blade Runner 2049 – order yours now!
Johnnie Walker have released a one-off whisky blend in a distinctive, futuristic-shaped bottle in honour of the highly anticipated Blade Runner 2049 film. The new whisky, we can confirm, will appear in the new Sci-Fi movie.
Those of you who follow Film and Furniture will already be aware that Johnnie Walker Black Label featured in the original movie 35 years ago. The unusual bottle shape takes it's cues from the Arnolfo Di Cambio whisky glasses which Deckard (Harrison Ford) drinks from in the 1982 movie.
The new whisky blend and bottle is the result of an official collaboration between Master Blender Jim Beveridge (what a name!) with Blade Runner 2049 Director Denis Villeneuve to reflect the movie's character. "Like many fans, I remember the Johnnie Walker bottle from the first film, so it was a unique privilege to collaborate with Johnnie Walker on designing a totally original, custom bottle for the new movie. It was also a once-in-a-lifetime experience to help create the limited-edition Director's Cut blend, which perfectly captures the complex and mysterious world of Blade Runner 2049." says Denis Villeneuve.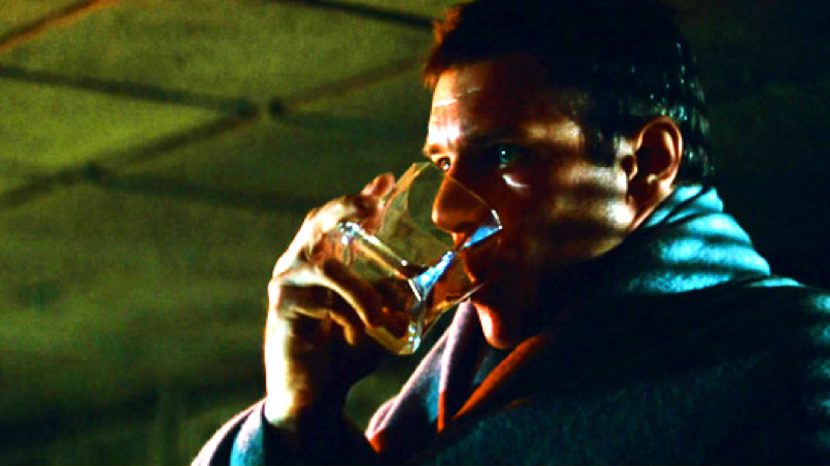 Johnnie Walker describe the new blend as having "our trademark smokiness and a contemporary twist… with sweet fruity vanilla flavours and is bottled at 49% ABV for added intensity" and as a nod to the date the film is set, no doubt.

So now dear Blade Runner fans, not only can you buy the exact same beautiful heavy weight glasses, but the exact whisky too.
'Johnnie Walker Black Label, The Directors Cut' whisky is available in a limited edition. Some less scrupulous reporting will have you believe they are in a limited edition of 2000 but we can confirm the edition is in fact 39,000 – but that is across the entire world, and at £99 you are paying not only for a limited edition whisky blend but a highly collectible and distinctive bottle. Our usual retailer has already sold out but you can still order on Amazon:
Order your Johnnie Walker Black Label The Directors Cut Whisky, £99 here now before they're all gone!
UPDATE 2021: OUR USUAL RETAIL PARTNER NOW HAS THESE BACK IN STOCK. BUY HERE >
We can't think of a better present package for a whisky drinking film collector: The official Blade Runner glasses, the new Blade Runner whisky – the Johnnie Walker Black Label The Directors Cut Whisky plus the Blade Runner (1982) DVD
Set 30 years after the original, Blade Runner 2049 stars Ryan Gosling, with Harrison Ford reprising his role of Deckard. Let's hope we're celebrating with pure joy and not drowning our sorrows with disappointment when the new movie comes our way October 5th.
You may also be interested in:
The CIBI italian whisky glass tumbler to reappear in Blade Runner 2049?
How Blade Runner combines a multi-cultural past with a retro-fitted present (plus details on those iconic whiskey glasses)
Essential viewing for Blade Runner fans: An atmospheric tour of Deckard's apartment