Seduced by set decoration: Details of The Graduate film sets
A one of a kind cinematic portrait of 1960s America, The Graduate hit cinemas in 1967 and had the kind of cultural impact that comes along only once in a generation. To celebrate one of the most beloved American films of all time, Studio Canal release The Graduate 50th Anniversary Edition 4K restoration (Blu-ray/DVD/Download) on August 14, 2017.
We honour this anniversary and the new 4K restoration by taking a good look at The Graduate film sets. We investigate details of the furniture and decor, show you how to get the look and give you a sneak peak at the exclusive on-set photographs by legendary Hollywood photographer, Bob Willoughby.
A complete sensation on its original release, The Graduate, based on the novel by Charles Webb, captured the mood of disaffected youth seething beneath the laid-back exterior of 1960s California. It earned Mike Nichols a Best Director Oscar, introduced the music of Simon & Garfunkel to a wider audience and featured one of the most famous seductions in movie history. The Graduate also introduced the world to a young Dustin Hoffman, perfectly cast (despite Robert Redford being in the running) as the naïve Benjamin.
The Graduate's influential film set decoration
Benjamin Braddock, having just finished college is lost in a sea of confusion as he wonders what to do with his life. He returns to his parents luxurious home, where he idles away the summer mostly brooding in silence. The lavish suburban Californian house acts as a backdrop for Benjamin's boredom, as we see him floating in the swimming pool or in his bedroom staring through the fish tank, a representation of his entrapment.
He is rescued from the boredom when he is seduced into a clandestine affair with a middle-aged married friend of his parents, Mrs Robinson, who also feels trapped – in a loveless marriage. The Mrs Robinson character played brilliantly by Anne Bancroft is predatory, cool, and ironic. The liaison is soon complicated by Benjamin's infatuation with her college-age daughter Elaine (Katharine Ross).
The film set decoration by George Nelson creates a strong mood and gives us many clues to the world, culture and style these characters inhabit. Mrs Robinson's Beverly Hills home encapsulates a 1960s upper middle class, decadent style. The house into which Ben is lured, is brimming with fabulous lavish lamps, decorative bottles of booze and huge tropical plants. It is a fantastic resource for interior design inspiration.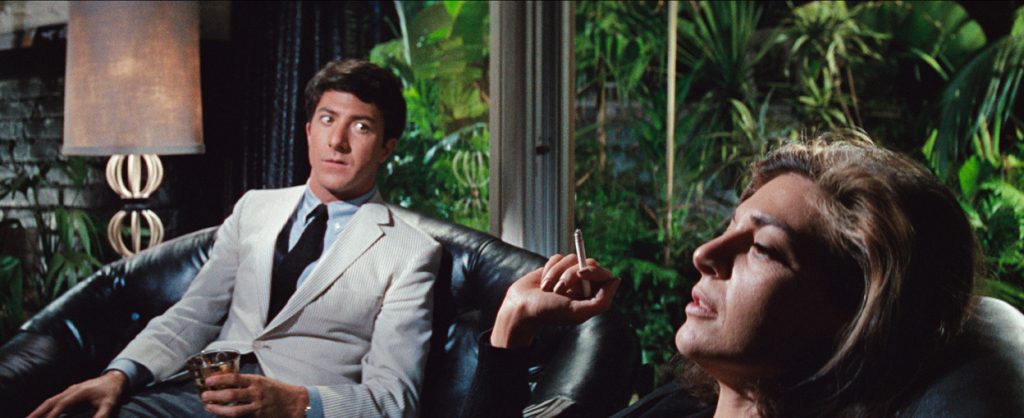 The Production Designer Richard Sylbert (who also worked on Carlito's Way) and Director Mike Nichols held long conversations about how to capture what they considered the essence of Beverly Hills—its "flora and fauna trapped, as it were, behind all that expensive glass". This is echoed when we view Benjamin through his aquarium (above), then walking around the house in his scuba diving mask and at the climax when he bangs on the plate-glass window in the church where Elaine is marrying his rival. All symbols of separation and suffocation.
Mrs Robinson's bar
Mrs Robinson's chic bar is a Film and Furniture favourite and exemplifies 60s luxury lifestyle. Separated by walls of glass with greenery beyond, the effect of the white bar stools and black leather armchairs is as aspirational today as it was then. The monochrome combination set against a backdrop of lush green plants is a look we can take much influence from.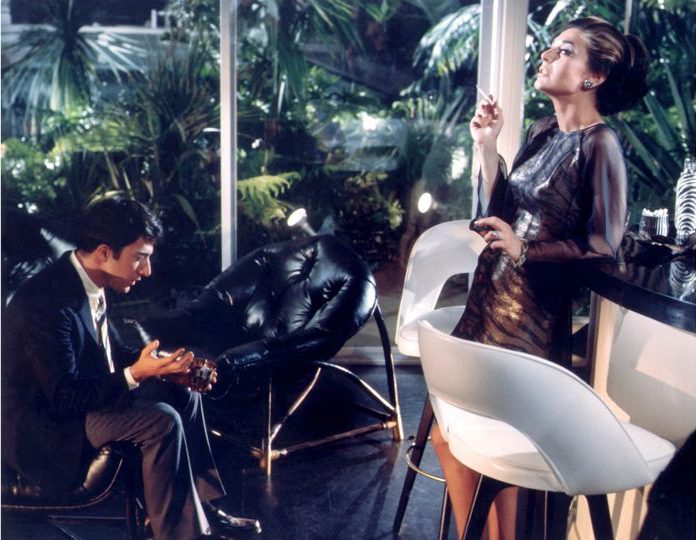 The white leather or vinyl bar stools look very much like the designs of Mid Century Modern icon Eero Saarinen, given the shape of the back rest and hole which mirror his Conference Chair design of 1950 for Knoll. The white high bar stools contrast with the relaxed black leather round armchair with metal legs.
The bar and indeed much of the house is a melody in monochrome –  we see a wonderful black and white bar sign in pride of place on the bar counter, a black ice bucket, oversized decorative bottles, an ornate silver cocktail shaker, a black Bakelite phone, an oversized zebra patterned cigarette lighter (with which Mrs Robinson lights one of her many cigarettes) and a Zebra print throw.
Behind the bar is an assemblage of striking barware. This is the home bar of a professional drinker who is out to impress.
Beyond the bar, the hallway continues the monochrome look with black floor, stair rail and banister contrasting with white walls and a dramatic chandelier.
Get the 1960s monochrome look of Mrs Robinson's bar

White leather Saarinen conference chairs are available from Design Within Reach, 2 Modern and The Conran Shop.
Find vintage versions at Etsy.
The Saarinen bar stools in Mrs Robinson Bar in The Graduate are a little harder to come by but Metro Retro in Pasadena, USA were recently selling this set below which appear to be an exact match, but in black vinyl with the exact teak wood tapered splayed legs and the metal foot rest ring.
Mrs Robinson contrasts the high white bar stools with a the low black leather chair. Pamono currently have these two beauties.
This model D99 lounge chair (below) was designed by Hans Könecke and was produced by Tecta in Germany in 1965. The piece features a chrome plated steel frame, with a seat and arm rests in black leather.
For vintage barware, Etsy is your best port of call where we found (shown below) this retro ice bucket (£15), black glazed water jug (£12), 1950s black and gold decanter and double old fashioned glasses set (£42.95), a 1960s cocktail recipe glass tumbler, a 1960s table lighter & roulette ashtray in silver metal faux bamboo and a retro silver plated missile cocktail shaker. Find these and much more if you search 'barware' on Etsy.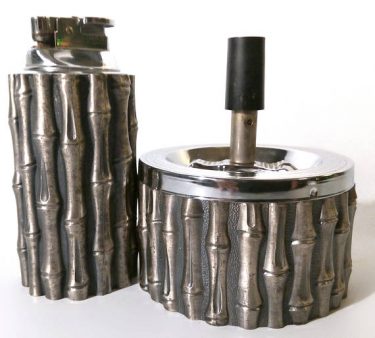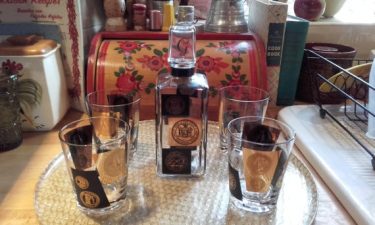 Bold table lamps are signifiers of 1960s home decor. We have selected an edit of 1950s and 60s table lamps currently available on Etsy for your delight. Search 'mid century table lamps' on Etsy.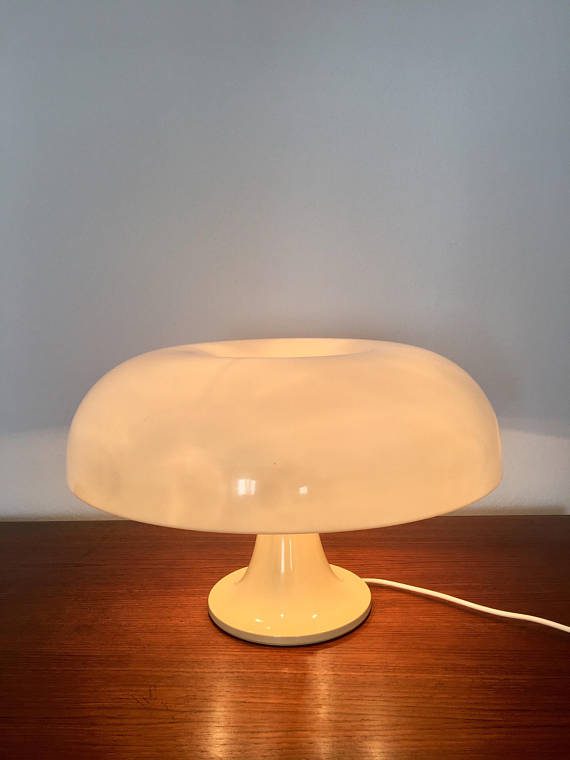 Mrs Robinson's bedroom
Mrs Robinson's bedroom is carefully styled – predominately in white with lilac pink and gold highlights. We see acres of white shag pile carpet, white louvered doors, a large hollywood style mirror above a white dressing table, a white chair and stool with ornate gold legs together with more glorious table lamps with white bases and white lamp shades. The lilac pops are provided by the satin seat covering to the dressing table chair, the cushions on the bed and the picture perfect flower arrangement on the bed side table. Note the mirrored headboard!
The Hotel
After their first encounter, Ben and Mrs Robinson use the Taft Hotel as their meeting place. Notice how the outdoor lantern in the external bar area shown above reflects the leopard skin of Mrs Robinson's coat which in turn echo's her predatory nature.
The bedroom of the Taft Hotel is the setting for one of the most famous scenes in cinematic history, where we see Ben watching Mrs Robinson removing her stockings, with one leg provocatively raised in the air.
The Taft hotel bedroom is also predominantly mono – whitewashed wood furniture and shutters, out-sized white lamp bases with white shades, black and white framed pictures of birds and white double candelabra wall lights. (We wonder if the shadow of the candelabra on the wall is deliberate or just our dirty minds…)
One cannot discuss The Graduate without mentioning the formidable sound track. Simon and Garfunkel's poetic lyrics echo Ben's inner world as he wanders through his parents' house. "The Sound of Silence" plays as Ben is carried along a moving walkway of the Los Angeles airport. "Mrs. Robinson" won the Grammy Award for record of the year in 1969. Download the album now >
Visually imaginative and impeccably acted, with a witty script by Calder Willingham and Buck Henry, The Graduate is a must see.
The low down on the 50th Anniversary 4k restored release
The Graduate 50th Anniversary 4K restoration was created from the 35mm original camera negative by the Criterion Collection.
The colour timing was done by referencing a previous colour grading that had been supervised by Grover Crisp at Sony Pictures and approved by director Mike Nichols.
The 5.1 surround-sound remix, approved by the director, was created from the 35mm magnetic tracks and the original soundtrack recordings at Chace Audio.
The Special Edition home entertaiment release includes a booklet featuring a brand-new essay written by Time Out Global Film Editor Dave Calhoun, and exclusive on-set photographs by the legendary Hollywood photographer, Bob Willoughby.
The new artwork has been designed by the award-winning Mondo artist, Rory Kurtz.
Special features:
• NEW! Mike Nichols: An American Master
• NEW! Interview with Producer Lawrence Turman
• The Graduate: Looking Back
• Students of The Graduate
• Analysis of Seduction Scene
• About the Music
• Screen Tests
• Meeting with Author Charles Webb
• Interview with Dustin Hoffman
• Audio Commentary with Mike Nichols And Steven Soderbergh
• Audio Commentary with Dustin Hoffman and Katharine Ross
• Audio Commentary by Professor Thomas Koebner
• The Graduate At 25
Buy the DVD/BluRay now.
Disclosure: We only discuss things we love and know you will too, but feel it would only be right and proper to let you know that Film and Furniture has partnerships with some retailers which means we might earn a small commission if you buy from them via a link on our site.