Breuer's Cesca Chair in Almodovar's Julieta
The design and set decoration of Pedro Almodóvar's films are always a visual delight and his latest film, Julieta, is no exception. Production Designer Antxon Gómez is a longstanding collaborator with the internationally acclaimed Spanish film maker. In a pivotal scene where the brokenhearted Julieta confronts the pain of her memories in a letter to her estranged daughter, she pens her story while seated on a Knoll Cesca Chair.
Designed in 1928, Marcel Breuer's Cesca Chair (named after his daughter Francesca) combines traditional craftsmanship with industrial methods and materials, making it another Knoll design classic. The woven cane version of this cantilevered tubular steel chair is more familiar to many, but here we see the newer version with a fully upholstered seat and back.
Almodóvar aficionados are likely to spot Knoll designs in many of his critically acclaimed films, which often appear amidst the rich, vibrant interiors of zany characters. Even in the promotional photograph for his latest film, he poses with actresses Emma Suárez and Adriana Ugarte around a Florence Knoll Sofa.
So where can I get one?
New, officially licensed versions of the Cesca chair are available in USA from Design Within Reach.
This leather armchair version is the exact same as that in Julieta, available for $1544. "It's among the 10 most important chairs of the 20th century," said Cara McCarty, associate curator, department of architecture and design at MoMA. 
The cane version of the chair which is also available with or without arms and in a beech or ebony frame, can also be found to buy on Design Within Reach.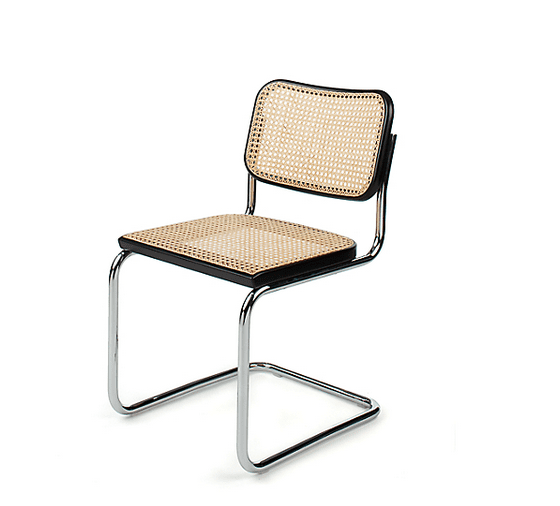 For vintage originals try EBay USA or EBay UK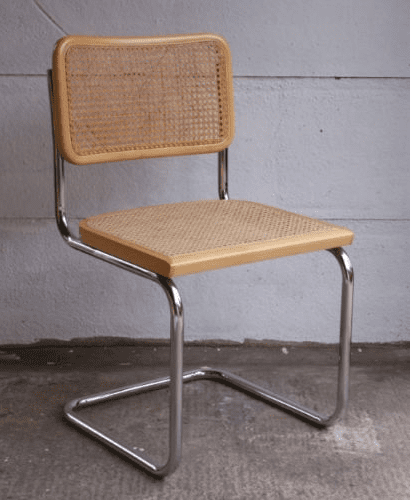 Preloved and vintage furniture website Pamono also have them from time to time.
Vintage furniture dealers selling via Etsy often have Cesca chairs such as this one from Tra Matelier for £207.
The Florence Knoll sofa used in the Julieta publicity shot above is simply perfection as far as we at Film and Furniture are concerned. Designed in 1954, the Florence Knoll Sofa Collection now stands as a defining example of modern design. Consistent with all of her designs, the Lounge Collection has a spare, geometric profile that reflects the design approach Florence Knoll learned from her mentor, Mies van der Rohe. It is available as 3 seat sofa or 2 seat settee and in a range of Knoll Textiles and leathers. Beware of  imitations: only the official versions will come stamped with a KnollStudio logo and Florence Knoll's signature are stamped into the base frame.
The 2-seater sofa is available from Design Within Reach.
Red is a recurring theme in Almodovar films (see our guest feature on the subject). The red lamp on the desk is very similar to the Tolomeo Micro Red Desk Lamp. This desk light is available from around £147 here >
Furniture and modernist fans will also love this comprehensive monograph on the world famous architect and designer Marcel Breuer, the designer of the famous Cesca chair. With his beginnings in Bauhaus, Breuer went through his career designing houses, furniture and public buildings that attracted the eye and still retain their impressive, sculptural nature.