The mid-century architecture and furniture of Don't Worry Darling
Olivia Wilde's new movie Don't Worry Darling has been attracting attention not only for its high profile cast (including Harry Styles, Florence Pugh and Chris Pine) but also because of its dreamy locations and stunning mid-century film sets. Basically, we're talking nothing short of mid-century design porn here.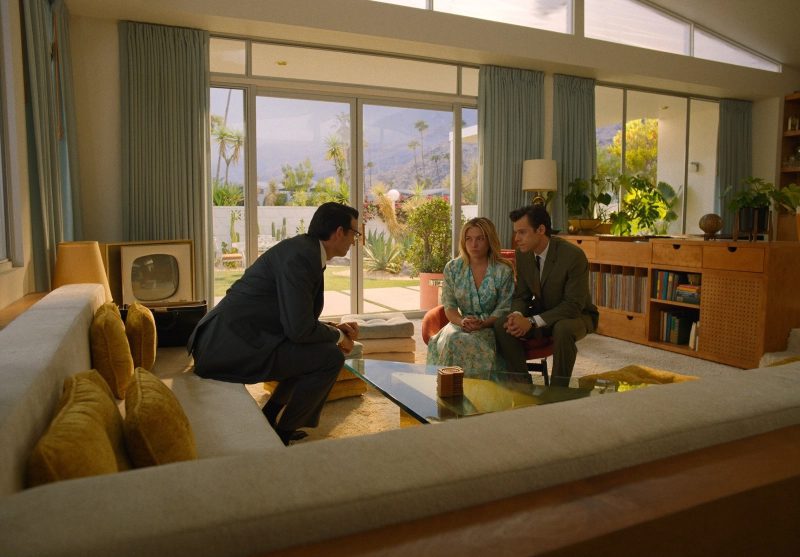 Housewife Alice (Florence Pugh) and husband Jack (Harry Styles) live in a 1950s housing development, a utopian company town called The Victory Project. Together with their neighbours they share seemingly happy lives living in idyllic suburban houses.
Jack works at the Victory Project HQ which he and his fellow co-workers drive off to in their candy coloured cars with synchronized precision every morning, whilst their wives wave them off from their neatly manicured front lawns.
The men all work in top-secret jobs headed by the Project's enigmatic creator Frank (Chris Pine).
The women clean their houses, go to ballet classes taught by Frank's stern wife, prepare meals, host cocktail-fuelled dinner parties and confirm to the old-fashioned gender roles expected of them by the Project.
However, Alice soon begins to worry that her husband's glamorous company could be hiding disturbing secrets, and life behind the gleaming facade of the mid-century dream begin to unravel.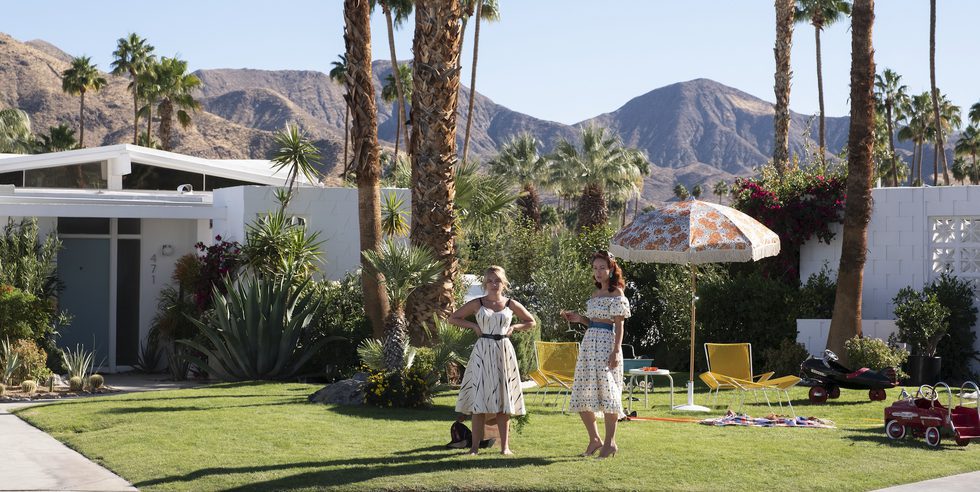 Shot in the mid-century design mecca that is Palm Springs, California, Don't Worry Darling's production designer Katie Byron took inspiration from the rich architecture and interior design of the region which includes buildings by mid-century heavy weights like Albert Frey and Richard Neutra. Canyon View Estates designed by William Krisel is the Palm Springs neighbourhood where much of the filming took place.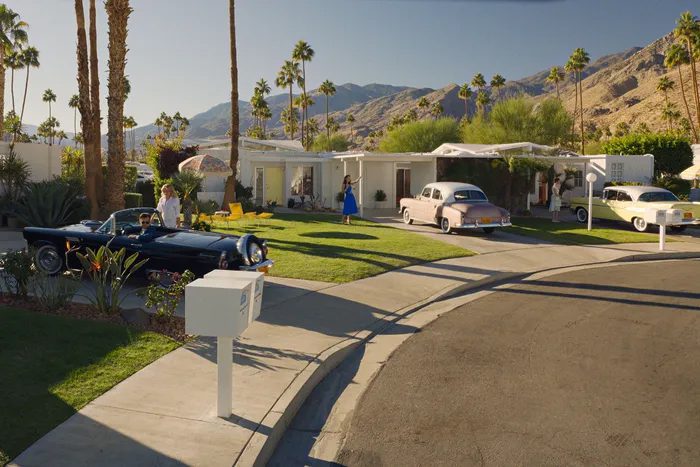 The result is a story set against a backdrop of jaw dropping mid-century houses, furniture and bright colours. You will be wowed by all the butterfly roofs, clean architectural lines, poolside views, smoked glass, split-level open-plan spaces and acres of teak, together with beautiful furniture furniture that was custom made for filming.
It isn't a true period piece however. Items from the '60s and '70s are also incorporated among the 1950s decor. This serves to subtly invoke the feeling that something isn't quite right: "The world build should be accurate enough to fool the viewer into thinking that it's a true 1950s depiction, but in actuality, Frank's world build of Victory would be made according to his own rules," Byron told House Beautiful. "We didn't necessarily see him as an absolutist in terms of period accuracy but someone who really felt confident that his taste was superior to others."
Byron wanted to express the idea that Frank's vision for the homes was all encompassing and to create such a bold dream world she designed the film sets with idyllic often pastel exteriors with dark and dreamy interiors.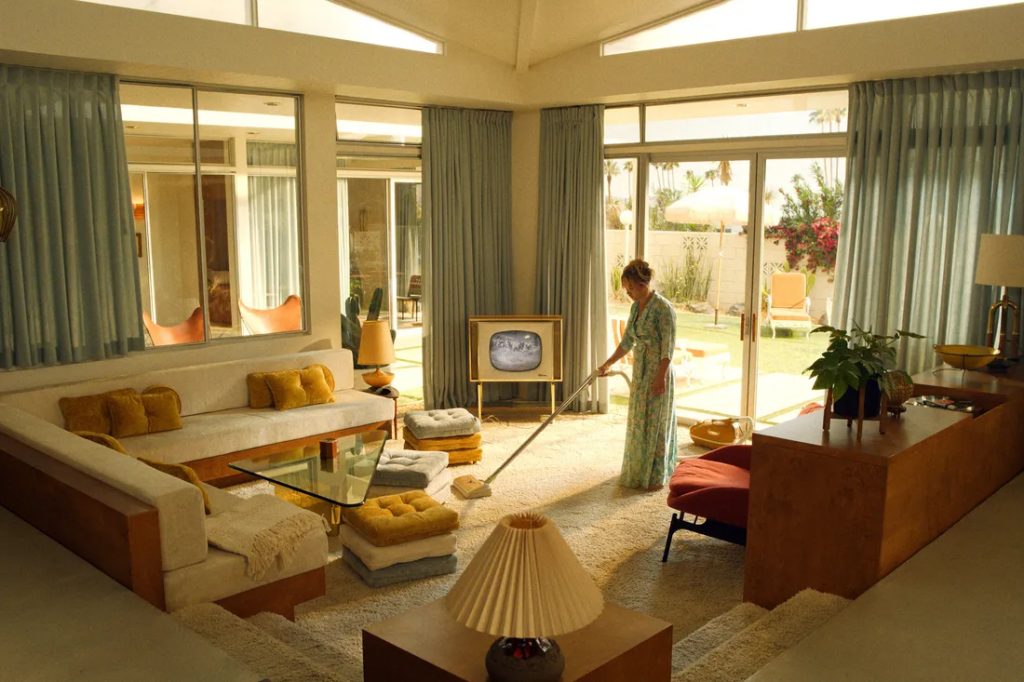 Whilst most of the exterior shots are real locations, the interiors are all built on sets. The interior decor was found by set decorators Rachael Ferrara and Ashley Bussell from Palm Springs estate sales and antique stores where they found the original Sylvania television seen in Alice and Jack's living room (above). In the background outside we see a pair of Butterfly chairs through the window outside. 
Find vintage mid-century furniture for your own home on Etsy and Chairish.
In a key early scene we see Frank hosting a party at his home. This was filmed at Neutra's Kaufmann Desert House – a real scoop for the production team given that photography is rarely allowed behind the gates, and certainly never a film.
The Kaufmann House was designed in 1946 and commissioned by Edgar J. Kaufmann, Sr., a businessman who also commissioned Fallingwater by Frank Lloyd Wright. A pretty influential figure we can surmise!
We at F&F had the great pleasure of visiting The Kaufmann House during Film and Furniture Founder Paula Benson's talk at Modernism Week.
An evocative image which depicts the Kaufmann house at its height is Slim Aarons famous photo 'Poolside Gossip'. Aarons was one of the twentieth century's most prolific documenters of celebrity and socialite life and his Palm Springs poolside photo sums up everything we want to believe about the era. 
It turns out that when Olivia Wilde was writing Don't Worry Darling, she had a print of 'Poolside Gossip' on her wall. This image heavily influenced the story which she set around a Kaufmann House–like environment. The party scene filmed at the house felt like "a really auspicious beginning to this movie, which was this love letter not only to film but to architecture, to design, to this era" Wilde told Variety.
Despite the utopian vision, the film has a constantly lurking dark side, which speaks to the once subversive underbelly of Palm Springs. Starting in the 30's and continuing well into the 50s and beyond, it became a popular haunt of movie stars, who could take a break and be back on their Hollywood film sets in a couple of hours. As a result the area is largely associated with the days of the Rat Pack and other Hollywood stars who would hang out, throw parties and much hedonism and debauchery went with it.
Byron was tasked with creating sets that looked alluring and perfect on first take but which would convey the sense of unease in the film. "The house in which Alice and Jack live is a case in point: a radiant, colourful jewel box that eventually becomes a trap" Byron told Indie Wire.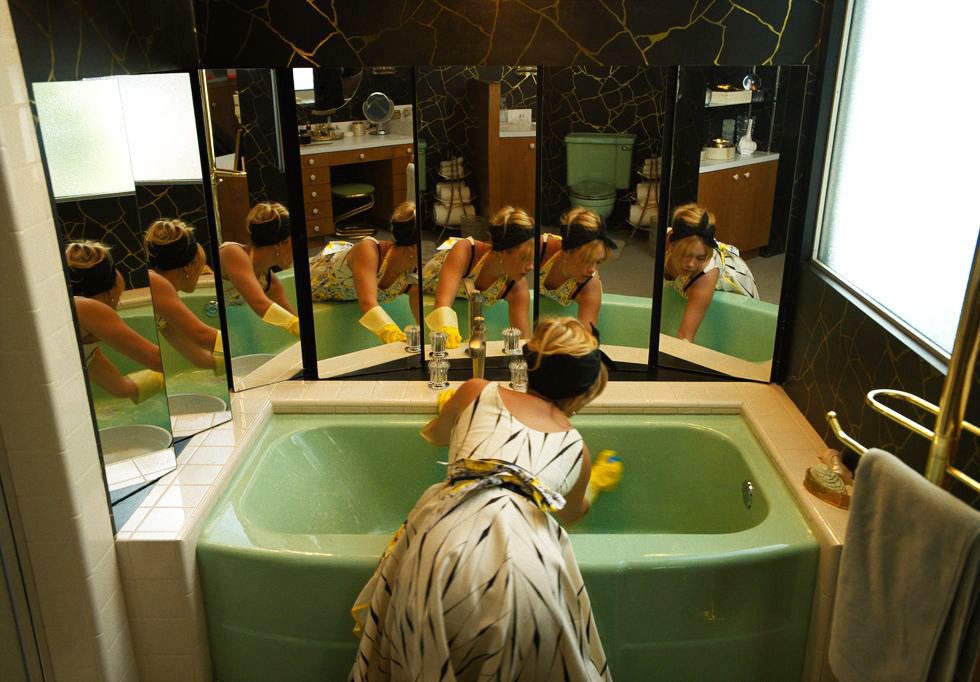 Byron incorporated a lot of glass into her designs because of its precious and beautiful qualities yet "it's also scary. It allows for surveillance. The walls can shatter" she adds. Alice's disorientation is emphasised by use of mirrors and glass, and often in a prismatic way to enhance an uneasy feeling. Subtle inclusions such as the rich black-and-gold wallpaper with a cracked pattern also hint at a darker reality.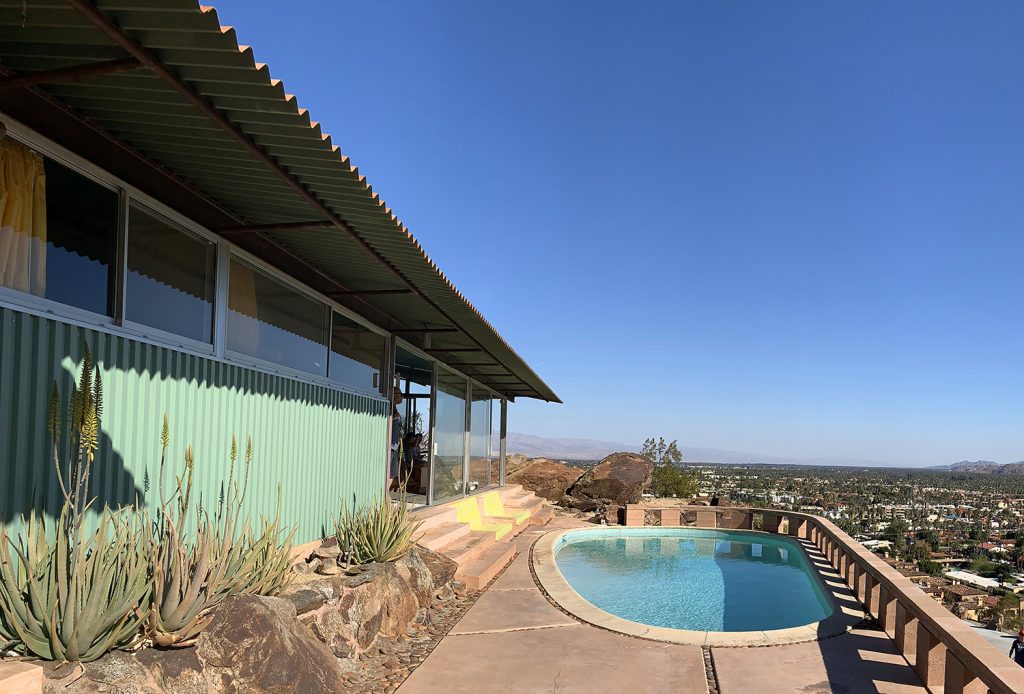 The colour teal is a theme throughout the film and was inspired by Albert Frey, one of the architects who led the way for the mid century design that Palm Springs has become known for. We see this expressed in Alice and Jack's curtains and bath for example. Frey's city hall is the location for the exterior of a fitness centre in the film.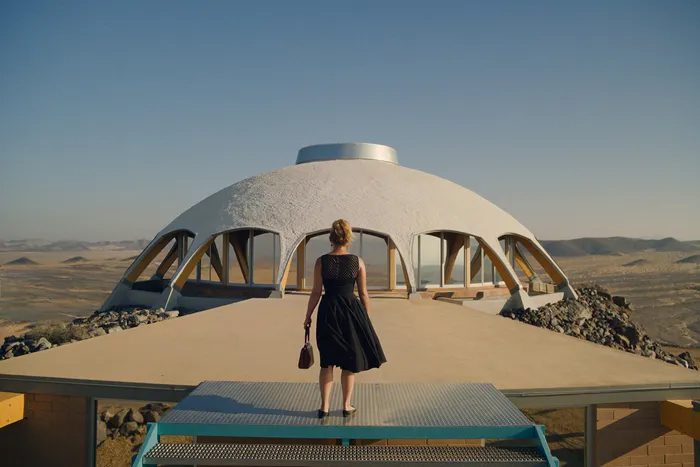 The white domed Volcano House in in the Mojave Desert, designed by Harold Bissner Jr and built in 1968, is the location for the Victory Project's headquarters. By breaking the rules, and leaving her community to find these headquarters on a mountain in the desert, Alice discovers the truth.
Lastly, here is a photo of Chris Pine as Frank in Don't Worry Darling next to Film and Furniture's Paul West wearing an original vintage shirt, taken in Palm Springs several years before the film was made!
Don't Worry Darling is in cinemas now.