Huzzah for the interior design details of The Great!
With the tagline "an occasionally true story", the satirical comedy The Great offers us a left field view of what life was like for the young Empress Catherine living in the court of her husband Peter III of Russia, before initiating a coup to become the country's longest-ruling female leader 'Catherine the Great'. Full of pace, profanity and palatial production design, we talked with set decorator Tanya Bowd about the interior design details of the film sets.
Created by Tony McNamara (who also wrote the Oscar-winning The Favourite) the show is set in the Winter Palace of the Russian royal family and stars the mesmerising Elle Fanning as Catherine and Nicholas Hoult as Peter. It's packed with sharp wit and formidable acting. The contrasting characters of Catherine (clever and cultured) and Peter (dangerous and debauched) are also portrayed through the lavish film sets, furniture and decor. 
Most of the action takes place within the separate private quarters of Catherine and Peter, and the interior design is led by the characters that inhabit them. We were particularly enthralled with Catherine's bedroom, 'receiving' room and dressing room. "Catherine's quarters, in shades of pale pink, blue, cream and gold, are feminine, with books at hand to reflect her intellect, and a level of upkeep not seen in Peter's" says Bowd.
By contrast "Peter's quarters are messy, dishevelled and a reflection of his inability to rule. Darker in tone and masculine, with a palette of black, dark blue, burgundy, aubergine and gold, heavier looking furniture and more Louis XIV or Flemish in style."
"From a set decoration point of view, I was sourcing from 1760 backwards. The walls of our production office were lined from floor to ceiling with images of European palaces, exquisite objects, and sumptuous textiles. The vogue at that time was to look to the palaces of France, and some of the set decoration is very much attributed to Louis XV, particularly in the female quarters." Bowd tells us.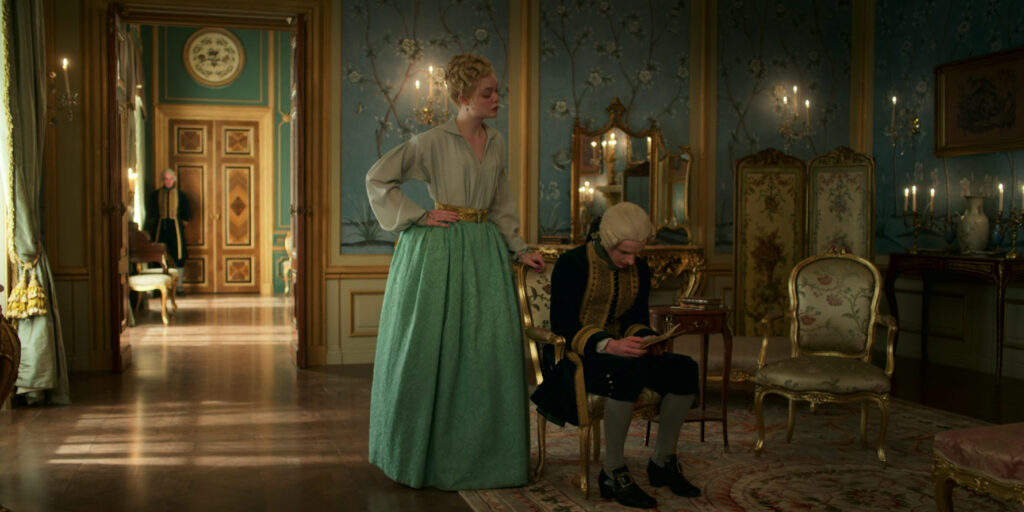 The starting point for Bowd in set decorating a room for a show like The Great, can be a particular item of furniture, or as was the case for the set of the Dymov's (Charity Wakefield and Gwilym Lee) – a 300 year old pelmet from a house in Brussels which she found at Kempton Market, (Sunbury-On-Thames, UK). This was then scanned and printed and turned into wallpaper and became the starting point for the rest of the décor.
The pilot (Episode 1) of the show was filmed predominantly at Hatfield House (eagle eyes may have spotted the long hall where much of The Favourite was filmed). Together with Production Designer Francesca di Mottola, Bowd took over the set decoration task from Episodes 2 to 10 with filming taking place at 3 Mills Studio, London, on a palace set built over four sound stages in three months during the summer of 2019. "It was an incredibly intense and busy period. I had a set decorating team in London and Paris, helping me source furniture, textiles and objects." Bowd explains.
The interiors took shape through mood boards, many research trips to London's V&A, the Wallace Collection and various prop houses, and through the study of many books and paintings. Furniture came from from antique dealers and flea markets across France, Belgium, Germany and the UK. Crystal chandeliers and wall sconces arrived from the Czech Republic and Italy, fabric and trimmings from Paris, London and Rome. "I believe we bought up the entire supply of period door furniture in Paris for the set build!" jokes Bowd.  
Together with a team of set decoration painters, she painted, gilded and upholstered near to 300 pieces of furniture for banquet scenes, bedrooms and living quarters. These chairs were then taken to a specialist to distress them a little, so as not to look new.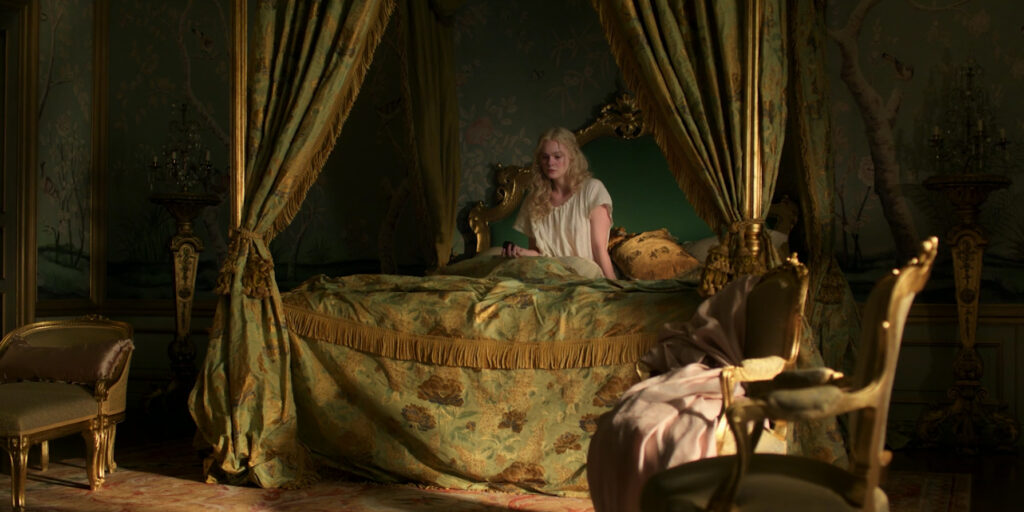 Much research too went into the drapery of the time, and drawings were issued to assist the drapes team to create bespoke swags, pelmets and drapes for each set, as well as to make bed covers, sheets, and cushions. "A lot of time was spent sourcing fabric, trim, tassels and tiebacks. I had a little fabric room!" Bowd tells us.
Fire grates, torcheres, candelabras, candles and dinner sets were all sourced in quantity as befitting of a large palace. Not forgetting all the hundreds of glasses which get smashed at every opportunity throughout the series with the accompaniment of a hearty "Huzzah!". 
For Catherine's bedroom, the bed from Episode 1 was kept, and a Chinoiserie mirror was rehired for continuity. In fashion at the time, the Chinoiserie decorative style (a western interpretation of a Chinese artistic tradition) became a recurring theme in her suite of rooms, with of course the wallpaper leading the way: "We explored every option for the wallpaper" Bowd explains. "Ready-made panels weren't long enough, and artists specialising in chinoiserie wallpaper were all busy, so in the end a talented scenic artist painted the designs for us. The result was incredible."
One of Catherine's furniture suites was found in Paris and upholstered in a cream silk with a delicate gold leaf pattern. The pink suite in her dressing room was sourced in Belgium.
"Whenever we visited an antique market, or one of our suppliers, we picked up chinoiserie vases and trinkets. The fabric I used in her rooms to upholster the furniture, or make cushions from, was from a favourite shop in Paris, Lelievre. The textural blue and gold fabric for her bedding was also found in the fabric quarter of Paris".
Catherine's pretty writing desk was a new purchase, the top of which was relined with a pale green leather. Her writing set with flashes of malachite which caught our eye was a hired piece. The curtains were made especially, to fit a bay window in her bedroom and the beautiful aquamarine blue which was carried through to the rest of her rooms.
One of Bowd's favourite pieces of furniture for Catherine was an 18th Century screen she found in Belgium which appears in the dressing room. Restoration had been started on this screen, but she soon put stop to that to bring it back to the UK and have it beautifully aged again. An exquisite floral design with birds, she then turned this into a floor standing mirror.
All the candelabras in her rooms were crystal, as were the chandeliers. The rugs originated from one large rug that was then scanned and printed into other rug colourways.
Some of the beds are also favourite pieces of furniture from the show's film sets: Archie's (Adam Godley) bed has green twisted columns that frame a collection of Russian icons on the wall. "I loved the theatricality of Archie's room" adds Bowd. Peter's bed was found in Belgium, and intricately carved in tones of black and brown. It was widened and a canopy made – a ceiling of concertinaed gold silk.
The miniature cameos which Bowd's team collected for a display case in Aunt Elizabeth's bedroom are also on her list of memorable pieces.
"If I was pushed to name a favourite room, it would probably be the Dymov's. I loved the combination of pink, blue and gold, the fabric on the walls, the hired consoles gilded in 24 carat gold, and the rug with the scalloped edges!"
For those interested in design, furniture, interiors and film, being a set decorator sounds like the perfect job. Bowd's journey to working on projects such as The Great began with a training in theatre design at the Welsh College of Music and Drama, after which she worked on theatre, opera, film and TV productions. Her speciality is period projects "as I enjoy researching historical interiors, and exploring social history" she says. Period dramas include the BBC's Howards End TV series, ITV's Victoria and the film Red Joan. The 'New Pope' is another project on Bowd's impressive CV and whilst contemporary, the film is set in very classical, traditional settings. "Having said that, I'm not averse to working on any period, if the subject matter is interesting" Bowd adds.

The Great is currently streaming on Hulu and being aired on Sundays at 9pm on Channel 4.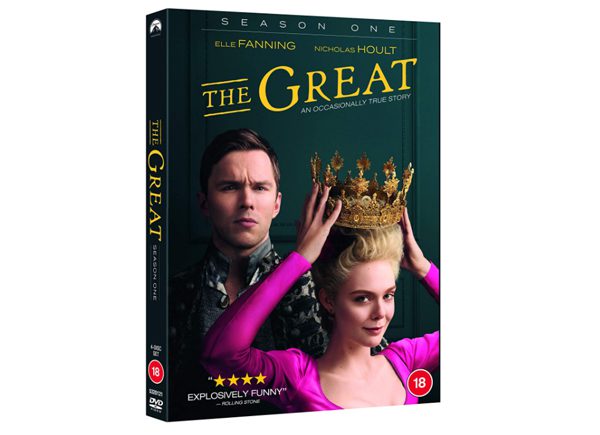 The Great, Season 1 DVD is available to pre-order now>