Join the most stylish of bar crawls as we sample the best whiskey glasses in film
The design and style of glassware in the movies can transcend period, genre and galaxy. We invite you to join us on a bar crawl through film as Fiona Cole samples some of Film And Furniture's finest whiskey glasses and provides the low down on where you can get your hands on them.
In film, the sharp cracking sound of warm whiskey hitting frost-fresh ice can be a cue that something's about to be shared: a confession, a new alliance, the beginning of the end or simply a 'relaxing time'. Wherever the scene is taking place, the clink of swirling ice evokes a moment of civility, often, at a point when things start to take a different turn.
Good case in point is Tony "Give me a scotch I'm starving" Stark and Loki sharing a rare moment of calm in The Avengers, directed by Joss Whedon. 
The glassware has a metal base in the scene, which may have been painted: giving a visual nod to the heavy metal earthiness of Loki's world, Asgard. That's a hard working whiskey glass. It's not only linking universes but embellishing two characters' short lived camaraderie.
Keep an eye on the bartender during our bar crawl, it's possible he's either an android, the last face you'll ever see or a figment of your imagination.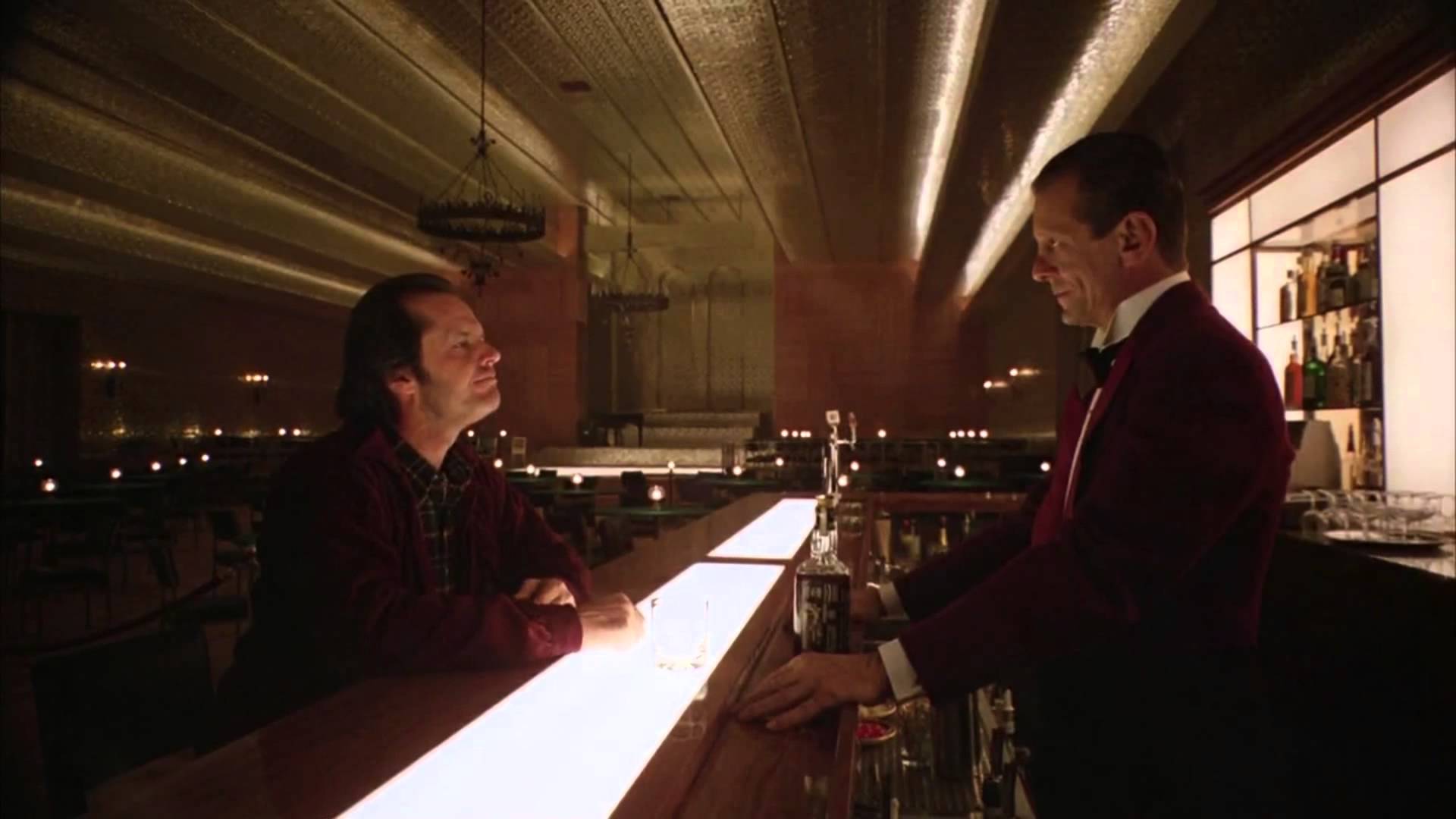 The scene in which Jack Torrance drinks a whiskey in the bar of The Overlook Hotel in The Shining directed by Stanley Kubrick, is beautifully calm and utterly unnerving in equal measure. Not least for some, because Jack is served Jack Daniels, a Tennessee Whiskey. Nothing is as it seems here. Hang on. A character named Jack played by Jack, drinking Jack Daniel's and the character's son's called Danny? I digress.
Light years away and yet on strikingly familiar ground is the bar scene in Passengers directed by Morten Tyldum, where Jim Preston played by Chris Pratt, takes many a drink in the company of a barman who seems just too good to be true. 
The homage to The Shining in this scene is well documented and the cocktail and whiskey glasses sit elegantly in the Art Deco style Avalon spaceship bar.
You'll generally find scotch being poured at any time of the day in uptown New York's Madison Avenue by Mad Men.
Dorothy Thorpe's Roly Poly glass design perfectly embodies glamour, achievement and the sixties, their roundness creatively offsetting Don Draper's sharp, straight-up style.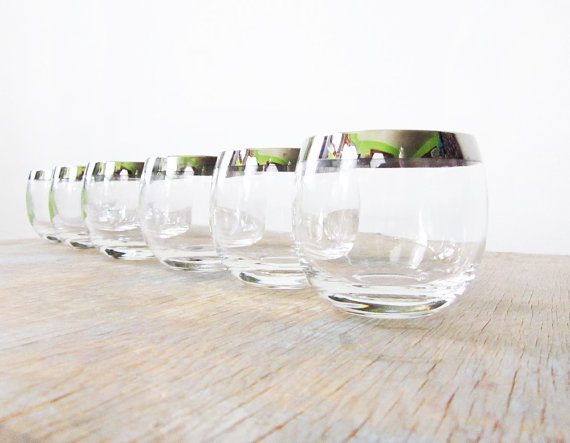 Lost in Translation sees Bill Murray's character Bob Harris deliver a performance, with varying degrees of intensity in an ad for a Japanese whisky. And it's a hell of a glass.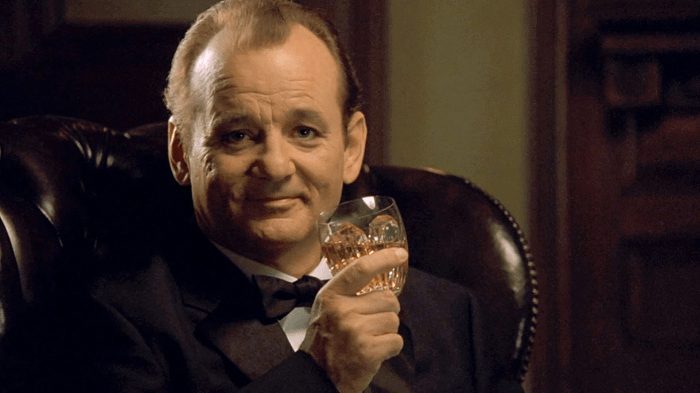 Holding that glass was what Bob Harris was in Japan to do (to advertise Suntory Hibiki 17 year old whisky) and was also drinking whisky when he met Charlotte in the bar of the Toyko Park Hyatt.
The original glass featured in the Suntory advert in Lost in Translation appears to be the Baccarat Massena glass tumbler.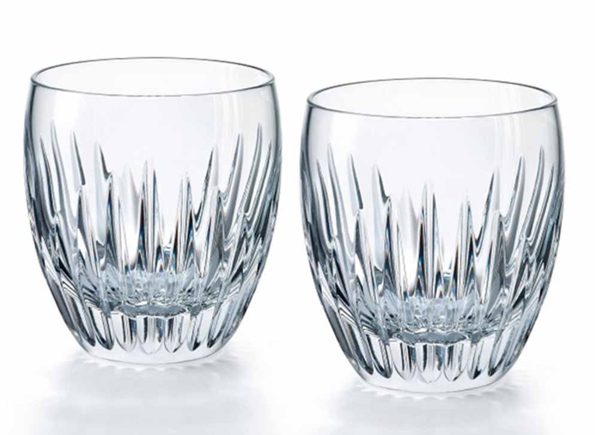 In Batman V Superman directed by Zach Snyder, Bruce Wayne's tumbler of choice appears to be the Baccarat crystal Harmonie, a glass that seems to raise itself. A creative choice, in high society contrast to the lakeside setting of Bruce Wayne's home.
The Harmonie's parallel, limitless cuts from lip to base emphasise the height of the glass, perhaps the height of Batman's power and certainly the height of style.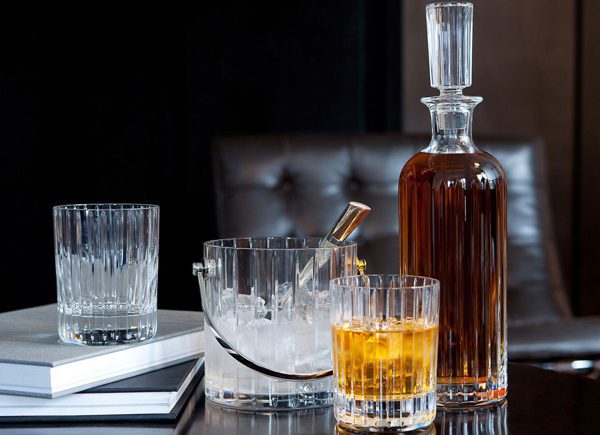 No bar crawl would be complete without a late snifter round Rick Deckard's place.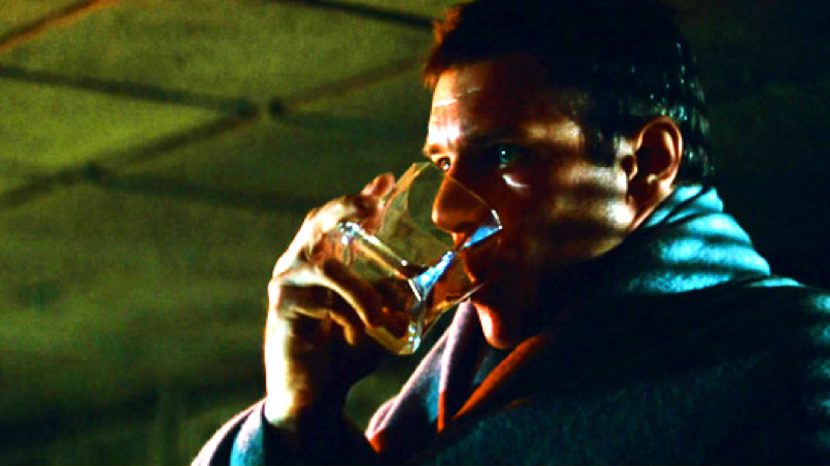 Don't expect the warmest of welcomes from this notorious loner, but the glass you'll be drinking with if you're lucky will be the 1974 Arnolfo di Cambio CIBI tumbler featured in Blade Runner directed by Ridley Scott and luckily still available from Italy's leading makers of glassware. 
Coming back to the whiskey glass in the bar scene of The Shining. From a director such as Kubrick, loved for his complex multi layers of detail, the name of the design is, alas, unknown. Do you have information? Care to have a drink?
Find more glassware and whiskey glasses in film in our store.
If you're a whiskey fan you'll love Hard To Find Whisky.
*Whiskey with a 'e' refers to Irish whiskey and is more commonly spelt this way in the US. Whisky without an 'e' is more often used if it hails from Scotland, Canada, India or Japan.