A sofa fit for a Rocketman (or Rocketwomen)
Elton John's private jet in Rocketman is a truly rock and roll affair, including a handsome retro-striped 70s sofa. What's more we have an HK Diplomat for sale in the same Rocketman sofa fabric.
After seeing Sir Elton John perform at Glastonbury Festival we were reminded of the film Rocketman which follows the singer, songwriter, pianist and rock legend's breakthrough years – from his early childhood to his early days as a prodigy at the Royal Academy of Music onto his musical partnership with Bernie Taupin and his conquering of the USA. Played convincingly by Taron Egerton (who sings all songs himself) John's life story takes us on a journey from his childhood home of Pinner, Middlesex in the mid-late 50s to his Los Angeles luxury home in the 80s, and everything in between including his private jet.
Elton's 'plane is based on real private jet The Starship which was hired by many bands and artists of the time (including Led Zeppelin, Rolling Stones and Bob Dylan). It was lavishly furnished and even had a fireplace and a bedroom.
During the private jet scene in Rocketman, John sits on a statement 1970s sofa with black and light gold striped velour fabric.
What exactly is this Rocketman sofa?
It's a Howard Keith Barbican sofa. Also known as HK Designs and HK London, the furniture company was founded in 1933 by Howard Keith and built a reputation for producing high quality upholstered furniture that was sold in prestigious department stores such as Harrods and Heals.
The company's lounge seating like the Diplomat sofa and Cloud, solidified Howard Keith's status as one of the country's leading furniture designers during the midcentury.
In the 1970s, HK became renowned for its craftsmanship, quality, and design, winning contracts with major prestigious clients such as for the RMS QE2 cruise liner, The Bank of England, The Stock Exchange, Barclays Bank, and BP, and created bespoke furniture for the Queen's Royal Train.
Own your own Rocketman sofa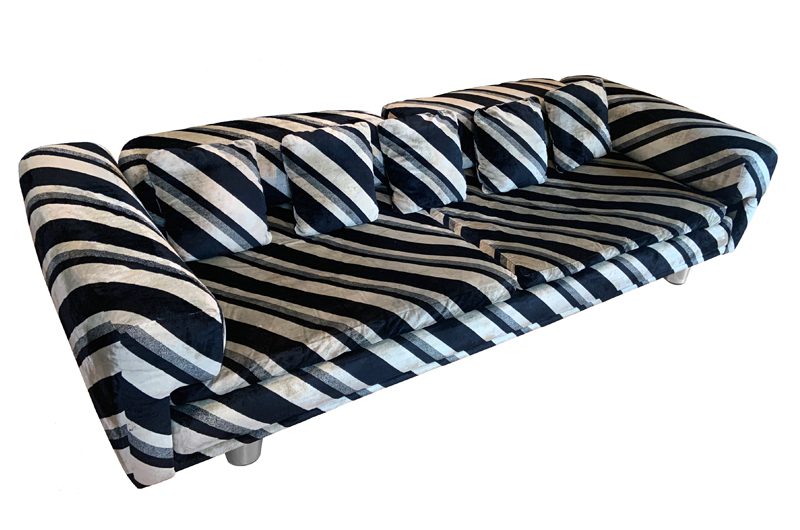 The sister sofa of the Barbican is the Howard Keith Diplomat sofa designed by John Home, a grand low slung sofa with sleek lines. We are thrilled to offer a handsome original vintage Howard Keith Diplomat sofa with original striped upholstery for sale, in exactly the same fabric seen in Rocketman. This sofa is in remarkably good condition and comes with five original matching cushions. It doesn't get more retro or more rock n' roll that this!
The HK Grand Diplomat sofa is an extremely sought after piece and vintage originals are becoming increasingly rare. We at Film and Furniture are agents for selling vintage Howard Keith sofas and chairs and this one is quite simply, next level.
HK Diplomat sofas have a wooden frame, foam upholstery with textile, often plush covers and with chromed cylindrical metal legs. The HK Diplomat was quickly considered a classic sofa design and was included in a Classics exhibition at Heal & Son Ltd London store in 1981. They were famously owned by Princess Anne as well as Lord Edward Davenport. 
The Diplomat's low, modernist lines and deep-set seating make them a well sought after piece, and although more pop than rock, even Abba favoured a striped HK Diplomat.
You can find out more info on this sofa in our store or email [email protected] for more information.