The chair in Alien Covenant: 2017's most significant furniture piece in a movie?
What's the significance of the Carlo Bugatti chair in Alien Covenant?
Alien: Covenant is a bloody horror with enough aliens, spaceships and gore to be keep the average cinema-goer suitably entertained, yet there is a philosophical heart to the movie which explores a deeper concept: Creativity.
The film opens with Weyland Corp's synthetic David who we met in Prometheus (brilliantly – and camply – played by Michael Fassbender, who also plays Covenant's new synthetic – Walter) sitting in a distinctive Carlo Bugatti Throne chair next to an Eileen Gray E1027 Side Table. David recites his knowledge of the design and art pieces which inhabit the futuristic white room, to his creator Peter Weyland (Guy Pearce): The Carlo Bugatti chair, a Steinway piano, the painting The Nativity by Piero della Francesca (which, note, shows Mary kneeling in adoration before a newly-born Christ) and the Michelangelo Renaissance marble sculpture…. you guessed it: David. All exemplary in their relevant fields of art and design.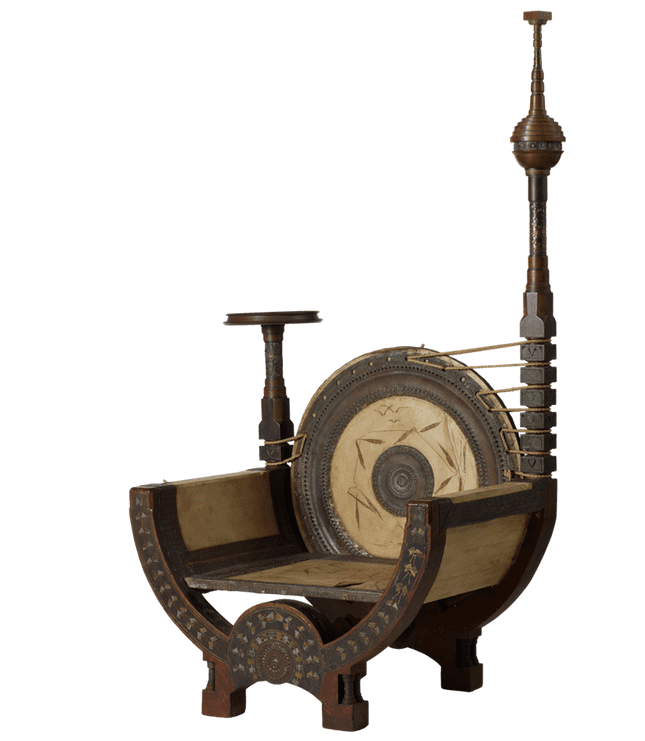 "If you created me" David asks of Weyland, "Who created you?".
"All art and design are meaningless in the face of the question where do we come from" he answers (or words to that effect).
David proceeds to take a seat at the Steinway piano and plays Wagner.
The film also ends on Wagner – Das Rheingold: Entry of the Gods into Valhalla (1869) and in between these two pieces of outstanding creativity, let's just say the aliens have "evolved" a little!
So back to that chair in the opening lines of the film. Why is it significant?
The Throne chair by Carlo Bugatti and was made in 1905. An Italian sculptor and furniture maker, Carlo Bugatti (1856-1940) also had great interest in architecture, science, animals and nature. He was most prolific around 1900 and strove for originality with his work, choosing unusual materials and taking inspiration from far and wide – from the Gothic era, Japan, Islamic art, North Africa and Orient–inspired exoticism. The highly decorated and unusual shapes he often employed are most likely a reaction against the onslaught of factory produced pieces of the time resulting from the industrial revolution. Bugatti's designs are striking, immediately recognisable and truly creative.
This set him apart from all trends at the time of the early 1900s and he gained increasing popularity at international events and expo's. His fantastical furniture feels animalistic which echo's David's interest in zoology, anatomy and experimentation which become apparent later in Alien: Covenant.
When Queen Elena of Italy met Carlo Bugatti at the International Exhibition of Decorative Arts held in Turin in 1902, she praised him for his "Moorish-style" furniture. His answer was suitably haughty: "Your majesty, this style is not Moorish – it's my own!".
Creativity ran in the family too: If you're wondering if there's any connection to the French car maker, you'd be right. Carlo's first son Ettore founded the Bugatti car company in 1909. His other son, Rembrandt, became a famous sculptor.
It's fascinating that the Alien: Covenant film set decorator chose the Eileen Gray side table – a classic piece of furniture design which has the very essence of modernism embodied in it's tubular steel base and glass top – to place next to such a highly decorated and exotic chair. Both completely different styles, yet both seek to push the boundaries of design and creativity.
The table's cleverly proportioned, distinctive form has made this height-adjustable table into one of the most popular design icons of the 20th Century. It is named after the summer house E 1027, Maison en Bord de Mer at Roquebrune Cap Martin, that Eileen Gray built for herself and for her collaborator, Jean Badovici. Likewise, the secret code-name comes from her: E is for Eileen, 10 for Jean (J is the 10th letter of the alphabet), 2 for B(adovici) and 7 for G(ray).
Many will take Alien: Covenant on face value, but if you dig deep you will find philosophy and symbolism. And for that reason we raise our hats to the one and only Ridley Scott.
Top Tip: Before going to see the movie, it's helpful to shed some light on the plot with 20th Century Fox's teaser video the Last Supper and The Crossing prologue which reveal what happened to crew members Dr. Elizabeth Shaw and the synthetic David after the events of Prometheus.
So where can I find one?
We were surprised and delighted to find a Carlo Bugatti Throne chair on Just One Eye priced $29,500. UPDATE: This chair has now sold.
A Carlo Bugatti side chair is currently available from Pamono in their "Exceptional" category. This side chair made from walnut with embossed copper and pewter inlay, vellum seat, and back painted with stylized flora with original silk tassels is dated circa 1900.
The Nativity by Piero della Francesca resides in the National Gallery, London and is available as a print from the online print and poster shop Art.com and Art.co.uk.
The Eileen Gray side table is available £579 from Aram > who hold the Worldwide license for Eileen Gray's designs.
You will also find vintage versions on Ebay and also on Etsy 'though beware of copies. Anything below £500 is likely to be an unlicensed copy.
Find out more about Steinway piano's at Steinway.co.uk or visit the London showroom at 44 Marylebone Lane, London W1U 2DB. Coach House Pianos sell many new and old Steinway piano's through Ebay.