Ex Machina: jaw-dropping architecture, stunning design and now a BIFA winner
Ex Machina was the big winner at the Moët British Independent Film Awards on 6 December (2015). The film won four awards: Best British Independent Film, Best Director and Best Screenplay for Alex Garland and Outstanding Achievement in Craft for it's Visual Effects, by Andrew Whitehurst. Mark Digby (Dredd 3D, Never Let Me Go, Slumdog Millionaire, Rush, Genius) was also nominated for Production Design in the same Craft category.
This tour de force in both story telling and film set design also wins some big F&F recognition for some of the most jaw-dropping and inspiring architecture, design and interiors.
The tech billionaire Nathan Bateman's secluded Alaska home was created for the screen with a combination of two real locations, some purpose built sets at Pinewood and some killer special effects. Being as the entire film takes place in one house, the location, production and set design was paramount: "It had to reflect [Nathan's] wealth, his technical ability and his intellectual status" said Production Designer Mark Digby.
The first location was the stunning Juvet Landscape Hotel, by Jensen & Skodvin Architects. This Norwegian hotel consists of a number of timber-clad cabins nestled among rocks, forests, and flowing water. Floor to ceiling glass affords stunning views. It doubles as the billionaire's dining room and you can actually stay in the hotel yourself to experience these awe inspiring views.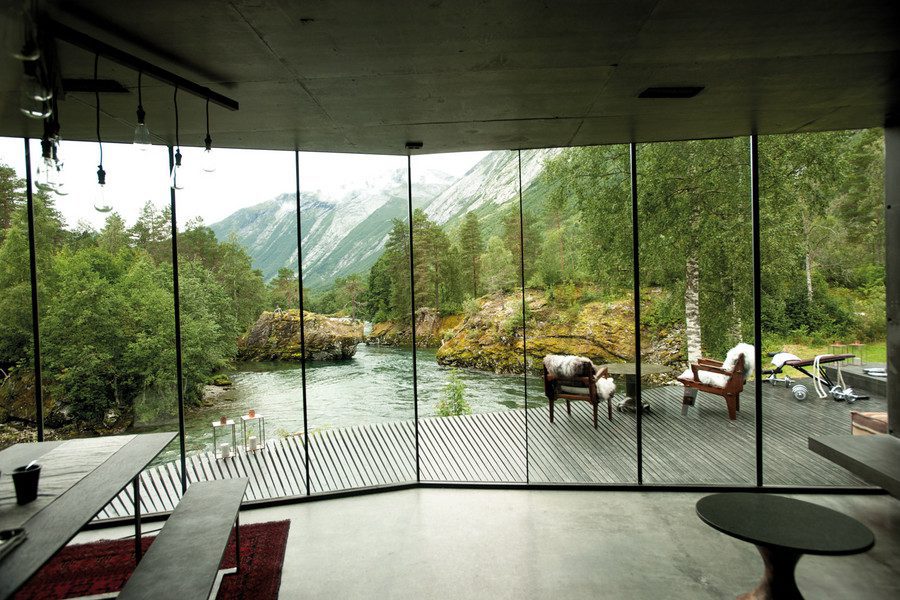 The slate-and-steel dining table and benches were custom made, and on the outdoor deck, Digby placed two vintage Brazilian safari chairs made of rosewood and leather that he topped with sheepskins.
Other rooms including the living room, were shot at a private summer house called The Residence, also designed by Jensen & Skodvin. Carved into the side of a mountain, this home is a wonderful amalgamation of man, machine and nature and therefore wholly appropriate as a metaphor for the story of a coder, Caleb who is asked by his tech mogul boss to spend time with a beautiful robot Ava to ascertain whether she shows genuine artificial intelligence.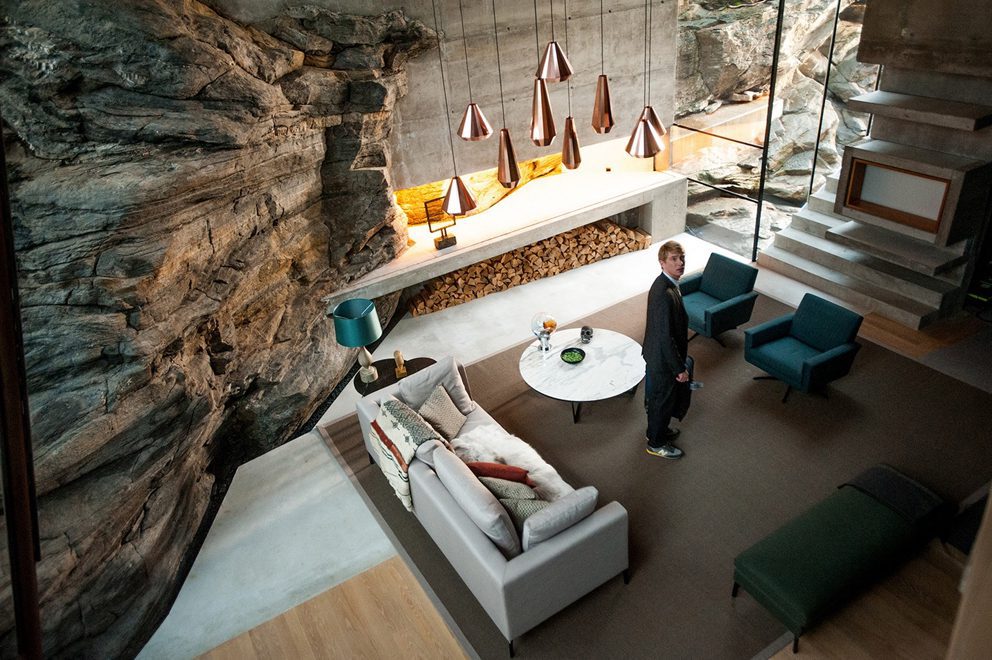 The modern aesthetic of the architecture and interiors sit within cliffs and rocks which ebb and flow in and out of the house. The star of this room (apart from the rock formation) are the copper lights designed by David Derksen available from the VIJ5 website.
The modern white sofa in the living room is sleek with simplistic lines – it's an Alison Plus sofa available from from Camerich, as is the Teri side table (both of which are surprisingly reasonably priced).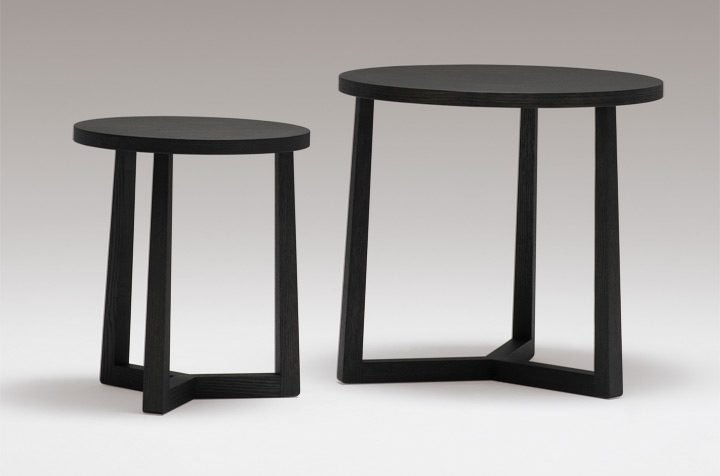 The teal lamp is from John Lewis.
Also from Camerich is the Venus chair seen below next to Eva.
An underground suite of concrete rooms that host many of the scenes was constructed at Pinewood Studios in England.

I am sure we all spotted the Jackson Pollock and Klimt paintings too?