Detective work on the art and furniture in Glass Onion: A Knives Out Mystery
In Rian Johnson's Glass Onion: A Knives Out Mystery, Detective Benoit Blanc travels to a private island oasis to peel back the layers of a mystery involving a new cast of colourful suspects. Join us as we undertake our own detective work to identify the furniture, art and decor of billionaire founder Miles Bron's luxury Greek abode.
Featuring breathtaking views of the Aegean Sea, this mansion is only accessible only by boat and is crowned by a 20 meter high atrium – the 'Glass Onion'.
"I researched every dome shape and modern glass construction detail I could lay my hands on. I then cut open an onion, layer by layer, to study its structure," says Glass Onion Production Designer Rick Heinrichs.
Art and furniture in Glass Onion
This jaw-dropping property in the film has a private beach, seven private studio villas (each with en-suite bathrooms), six swimming pools, incredible gardens, a gym and also boasts some notable furniture and art: Huge sculptures scatter the grounds, and the high-end art on display includes works by Banksy, Francis Bacon, David Hockney, Piet Mondrian, Henri Matisse, Mark Rothko and Cy Twombly.
The Hockney
David Hockney Nichols Canyon acrylic on canvas can be spotted in Bron's mansion (seen above, right).
Nichols Canyon is one of the greatest contemporary depictions of the Los Angeles neighbourhood and depicts Hollywood Boulevard on the south with Mulholland Drive on the north. The aerial view is depicted in bright colours in a Fauvist style.
This art piece painted in 1980, is David Hockney's first mature landscape and is considered one of his greatest masterpieces
It fetched $41,067,500 in an Auction in 2020 in a Phillips' 20th Century and Contemporary Art Evening Sale. Was Miles Bron the highest bidder we wonder?
"You look at the painting and you really meander with him on the road, through space and time. He stands colour-wise clearly with Matisse and van Gogh. It's as Matisse as you can get," said Jean-Paul Engelen, Deputy Chairman and Worldwide Co-Head of 20th Century & Contemporary Art at Phillips. "Space-wise, you see the same aerial view that Picasso painted in 1965. (Hockney) also looked at Chinese landscape paintings that have that aerial view."
A rare vintage original poster (39" x 24") of David Hockney Nichols Canyon from the 1988 Metropolitan Museum of Contemporary Art in New York Hockney show can be found for sale on Etsy priced at £1,870.43 and unofficial prints of this artwork can be found on ebay.
The Cy Twombly
We also find The Cy Twombly painting Untitled (Bacchus 1st Version V) from 2004 — an explosion of red acrylic, wax crayon and oilstick on wood.
This piece was sold to private dealer Michaela de Pury for $15,370,000 at a Sotheby's auction in 2016.
It would transpire that this dealer must have sold it to Miles Bron's (Edward Norton) in Glass Onion: A Knives Out Mystery where it can be seen in the living room of his vast mansion.
Prior to the Sotheby's auction, this Cy Twombly painting had only one previous public showing – in Moscow in 2008 at the Red October Chocolate Factory exhibition organised by the Gagosian Gallery. 
Cy Twombly Prints and exhibition posters can be found on Etsy.
The red sofa
We also find a statement red sofa in this home. It's very similar to the Terrazza Landscape sofa in eye-catching red, with a matching red coffee table, red rug and red lamps.
The De Sede Terrazza Lanscape sofa is Pop Art in furniture form. Created by designer Ubald Klug for luxury Swiss manufacturer De Sede, the sculptural stepped DS-1025 sofa comprises of two ingeniously designed sofa elements which provide the basis for your personal interpretation.
Each individual element is reminiscent of a terrace-like stepped slope with different widths and depths. As with the interiors of the Pop Art generation, all it takes is a single building block on the left and right to create an inviting sofa, a seating pyramid or a little mountain range of seating.
Not bold enough to go for a red sofa? This stepped sofa is available in a range of stunning leathers and colours.
The chandelier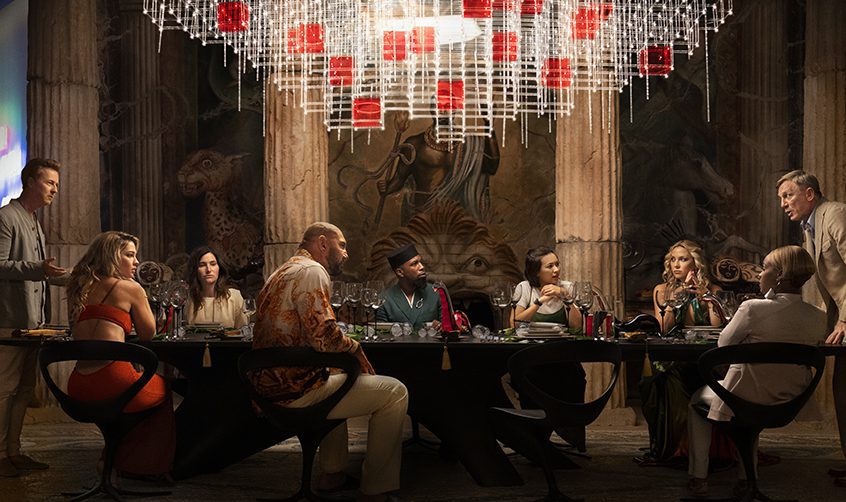 Sadly, the incredible chandelier which sits above the dining table is not available to buy for your own home. It was designed by the production design team specifically for the film. 
The Rothko
In the centre of the main hall/living area we see Mark Rothko's Number 207 – Red over Dark Blue on Dark Gray. Eagle-eyed readers will notice it's actually hanging the wrong way round in the film.
Rothko's works are highly sought after and have sold for up to $80 million.
The Matisse
In one of the guest rooms of the Greek mansion we find the painting The Joy of Life by Henri Matisse.
The Basquiat
Jean-Michel Basquiat's In This Case is one of only three huge skull paintings created by this sought after and highly influential artist.
This painting was sold for a staggering $93 million in 2021. 
"Apart from the oxymoronic-metaphoric quality of transparency and layers, which were hallmarks of Rian Johnson's murder-mystery film, I wanted the design to project Miles' childish characteristics — the need to project a laid-back, cool-bro persona who embodies aesthetic living, layered atop his craving that he be seen as a genius disrupter, crowned by his thirst to overwhelm others with his outsized power and wealth." says Heinrichs.
Glass Onion: A Knives Out Mystery was filmed at the Amanzoe, a luxury hotel near Porto Heli, Greece. You can also take a peek at the film set in a pretend Zillow listing.